budget
As November approaches, Obamacare's defenders are quite plainly desperate. They see public opinion solidly against them, and a devastating election fast approaching. Their latest gambit to protect what was jammed through Congress in March is to claim that repeal would be so costly to the federal budget that it would be impossible to pass, even with overwhelming popular support. That's the spin some on the left put on a recent letter from the Congressional Budget Office (CBO) to Senator Mike Crapo.
But unfortunately for these advocates, that's not what the CBO letter says. CBO's message to Senator Crapo actually just states what is already obvious: If an effort were made to repeal just the Medicare cuts in the new law, it would, on paper, increase Medicare spending, and thus the federal budget deficit, by about $450 billion over ten years. Moreover, enacting a real "doc fix" to avoid deep and unrealistic cuts in Medicare physician fees will cost another $300 billion or so over the coming decade.
What this communication from CBO actually confirms, however, is that, contrary to White House assertions, Obamacare is a budget buster of the highest order. The claim that it would reduce the budget deficit over the coming decade has always rested on a series of gimmicks, implausible assumptions, and sleights-of-hand that have been exposed repeatedly over the past year, most especially by Congressman Paul Ryan in the presence of President Obama. Among the most egregious deceptions is the double- counting of cuts in Medicare's reimbursement rates for hospitals and other providers of care — cuts so deep that they would push Medicare's rates below those paid by Medicaid by the end of the decade. Even if these cuts were realistic — which they aren't — they can't both be used to pay for a new entitlement and to improve Medicare's solvency, as the White House claims. The same money simply can't be spent twice. Moreover, this money is almost certainly never going to materialize anyway because, as Medicare's chief actuary has warned repeatedly, they would seriously reduce access to care for seniors by driving hospitals and physicians out of the program. It is all but inevitable, therefore, that Congress will step in at some point to reverse the "cuts," and probably sooner rather than later. When that happens, it will only confirm what's already abundantly clear — that these unsustainable payment reductions should never have been allowed to grease the way for a permanent and massively expensive entitlement program.
Indeed, contrary to latest spin from the left, not only would repeal not bust the budget, it would in fact produce a budgetary windfall of such enormous size that it could pay for a sensible reform of American health care and for deficit reduction too.
The centerpiece of Obamacare is the largest expansion of entitlement spending in a generation. CBO estimates that the new law will add 35 million people to the federal government's health entitlement rolls by decade's end — and that's almost certainly a lowball estimate. Gross federal spending for this added entitlement burden, plus various other spending provisions in the bill, is expected to reach $233 billion in 2019 alone, and then grow at a rate of about 7 percent annually every year thereafter. That means Obamacare's spending will total at least $3.4 trillion over its second decade, on top of the $1.1 trillion it will cost between now and 2019. And it's likely to be much more than that when more realistic assumptions about employer dumping of coverage are factored into the estimates.
So that's at least $4.5 trillion in federal spending that would be avoided over the next twenty years if Congress moved ahead with repeal. Even in Washington that's a lot of money. So much in fact that it should be more than enough to gut Obamacare's most egregious tax hikes and spending "offsets" while still paying for a sensible reform of American health care that actually cuts costs and covers more people. And even after enacting this kind of "replacement" program, there should still be something left over to put a real dent in the massive deficits projected to occur under the Obama budget plan.
A couple of weeks ago, the left's message gurus put out the word to Democratic candidates to abandon talk of the supposed cost-cutting that would occur under Obamacare.
They now understand that the public has not, and will not, buy the argument that a government takeover of American health care will somehow lower costs. Americans have long understood that Obamacare is a massive new spending commitment, piled on top of the unaffordable ones already on the federal books. That's a recipe for financial disaster, not deficit cutting. The solution is repeal coupled with a reform that puts consumers, not the government, in charge of controlling costs. That's the way to fix health care—and the budget too. And, yes, it can be done.
posted by James C. Capretta | 6:47 pm
Tags: actuary, budget, doc fix, repeal, deficit
File As: Health Care
I have a post over on NRO's Corner about President Obama's proposed budget, going through some of the numbers. Here's a snippet:
According to CBO, the Obama budget plan would run up much larger budget deficits and pile up even more debt than the administration reported in February.

Over the period 2010 to 2020, CBO expects the Obama budget would run a cumulative deficit of $11.3 trillion — $1.2 trillion more than the administration predicted. By 2020, total federal debt would reach an astonishing $20.3 trillion — up from $5.8 trillion at the end of 2008.

The president likes to say he inherited a mess. He did in fact enter office during a deep recession that sent deficits soaring on a temporary basis. But his policies have unquestionably made an already difficult medium- and long-term budget outlook much, much worse. The problem is that President Obama is a world-class spender. He wants to pile massive new commitments on top of a bloated and unreformed government. He is willing to raise taxes to pay for some of his wish list, but far from all of it. For the rest, he plans to run up the nation's debt with reckless abandon.

CBO's numbers tell the story....
You can read the entire post here.
posted by James C. Capretta | 2:51 pm
Tags: budget, deficit, debt, CBO
File As: Health Care
Congressman Paul Ryan's systematic dismantling of the argument that Obamacare would cut the budget deficit, delivered at the Blair House "summit" meeting, has gotten a lot of attention in recent days, and deservedly so. The Wall Street Journal ran the full text of his presentation on its opinion page yesterday and amplified his arguments in an editorial of its own. At Blair House, neither the president nor any other Democrat present offered a direct rebuttal to Ryan's critique. The president chose to change the subject instead.
This week, however, top administration officials have come forward with a belated defense — of sorts.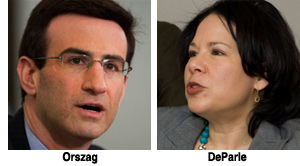 First, OMB Director Peter Orszag penned a blog post taking issue with one of Ryan's points, namely that the plan relies on ten years of offsets to pay for only six years of spending. And today, Orszag and White House Health Reform Czar Nancy-Ann DeParle have an op-ed in the Washington Post that expands upon Orszag's post.
Orszag and DeParle start by agreeing with Ryan that delaying the start date of an entitlement expansion is a tried-and-true budget gimmick, designed to push the full cost of the additional spending outside of the "budget window" covered by a cost estimate.
But, not to worry, they say. In this instance, it's not a gimmick because the deficit reduction from their plan just keeps growing over time. They claim the president's health plan would produce deficit reduction of $100 billion over ten years and $1 trillion in the second decade.
Of course, there's another reason besides balancing revenue and spending to push the start of an entitlement back, and that's to make the ten-year cost look much smaller than it really is. Recall that the president promised in his address to Congress last September to deliver a bill that costs only "$900 billion" over a decade. The new entitlements the Democrats want to create would cost much, much more than $90 billion per year. In fact, the Congressional Budget Office (CBO) says they will cost about $200 billion per year by 2019. And so, to get the media to now say his plan costs only "$1 trillion" (what's $100 billion among friends!), the administration delays the coverage expansion provisions until 2014. Never mind that the president also says the uninsured can't wait a day longer for the legislation. Once enacted, he would make them wait — for four years.
As Ryan noted, however, once the program did get up and running, costs would soar. The Senate Budget Committee Republican staff estimates the Senate bill's cost at $2.3 trillion over ten years when fully implemented.
In their Post op-ed, Orszag and DeParle do not even attempt to address the many other points Ryan made which expose the dubious assumptions and sleight of hand behind their deficit-cutting claims.
For instance, the health reform bill is filled to the brim with Medicare changes, but the one Medicare provision the president and the Democrats want to pass separately from the health bill is the so-called "doc fix," which would repeal a cut in Medicare physician fees at a cost of $371 billion over ten years. Of course, splitting their agenda into two or three bills doesn't change the total cost. When the "doc fix" is properly included in a tally of what the president is pushing, all of the supposed deficit reduction vanishes.
Then there's the double-counting that Ryan exposed. The president's plan starts up yet another entitlement program, providing long-term care insurance. Enrollees have to pay premiums for a number of years before they qualify for any benefits. Consequently, at startup, there's a surplus of premium collections — $73 billion over ten years, according to CBO — because no one qualifies for the benefits yet. The president and his team count these savings against the cost of health reform — even though the money will be needed later to pay out long-term care insurance claims. When this gimmick is taken out of the accounting, the president's health proposal goes even deeper into the red.
Over the long-run, the administration's claim of large-scale deficit reduction hinges on the dubious assumption that future elected officials will demonstrate more political courage than those in office today.
For most of last year, the president said that he would "bend the cost-curve" in large part by imposing a new tax on "high-cost" insurance plans. The tax would hit more and more middle class beneficiaries each year because the threshold for determining what constitutes a "high cost" plan would grow much more slowly than medical costs. In fact, after a number of years, virtually all Americans would be in plans at or above the "high-cost" threshold.
House Democrats and their union allies despise this tax. Last week, the president caved in to their pressure and pushed the start date of the tax back to 2018, well past the point when he will have left office. Even so, Orszag and DeParle still claim credit for the massive revenue hike that would occur in a second decade of implementation. They want us to believe we can finance a permanent, expensive, and rapidly growing new entitlement program with a tax the president himself was never willing to collect.
In Medicare, Orszag and DeParle like to highlight so-called "delivery system reforms" the administration has touted. In the main, these are extremely small-scale initiatives and pilot programs. CBO says they will amount to virtually no savings. The big Medicare cuts in the president's plan come from across-the-board payment-rate reductions. In particular, the president wants to cut the inflation update for hospitals, nursing homes, and others by half a percentage point every year, in perpetuity. On paper, this change produces huge long-run savings. But it does nothing to control the underlying cost of treating patients. It just pays everyone less, without regard to patient need or quality of care. The chief actuary of the program has said repeatedly that these cuts are completely unrealistic for these very reasons. If implemented, he expects they would drive one in five facilities into serious financial distress. And yet Orszag and DeParle want us to believe these savings can be counted to finance the president's massive entitlement promises.
And massive they are. CBO says the coverage expansion provisions in the Senate-passed bill would cost about $200 billion by 2019, and that cost would rise 8 percent every year thereafter.
But even these estimates understate the true cost of Obamacare. The president's plan, like the House and Senate bills, would extend generous new insurance subsidies to low- and moderate-wage workers getting insurance through the new "exchanges." Workers in job-based plans would get no additional help. That means two workers with identical incomes would be treated very differently. Gene Steuerle of the Urban Institute has estimated that, in 2016, a worker with job-based coverage and a $60,000 income would get $4,500 less than someone with the same income but health insurance through the exchange. This kind of inequitable treatment would never last: one way or another, the entitlement would get extended to everyone in the targeted income range, sending the overall costs of the program soaring.
The president started off last year by saying he wanted to "bend the cost-curve" even as he broadened coverage. But after a year of partisan political and legislative maneuvering, all that's left is a massive entitlement expansion. The new costs would get piled on top of the unreformed and unaffordable entitlements already on the books. It's a budgetary disaster in the making.
posted by James C. Capretta | 4:03 pm
Tags: Peter Orszag, Nancy-Ann Deparle, CBO, OMB, Obamacare, White House plan, White House summit, budget, chief actuary
File As: Health Care
The Obama administration has gone to great lengths to convince the press that the plan the president released on Monday would cost "only" $950 billion over ten years. At the moment, there's no Congressional Budget Office (CBO) cost estimate to contradict the White House's claim. Nor did the administration provide any cost estimate from its own HHS actuaries, even though the actuaries — not the White House press office — are responsible for developing official health-care spending estimates for the administration. An independent estimate from those who do this for a living showing the plan's cost at $950 billion would have been very convincing.
But that presumes the actuaries would agree with the White House assessment, which they almost certainly don't. Their cost estimates over the past six months have consistently shown the health-care bills developed by Congress would cost much more than advertised, and well over $1 trillion over a decade. Worse from the Obama team's perspective, the top HHS actuary has used every opportunity handed to him to say unpleasant things about the Democratic reform plans. Like, there's no "bending of the cost-curve" going on in any them. And national health spending would go up, not down. And the deep and arbitrary Medicare payment-rate reductions that the Democrats are pushing would lead thousands of institutions into financial distress, thus jeopardizing access to care for many seniors. The last thing the Obama White House wants to do right now is hand the actuary a microphone.
For its part, CBO's assessment of the president's latest plan is likely to look similar to the cost estimate the agency produced for the Senate-passed bill. After all, the White House's latest proposal is explicitly built on the Senate bill's framework.
But CBO never said the Senate bill would cost "only" $871 billion over ten years. That's Democratic spin. CBO said the cost of the so-called "coverage provisions" would cost $871 billion over a decade. But there's plenty of other spending in the bill that is not directly related to coverage expansion. That spending totaled another $90 billion over a decade.
Moreover, the president has taken the Senate bill's expansive entitlement promises and made them even more expensive. He would increase the new insurance subsidies, make the Senator Nelson-giveaway for Nebraska available to all states, and close the "donut hole" in the Medicare drug benefit. The White House says the new subsidy structure would add $75 billion to the overall price tag. The Medicaid expansion and the new drug spending would certainly add tens of billions more. If they cost just another $50 billion, that would put the total cost of the White House plan at about $1.2 trillion through 2019.
But 2019 is no longer the appropriate stopping point for budgetary assessment. CBO updates their baseline projections every January, and they extend them by one more year each time they do. So, right now, CBO has current-law projections going out to 2020, and the cost estimates they produce for other tax and entitlement legislation considered by Congress this year will go out to 2020 as well. When CBO finally does assess the latest Obama plan, it will have to look at the plan through 2020, not 2019. Adding one more year to the health-care cost estimate will increase the ten-year price tag by another $220 billion.
And there's more. The administration wants to provide a permanent fix for the broken Medicare physician-fee schedule, but it doesn't want to include that fix in the cost of the health-care plan. Never mind that the health-care proposal includes scores and scores of Medicare provisions, touching on just about every aspect of the program. The one provision the White House doesn't want included just happens to cost $210 billion or more over ten years. It doesn't matter to taxpayers to whether the Democratic health-care program is passed in one bill, or two, or even three. The total cost will be the same. If the "doc fix" is included in a cost tally of the Obama health plan, as it should be, it adds another $200 billion to the price tag.
So, no, it's not a $950 billion plan. Not even close. All in all, it's at least $1.5 trillion through 2020, and probably closer to $1.6 trillion.
But even that's not the full story. To keep costs "down," the White House plan starts tax increases and Medicare cuts right away, while the new spending is mostly delayed until 2014. A fair look at the plan's ten-year costs would include ten years' worth of spending. The Senate Budget Committee Republican staff expects the Senate-passed bill's true ten-year cost is $2.3 trillion. The Obama add-ons almost certainly would push that up to $2.5 trillion, and maybe even as much as $3 trillion.
And it would not end there either. If enacted, the Obama health plan would lead to even more entitlement spending down the road. The Democrats want to extend a new health-care entitlement to low- and moderate-wage workers — but only some low- and moderate-wage workers. Not all of them. In particular, the Democrats would provide generous new insurance subsidies to those who get their insurance through the so-called "exchanges." Lower- and middle-class families who continue to have job-based plans would get no additional help even as the government imposed new mandates and burdens on them. But providing federal support to some but not all workers in defined income categories is a completely unsustainable political proposition. One way or another, the entire middle class will end up becoming eligible for the new entitlement, pushing the costs of the Obama plan well above anything that has been discussed to date.
The Obama team that says all of the lavish new promises it is extending can be paid for with new taxes and Medicare cuts. But that's already been shown to be a very dubious assumption. Under pressure from his union patrons, the president pushed the starting date for the so-called "Cadillac tax" to 2018 — well past the time when he will have left office. This was supposed to be his signature "bend-the-curve" reform. If he can't impose this tax, why should we expect later administrations will? And there's no way Congress will withstand the pressure that will come when some facilities head toward insolvency with inadequate Medicare payments.
At the beginning of 2009, the president told the country we needed to reform health care in large part for fiscal reasons. The federal budget cannot sustain the rapidly rising costs of the health programs already on the books. But at each stage of this year-long odyssey, the bills being pushed by Democrats have become increasingly on heavy entitlement promises and light on anything resembling true reform. The president's latest proposal continues the trend. After a year of giveaways, this is not a reform effort at all. It's nothing more than another massive entitlement expansion, and one the country most surely cannot afford.
posted by James C. Capretta | 8:50 pm
Tags: budget, White House plan, Senate bill, actuaries, CBO
File As: Health Care
Over on National Review Online, I have a new piece about the president's agenda, the national debt, and the political moment. An excerpt:
After Scott Brown's stunning victory in the Massachusetts special election last month, it is now clear that the coalition President Obama was counting on to pass his health-care bill and follow-on legislation is in absolute tatters. The strain of the effort to ram health care through despite intense public opposition has taken a very heavy toll. Independent voters remain outraged at the arrogance of it all, and have swung decisively toward GOP candidates in recent contests. Congressional Democrats now know they are in peril, and are behaving accordingly. They are in no mood to take any more tough votes on behalf of a president's agenda that their constituents have plainly rejected. Indeed, in the current environment, it's hard to see how the House could pass the same health-care bill that it passed just last November.

This puts the president in a terrible bind, especially given the difficult budgetary choices now confronting him. His 2011 budget submission to Congress shows deficits rising to $1 trillion by the end of the decade and continuing thereafter. From 1789 through 2008, the U.S. government borrowed $5.8 trillion. If the Obama budget were adopted in full, government borrowing would exceed $18 trillion by the end of the decade. Debt accumulation at such a pace would almost certainly precipitate an economic crisis.

In their heart of hearts, most Democrats think the solution to the nation's budget problem is a massive tax increase; if they had succeeded on health care, some might have been willing to use that momentum to propose one. But in the current environment, with so much distaste for out-of-control government, the White House and congressional Democrats know full well that it would be complete political suicide for them to push a tax increase at this stage.

Which brings us back to the president's renewed interest in having Republicans share in, as he put it, "the burdens of governing."

Unfortunately for him, he is now holding a very weak hand as he heads into discussions with his adversaries. His health-care program is so unpopular that Democrats themselves are walking away from it. He promised voters he wouldn't raise taxes on the middle class, and his Democratic allies want to expand government, not contain or shrink it. So, unless he changes course, he is stuck with presiding over an unprecedented borrowing binge that threatens to cripple his administration.
The whole article can be found here.
posted by James C. Capretta | 2:46 pm
Tags: budget, deficit, bipartisanship, President Obama
File As: Health Care
I have a new column up at Kaiser Health News this week. An excerpt:
It is now readily apparent that piling up debt at the rates implied by the president's budget would all but invite an economic crisis. At some point, the flood of Treasury debt instruments worldwide would lead lenders to demand higher rates of return for their loans, or perhaps to runaway inflation — or more probably both. The result could be quite devastating to private-sector business investment, productivity and job growth, making it all the more difficult to get out from under the debt spiral that would ensue....

It's not that the president and his advisors don't recognize the problem. They speak frequently about the dangers of business as usual. The problem is that the president's stated solution will never work.

What the administration would like to do is to have Congress pass the health care bill and then follow it up with a bipartisan deficit-cutting plan, put together by a special commission assigned with assembling a medium and long-term solution to the nation's budgetary woes.

The first problem with this sequencing is its unrealistic political calculus.... The other problem is the planned timing of the debt commission's recommendations and congressional action. The president would like the commission to issue its plan after the November congressional elections, and have a lame-duck Congress vote on it between early November and the start of new Congress next January. So the most far-reaching tax hikes and spending cuts in a generation would be recommended by an unelected commission and passed by an exiting Congress, all in a matter of days and weeks, even as newly elected members are set to take their seats. To say the odds are long is quite an understatement.
The whole thing is available here.
posted by James C. Capretta | 3:26 pm
Tags: budget, Obamacare, deficit commission, debt
File As: Health Care
In a new post over on NRO's Corner tonight, I comment on the health care and budgetary aspects of President Obama's State of the Union address:
On health care, he offered nothing new. He is sticking with the plan the public has quite plainly rejected. According to a recent CNN poll, a full 70 percent of Americans want Congress either to start over entirely or to drop the subject altogether. That's because they recognize that the plan the president has been pushing so aggressively for the better part of a year would be a disaster, for the quality of American medicine and for the nation's budget outlook. The president claims the bill would cut the deficit, but that's based on completely implausible assumptions. The bill would stand up another runaway entitlement program, paid for with offsets that will never hold up over time and cost-control ideas that are weak and largely meaningless.
Yesterday, I had another post on the Corner, remarking on the administration's proposed budget "freeze." An excerpt:
In reality, the Obama freeze is a purposeful diversion and sideshow. The nation is rushing headlong toward a fiscal crisis because of runaway government spending, and the Obama administration has no serious plan to head it off. Between 1789 and 2008, the federal government ran up $5.8 trillion in debt. In just the first three years of the Obama administration, CBO expects the debt to increase by nearly another $4 trillion. In 2010, CBO projects total federal spending will exceed $3.5 trillion, more than $500 billion over what was spent in 2008. Further, in 2012 and beyond, with realistic assumptions regarding extension of the Bush tax cuts, relief from the Alternative Minimum Tax, funding for the wars in Iraq and Afghanistan, and restoration of planned cuts in Medicare physician fees, the government is headed toward $1 trillion budget deficits every year for as far as the eye can see.

This massive run-up in debt is set to occur just as the baby boomers head into their retirement years, pushing up costs in Social Security, Medicare, and Medicaid. Between 2010 and 2030, the population that is age 65 and older will rise from about 41 million to 71 million. CBO expects spending on the big three entitlement programs to rise from 9.8 percent of GDP in 2010 to 14.4 percent in 2030 — an increase of about 4.6 percent of GDP in 20 years. That's like adding another Social Security program to the federal budget with no plan to pay for it.

So far, the president's primary response to this looming budget and entitlement crisis is to propose to pile another runaway health-care entitlement program on top of the unaffordable ones already on the books. According to CBO, the federal cost of the health-care commitments in both the House- and Senate-passed health-care bills would reach $200 billion in 2019 and would increase about 8 percent every year thereafter. Meanwhile, the offsets to pay for this new spending are completely unrealistic, and the so-called "bend the curve" provisions are far too weak to make a difference.
posted by James C. Capretta | 11:35 pm
Tags: budget, entitlements, President Obama
File As: Health Care
The health-care bill unveiled yesterday by House Speaker Nancy Pelosi is being advertised as costing "only" $894 billion over a decade. But that is highly misleading.
For starters, the gross cost of expanded Medicaid coverage and a new entitlement to subsidies for health insurance is much higher than Democrats are suggesting, according to the cost estimate released yesterday by the Congressional Budget Office (CBO). The Democrats report a lower number by netting out the taxes some individuals pay when they don't enroll in insurance, as well as the tax payments from employers who choose to "pay" rather than "play." But that accounting confuses tax increases with spending reduction. The gross spending increase from the entitlement expansions in the revised House bill is $1.055 trillion over ten years, not $894 billion.
In addition, as I noted previously, House Democrats have conveniently decided to take the so-called "doc fix" out of the larger health-care bill and pass it as a standalone measure, at a cost of $250 billion over ten years. The House health-care bill is bursting with other Medicare-related provisions. What could possibly justify separate accounting for the physician fee fix? In fact, there is no justification, other than budgetary smoke and mirrors. House leaders are splitting the costs of their scheme into two bills and pretending that this maneuver somehow brings down the overall cost to taxpayers. It doesn't. In reality, House Democrats are still planning to spend $250 billion on Medicare physician fees, and that should be made clear in any honest accounting of what's afoot here.
Finally, there's the other spending in the health-care plan. There's loads of it. Higher Medicaid matching funds to buy off selected governors. A new program aimed at encouraging more physicians to enter primary care. Prevention spending. And apparently just about anything else House Democrats could think of to spend taxpayers' money on. When it's all racked up, these programs cost $230 billion over a decade. And that's not even including the extra spending on Medicare drug coverage, which is obscured in CBO's accounting by provisions which allow the government to set payment rates for certain products.
All totaled, then, Democratic leaders are planning to ram a $1.5 trillion spending program through the House in coming days, far exceeding the $900 billion threshold that President Obama supposedly established in his speech to a joint session of Congress.
How are House leaders planning to cover these costs? Well, for starters, they aren't. The cost of the physician fee fix will simply get added to the ballooning debt President Obama is planning to run up during his presidency. The rest will supposedly be covered by a whopping tax increase and implausible price-controls in Medicare and Medicaid.
On the tax side, Democrats are planning to saddle those with annual incomes exceeding $500,000 with a new 5.4 percent surtax. That would raise $461 billion over a decade, according to the Joint Tax Committee. But there's also the penalty tax imposed on individuals who don't sign up for health insurance. That raises $33 billion. There's also the employer "pay or play" mandate, which brings in $135 billion. And finally, there are the taxes on medical device manufacturers and many others. These provisions raise an additional $100 billion over a decade. In all, therefore, House Democrats want to raise taxes on Americans by $725 billion over the period 2010 to 2019 to partially pay for their health-care scheme.
The Democrats close the remaining gap (excluding the physician fee spending) by cutting Medicare and Medicaid spending by about $550 billion over ten years and starting up a new, budget-busting long-term care program that brings in $72 billion in excess premiums in its early years.
President Obama has claimed all year that he would work with Congress to put in place reforms that would make health-care delivery more efficient. But that's not what House Democrats are proposing with their changes to Medicare. Their plan is for payment rate reductions, indiscriminately applied to all providers without regard to any measure of quality. All hospitals would get basically the same percentage cut in their payments, no matter how well or badly they treat their patients. As the Washington Post noted this morning, these cuts imply that House Democrats have found the magic formula for slowing Medicare per capita spending from a 7 percent average over the past two decades to just 4 percent for the coming twenty years. That is beyond implausible. Congress and the Medicare bureaucracy have been trying to slow the pace of entitlement spending with price controls for nearly half a century, and it has never worked. CBO has to score the provisions as they are written. But common sense indicates that these Medicare payment rate reductions will never finance the massive entitlement spending House leaders are planning.
In sum, then, the House plan is not a $900 billion program. It's a $725 billion tax increase and a $1.5 trillion spending program. Tax and spend, indeed.
posted by James C. Capretta | 8:16 pm
Tags: House bill, Democrats, CBO, budget, tax increases, Pelosi, Obama
File As: Health Care
Previous