CBO
Congressman Paul Ryan's systematic dismantling of the argument that Obamacare would cut the budget deficit, delivered at the Blair House "summit" meeting, has gotten a lot of attention in recent days, and deservedly so. The Wall Street Journal ran the full text of his presentation on its opinion page yesterday and amplified his arguments in an editorial of its own. At Blair House, neither the president nor any other Democrat present offered a direct rebuttal to Ryan's critique. The president chose to change the subject instead.
This week, however, top administration officials have come forward with a belated defense — of sorts.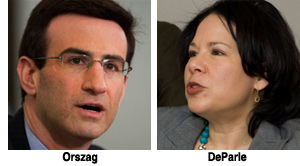 First, OMB Director Peter Orszag penned a blog post taking issue with one of Ryan's points, namely that the plan relies on ten years of offsets to pay for only six years of spending. And today, Orszag and White House Health Reform Czar Nancy-Ann DeParle have an op-ed in the Washington Post that expands upon Orszag's post.
Orszag and DeParle start by agreeing with Ryan that delaying the start date of an entitlement expansion is a tried-and-true budget gimmick, designed to push the full cost of the additional spending outside of the "budget window" covered by a cost estimate.
But, not to worry, they say. In this instance, it's not a gimmick because the deficit reduction from their plan just keeps growing over time. They claim the president's health plan would produce deficit reduction of $100 billion over ten years and $1 trillion in the second decade.
Of course, there's another reason besides balancing revenue and spending to push the start of an entitlement back, and that's to make the ten-year cost look much smaller than it really is. Recall that the president promised in his address to Congress last September to deliver a bill that costs only "$900 billion" over a decade. The new entitlements the Democrats want to create would cost much, much more than $90 billion per year. In fact, the Congressional Budget Office (CBO) says they will cost about $200 billion per year by 2019. And so, to get the media to now say his plan costs only "$1 trillion" (what's $100 billion among friends!), the administration delays the coverage expansion provisions until 2014. Never mind that the president also says the uninsured can't wait a day longer for the legislation. Once enacted, he would make them wait — for four years.
As Ryan noted, however, once the program did get up and running, costs would soar. The Senate Budget Committee Republican staff estimates the Senate bill's cost at $2.3 trillion over ten years when fully implemented.
In their Post op-ed, Orszag and DeParle do not even attempt to address the many other points Ryan made which expose the dubious assumptions and sleight of hand behind their deficit-cutting claims.
For instance, the health reform bill is filled to the brim with Medicare changes, but the one Medicare provision the president and the Democrats want to pass separately from the health bill is the so-called "doc fix," which would repeal a cut in Medicare physician fees at a cost of $371 billion over ten years. Of course, splitting their agenda into two or three bills doesn't change the total cost. When the "doc fix" is properly included in a tally of what the president is pushing, all of the supposed deficit reduction vanishes.
Then there's the double-counting that Ryan exposed. The president's plan starts up yet another entitlement program, providing long-term care insurance. Enrollees have to pay premiums for a number of years before they qualify for any benefits. Consequently, at startup, there's a surplus of premium collections — $73 billion over ten years, according to CBO — because no one qualifies for the benefits yet. The president and his team count these savings against the cost of health reform — even though the money will be needed later to pay out long-term care insurance claims. When this gimmick is taken out of the accounting, the president's health proposal goes even deeper into the red.
Over the long-run, the administration's claim of large-scale deficit reduction hinges on the dubious assumption that future elected officials will demonstrate more political courage than those in office today.
For most of last year, the president said that he would "bend the cost-curve" in large part by imposing a new tax on "high-cost" insurance plans. The tax would hit more and more middle class beneficiaries each year because the threshold for determining what constitutes a "high cost" plan would grow much more slowly than medical costs. In fact, after a number of years, virtually all Americans would be in plans at or above the "high-cost" threshold.
House Democrats and their union allies despise this tax. Last week, the president caved in to their pressure and pushed the start date of the tax back to 2018, well past the point when he will have left office. Even so, Orszag and DeParle still claim credit for the massive revenue hike that would occur in a second decade of implementation. They want us to believe we can finance a permanent, expensive, and rapidly growing new entitlement program with a tax the president himself was never willing to collect.
In Medicare, Orszag and DeParle like to highlight so-called "delivery system reforms" the administration has touted. In the main, these are extremely small-scale initiatives and pilot programs. CBO says they will amount to virtually no savings. The big Medicare cuts in the president's plan come from across-the-board payment-rate reductions. In particular, the president wants to cut the inflation update for hospitals, nursing homes, and others by half a percentage point every year, in perpetuity. On paper, this change produces huge long-run savings. But it does nothing to control the underlying cost of treating patients. It just pays everyone less, without regard to patient need or quality of care. The chief actuary of the program has said repeatedly that these cuts are completely unrealistic for these very reasons. If implemented, he expects they would drive one in five facilities into serious financial distress. And yet Orszag and DeParle want us to believe these savings can be counted to finance the president's massive entitlement promises.
And massive they are. CBO says the coverage expansion provisions in the Senate-passed bill would cost about $200 billion by 2019, and that cost would rise 8 percent every year thereafter.
But even these estimates understate the true cost of Obamacare. The president's plan, like the House and Senate bills, would extend generous new insurance subsidies to low- and moderate-wage workers getting insurance through the new "exchanges." Workers in job-based plans would get no additional help. That means two workers with identical incomes would be treated very differently. Gene Steuerle of the Urban Institute has estimated that, in 2016, a worker with job-based coverage and a $60,000 income would get $4,500 less than someone with the same income but health insurance through the exchange. This kind of inequitable treatment would never last: one way or another, the entitlement would get extended to everyone in the targeted income range, sending the overall costs of the program soaring.
The president started off last year by saying he wanted to "bend the cost-curve" even as he broadened coverage. But after a year of partisan political and legislative maneuvering, all that's left is a massive entitlement expansion. The new costs would get piled on top of the unreformed and unaffordable entitlements already on the books. It's a budgetary disaster in the making.
posted by James C. Capretta | 4:03 pm
Tags: Peter Orszag, Nancy-Ann Deparle, CBO, OMB, Obamacare, White House plan, White House summit, budget, chief actuary
File As: Health Care
At the White House meeting going on right now, a recurring subject of debate has been this question: Will health-insurance premiums increase from the Senate bill?
As usual, the president is playing fast and loose with the facts.

The Congressional Budget Office (CBO) says that premiums would go down in the individual market from the Senate bill for the kinds of insurance offered today. The problem is that people couldn't get that kind of insurance anymore. They would be forced into more expensive plans, with higher premiums. And so, overall, premiums in the individual market would go up, not down.

Moreover, there are several studies showing why CBO is wrong about premiums declining for current policies.

Here's one. Oliver Wyman Inc., a respected actuarial firm, did a careful study for the Blue Cross–Blue Shield Association. They found that premiums in the individual market would be 54 percent higher in five years' time if the Senate bill were enacted, and 20 percent higher for those insured through small businesses.
Why the difference with CBO? The reason is that CBO thinks the individual mandate will be effective in bringing people into the market. That is not at all the view of many, many experts who understand the insurance business. Almost uniformly, they say the mandate in the Senate bill is too weak and won't work. Consequently, the risk pool will become much less healthy over time, thus driving up premiums.
So, no, Senator Alexander should not at all concede the point. He's right. If the Obama plan were enacted, premiums in the individual market would go up, a lot.
posted by James C. Capretta | 12:06 pm
Tags: Lamar Alexander, White House summit, White House plan, CBO
File As: Health Care
The Obama administration has gone to great lengths to convince the press that the plan the president released on Monday would cost "only" $950 billion over ten years. At the moment, there's no Congressional Budget Office (CBO) cost estimate to contradict the White House's claim. Nor did the administration provide any cost estimate from its own HHS actuaries, even though the actuaries — not the White House press office — are responsible for developing official health-care spending estimates for the administration. An independent estimate from those who do this for a living showing the plan's cost at $950 billion would have been very convincing.
But that presumes the actuaries would agree with the White House assessment, which they almost certainly don't. Their cost estimates over the past six months have consistently shown the health-care bills developed by Congress would cost much more than advertised, and well over $1 trillion over a decade. Worse from the Obama team's perspective, the top HHS actuary has used every opportunity handed to him to say unpleasant things about the Democratic reform plans. Like, there's no "bending of the cost-curve" going on in any them. And national health spending would go up, not down. And the deep and arbitrary Medicare payment-rate reductions that the Democrats are pushing would lead thousands of institutions into financial distress, thus jeopardizing access to care for many seniors. The last thing the Obama White House wants to do right now is hand the actuary a microphone.
For its part, CBO's assessment of the president's latest plan is likely to look similar to the cost estimate the agency produced for the Senate-passed bill. After all, the White House's latest proposal is explicitly built on the Senate bill's framework.
But CBO never said the Senate bill would cost "only" $871 billion over ten years. That's Democratic spin. CBO said the cost of the so-called "coverage provisions" would cost $871 billion over a decade. But there's plenty of other spending in the bill that is not directly related to coverage expansion. That spending totaled another $90 billion over a decade.
Moreover, the president has taken the Senate bill's expansive entitlement promises and made them even more expensive. He would increase the new insurance subsidies, make the Senator Nelson-giveaway for Nebraska available to all states, and close the "donut hole" in the Medicare drug benefit. The White House says the new subsidy structure would add $75 billion to the overall price tag. The Medicaid expansion and the new drug spending would certainly add tens of billions more. If they cost just another $50 billion, that would put the total cost of the White House plan at about $1.2 trillion through 2019.
But 2019 is no longer the appropriate stopping point for budgetary assessment. CBO updates their baseline projections every January, and they extend them by one more year each time they do. So, right now, CBO has current-law projections going out to 2020, and the cost estimates they produce for other tax and entitlement legislation considered by Congress this year will go out to 2020 as well. When CBO finally does assess the latest Obama plan, it will have to look at the plan through 2020, not 2019. Adding one more year to the health-care cost estimate will increase the ten-year price tag by another $220 billion.
And there's more. The administration wants to provide a permanent fix for the broken Medicare physician-fee schedule, but it doesn't want to include that fix in the cost of the health-care plan. Never mind that the health-care proposal includes scores and scores of Medicare provisions, touching on just about every aspect of the program. The one provision the White House doesn't want included just happens to cost $210 billion or more over ten years. It doesn't matter to taxpayers to whether the Democratic health-care program is passed in one bill, or two, or even three. The total cost will be the same. If the "doc fix" is included in a cost tally of the Obama health plan, as it should be, it adds another $200 billion to the price tag.
So, no, it's not a $950 billion plan. Not even close. All in all, it's at least $1.5 trillion through 2020, and probably closer to $1.6 trillion.
But even that's not the full story. To keep costs "down," the White House plan starts tax increases and Medicare cuts right away, while the new spending is mostly delayed until 2014. A fair look at the plan's ten-year costs would include ten years' worth of spending. The Senate Budget Committee Republican staff expects the Senate-passed bill's true ten-year cost is $2.3 trillion. The Obama add-ons almost certainly would push that up to $2.5 trillion, and maybe even as much as $3 trillion.
And it would not end there either. If enacted, the Obama health plan would lead to even more entitlement spending down the road. The Democrats want to extend a new health-care entitlement to low- and moderate-wage workers — but only some low- and moderate-wage workers. Not all of them. In particular, the Democrats would provide generous new insurance subsidies to those who get their insurance through the so-called "exchanges." Lower- and middle-class families who continue to have job-based plans would get no additional help even as the government imposed new mandates and burdens on them. But providing federal support to some but not all workers in defined income categories is a completely unsustainable political proposition. One way or another, the entire middle class will end up becoming eligible for the new entitlement, pushing the costs of the Obama plan well above anything that has been discussed to date.
The Obama team that says all of the lavish new promises it is extending can be paid for with new taxes and Medicare cuts. But that's already been shown to be a very dubious assumption. Under pressure from his union patrons, the president pushed the starting date for the so-called "Cadillac tax" to 2018 — well past the time when he will have left office. This was supposed to be his signature "bend-the-curve" reform. If he can't impose this tax, why should we expect later administrations will? And there's no way Congress will withstand the pressure that will come when some facilities head toward insolvency with inadequate Medicare payments.
At the beginning of 2009, the president told the country we needed to reform health care in large part for fiscal reasons. The federal budget cannot sustain the rapidly rising costs of the health programs already on the books. But at each stage of this year-long odyssey, the bills being pushed by Democrats have become increasingly on heavy entitlement promises and light on anything resembling true reform. The president's latest proposal continues the trend. After a year of giveaways, this is not a reform effort at all. It's nothing more than another massive entitlement expansion, and one the country most surely cannot afford.
posted by James C. Capretta | 8:50 pm
Tags: budget, White House plan, Senate bill, actuaries, CBO
File As: Health Care
Just after the new year, the Obama administration and its congressional allies tried to convince the press that passage of a health-care bill should be relatively easy and quick, because the House- and Senate-passed versions have so much in common.

Oh, really? You wouldn't know it by listening to House liberals this week.

They are up in arms over talk that they will have no choice but to swallow hard and accept something very close to the Senate-passed bill. Their list of grievances with the handiwork of the upper chamber is rather long. For starters, they still haven't gotten over the fact that Senate Democrats endorsed an "individual mandate" with no government-run option for people to choose. If that position prevails, House Democrats are facing the prospect of voting for legislation that would force Americans to buy coverage from the despised private insurance industry. It's going to take many Democrats some time to work through the grief associated with that reality before they reach acceptance.

Then there is the president's endorsement of the so-called "Cadillac tax" in the Senate bill. That's the 40 percent excise tax that would apply to insurance plans with premiums exceeding $23,000 for family coverage. It turns out that the most expensive health-insurance plans in the United States are often provided to unionized workers. So, with this one idea, the president can kill two campaign promises with one flip-flop. He would be "taxing health benefits for the first time in history" — something he condemned John McCain for endorsing in 2008 — and he would impose hefty new taxes on the middle class. Even House Speaker Nancy Pelosi seems taken aback by this presidential display of audacity.

But House liberals have other complaints too. They also don't like the independent Medicare commission that could make an end run around Congress to impose cuts in the program without further action in the House or Senate. Or the Senate's employer mandate that penalizes firms only if their low-wage workers end up with subsidized coverage, thus discouraging the hiring of the very people who most need a job. Or the modest nod toward federalism in the Senate bill's delegation of exchange administration to the states. It's going to take time to work through these issues, all of which have the potential to disrupt the fragile coalitions assembled in the House and Senate to pass the original bills.

Indeed, for many of these items, it's not clear that a simple "split the difference" formula will work to keep enough Democrats on board for final passage. Which is why entirely new ideas are now being floated — ideas that weren't even considered during the year-long debate of 2009.

The latest is the proposal to impose Medicare payroll taxes on non-wage income, such as investment returns. This has been mentioned as a way to ease up on the Cadillac tax without resorting to the income-tax surtax in the House-passed bill. Of course, this is terrible policy for a whole host of reasons. It would penalize private-sector investing — putting up one more stumbling block to robust growth and job creation. And it would break the historic link between wage income and social insurance that has been a central pillar of Social Security and Medicare from the beginning.

But what's most stunning about this latest idea is that it completely disregards the warning the Congressional Budget Office (CBO) issued regarding the Medicare provisions just before Christmas. In that better-late-than-never analysis, CBO made the point that Medicare spending and revenue provisions can't be counted twice. They can be used either to improve the capacity of the government to pay future Medicare benefits, or to finance a new entitlement program. But the same money can't be counted twice.

But with this latest idea, the Democrats have made it clear that they don't care what CBO or anybody else says at this point, they plan to keep counting the money twice. If this new Medicare payroll tax on investment income were to pass, Congressional Democrats would double-count the revenue just as they are double-counting the Medicare spending cuts — saying they help improve Medicare solvency even as they also pay for the runaway entitlement spending in Obamacare.

It's been clear for some time that the White House will say and do anything to get a bill, which is why the process of producing this legislation has been become so ugly and distasteful to the public. Unfortunately, it's only going to get worse in coming days as desperate Democrats pull out all the stops to pass a government takeover of American health care.
posted by James C. Capretta | 8:40 pm
Tags: double count, Cadillac tax, CBO
File As: Health Care
The Obama White House and its congressional allies have tried all year to push their various bills through to passage by truncating the time between introduction and a decisive vote to the bare minimum. They figure the only way to get something passed is to minimize public review and scrutiny of whatever their latest idea is to engineer American health care from Washington, D.C.
To date, that tactic hasn't worked out so well. In July, House Democrats tried to unveil a bill on the 14th for a planned vote on the 31st. A firestorm erupted, however, pushing back the vote into November. In the Senate, meanwhile, a series of self-imposed deadlines have been missed as Democratic pronouncements of inevitability have bumped up against the reality of steadfast and growing public opposition.
Nonetheless, Senate Majority Leader Harry Reid is running the same play again today, and very possibly with different results. He unveiled the latest version of his reform legislation this morning, filled to the brim with outrageous payoffs to buy the votes of holdout Senators. Virtually no one else has seen the bill before today, much less had a chance to give it the scrutiny it deserves. And certainly the public has not had a chance to weigh in. No matter. Senator Reid has simultaneously set in motion the procedures necessary to force a vote on his new health-care plan in a matter of hours, not weeks.
And yet, despite the unprecedented effort to short-circuit public review and input, it is likely that this latest version of the Reid plan will be just as unpopular as the previous one, and for many of the same basic reasons.
According to the Congressional Budget Office (CBO), the amended Reid plan would reduce the federal budget deficit by $132 billion over the period 2010 to 2019, but that is a mirage.
For starters, as CBO notes, the bill presumes that Medicare fees for physician services will get cut by more than 20 percent in 2011, and then stay at the reduced level indefinitely. There is strong bipartisan opposition to such cuts. Fixing that problem alone will cost more than $200 billion over a decade, pushing the Reid plan from the black and into a deep red.
Then there are the numerous budget gimmicks and implausible spending reductions. The plan's taxes and spending cuts kick in right away, while the entitlement expansion doesn't start in earnest until 2014, and even then the real spending doesn't begin until 2015. According to CBO, from 2010 to 2014, the bill would cut the federal budget deficit by $124 billion. From that point on, it's essentially deficit neutral — but that's only because of unrealistic assumptions about tax and Medicare savings provisions. By 2019, the entitlement expansions to cover more people with insurance will cost nearly $200 billion per year, and grow every year thereafter at a rate of 8 percent. CBO says that, on paper, the tax increases and Medicare cuts will more than keep up, but, in reality, they won't. The so-called tax on high cost insurance plans applies to policies with premiums exceeding certain thresholds (for instance, $23,000 for family coverage). But those thresholds would be indexed at rates that are less than health-care inflation — forever. And so, over time, more and more plans, and their enrollees, would bump up against it until virtually the entire U.S. population is enrolled in insurance that is considered "high cost."
Similarly, the Medicare cuts assume that hospitals, nursing homes, home health agencies and others can survive with a permanent annual cut in their payment rates for presumed productivity gains. Medicare's chief actuary has already signaled that this reduction could push one in five hospitals into insolvency, thus forcing them out of the Medicare program.
What's more, the benefit promises are sure to expand well beyond what CBO has assumed. There are 127 million people living in households with incomes between 100 and 400 percent of the federal poverty line, but CBO assumes that only 18 million of them will get the new subsidized insurance under the Reid plan by 2015 because of rules that make most workers ineligible for assistance. But, if enacted, employers would find ways to push more workers into subsidized arrangements, and Congress would loosen the rules to make more people eligible. Costs would grow much faster than CBO currently projects. In addition, the Reid plan continues to include a new entitlement program for long-term care that every actuary who has looked at it says is a financial disaster waiting to happen. If passed, it would only be a matter of time before another federal bailout would be necessary.
It is now plain as day that the Reid plan has evolved into nothing more than a massive entitlement expansion, which subsidizes more people into an unreformed system with soaring costs. Several Senate Democrats claim to be strong fiscal conservatives. Their votes on the Reid legislation will provide conclusive evidence whether that's true or not.
posted by James C. Capretta | 6:42 pm
Tags: Senate bill, Harry Reid, CBO, Medicare cuts
File As: Health Care
As the Senate starts its debate of the health-care bill introduced by Senate Majority Leader Harry Reid, the back-and-forth has intensified over what the legislation would do to insurance premiums and rising costs in the coming years.
Over the Thanksgiving break, M.I.T. economist Jonathan Gruber released a short paper in which he claimed the Reid bill would reduce premiums for people buying insurance in the individual market. It was clear from a story in Politico that the Obama White House was gearing up to argue the Gruber analysis was proof positive of the virtues of the Senate legislation. Unfortunately for Team Obama, Gruber's paper was quickly shot down by a new study from the Congressional Budget Office (CBO). CBO estimates that the Reid bill would drive premiums up, not down, in the individual market — by 10 to 13 percent compared to current law. For family coverage, the Reid bill would increase premiums by, on average, $2,100 in 2016, according to CBO. So much for the argument that Obamacare will cut premium costs across the board. It clearly won't.
But even this CBO analysis is terribly optimistic. For weeks, experts have been warning that the Senate legislation would lead to serious "adverse selection" in the individual and small-group insurance markets. Adverse selection occurs when, on average, the pool of insured lives becomes less healthy over time compared to a relevant comparison group. The Senate bill would require insurers to take all comers, with heavily regulated rates. These rules would help those with chronic conditions get less expensive coverage. But they would also drive up premiums for the young and healthy. If the healthier people left or stayed out the insurance risk pool, premiums for those who remained would go up quite dramatically. Indeed, that's exactly what Wellpoint, a large national insurer, predicted would occur under the bill prepared by Senate Finance Committee Chairman Max Baucus, which formed the basis of much of the Reid plan. The Wellpoint actuaries estimated that, under the Baucus bill, premiums for a person at the average age and in average health would go up by more than 50 percent in the individual insurance market in California, and by more than 20 percent in the small-group market.
CBO argues that risk selection problems will be mitigated by the presence of new insurance subsidies, penalties for those who don't get coverage, a once-a-year enrollment window which will limit the opportunity to come back into insurance, and the tendency for people to comply with mandates even if they are costly. But, as others have shown, even with subsidies, the cost of coverage for many low and moderate wage families will be very substantial. Many people could reduce their costs if they paid the penalty instead of premiums and signed up with insurance only when they really needed it. Would the fact that they might have to wait a few months before getting insurance be enough to keep them in coverage all year? Hard to predict. In fact, as pointed out here, it appears that none of most-cited models used to estimate the impact of health-reform plans, including CBO's, has an explicit capacity to calibrate insurance take-up rates based on the penalties imposed on those who go without coverage. Apparently, the premium estimates are based as much on judgment as analytics, and CBO's judgment is clearly on the optimistic side. But what if they are wrong? What if adverse selection is more pronounced, as many experts are predicting? At a minimum, before any votes are cast, CBO should make it clear how sensitive their premium estimates are to their assumptions about the risk pool. That way Senators could decide for themselves what to believe.
posted by James C. Capretta | 6:11 pm
Tags: CBO, Reid bill, Jonathan Gruber, adverse selection, risk pools
File As: Health Care
The health-care plan unveiled yesterday by Senate Majority Leader Harry Reid has some in the mainstream media gushing because, on paper at least, the Congressional Budget Office (CBO) says it will reduce the federal budget deficit by about $130 billion over ten years, and more in the second decade.
But the supposed fiscal prudence of the Reid plan is a complete mirage, for a number of reasons.
For starters, the Reid plan assumes that Medicare physician fees will get cut by about 20 percent beginning in 2011 and then remain very restrained indefinitely. Virtually no one in Congress believes that will happen, nor do they want it to. Indeed, just a couple of weeks ago, Senator Reid himself tried to overturn the planned cuts in physician fees, at a cost of nearly $250 billion over a decade. It does not matter to taxpayers if Senate Democrats try to pass their health-care agenda in one or two bills. The total cost will be the same. With the so-called "doc fix" included in the tally, the Reid plan would increase the federal budget deficit by about $100 billion over ten years, not reduce it.
Then there are the tax increases. CBO gives Senator Reid credit for cutting the budget deficit in a second decade, but that's not because the plan would do anything to slow the pace of rising health-care costs. It wouldn't do much of anything in that regard. What it would do is impose massive tax increases, in part by resorting to the same kind of discredited "bracket creep" so despised by the public in the 1970s. At that time, the thresholds separating the various income-tax brackets were not indexed for inflation, which meant that every year many people paid taxes at a higher rate simply because inflation had boosted their wages. Of course, many in Congress liked it that way because it meant a tax increase without the nuisance of a politically unpopular vote. Senator Reid and his Democratic colleagues are trying to pull off the same trick now. They are proposing two tax increases which would hit America's middle class increasingly hard over time because the dollar thresholds used to assess the tax are not indexed to full inflation. The first, the 40 percent excise tax on high-cost insurance plans, would apply initially only to family policies exceeding $23,500 in annual premiums and individual plans with premiums exceeding $8,500. Those thresholds would increase by general inflation plus one percentage point each year, but that would be still below the rate of expected medical inflation. Consequently, more and more middle class families would find themselves bumping into the premium thresholds as time passed.
Similarly, Senator Reid wants to raise the Medicare payroll tax, now 2.9 percent, on workers with incomes exceeding $200,000 per year, to 3.4 percent. But, again, that income threshold would not be indexed for inflation, which means many millions of families would be paying it in ten years who wouldn't be paying it initially.
The end result would be a massive overall tax increase. In the first ten years, CBO says it would total nearly $500 billion, which is bad enough. But in the second decade, the tax increase would balloon to about $1.7 trillion in large part because of the hidden tax hikes associated with bracket creep. Over twenty years, Senate Democrats are thus planning to raise taxes on the American people by about $2.2 trillion.
Even so, this massive tax hike still would not fully cover all of the spending in the Reid plan. According to CBO, the cost of the so-called "coverage provisions" would be about $850 billion over a decade, but that's only because they wouldn't kick in until 2014. CBO expects the annual cost of these provisions to grow about 8 percent every year. In the second ten years, the cost would therefore soar to $3.1 trillion.
Senator Reid's bill also includes numerous other spending provisions which the press dutifully excludes from the reported total. These are mainly relatively small demonstration programs or tweaks to existing programs buried in Medicare and Medicaid. But because there are so many of them, their cost adds up. Overall, CBO expects these non-coverage spending items to total about $90 billion over the period 2010 to 2019, which pushes the total cost of the Reid plan to $940 billion over ten years — above the $900 billion limit the president said he would impose. Throw in the "doc fix," and Senate Democrats are planning to spend nearly $1.2 trillion on their health-care agenda.
Finally, there are the Medicare cuts. Despite all of the talk of "delivery system reform," the Senate Democratic plan would not transform American medicine to make it more efficient. No, they would simply cut payment rates for providers of services. On paper, the cuts are massive. CBO says they would total nearly $450 billion in Medicare over the first ten years, but then grow to about $1.9 trillion in the next decade. Just like physician fees, virtually no one believes Congress will sustain arbitrary payment rate cuts of this magnitude. And without them, the Reid plan is a clear budget buster.
So, here's the bottom line. On paper, the Reid plan plus the "doc fix" would increase total federal spending by about $4.9 trillion over twenty years. Senate Democrats would resort to bracket creep and other tax hikes to raise $2.2 trillion over the same period. The balance would be made up with spending reductions, mainly in Medicare, that no one believes can be sustained, and in any event do not constitute "health reform." In other words, it's a tax-and-spend bill of the highest order. And only the spending is certain to happen.
posted by James C. Capretta | 5:53 pm
Tags: Harry Reid, Medicare, tax and spend, bracket creep, CBO
File As: Health Care
President Obama has argued all year that a primary reason to enact a version of his health-care plan is to "bend the cost-curve" that has been burdening government and household budgets for years. Of course, the president has not shown that he has a credible plan to address rising health-care costs. But that hasn't stopped him or his aides from talking as if they did.
Robert Samuelson has been a skeptic of Obamacare's supposed cost-control potential from the beginning, but his column in today's Washington Post summarizes his case with particularly effective force. It doesn't hurt that all the evidence is on Samuelson's side in this debate.
Samuelson's critique is particularly important because the nation's long-term prosperity is already threatened by rising entitlement costs. For starters, we are on the cusp of an unprecedented demographic shift. Over the course of the next quarter century, the population age 65 and older will increase from 39 million to 76 million people. This flood of new enrollees in Social Security and Medicare will push the costs of these programs up very dramatically. And runaway per capita health-care costs will exacerbate the problem substantially. According to the Congressional Budget Office (CBO), between 1975 and 2007, per capita Medicare spending rose, on average, 2.3 percentage points faster than per capita GDP growth. Medicaid's per capita spending growth rate was not far behind. CBO expects both programs to continue growing at an accelerated pace for the foreseeable future. With an aging population and rising health costs, the long-term budget outlook is already challenging, to put it mildly. CBO projects that federal spending on Social Security, Medicare and Medicaid will rise from 10.1 percent of GDP in 2009 to 15.7 percent in 2035. That jump — 5.6 percent of GDP in twenty-five years — would be equivalent to adding another Social Security program or Defense Department to the federal budget without any additional revenue to pay for it.
And so, faced with a mountain of unfunded entitlement obligations, what would Obamacare do? Pile on more. According to the Census Bureau, in 2008, there were 127 million Americans under the age of 65 living in households with incomes between 100 and 400 percent of the federal poverty line. The House and Senate health-care bills would essentially promise all of them either free insurance through Medicaid or caps on their insurance premiums based on their incomes. This would constitute the single largest entitlement spending expansion since the Great Society programs of the 1960s. CBO expects the federal spending associated with these new open-ended health entitlement commitments to reach about $200 billion annually by 2019 and escalate at about 8 percent annually thereafter.
Meanwhile, the measures being touted as potential health-care cost-control steps are, by and large, nothing more than minor adjustments to existing provider payment arrangements in Medicare, and sometimes only tests of new payment approaches. For instance, the administration has been pushing a provision that would limit payments to hospitals that have high rates of preventable readmissions. The House-passed bill includes this change, but at a savings of only $1.6 billion in 2019. And even this level of savings is highly questionable, given the tendency of Congress to water down "payment reforms" over time. Indeed, it's easy to imagine Congress rolling this payment change back at the first word that some hospitals are keeping the sickest patients out of their beds to avoid risking readmission payment "adjustments." But even if it and other tweaks in the bills survive, they wouldn't amount to much and certainly wouldn't offset the cost pressures unleashed by extending new entitlement promises to a vast portion of America's middle class.
And that's not just the conclusion of critics like Samuelson. That's also what the Chief Actuary for the Centers for Medicare and Medicaid Services (CMS) found in his review of the House-passed bill, released on Friday. As he put it, the provisions aimed at slowing the pace of rising costs would, by and large, have a "relatively small savings impact." Consequently, instead of "bending the curve," overall national health expenditures would rise by nearly $300 billion over a decade.
The only cost-cutting items in the House bill that the Chief Actuary said would really pinch costs are the across-the-board Medicare payment rate cuts applied to hospitals, nursing homes, and others. Of course, these kinds of arbitrary payment changes have been tried many times before and have never worked to really ease cost pressures. But, on paper at least, they appear to reduce federal spending. However, the Chief Actuary made it clear in his review that even though he listed the savings on his tables, he doesn't think things will work out that way in the real world. As he put it, the cuts would push payment rates so low over time that some institutions wouldn't be able to survive if they continued to serve Medicare patients. The threat of reduced access to care would be reason enough for Congress to reverse course and increase the payment rates at a later date. (Of course, that's exactly what Congress is planning to do this year with physician fees, now scheduled to get cut 21 percent in January based on a previous congressional payment-rate policy that has now run amok.)
For a while, some Democrats liked to deflect calls for entitlement reform by suggesting that what the country really needs is a health-care plan that slows the pace of rising costs. Indeed, it has become almost a mantra among some Obama apologists to say "health reform is entitlement reform."
But the bills moving through Congress thoroughly discredit that contention. There's no reform in these bills. They are entitlement expansions, plain and simple.
Indeed, the Obama administration likes to suggest it has a plan to painlessly root out unnecessary health spending without harming patient care. In truth, there is no such plan, and there never will be. The federal government has no capacity to drive greater efficiency in the diverse and complex health sector. When cost pressures mount, as they surely would if Obamacare passes, the federal response will be what it has always been in the past: price controls and arbitrary caps. All Americans will pay the cost with inferior quality of care and access restrictions. The proponents of the current bills are betting that, by the time this reality has sunk in, it will be too late to wean the public off of another vast and irreversible entitlement.
posted by James C. Capretta | 5:45 pm
Tags: CBO, entitlements, cost, Obamacare, Robert Samuelson, CMS
File As: Health Care
The health-care bill unveiled yesterday by House Speaker Nancy Pelosi is being advertised as costing "only" $894 billion over a decade. But that is highly misleading.
For starters, the gross cost of expanded Medicaid coverage and a new entitlement to subsidies for health insurance is much higher than Democrats are suggesting, according to the cost estimate released yesterday by the Congressional Budget Office (CBO). The Democrats report a lower number by netting out the taxes some individuals pay when they don't enroll in insurance, as well as the tax payments from employers who choose to "pay" rather than "play." But that accounting confuses tax increases with spending reduction. The gross spending increase from the entitlement expansions in the revised House bill is $1.055 trillion over ten years, not $894 billion.
In addition, as I noted previously, House Democrats have conveniently decided to take the so-called "doc fix" out of the larger health-care bill and pass it as a standalone measure, at a cost of $250 billion over ten years. The House health-care bill is bursting with other Medicare-related provisions. What could possibly justify separate accounting for the physician fee fix? In fact, there is no justification, other than budgetary smoke and mirrors. House leaders are splitting the costs of their scheme into two bills and pretending that this maneuver somehow brings down the overall cost to taxpayers. It doesn't. In reality, House Democrats are still planning to spend $250 billion on Medicare physician fees, and that should be made clear in any honest accounting of what's afoot here.
Finally, there's the other spending in the health-care plan. There's loads of it. Higher Medicaid matching funds to buy off selected governors. A new program aimed at encouraging more physicians to enter primary care. Prevention spending. And apparently just about anything else House Democrats could think of to spend taxpayers' money on. When it's all racked up, these programs cost $230 billion over a decade. And that's not even including the extra spending on Medicare drug coverage, which is obscured in CBO's accounting by provisions which allow the government to set payment rates for certain products.
All totaled, then, Democratic leaders are planning to ram a $1.5 trillion spending program through the House in coming days, far exceeding the $900 billion threshold that President Obama supposedly established in his speech to a joint session of Congress.
How are House leaders planning to cover these costs? Well, for starters, they aren't. The cost of the physician fee fix will simply get added to the ballooning debt President Obama is planning to run up during his presidency. The rest will supposedly be covered by a whopping tax increase and implausible price-controls in Medicare and Medicaid.
On the tax side, Democrats are planning to saddle those with annual incomes exceeding $500,000 with a new 5.4 percent surtax. That would raise $461 billion over a decade, according to the Joint Tax Committee. But there's also the penalty tax imposed on individuals who don't sign up for health insurance. That raises $33 billion. There's also the employer "pay or play" mandate, which brings in $135 billion. And finally, there are the taxes on medical device manufacturers and many others. These provisions raise an additional $100 billion over a decade. In all, therefore, House Democrats want to raise taxes on Americans by $725 billion over the period 2010 to 2019 to partially pay for their health-care scheme.
The Democrats close the remaining gap (excluding the physician fee spending) by cutting Medicare and Medicaid spending by about $550 billion over ten years and starting up a new, budget-busting long-term care program that brings in $72 billion in excess premiums in its early years.
President Obama has claimed all year that he would work with Congress to put in place reforms that would make health-care delivery more efficient. But that's not what House Democrats are proposing with their changes to Medicare. Their plan is for payment rate reductions, indiscriminately applied to all providers without regard to any measure of quality. All hospitals would get basically the same percentage cut in their payments, no matter how well or badly they treat their patients. As the Washington Post noted this morning, these cuts imply that House Democrats have found the magic formula for slowing Medicare per capita spending from a 7 percent average over the past two decades to just 4 percent for the coming twenty years. That is beyond implausible. Congress and the Medicare bureaucracy have been trying to slow the pace of entitlement spending with price controls for nearly half a century, and it has never worked. CBO has to score the provisions as they are written. But common sense indicates that these Medicare payment rate reductions will never finance the massive entitlement spending House leaders are planning.
In sum, then, the House plan is not a $900 billion program. It's a $725 billion tax increase and a $1.5 trillion spending program. Tax and spend, indeed.
posted by James C. Capretta | 8:16 pm
Tags: House bill, Democrats, CBO, budget, tax increases, Pelosi, Obama
File As: Health Care
In July, the president and the Democratic leaders in the House of Representatives argued that the time for analysis and debate was over and that the House should pass its version of health-care reform before the August recess.
Now, just three months later, House Democrats are saying that the bill they were in such a hurry to pass during the summer is old news and irrelevant. What matters now, they assert, is their "new and improved" version of reform, which they promise will be much better and easier to pass. Of course, they aren't sufficiently confident in its virtues to open it up to public scrutiny just yet. No, they assert the bill will be different even though the legislative plan is clearly going to be just as it was in July. House Democrats are hoping to unveil their updated version of Obamacare as close as possible to a vote, probably in November, so that there is no time for public opposition to stop it.
It might work. But then again, that's what they tried to do with version 1.0. The original bill was made available on July 14 with the intention of having a vote in the full House on July 31. That strategy failed miserably because it took just a few days for the public to figure out that what House Democrats were pushing represented far more governmental control of health care than the public was comfortable with. Momentum toward passage dwindled.
Now even the original sponsors of the House bill are walking away from it. On Wednesday, Representative Pete Stark (D.-California), the chairman of the Ways and Means Health Subcommittee, responded to a new and devastating analysis of the original House bill (as passed by the Ways and Means Committee on July 17) by saying that it is beside the point. House leaders are constructing a new version, so the new analysis is "out-of-date relative to what will ultimately be voted on in the House," Representative Stark said.
The analysis in question was conducted by the Chief Actuary at the Centers for Medicare and Medicaid Services (CMS). Given what it says, it's understandable that Representative Stark would now disown the bill he helped write. Here are some of the findings:
Total national health spending would increase by $750 billion over the next decade. (So much for "bending the cost curve.")

The overall cost of the House bill will be $1.2 trillion over the period between 2010 and 2019. By 2019, the annual cost of the entitlement expansions would be $236 billion, rising at a rate of 9 percent annually. After all this spending, there would still be 23 million uninsured residents in 2019.

The president's signature initiatives to slow the pace of rising costs — comparative effectiveness research, prevention and wellness efforts, and payment changes in Medicare — won't work as advertised. The savings are almost non-existent.

The cuts in Medicare Advantage plans would result in "less generous benefit packages" for millions of seniors. The actuaries estimate the House's Medicare Advantage cuts, which are unlikely to change in any new version of the bill, would force about 8.5 million seniors out of the coverage they would prefer and back into the traditional program. (So much for "keeping the coverage you have today.")

Democratic proposals to impose arbitrary, across-the-board payment rate cuts for hospitals, nursing homes, and home health agencies based on presumed "productivity gains" are unlikely to work as planned. The actuaries suggest that some institutions won't be able to hit the targets because health care is more labor intensive than other sectors of the economy. Consequently, the cuts could force some organizations to leave the Medicare program, thus "possibly jeopardizing access to care for beneficiaries."
In recent days, House Speaker Nancy Pelosi and her "leadership aides" have let it be known to reporters that they have gotten more favorable reviews of their updated bill from the Congressional Budget Office (CBO). According to press accounts, the new bill, which is not available to the public, comes in under $900 billion and will cut the federal budget deficit for two decades.
From a process standpoint, CBO should never allow members of Congress to characterize the findings of confidential cost estimates without consequences. Undoubtedly, CBO staff is told not to share its analysis with anyone until the bill is unveiled. But if House leaders decide to go public with CBO's apparent bottom line, CBO really should be obligated to go public with the entire analysis to ensure no misunderstanding. Otherwise CBO's findings can be distorted. House Democrats are trying to build momentum again toward passage by creating the impression they have found a painless way to turn their budget-busting bill from July into one that actually cuts the deficit. It's CBO's job to make sure no one gets away with this kind of phony free-lunch argument. If in fact a new version of the House bill reduces the federal budget deficit over two decades, someone is paying. Who? Here's betting that's it's the American middle class. And as soon as that becomes known, the new updated House bill is likely to become just as unpopular as the now dead and buried old one.
posted by James C. Capretta | 10:37 pm
Tags: CBO, CMS, House, Ways and Means, Pete Stark, Medicare Advantage, Nancy Pelosi
File As: Health Care
Previous
Next