ObamaCare
One of the options the Democrats are looking at is an executive order to get their last votes.

But this seems highly unlikely to work in any real and enduring sense to change the underlying policy from what's in the Senate bill regarding funding of abortions.

For starters, the Democrats say the Senate bill already satisfies the test of staying true to Hyde. So what are the odds that they are going to be willing to accept real Stupak-like language overnight? The president's "base" would go crazy, one would think. So that seems like a real stretch.

Moreover, an executive order isn't even as tight as a regulation. It can be rescinded in a day, by a new president, for instance. There's no guarantee at all it would survive over time. Plus it would be up to the executive branch to enforce it, not the courts.

It seems clear that the White House is trying to divide the Stupak group, and provide another fig leaf for some of them. Let's hope it doesn't work. If the Stupak group really wants to prevent funding of elective abortions, the only way to do so is by passing a Hyde-like amendment into law. Anything short of that would almost surely lead, in time, to direct federal funding of abortion-on-demand.
posted by James C. Capretta | 6:01 pm
Tags: Obamacare, Stupak, executive order
File As: Health Care
Yesterday I sat down with Kathleen Shannon of WLBZ2 in Maine to discuss the health care bill, entitlements more generally, and the deficit and debt.
posted by James C. Capretta | 4:14 pm
Tags: interview, Obamacare, debt, deficits
File As: Health Care
The White House and its congressional allies are trying to suggest that the latest Congressional Budget Office (CBO) cost estimate proves that their health-care plan is fiscally responsible.
But, in fact, the latest CBO projections confirm — again — that the president's health plan would pile another unfinanced entitlement program on top of the unaffordable ones already on the federal books.
According to CBO, the new entitlement spending in the plan would cost $216 billion by 2019, and then increase by 8 percent every year thereafter. In other words, the president's plan would stand up another health entitlement program that will grow much faster than the nation's economy or revenue base. The changes the Democrats would make to the Senate-passed bill would make the entitlement program even more expensive.
Over a full ten years of implementation, the cost of the new entitlement spending would reach $2.5 trillion, at least, not the $1 trillion advertised by the White House.
The president and his congressional allies have suggested that the offsets they are pushing will more than cover this massive spending increase. But even a modest amount of scrutiny reveals these supposed offsets are nothing more than gimmicks and implausible assumptions.
For starters, as I mentioned yesterday, the plan doesn't count $371 billion in spending for physician fees under the Medicare program. The president and congressional Democrats want to spend this money, for sure. They just don't want it counted against the health bill. That's because they want to reserve all of the Medicare cuts in the bill as offsets for another entitlement instead of using them to pay for the problem that everyone knows needs fixing. The president says he shouldn't have to pay for the "doc fix." But why not? Never before did Congress move to add the cost of a permanent fix to the national debt. But that is exactly what the president now wants to do. When the cost of the "doc fix" is properly included in the accounting, all of the claimed deficit reduction from the president's health plan vanishes.
Then there's the "Cadillac" tax on high-cost insurance plans. Because of union pressure, the president pushed the tax back to 2018, well past the point when he will have left office. But once in place, the threshold used to determine "high-cost" will rise only with the Consumer Price Index, beginning in 2020. That means a very large segment of the middle class would get hit with the tax as the years passed. The president has shown that he is unwilling to actually collect this tax on his own watch. But he wants us to believe that we can count on a huge revenue jump over the long run because his successors will have more stomach for it than he does.
Similarly, in jury-rigging "long-term deficit reduction," the latest plan would first increase the premium assistance subsidies paid to low- and moderate-wage families above the levels in the Senate-passed bill, but then index their value to something below the growth in premiums to give the appearance of deficit reduction in the decade after 2019. There's no "bending of the cost-curve" here. It's sleight of hand that, if actually implemented, would force millions of low-income families to pay ever-higher premiums every year. The Democrats don't want to talk about that. They just want to pretend they have been serious with fiscal discipline.
The other gimmicks remain in the plan as well: The double-counting of premiums for long-term care insurance programs as an offset for the health entitlement spending. The assumption that Congress will allow Medicare reimbursement rates to fall so low that one in five hospitals and nursing homes might be forced to stop taking Medicare patients. And the expectation that somehow Congress can hand out generous new subsidies to those getting insurance through the exchanges, even though many tens of millions of others with the same resources would get no additional help for their job-based coverage.
The bottom line here has been clear for months. The bill being pushed by the president would take what's already a very bleak budget outlook and make it much, much worse.
posted by James C. Capretta | 5:46 pm
Tags: CBO, Obamacare, deficit
File As: Health Care
The New York Times invited me to participate in an online symposium with Robert Reich, Gail Wilensky, and others to debate the odds on whether the Democrats' health care plan will pass into law. Here's an excerpt from my contribution:
Despite the enormous pressure from the White House, the odds remain against passage, Democratic catastrophe and all.

The votes Speaker Pelosi must get would mainly come from moderates and conservative members elected in highly competitive districts. Their constituents are trending solidly toward opposition to the bill, primarily for cost reasons....

The public is not naïve. They know government entitlement programs have a strong tendency to grow rapidly once put in place. What they see coming down the pike is another under-financed program, at a time when the federal government is already running up the nation's debt at an unprecedented pace because previous commitments are now unaffordable.

Their concern is well placed, and should be enough to force Congress to come back later with a plan that is less risky for the country's economic future.
You can find my contribution to the NYT symposium online here.
posted by James C. Capretta | 3:53 pm
Tags: Nancy Pelosi, Obamacare, voters
File As: Health Care
My colleague Yuval Levin and I have coauthored a piece in the latest Weekly Standard that examines the consequences of the Democrats' health care plan for the broader economy, and especially for the jobs outlook:
Beyond taxes and spending, Obamacare would also wreak havoc on the labor market. Because employers would get penalized if any of their low- and moderate-wage workers ended up in the new subsidized insurance pool, they would avoid hiring such workers. Democrats claim they want to jam through health care reform so they can turn their attention to jobs, but the bill provides a strong disincentive for businesses to hire those who need jobs the most.

The plan would, moreover, trigger an inefficient and costly re-sorting of American labor. Under the bill, despite the enormous cost of subsidizing coverage in the new government-run "exchanges," only 18 million people would be getting such subsidized coverage in 2016—even though there are 127 million Americans today with incomes in the targeted range of between one and four times the poverty rate. The vast majority of workers would still be in job-based plans and get no additional help. Gene Steuerle of the Urban Institute estimates that a worker making about $60,000 per year in 2016 would get $4,500 more in federal aid if he were able to get his insurance through an exchange rather than through his employer. That's a powerful incentive for workers and firms to rearrange their operations to take advantage of the federal money. In time, the American economy would be divided into companies with low-wage workers getting government-subsidized health care and others with higher-wage workers who continue to get employer-based plans. This would make the labor market far less efficient (harming productivity), and it would mean that the subsidies themselves would cost far more than the CBO now estimates.

And for those workers who do end up getting federal subsidies for their insurance, the program is a trap. If they get a pay raise, they will lose some of their insurance subsidy. Indeed, the schedule of subsidy withdrawal is so severe that it will push many low-wage families into effective tax brackets of 60 percent to 80 percent, according to a CATO Institute analysis. Obamacare would thus provide a strong disincentive to work and so undermine the most successful policy initiative in generations: welfare reform.
You can read the entire article online here.
posted by James C. Capretta | 11:52 am
Tags: Obamacare, Yuval Levin, Eugene Steuerle, CBO
File As: Health Care
Congressman Paul Ryan's systematic dismantling of the argument that Obamacare would cut the budget deficit, delivered at the Blair House "summit" meeting, has gotten a lot of attention in recent days, and deservedly so. The Wall Street Journal ran the full text of his presentation on its opinion page yesterday and amplified his arguments in an editorial of its own. At Blair House, neither the president nor any other Democrat present offered a direct rebuttal to Ryan's critique. The president chose to change the subject instead.
This week, however, top administration officials have come forward with a belated defense — of sorts.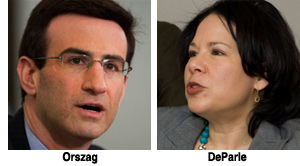 First, OMB Director Peter Orszag penned a blog post taking issue with one of Ryan's points, namely that the plan relies on ten years of offsets to pay for only six years of spending. And today, Orszag and White House Health Reform Czar Nancy-Ann DeParle have an op-ed in the Washington Post that expands upon Orszag's post.
Orszag and DeParle start by agreeing with Ryan that delaying the start date of an entitlement expansion is a tried-and-true budget gimmick, designed to push the full cost of the additional spending outside of the "budget window" covered by a cost estimate.
But, not to worry, they say. In this instance, it's not a gimmick because the deficit reduction from their plan just keeps growing over time. They claim the president's health plan would produce deficit reduction of $100 billion over ten years and $1 trillion in the second decade.
Of course, there's another reason besides balancing revenue and spending to push the start of an entitlement back, and that's to make the ten-year cost look much smaller than it really is. Recall that the president promised in his address to Congress last September to deliver a bill that costs only "$900 billion" over a decade. The new entitlements the Democrats want to create would cost much, much more than $90 billion per year. In fact, the Congressional Budget Office (CBO) says they will cost about $200 billion per year by 2019. And so, to get the media to now say his plan costs only "$1 trillion" (what's $100 billion among friends!), the administration delays the coverage expansion provisions until 2014. Never mind that the president also says the uninsured can't wait a day longer for the legislation. Once enacted, he would make them wait — for four years.
As Ryan noted, however, once the program did get up and running, costs would soar. The Senate Budget Committee Republican staff estimates the Senate bill's cost at $2.3 trillion over ten years when fully implemented.
In their Post op-ed, Orszag and DeParle do not even attempt to address the many other points Ryan made which expose the dubious assumptions and sleight of hand behind their deficit-cutting claims.
For instance, the health reform bill is filled to the brim with Medicare changes, but the one Medicare provision the president and the Democrats want to pass separately from the health bill is the so-called "doc fix," which would repeal a cut in Medicare physician fees at a cost of $371 billion over ten years. Of course, splitting their agenda into two or three bills doesn't change the total cost. When the "doc fix" is properly included in a tally of what the president is pushing, all of the supposed deficit reduction vanishes.
Then there's the double-counting that Ryan exposed. The president's plan starts up yet another entitlement program, providing long-term care insurance. Enrollees have to pay premiums for a number of years before they qualify for any benefits. Consequently, at startup, there's a surplus of premium collections — $73 billion over ten years, according to CBO — because no one qualifies for the benefits yet. The president and his team count these savings against the cost of health reform — even though the money will be needed later to pay out long-term care insurance claims. When this gimmick is taken out of the accounting, the president's health proposal goes even deeper into the red.
Over the long-run, the administration's claim of large-scale deficit reduction hinges on the dubious assumption that future elected officials will demonstrate more political courage than those in office today.
For most of last year, the president said that he would "bend the cost-curve" in large part by imposing a new tax on "high-cost" insurance plans. The tax would hit more and more middle class beneficiaries each year because the threshold for determining what constitutes a "high cost" plan would grow much more slowly than medical costs. In fact, after a number of years, virtually all Americans would be in plans at or above the "high-cost" threshold.
House Democrats and their union allies despise this tax. Last week, the president caved in to their pressure and pushed the start date of the tax back to 2018, well past the point when he will have left office. Even so, Orszag and DeParle still claim credit for the massive revenue hike that would occur in a second decade of implementation. They want us to believe we can finance a permanent, expensive, and rapidly growing new entitlement program with a tax the president himself was never willing to collect.
In Medicare, Orszag and DeParle like to highlight so-called "delivery system reforms" the administration has touted. In the main, these are extremely small-scale initiatives and pilot programs. CBO says they will amount to virtually no savings. The big Medicare cuts in the president's plan come from across-the-board payment-rate reductions. In particular, the president wants to cut the inflation update for hospitals, nursing homes, and others by half a percentage point every year, in perpetuity. On paper, this change produces huge long-run savings. But it does nothing to control the underlying cost of treating patients. It just pays everyone less, without regard to patient need or quality of care. The chief actuary of the program has said repeatedly that these cuts are completely unrealistic for these very reasons. If implemented, he expects they would drive one in five facilities into serious financial distress. And yet Orszag and DeParle want us to believe these savings can be counted to finance the president's massive entitlement promises.
And massive they are. CBO says the coverage expansion provisions in the Senate-passed bill would cost about $200 billion by 2019, and that cost would rise 8 percent every year thereafter.
But even these estimates understate the true cost of Obamacare. The president's plan, like the House and Senate bills, would extend generous new insurance subsidies to low- and moderate-wage workers getting insurance through the new "exchanges." Workers in job-based plans would get no additional help. That means two workers with identical incomes would be treated very differently. Gene Steuerle of the Urban Institute has estimated that, in 2016, a worker with job-based coverage and a $60,000 income would get $4,500 less than someone with the same income but health insurance through the exchange. This kind of inequitable treatment would never last: one way or another, the entitlement would get extended to everyone in the targeted income range, sending the overall costs of the program soaring.
The president started off last year by saying he wanted to "bend the cost-curve" even as he broadened coverage. But after a year of partisan political and legislative maneuvering, all that's left is a massive entitlement expansion. The new costs would get piled on top of the unreformed and unaffordable entitlements already on the books. It's a budgetary disaster in the making.
posted by James C. Capretta | 4:03 pm
Tags: Peter Orszag, Nancy-Ann Deparle, CBO, OMB, Obamacare, White House plan, White House summit, budget, chief actuary
File As: Health Care
At last week's Blair House meeting, several Democrats, including Senator Chris Dodd and House Speaker Nancy Pelosi, repeated the standard talking point used by those pushing for passage of a big health-care bill, which is that it is simply not possible to write a sensible plan that isn't also "comprehensive."
Unfortunately for those pushing this line at the "summit," the Wall Street Journal reported the very same day that the White House has already drafted a decidedly non-comprehensive "Plan B." After Scott Brown's stunning election to the Senate in January, it apparently dawned on the president that his grand health-care ambitions might actually be going up in smoke. If that dreaded eventuality did indeed come to pass, the president wanted — not unreasonably — to be ready with a "fallback" plan, one that would cost much less than the bills the House and Senate passed in 2009 but that would still do something positive from his perspective. As reported by the Journal, the president's staff dutifully complied and put together a package of public insurance expansions and other changes that would cost roughly one-fourth of the "big bill" while still covering some 15 million more people with health insurance.
Of course, just because a plan is incremental does not mean it would entice bipartisan support. This particular version of an incremental plan probably wouldn't get much Republican interest, given the heavy emphasis on expanding public insurance. It's an incremental package, yes, but in a decidedly Democratic direction. Other versions with a nod to private insurance almost certainly would attract some Republican votes.
Still, the very existence of the Obama team's fallback plan should embolden those Democrats who are now resisting their leadership's pressure to take up the full Obamacare package in coming weeks and pass it. There are plenty of alternatives to passing a massive and risky rewrite of American health care. It's not "all or nothing," and never has been. If Obamacare were to be set aside at last — to the great relief of voters everywhere — the president and Congress would still have plenty of time in coming weeks to take up and pass a less ambitious but still significant measure.
The problem for Democrats is that they always dream of putting in place the next New Deal or Great Society. At his State of the Union address in January 1994, President Clinton famously brandished a pen at the Democratic Congress and threatened to veto any health-care bill that didn't "guarantee every American" health insurance. He never had to deliver on that threat because no bill was ever sent to his desk.
Now, President Obama and his congressional allies have fallen into the same trap. Witness all the comparisons in recent days to the enactment of Social Security and Medicare. That's the Democrats' ideal. Their goal is "universal coverage," but what that really means is another sweeping entitlement that permanently changes the relationship of the middle class to the federal government.
Late last week, the White House announced additional appointments to the "fiscal commission" created by the president, which is supposed to make recommendations on long-term entitlement reform. Most Democrats seem not to have noticed the irony of rushing to lock in another massive entitlement even as they admit they have no earthly idea how to pay for the ones already on the books. But it would seem the American people have, by and large, noticed. Which is why they are in no mood for a "historic" signing ceremony which would only make matters worse.
posted by James C. Capretta | 8:27 pm
Tags: White House plan, Obamacare, Bill Clinton
File As: Health Care
I have a new column up at Kaiser Health News this week. An excerpt:
It is now readily apparent that piling up debt at the rates implied by the president's budget would all but invite an economic crisis. At some point, the flood of Treasury debt instruments worldwide would lead lenders to demand higher rates of return for their loans, or perhaps to runaway inflation — or more probably both. The result could be quite devastating to private-sector business investment, productivity and job growth, making it all the more difficult to get out from under the debt spiral that would ensue....

It's not that the president and his advisors don't recognize the problem. They speak frequently about the dangers of business as usual. The problem is that the president's stated solution will never work.

What the administration would like to do is to have Congress pass the health care bill and then follow it up with a bipartisan deficit-cutting plan, put together by a special commission assigned with assembling a medium and long-term solution to the nation's budgetary woes.

The first problem with this sequencing is its unrealistic political calculus.... The other problem is the planned timing of the debt commission's recommendations and congressional action. The president would like the commission to issue its plan after the November congressional elections, and have a lame-duck Congress vote on it between early November and the start of new Congress next January. So the most far-reaching tax hikes and spending cuts in a generation would be recommended by an unelected commission and passed by an exiting Congress, all in a matter of days and weeks, even as newly elected members are set to take their seats. To say the odds are long is quite an understatement.
The whole thing is available here.
posted by James C. Capretta | 3:26 pm
Tags: budget, Obamacare, deficit commission, debt
File As: Health Care
With my colleague Yuval Levin, I have cowritten a piece in the latest Weekly Standard examining the political landscape for health care reform in the wake of the election of Scott Brown to the United States Senate. After discussing how the Democrats' ambitious plans have screeched to a halt, we suggest some ideas for health reform that conservatives should take up:
First, they should seek to address the problem of insuring Americans with preexisting conditions through state-based high-risk pools, not cumbersome insurance regulations that try to outlaw basic economics. Risk pools, backed with federal money but nowhere near the scale of Obamacare's costs, would give those with preexisting conditions more options in the individual market and make a significant dent in the number of uninsured, but without overturning our health care system.

Second, they should propose to help doctors and patients limit some of the burden of rising costs with medical malpractice reform. Sensible caps on punitive damages would not only save money but also help address shortages of medical providers in key specialties, and allow more Americans to afford and access care.

Third, they should argue that the states be given the lead role in developing more detailed reforms of how and where people get their insurance—to cover more people and slow the rise of costs. The overall goal should be to build well-functioning marketplaces in which insurers and providers compete to deliver the best value to cost-conscious consumers. The federal government should remove bureaucratic obstacles to state experimentation on this front, and offer support where possible, but not design one mammoth new program. The regulation of both the practice of medicine and of insurance is done in the states, and their improvement should be too....

Meanwhile, for the longer term, conservatives should make a case for changes in the tax law that level the playing field between employer-provided and individually purchased health insurance, with a gradual transformation of the tax exclusion for employer-based coverage into a credit available to all. A consumer-controlled tax credit would also enhance the benefits of risk-pools, tort reform, and state-based reform efforts.

And they should press the case for real Medicare reform, not to use the program as a pot of cash, as the Democrats tried to do over the past year, but to put it on a sound footing by empowering enrollees rather than bureaucrats to make decisions....

These ideas would not yield a sudden transformation of American health care, but a gradual improvement in the areas that matter most—cost-control, greater access for the uninsured, and greater fairness for those with preexisting conditions—while sustaining the quality and innovation that characterize American health care.
The piece is available in its entirety here.
posted by James C. Capretta | 9:28 pm
Tags: Obamacare, Yuval Levin, tort reform, risk pools, Medicare
File As: Health Care
The House Budget Committee held a hearing yesterday on "Perspectives on Long-Term Deficits." I was invited to testify. Here is how I concluded my written testimony:
The nation's long-term budget outlook is bleak in large part because our healthcare entitlement commitments far exceed the revenues available to pay for them. By 2019, the House and Senate-passed health-care bills would add at least another $200 billion per year to those commitments, and unleash pressures for even more spending down the road. Meanwhile, the offsets used to pay this spending would be much less likely to occur, and the cost control provisions are not nearly robust enough to make a difference.

Congress would be well-advised to take a step back and rethink this entire approach. Instead of passing an expensive health-care bill that uses $1 trillion in offsets to pay for more spending, it would be better to craft a sensible, consensus long-term budget plan which has as one of its core elements an affordable, bipartisan health-care program, one that truly does the job on costs and expands coverage as well.
Here's a video of the hearing (my testimony begins at 33:22):
posted by James C. Capretta | 5:27 pm
Tags: deficit, debt, entitlements, Obamacare
File As: Health Care
Previous
Next