Paul Ryan
[NOTE: Earlier today I testified before the House Budget Committee as part of a hearing on Fulfilling the Mission of Health and Retirement Security. The text of my written testimony appears below. When a link to video becomes available, I'll put that up, too.]
Mr. Chairman, Mr. Van Hollen, and members of the Committee, thank you for the opportunity to participate in this very important hearing on "Fulfilling the Mission of Health and Retirement Security."
In the time available, I would like to focus my comments on the health care component of today's hearing.
Rising Federal Health Entitlement Obligations
A primary objective of the Patient Protection and Affordable Care Act (PPACA) was to increase the health security of the American people. But health security, no matter how well intentioned, will be fleeting if the programs upon which that security depends are unaffordable for taxpayers.
Unfortunately, that is exactly the situation in which we find ourselves today. Federal health entitlement spending has been growing rapidly for many years, and is expected to continue doing so even after enactment of the PPACA. Indeed, it is sometimes said that at some distant point in the future, the long-term rise in federal health care costs will catch up with us. But the truth is that rising federal health entitlement spending has already caught up with us. The budget problems we are experiencing today are directly related to the fact that health costs have risen dramatically over the past four decades. In 1975, the federal government spent 1.3 percent of GDP on Medicare and Medicaid. In 2010, spending on just those two program had risen to 5.5 percent of GDP. That's more than 400 percent growth.
And the Congressional Budget Office's (CBO) most recent projections show health entitlement spending is poised to rise even more rapidly over the next decade than it has in the past. As shown in Chart 1, CBO expects total health entitlement spending to rise from $810 billion in 2010 to $1,763 billion in 2021. By 2021, health entitlement spending will make up an astonishing 36 percent of all non-interest federal outlays. So more than one in three dollars that the government spends on programs and agency budgets will go to meeting health entitlement obligations.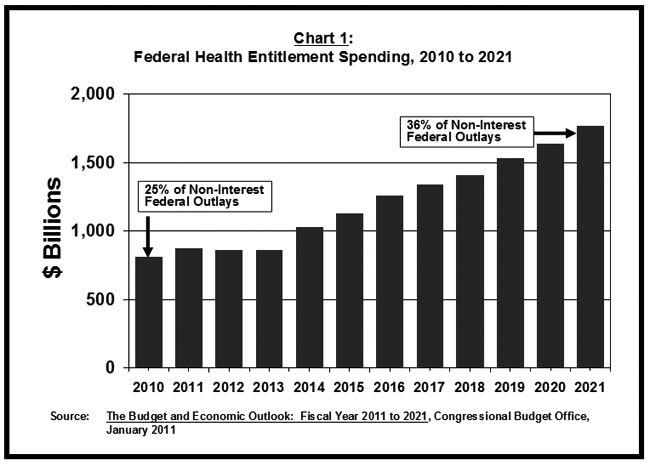 During the debate over the health care law, it was suggested that a goal of reform was to begin to slow the pace of rising federal health entitlement costs. But the PPACA has almost certainly compounded the problem, not solved it. As shown in Chart 2, in a long-term forecast issued last June, CBO estimated what health entitlement spending would be in the coming decades if the health law had not been enacted at all and if it were implemented in full (called the "extended baseline"). With those assumptions, the lines do in fact cross at some point around 2027 or so — meaning the PPACA will have brought health entitlement obligations below the level they otherwise would be. But the "extended baseline" scenario assumes the new law's deep payment reductions in the Medicare program can be sustained on a permanent basis. As this committee heard at a hearing in January, the chief actuary of the Medicare program believes that to be a very unlikely scenario. Accordingly, CBO has also done a projection of what federal health entitlement obligations will be in future years under the PPACA if the Medicare cuts are moderated even slightly. With that assumption, the PPACA does not reduce federal health entitlement obligations but increases them, by about 1 percent of GDP by 2035.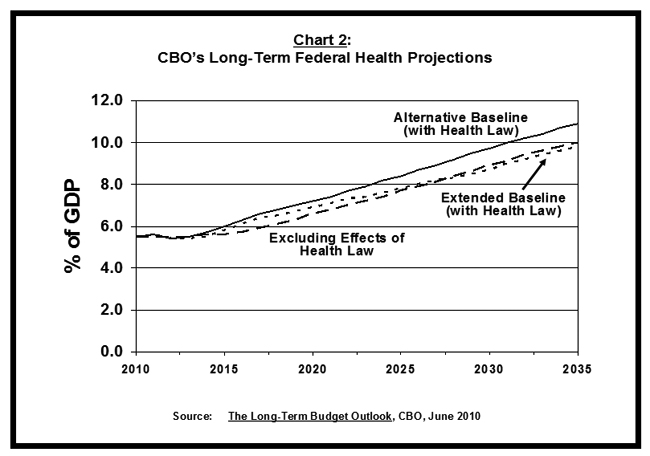 The Role of Existing Government Policy
Why are health care costs rising so rapidly? The prevailing view has been that the federal government's health programs experience rapidly rising costs because they are victims of the runaway cost train that is pulling the entire system down the tracks at too fast a rate. According to this way of thinking, the only way to slow the government's costs is to slow the whole train. That's the point of view that informed much of the writing of the new health care law.
But this thinking misses a crucial point. Yes, one aspect of cost escalation is an exogenous factor. Rising wealth and medical discovery are fueling the demand for more and better treatments. That should not be resisted in any event. But there is widespread agreement that costs are also high and rising because of waste and inefficiency — and here the problem is not some force outside of government's control but existing governmental policy.
At present, the vast majority of Americans get their health insurance through one of three sources: Medicare, for the elderly and disabled; Medicaid, for low-income households; and employers for the working-age population and their families. In each of these instances, the federal Treasury is underwriting rapid cost escalation because there is no limit to what Uncle Sam will pay.
In an important 2006 study, Amy Finkelstein, an economics professor at the Massachusetts Institute of Technology, estimated that about half of the real-cost increase in health care spending in the United States from 1950 to 1990 can be attributed to the spread of federally-subsidized and expansive third-party insurance through the government and employers.[1]
Medicare's important influence on how health care services are delivered is often overlooked or understated. Medicare is the largest purchaser of services in most markets today. Four out of five enrollees are in the traditional program, which is fee-for-service insurance. That means Medicare pays a pre-set rate to any provider for any service rendered on behalf of a program enrollee, with essentially no questions asked. Nearly all Medicare beneficiaries also have supplemental insurance, from their former employers or purchased in the Medigap market. With this additional coverage, they pay no charges at the point of service because the combined insurance pays 100 percent of the cost. This kind of first-dollar coverage provides a powerful incentive for additional use. Whole segments of the U.S. medical industry have been built around the incentives embedded in these arrangements.
Congress and the program's administrators have, without interruption, tried to hold down Medicare's costs by paying less for each service provided. Those providing services to Medicare patients have responded by providing more services, and more intensive treatment, over time for the same conditions that patients present to them. In most cases, there is no reason for them not to provide higher-volume care. The patients generally do not pay any more when more services are rendered. And the bill is just passed on to the Medicare program — and federal taxpayers.
The result of this dynamic is hardly surprising. The volume of services paid for by Medicare has been on a steady and steep upward trajectory for decades. As shown in Chart 3, according to CBO, the real price Medicare paid for physician fees dropped between 1997 and 2005 by nearly 5 percent, but total spending for physician services rose 35 percent because of rising use and more intensive treatment per condition.[2]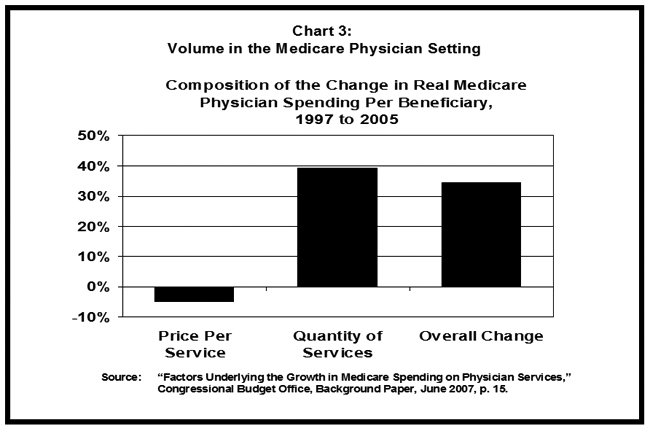 Medicaid fuels cost growth because it is financed with a flawed system of federal-state matching payments — with no limit on the amount that can be drawn from the U.S. Treasury each year. For every dollar of Medicaid costs, the federal government pays, on average, 57 percent and the states pick up the rest. In this arrangement, if a governor or state agency wants to cut their state's Medicaid costs, they have to cut the program by $2.30 to save $1.00 because the other $1.30 belongs to the federal government. Not surprisingly, most state politicians do not find this to be a particularly appealing option. So, instead, they spend most of their energy devising ways to "maximize" how much they get from the federal government for Medicaid services — while looking for creative ways to contribute the required state portion of the funding without really doing so.
The federal tax treatment of employer-sponsored coverage provides a similar incentive for higher costs rather than economizing. Today, employer-paid health insurance premiums do not count as taxable compensation for workers. No matter how expensive the health insurance premium, if the employer is paying, it is tax-free to the worker. Employees thus have a strong incentive to take more and more of their compensation in the form of health coverage instead of cash wages because the health coverage is not taxable. For every dollar spent on health coverage, a worker receives a full dollar of coverage; whereas with every dollar received in other forms of compensation, a portion has to go to the government.
When you put it all together — Medicare's incentives for rising volume, unlimited federal funding for state-run Medicaid plans, and a tax subsidy for employer plans that grows with the expense of the plan — it is not surprising that health care costs are rising rapidly in the United States. The vast majority of Americans are in insurance arrangements where a large portion of every extra dollar spent on premiums or services is paid for by taxpayers, not them.
The Key Question
So cost escalation is at the center of our fiscal problems, and it is making health care unaffordable for too many people. The key question for health reform is, what can be done about it. Put more precisely, the key question health reformers must answer is this: what process is most likely to succeed in bringing about continual and rapid improvement in the productivity and quality of patient care? Because the only way to slow the pace of rising costs without comprising the quality of American medicine is by making the health sector ever more productive. More health bang for the buck, if you will.
One view holds that the federal government can "engineer" more cost-effective health care delivery. That's the theory behind the new law's Accountable Care Organizations, other Medicare pilot projects, the comparative effectiveness research funding, and the new $10 billion Center for Medicare and Medicaid Innovation.
But Medicare's administrators have been trying for years to change the dynamic in the traditional fee-for-service program and have failed. The problem is that the only way to build a high-quality, low-cost network is to exclude those who are low-value and high-cost. And that's something Medicare has never been able to do. It's been much easier, and more tempting, to simply impose across-the-board payment reductions for all providers of services, without picking winners and losers among physicians and hospitals. And so such arbitrary cost-cutting has become the default mechanism for hitting budget targets of various kinds over the years.
And, despite all the talk of "delivery system reform," that is exactly what was done in the PPACA too. Among other things, Congress enacted a permanent "productivity improvement factor," which will reduce the inflation increases applied to multiple Medicare payment systems. These reductions will reduce the normal update for the costs of medical practice by about half a percentage point every year in perpetuity for every provider of these services, including hospitals, without regard to how well or badly they treat patients. The compounding effect of such reductions will produce, on paper, enormous savings. But these cuts almost certainly will not be sustained as they will push average Medicare payment rates for services below those of Medicaid by 2019, according to the chief actuary at the Centers for Medicare and Medicaid Services. If that were actually to occur, some 15 percent of Medicare's hospitals would stop seeing Medicare patients to avoid massive financial losses.[3]
Transforming Health Care Delivery with Cost-Conscious Consumer Choice
There is an alternative to centralized cost-control efforts. It's a functioning marketplace with cost-conscious consumers.
In 2003, Congress built such a marketplace, for the new prescription-drug benefit in Medicare.
Two features of the program's design were important to its success. First, there was no incumbent government-run option to distort the marketplace with price controls and cost shifting. All private plans were on a level playing field. They competed with each other based on their ability to get discounts from manufacturers for an array of prescription offerings that are in demand among beneficiaries and their physicians.
Second, the government's contribution to the cost of drug coverage is fixed and is the same regardless of the specific plan a beneficiary selects. The contribution is calculated based on the enrollment-weighted average of bids by participating plans in a market area. Beneficiaries selecting more expensive plans than the average bid must pay the additional premium out of their own pockets. Those selecting less expensive plans pay a lower premium. With the incentives aligned properly, participating plans know in advance that the only way to win market share is by offering an attractive product at a competitive price because it is the beneficiaries to whom they must ultimately appeal.
This competitive structure, with a defined contribution fixed independently of the plan chosen by the beneficiary, has worked to keep cost growth much below other parts of Medicare and below expectations. At the time of enactment, there were many pronouncements that using competition, private plans, and a defined government contribution would never work because insurers would not participate, beneficiaries would be incapable of making choices, and private insurers would not be able to negotiate deeper discounts than the government could impose by fiat. All of those assumptions were proven wrong. What actually happened is that robust competition took place, scores of insurers entered the program with aggressive cost cutting and low premiums, costs were driven down, and federal spending has come in 40 percent below expectations.
Similar changes — what might be called a defined contribution approach to reform — must be implemented in the non-drug portion of Medicare, as well as in Medicaid (excluding the disabled and elderly) and employer-provided health care.
In Medicare, that would mean using a competitive bidding system – including bids from the traditional fee-for-service (FFS) program — to determine the government's contribution in a region. Beneficiaries could choose to enroll in any qualified plan, including FFS. In some regions, FFS might be less expensive than the competing private plans. But in some places, it almost certainly would not be, and beneficiary premiums would reflect the cost difference. This kind of reform could be implemented on a prospective basis so that those already on the program or nearly so would remain in the program as currently structured.
In Medicaid, moving toward fixed federal contributions for the acute-care portion of the program would allow for much greater integration between Medicaid and the insurance market available to most workers. Today, when a Medicaid recipient goes back to work, he often loses public insurance but doesn't get employer coverage. Converting the entitlement into something that can be used in a variety of insurance settings should facilitate portability and more continuous coverage.
For employers, the key is to convert today's tax preference for employer-paid premiums into a fixed, refundable tax credit that is available to all households (headed by someone under the age of 65), regardless of whether they work or pay taxes. This would provide "universal coverage" of insurance to the entire U.S. population. Any household that didn't buy coverage would lose the entire value of the credit. The number choosing to do so would likely be very small.
Moving toward a defined-contribution approach to reform would allow for much greater federal budgetary control, which is of course a primary objective and tremendously important for the nation's economy and long-term prosperity. But this isn't just a fiscal reform. It's a crucial step toward better health care too because it would put consumers and patients in the driver's seat, not the government. With consumer making choices about the kind of coverage they want as well as the type of "delivery system" through which they get care, the health system would orient itself to delivering the kind of care patients want and expect.
Critics argue that this improved fiscal outlook that would flow from moving toward defined contribution health care would come at the expense of the beneficiaries, who would bear the entire risk of costs continuing to rise faster than the government's newly fixed contribution.
But that would only be the case if building a functioning marketplace had no discernible impact on the productivity of the health sector. It is far more likely that converting millions of passive insurance enrollees into cost conscious consumers will have a transformative effect on health care delivery, and for the better. There would be tremendous competitive pressure on those delivering services to do more with less, and find better ways of giving patients what they truly need. Any health sector player that did not step up and improve its productivity would risk losing substantial market share among seniors, working people, and those on Medicaid. In other areas of our economy that have gone through a consumer revolution, the transformation of the industry has been stunning.
Conclusion
There is obviously much more that needs to be done to ensure a stable and accessible health care system for future generations. Support will need to be limited for those with means so that more can be done for those who need extra help. Special assistance will be necessary to ensure those with pre-existing conditions can secure affordable coverage. And the government will need to do its part, to ensure transparency in prices and quality, and to ensure the rules of the marketplace prevent excessive risk segmentation and inferior care for those with less resources.
But with effective government oversight, cost-conscious consumers have the potential to transform American health care, making it much more productive and of high quality, which is what we desperately need. With such a reform, the system will become more patient-focused, more efficient, and more innovative. The result will be less fiscal stress, a healthier population, and a health care sector that delivers the kind of value the public deserves.
---
[1]
 "The Aggregate Effects of Health Insurance: Evidence from the Introduction of Medicare," Amy Finkelstein, Massachusetts Institute of Technology, April 2006 (
http://econ-www.mit.edu/files/788
).
posted by James C. Capretta | 7:15 pm
Tags: Paul Ryan, Budget Committee, Obamacare, entitlements
File As: Health Care
[NOTE: Last week, on January 26, 2011, I testified before the U.S. House Committee on the Budget in a hearing on the new health care law. Anyone interested in watching the hearing can find video here courtesy of C-SPAN; my testimony starts around 56 minutes in. The complete text of my testimony as prepared appears below.]
Mr. Chairman, Mr. Van Hollen, and members of the Committee, thank you for the opportunity to participate in this very important hearing on the fiscal consequences of the health care law.
The most serious threat to the nation's long-term prosperity is projected large fiscal deficits over the years and decades ahead. And the main reason the nation's budget deficits are expected to remain at dangerously high levels for the foreseeable future is because of the rapid growth of entitlement spending.
Importantly, entitlement spending was a problem even before the enactment of the Patient Protection and Affordable Care Act (PPACA). In 1975, the combined cost of Social Security, Medicare, and Medicaid was 5.4 percent of GDP. In 2009, these entitlement programs cost 10.1 percent of GDP.
That jump in spending — 4.7 percent of GDP — is the main reason it is so difficult to bring the nation's budget closer to sustainable fiscal balance. Every year, we are spending more and more to fulfill entitlement promises made years and decades ago, leaving less and less to finance other priorities, even as the growing levels of entitlement spending puts enormous pressure on taxpayers.
And we haven't even hit the really rough patch yet. Over the coming two decades, the United States will undergo an unprecedented demographic transformation, as the baby boom generation moves from its working years into retirement. The number of Americans age 65 and older will rise from 41 million in 2010 to 71 million in 2030. As these baby boomers enroll in Social Security and Medicare, costs will soar.
We were therefore already racing toward a budget and entitlement crisis before the health care law was considered and passed. Indeed, for the proponents of the legislation, that became a primary argument for its enactment. The president argued that his health care plan would begin to address the entitlement problem, at least from the perspective of the health programs. "Health reform is entitlement reform" was the catch-phrase.
But is that really the case? Did the new health care law ease the entitlement and budget crisis, or did it make matters even worse? That is the crucial question, and this Committee should be commended for taking it up as one of the first items for discussion in this new Congress. I believe the evidence is overwhelming that the new law will make matters not better, but far worse.
The most noteworthy characteristic of the new law is that it is the largest entitlement expansion since the 1960s. So, at a time when the federal budget is already buckling under the weight of existing entitlement programs, the new law stands up three new ones which will enroll tens of millions of Americans into taxpayer-financed programs promising permanent access to uncapped benefits. Moreover, spending on these new entitlements is expected to grow at rates that are above the level of growth of the economy or general inflation.
How then does a new law which increases spending by nearly $1 trillion over the period 2010 to 2019 reduce the federal deficit (by about $130 billion over ten years according to the Congressional Budget Office and by a modest amount in the decade after that)? The only way is by raising taxes and cutting spending by amounts in excess of the new spending commitments. According CBO's estimate of the final legislation, spending reductions will bring the net increase in spending down to about $430 billion over the next decade. The tax hike to pay for this spending will total about $560 billion over the same period.
Thus, although the legislation has often been described by proponents as a deficit reduction measure, it might be more accurate to say that it is a very large spending bill, offset, at least on paper, by even larger tax increases.
But even these numbers do not tell the whole story. It is also important to look carefully at the assumptions underlying these estimates to determine if the promised deficit reduction will occur in reality, or just on paper. There are a number of reasons to be very skeptical in this regard.
The CLASS Act
The argument that the new law reduces the federal budget deficit over the coming decade rests in large part on the supposed deficit reduction from the creation of the Community Living Assistance Services and Supports Act, or CLASS Act, which is a new long-term care insurance entitlement program. CBO's estimate assumes that $70 billion in supposed deficit reduction through 2019 is to come from the CLASS Act.
But, in truth, the CLASS Act is another budgetary time-bomb waiting to explode, not a solution that produces deficit reduction. In the short term, because the program is brand new and no one is eligible for benefits until they have paid in for five years, premiums are collected and no benefits are paid — producing what appears to be a temporary surplus. But beyond the visible ten-year window, those premiums are needed to pay long-term care insurance claims.
Moreover, every actuarial analysis done on the program indicates it will suffer from severe adverse selection. That is, it will attract mainly enrollees who expect to need the benefit. The result is that individual premiums are likely to be quite high because too few healthy workers will enroll. Overall premiums will fall well short of what is needed to cover the implicit benefit promises. Pressure will then build for a future taxpayer bailout to avoid imposing cuts on the vulnerable citizens who elected to enroll and pay premiums. In short, this program is not going to solve our entitlement crisis. Indeed, it is a perfect illustration of why federal entitlement spending is our central budgetary problem.
Disequilibrium in Federal Insurance Subsidies
The new law promises members of households with incomes between 135 and 400 percent of the federal poverty line new premium subsidies if they get their coverage through the new state-run "exchanges." Census data show that today there are about 111 million Americans under the age of 65 who are living in households with incomes in that range. But CBO estimates that only 19 million people will be getting the new premium assistance in 2019. They assume the other 90 million Americans will stay in job-based plans.
If that were really to happen, it would be terribly unfair. As Stephanie Rennane and Eugene Steuerle of the Urban Institute have documented, the new premium subsidies in the exchanges are worth far more to low- and moderate-wage workers than today's federal tax preference for employer-paid premiums (see Chart 1). For instance, a household of four with compensation of $60,000 in 2016 would get $3,500 more in government assistance if they moved from employer coverage to an exchange. The extra subsidies would be even more for lower wage workers.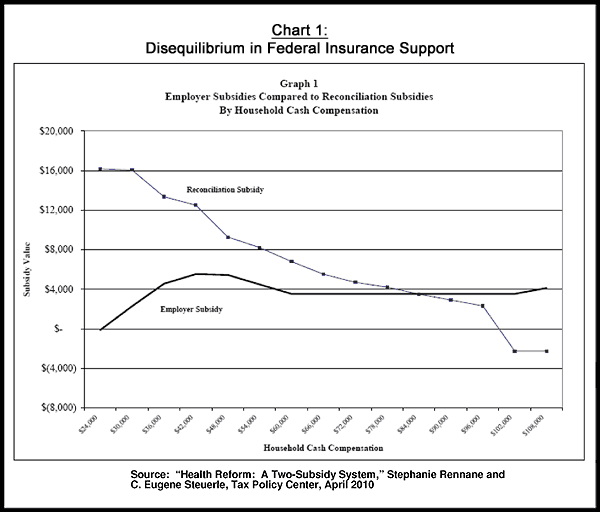 The new law thus sets up a situation where two families with identical compensation totals from their employers can get very different levels of federal support depending on where they get their insurance.
In my judgment, that's not likely to be a politically stable situation. Pressure will build on elected leaders to treat every American equally. That is likely to lead to regulatory and legislative decisions making it easier for workers now in job-based plans to migrate to the exchanges.
Over time, what is likely to happen is that those who would be better off in the exchanges will end up there, one way or another, even as higher wage workers retain the tax advantage for job-based coverage. As the labor market segregates, costs will soar well above the $1 trillion in new spending over ten years currently projected for the law.
AMT-Like Bracket Creep
The new law relies heavily on tax increases to cover the new entitlement spending. According to CBO's latest long-term budget projections, by 2035, the tax increases in the new law will collect revenue equal to 1.2 percent of GDP, which is very substantial. In today's terms, that's a $180 billion tax increase, every year.
How can that be, given that the tax hikes do not go nearly that high in the first decade? The answer is AMT-like bracket creep. The new tax on high-cost insurance plans, sometimes called the "Cadillac" tax, applies to policies with premiums for families above $27,500 in 2018. That threshold will only grow with general consumer inflation in 2020 and beyond, not growth of health costs. Thus, by 2030, the tax will be binding on many millions of Americans' insurance plans.
Similarly, the new Medicare taxes on wages and other sources of income apply only to individuals with incomes above $200,000 per year beginning in 2013 ($250,000 for couples). But those income thresholds are fixed; they won't rise with inflation at all. In very short order, that means these taxes will begin hitting middle-class Americans with massive tax hikes. By 2030, inflation will have eroded the $200,000 threshold so that it is the equivalent of $130,000 today (assuming 2.5 percent annual inflation).
The Medicare Payment Rate Reductions
The largest spending reduction in Medicare comes from automatic reductions in the inflation updates for hospitals and other institutional providers of care. The notional rationale is that these cuts represent productivity improvement in the various institutions getting Medicare payments. The reductions, amounting to a 0.4-0.5 percentage point reduction off the normal inflation update for Medicare payments, will occur every year, in perpetuity. The compounding effect of doing this on a permanent basis would be massive savings in Medicare — if they really were implemented. CBO says the cuts will generate $156 billion over the first decade alone.
But there are strong reasons to suspect these cuts will not be sustained. Medicare's actuarial team, led by Richard Foster, has warned repeatedly that these cuts are not viable over the medium and long-term because they would jeopardize access to care for seniors. The cuts would push average Medicare payments to levels that are below what Medicaid is expected to pay, and the network of providers willing to take care of Medicaid patients is notoriously constrained. It is hard to imagine political leaders allowing Medicare to become less attractive to those providing services than Medicaid is today.
It's worth noting here that these cuts in payment rates do not constitute "delivery system reform," which the administration has often stated is what it is trying to achieve with the Medicare changes in the new law. These cuts in inflation updates will hit every institution equally, without regard to whether or not the institution is treating its patients well or badly. The savings that are expected from other reforms, such as Accountable Care Organizations, are minor by comparison.
The Budgetary Effect of Tax Hikes and Medicare Cuts in a Second Decade
The administration and others have noted frequently that CBO's cost estimate indicates the possibility of modest deficit reduction in the second decade after 2019 (although CBO notes that such an estimate carries more uncertainty than its ten-year projections). But the expectation of long-term deficit reduction is entirely dependent on huge spending reductions from the Medicare inflation cuts and from more and more middle-class Americans paying higher taxes under the new law's tax provisions.
As shown in Chart 2, the tax hikes from the new law plus the savings from the "productivity adjustment" in Medicare would generate about $180 billion in "offsets" in 2020. By 2030, the spending cuts and tax hikes from these provisions will have more than tripled, to over $600 billion. If these taxes and spending cuts do not materialize, the new law will be a budget-buster of significant proportions.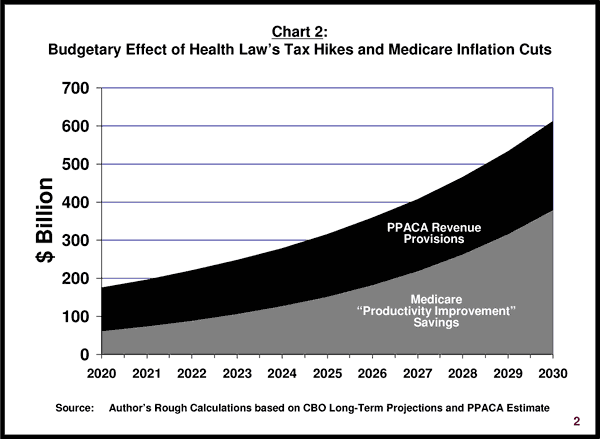 Debt Subject to Limit
Both CBO and the Medicare actuaries have both noted that the Medicare cuts and payroll tax hikes which are supposed to improve the solvency of the Medicare hospital trust fund in the new law can only be counted once, not twice. Here is how CBO put it in a Director's blog post from December 2009:
"To describe the full amount of HI trust fund savings as both improving the government's ability to pay future Medicare benefits and financing new spending outside of Medicare would essentially double-count a large share of those savings and thus overstate the improvement in the government's fiscal position."
In other words, these taxes and cuts in Medicare either improve the government's ability to pay future Medicare claims, or they pay for a new entitlement program — but not both.
One way to see that clearly is by looking at the impact of the health care law on debt subject to limit. According to CBO, the new law will increase that debt, by about $230 billion over the coming decade, because the Medicare tax hikes and spending cuts are double-counted instead of devoted to deficit reduction.
Conclusion
Mr. Chairman, you and your colleagues on this committee face a daunting challenge. The nation is rushing rapidly toward a fiscal crisis, driven by excessive borrowing and debt. Even before the health law was enacted, it was necessary to reform the nation's entitlement programs to bring spending commitments more in line with what the country can afford. Now, with enactment of the health law, the climb to a balanced budget got much steeper.
The solution is to start by unwinding what was just passed and replacing it with a program that constitutes genuine entitlement reform.
posted by James C. Capretta | 1:44 pm
Tags: Paul Ryan, House Budget Committee, Obamacare, CLASS Act, payment-rate reductions, CBO
File As: Health Care
The political ground has been shifting rapidly ever since the American people delivered a vote of no confidence on the current direction of public policy when they went to the polls earlier this month.
Nowhere is that shift more evident than in the recent release of a bipartisan plan to dramatically reform the nation's health entitlement programs. Sponsored by incoming House Budget Committee Chairman Paul Ryan and former Clinton administration budget director Alice Rivlin, the "Ryan-Rivlin" plan represents a real breakthrough in the long standoff between the parties over how to address the most pressing problem in the federal budget, which is the relentless, long-term rise in costs of Medicare and Medicaid. Ryan and Rivlin both serve on the presidential commission looking at ways to reduce the nation's short- and long-term budget deficits, and they offered their health-entitlement reform plan to their fellow commission members for consideration.
In Medicare, the Ryan-Rivlin proposal would be transformative. It picks up on a key feature of Rep. Ryan's "Roadmap" budget plan, which is that new enrollees in Medicare after 2020 would receive their entitlement in the form of a fixed contribution from the federal government rather than today's defined benefit program structure. These Medicare enrollees would then apply their entitlement against the cost of health insurance. The value of the defined-contribution payment from the government would grow at a rate of GDP per capita plus one percentage point. The plan would also restructure Medicare for current beneficiaries by rationalizing the cost-sharing with a single, higher deductible and more uniform coinsurance across care settings, as well as an out-of-pocket cost limit. Secondary insurance plans would be prohibited from covering the first $500 of the deductible or more than half of the cost-sharing for services.
For Medicaid, Ryan and Rivlin propose moving toward a fixed block grant payment from the federal government to the states. The block grant payments would be indexed to grow with the size of the Medicaid population as well as per capita GDP growth plus one percentage point. The plan does not specify in detail what new flexibility the states would receive to administer the program, but it would presumably be significant new freedom to make changes as needed to run Medicaid according to state priorities.
Beyond Medicare and Medicaid, the plan would also impose limits on noneconomic and punitive damages in medical liability cases as well as repeal the ill-advised long-term care program (called the "CLASS Act") that was created in the recently passed health care law.
The Congressional Budget Office (CBO) has already issued a preliminary assessment of the budgetary implications of Ryan-Rivlin, and the results are impressive. Over the next decade, Ryan-Rivlin would cut federal deficit spending by $280 billion, and by 2030, federal spending on the major health entitlement programs would be about 1.75 percent of GDP below a reasonable baseline projection.
But the importance of Ryan-Rivlin goes well beyond its details and current CBO cost estimate. The fundamental problem in American health care is that the federal government is providing open-ended financial support for health insurance coverage. Most Americans get their insurance through Medicare, Medicaid, or employer-sponsored insurance. And in each case, the federal government's support for that coverage increases commensurately with costs. So when costs or premiums rise by an extra dollar, the federal treasury is picking up a sizeable portion of the added expense, thus substantially undermining the incentive for economizing by those enrolled in the coverage or those providing the services.
The solution is an across-the-board move toward more fixed federal financial support for coverage. That's a central element in the Ryan Roadmap, and has been a theme in just about every market-based reform of health care proposed over the past quarter century. At various times, moving away from open-ended entitlements has gotten the support of some Democrats, most especially when former Senator John Breaux championed "premium support" for Medicare in the late 1990s. But, by and large, most Democrats have resisted these kinds of moves and attempted to control entitlement costs with arbitrary price controls instead.
Ryan-Rivlin is thus an important step because it brings a prominent official from the Clinton administration onto a proposal that would decisively move away from the health entitlement status quo. That's no small matter.
Ryan-Rivlin is far from ideal. It is largely silent on ObamaCare, which would push the health system in precisely the wrong direction by extending open-ended entitlement promises to millions of new people. Households with incomes below four times the poverty line would see their premiums capped as a percentage of their income, regardless of the expense of their health plan coverage. Moreover, the new law leans heavily on price controls to cut costs, which only distort the marketplace and undermine the quality of American medicine. These damaging aspects of ObamaCare would substantially undermine the benefits that the Ryan-Rivlin approach would produce. The lesson is that there's no getting around the need to repeal ObamaCare in its entirety. If it remains in place, there will be little that can be done to stop a full government takeover. What's needed is a full replacement program, with fixes not only for Medicare and Medicaid but also for the tax treatment of health insurance so that workers too become cost-conscious consumers in a reformed marketplace.
Still, Ryan and Rivlin should be applauded for taking this courageous step and putting their health entitlement reform plan on the table for consideration. It is a clear demonstration that the conversation has shifted, and in a much more positive direction.
posted by James C. Capretta | 5:56 pm
Tags: Paul Ryan, Alice Rivlin, Ryan-Rivlin proposal, Roadmap, debt commission, Medicaid, Medicare
File As: Health Care
Last year, Rep. Paul Ryan's "Roadmap" -- his far-reaching plan to restore long-term budget balance through tax and entitlement reform — was the subject of relentless attacks by those favoring a larger government role in American life. New York Times columnist Paul Krugman called Ryan the "Flimflam Man" in a widely cited opinion piece in which he tried to dismiss the Roadmap as not a credible solution to the nation's budget problems. The congressional Democratic leadership followed up with an organized campaign aimed at demonizing the plan as a callous assault on Social Security and Medicare beneficiaries. Their clear intention was to use the Roadmap to damage scores of Republican candidates for House and Senate seats by association.
None of it worked. In fact, not only did the Roadmap survive the 2010 mid-term campaign, the election results — and the dominoes that have fallen since — have made it far safer politically for Roadmap proponents to advance the plan's ideas in the public square.
That the political and policy landscape has started to shift, and rather dramatically, became apparent just a week after the election when the co-chairs of a commission appointed by President Obama, on which Ryan, a Republican from Wisconsin, also serves, offered draft recommendations on how to close the short- and long-term budget deficits. President Obama had appointed former Clinton White House chief of staff Erskine Bowles and former Senator Alan Simpson (R.-Wyoming), to chair the eighteen-member group earlier this year, and he asked them to report back by December 1 — after voters were given a chance to decide the make-up of the 112th Congress.
The draft proposal put forward by Bowles and Simpson caught just about everyone in Washington off guard. It's not a business-as-usual plan. Very few sacred cows were spared. It calls for radical tax reform to lower rates and broaden the base, a reduction in the corporate tax rate, long-term entitlement spending cuts, and elimination of programs that have been around for decades. Among the most controversial items now on the table for consideration by the presidentially appointed commission is the full elimination of mortgage interest and state and local tax deductions, dramatically lower future Social Security benefits for higher-wage workers, and real cuts in pay for federal workers.
On November 17, just a week later, another bipartisan commission looking at the nation's deteriorating budget situation took its turn. This one is headed by former Senator Pete Domenici (R.-New Mexico), and former Clinton budget director Alice Rivlin, and is sponsored by the Bipartisan Policy Center. They and their commission colleagues — many of whom are Democrats — released their own version of a deficit- reduction plan, which received unanimous support from the 19 commission members.
Among other recommendations, the Domenici-Rivlin plan would cap the tax preference for employer-paid health insurance and then phase it out entirely over a number of years. It would also convert the Medicare program for future enrollees into a "premium support" program in which the beneficiaries get a fixed level of financial support from the government for the purchase of insurance. Enrollees selecting options more expensive than the average plan would have to pay the difference out of their own pockets.
Rivlin — who is also serving on the Bowles-Simpson presidential commission — followed up her work with Senator Domenici by announcing her public support for a "Ryan-Rivlin" health entitlement reform program, which the two then proceeded to offer to the presidential commission for its consideration. The Ryan-Rivlin proposal includes many of the same features in the health sector as the Ryan Roadmap. Future Medicare enrollees would receive their entitlement in the form of a fixed level of federal support for health insurance. The eligibility age would be increased gradually to age 67, up from 65 today. And the cost-sharing for current program enrollees would be modified to require most beneficiaries to pay something toward the cost of the services they receive before Medicare and secondary insurance kicked in. Medicaid would be converted into a block grant program to the states, with the states freed up to run the program as they see fit. The new long-term care program created in the health law — called the "CLASS Act" — would be repealed. And noneconomic and punitive damages in medical malpractice cases would be capped.
The Congressional Budget Office, in a preliminary analysis, estimates the Ryan-Rivlin plan would reduce the federal budget deficit by $280 billion over the next decade and 1.75 percent of GDP in 2030 (with reasonable baseline assumptions). That kind of savings is going to be needed to prevent the federal budget from going entirely off the rails in the next two decades.
Still, there's no expectation that any of these proposals are going to sail through Congress anytime soon. Indeed, what's most likely to happen in the short term is absolutely nothing. The Bowles-Simpson commission may not find common ground, at which point Congress is under no obligation to take up draft recommendations from a subset of its membership. Moreover, both the Domenici-Rivlin plan and the Ryan-Rivlin health entitlement program have already set in motion frantic efforts to mount counter-offensives among the protectors of the status quo to prevent these ideas from gaining any political traction.
But what's really important about the last month is not that any reform plan is about to pass. It's that the terms of the budget, entitlement and health care debates have shifted dramatically, and very likely on a permanent basis. The fundamental elements of the Ryan Roadmap are sweeping tax reform; changes in health care which emphasize a marketplace and consumer choice; and modifications to retirement programs that reflect demographic reality. All of these elements can now be found in budget plans endorsed by prominent Democrats, including Democrats the president himself turned to find solutions to the nation's budget problems. Consequently, it will be much harder in the future for Democrats to demonize these ideas as they have tried to do in the past.
Paul Ryan took the courageous step of going first with a bold plan to fundamentally restructure the tax and entitlement policies that threaten to push the federal budget past the breaking point. Now others, even some from the other side of the aisle, are joining him in sponsoring similar plans. The Roadmap does indeed live on.
[Cross-posted at Kaiser Health News]
posted by James C. Capretta | 5:04 pm
Tags: Paul Ryan, Alice Rivlin, Pete Domenici, Alan Simpson, Erskine Bowles, fiscal commission
File As: Health Care
When the co-chairmen of President Obama's debt commission released a draft series of recommendations today, they presumably intended to show momentum and create pressure for others to come around to some kind of an agreement.
Press stories are sure to focus on the Social Security changes and how they will antagonize some liberals, thus proving that the proposal is serious.
But the most important entitlement decision in the entire package is the explicit endorsement of Obamacare. The Bowles-Simpson proposal would leave in place the entire trillion-dollar monstrosity. Indeed, many of its supposed cost-cutting recommendations would build on Obamacare's flawed structure of government-driven cost-cutting through price controls. In particular, they would like to create what amounts to a global budget on health care, with the Independent Payment Advisory Board (IPAB) given the unilateral authority to hit budget targets with price cutting. This is exactly the opposite of what's needed, which is cost discipline through consumer choice in a functioning marketplace.
Meanwhile, Bowles and Simpson refused to endorse moving Medicare toward a defined contribution program, as Rep. Paul Ryan's Roadmap proposes, relying instead on the usual laundry list of cuts to the existing program structure.
None of this is all that surprising, given how the commission was formulated. It's not really a bipartisan commission at all; it's an Obama commission. It was created by the president and stacked with Democratic appointees. Two-thirds of the 18 members were picked by the president or Democratic congressional leaders. Only six were appointed by Rep. John Boehner and Sen. Mitch McConnell.
The president says the public doesn't want to "re-litigate" the health care war. He's wrong. As last Tuesday's exit polls make clear, a strong plurality wants exactly that. The American people know that the ill-advised law was railroaded through Congress and is a colossal mistake.
The fundamental problem here is that it is not possible build a bipartisan budget framework on a foundation that includes a partisan health-care plan with sweeping implications for future spending levels. To have a bipartisan budget requires a bipartisan health plan. And that means repealing Obamacare and starting over.
posted by James C. Capretta | 6:45 pm
Tags: debt commission, Roadmap, Paul Ryan, Independent Payment Advisory Board
File As: Health Care
David Brooks's critique of a Wall Street Journal opinion piece by Arthur Brooks and Congressman Paul Ryan served its intended purpose. It's gotten the right people talking, and thinking, and that's as it should be when those currently out of power have a very real shot at participating in governing again.
The back and forth began with Arthur Brooks and Representative Ryan emphasizing the importance of the political moment. After years of elected officials passing laws that have piled new federal programs and commitments on top of the ones created by their predecessors, we now find ourselves with a sprawling federal apparatus that is stifling private economic initiative and bankrupting the country. It is also a powerful, self-perpetuating machine — so powerful that the long march toward ever-more activist government has continued for decades almost without interruption despite numerous efforts (think Reagan Revolution) to apply some limits to the government's reach.
Ironically, the failure of past efforts and the election in 2008 of a chief executive and a Congress absolutely committed to accelerating the pace of federal power accumulation has sparked a national counter-reaction of such promising force and intensity that there is now renewed hope that the struggle for limited government may yet be won. That was the point of the Brooks-Ryan essay: an exhortation to voters to seize the historic, and perhaps final, opportunity before them to choose political leaders in the fast-approaching mid-term election, as well as in 2012, who are committed to changing course once and for all. This means rejecting, in a decisive way, the activism espoused by those now in power and adoption of a philosophy that puts real limits on government so that entrepreneurial capitalism can again thrive and produce the improvements in the human condition that everyone desires but which central government can never deliver.
David Brooks acknowledges the importance of delivering a decisive electoral rebuke to those currently stepping on the accelerator of the runaway federal freight train. Indeed, he takes it for granted that such a rebuke is coming. His interest is in what happens next. And here he finds the Brooks-Ryan narrative to be lacking in political subtlety. Yes, the federal government has gone beyond the boundaries of its competency — but that does not mean every federal initiative is unworthy. Brooks favors imposition of limits on government — but he fears that unreflective adherence to an anti-tax and anti-government creed will itself result in disappointment and a lost opportunity. Instead of rolling back the welfare state, Brooks fears reactionaries leading the new coalition will end up squandering their chance to make a difference by alienating independent-minded voters who want government to be competent in promoting growth and opportunity, even as it stays out of the way of job-creators in the private sector.
Of course, some of the apparent differences among these leading thinkers might be more in theory than in practice. And certainly both Arthur Brooks and Representative Ryan took exception to the implication of Brooks's critique that they lean too heavily toward minimalist government. Both note that they support the government's role in correcting market failure and providing a compassionate safety net.
Nonetheless, it's useful to see this kind of debate now — even before the election outcome is a certainty. Calls for limited government in the abstract are one thing; imposition of real limits on government — that is, cuts in programs, and the rollback of regulations — is another matter entirely. Even with a robust center-right coalition controlling Congress, it will be exceedingly difficult to get agreement on specifics, as the kind of subtle difference in emphasis on display in the Brooks-Brooks-Ryan debate plays itself out among hundreds of elected leaders coming from all parts of the country. The hard truth is that every cut creates hardship for voters somewhere, and that means hardship for politicians too.
It's also clear that the backlash against excessive government intervention in American life would not have near the strength it does were it not for the recognition that the country is careening toward a fiscal crisis. Yes, there is a healthy impulse arising to return to constitutional principles of governance. But even that wouldn't be enough to take on entrenched federal programs were it not for the fiscal mess we are in. The federal government is running up debt like it never has before. The Obama budget plan will produce a $10 trillion budget deficit over the coming decade. That's what motivating millions of Americans to cast their ballots for new leadership, and that's what's creating a new opening to consider cuts to federal programs that would never be considered if the numbers weren't so scary.
What we are actually witnessing is the end of an economic era. The democratic capitalist countries of the West have all built welfare states of varying sizes and shapes. Europe's is certainly much larger and more expensive than what has been built in the United States, but all are under severe strain. There is no escaping demographic reality. The aging of populations in the world's most advanced economies will make it impossible to sustain government programs and protections at the level that exist today.
What's needed now is an effort to harness the new national energy for reform and retrenchment to solve the nation's entitlement problem. That will require a frank discussion with the American people about how to apply the enduring principle of limited government to the modern circumstances of a market-driven economy operating within a competitive global environment. That is the most pressing challenge in these early years of the twenty-first century.
Fortunately for us, Congressman Ryan has already given us a "Roadmap" to get the conversation started. And that's reason enough to have a considerable amount of hope that the healthy backlash now sweeping the country will, in time, bring about the kind of reforms we need — ones that will unlock the potential of America's private economy and thus finance a secure and stable social safety net, too.
posted by James C. Capretta | 10:19 am
Tags: Roadmap, David Brooks, Arthur Brooks, Paul Ryan
File As: Health Care
Megan McArdle did everyone a favor this past week by very carefully pointing out that Paul Krugman's over-the-top attack on Congressman Paul Ryan and his "Roadmap" was based primarily on bad information that could have been easily checked and corrected with some minimal effort.
You'd think Krugman might take a look at her critique; listen to his likeminded friends (see here), who clearly think his piece went over the line; and change the subject. But no, you would be wrong. As McArdle notes, instead of admitting his error and moving on, Krugman plows ahead and concocts, in a follow-on to his original column, a second, alternative theory of supposed tax-estimating deception on the part of Ryan — which McArdle also points out is not true. Strike two. Of course, perhaps anticipating that his latest seat-of-the-pants explanation of why Ryan should be criticized for evading accountability won't hold up either, Krugman also throws into his broadside that, whatever else might be said, Ryan is a good-for-nothing just for failing to admit that his proposal will "dismantle Medicare as we know it."
Never mind that Ryan's Medicare proposal most closely resembles the recommendations of the last Medicare Commission from the late 1990s, chaired by Democratic Senator John Breaux. And never mind that a variant of it was proposed by Henry Aaron and Robert Reischauer in 1995. Neither has ever been accused of conspiring with the right. And they weren't accused of wanting to "dismantle" Medicare.
Let's face it. Krugman wrote his original column in a botched attempt to take Ryan down a peg or two. He saw the New York Times and the Washington Post publish relatively balanced pieces on Ryan in recent days, as well as friendly commentary from others on the left, and he felt it was his duty as the conscience of the liberal elite to make it clear that what the moment requires is a concerted Ryan-vilification campaign, not pieces in the mainstream press that, in so many words, say Ryan is good guy with typically awful Republican ideas.
But perhaps some good can come from Krugman's rant despite the little problem of being inaccurate. Indeed, if a byproduct of the Krugman barrage is a broad public awakening to the very real dangers of unguarded consumption of public policy flimflammery, then it will have served a useful purpose. Because, in truth, allowing large amounts of flimflammery to go unchallenged can cause real damage to informed discussion of the important matters of the day.
Which brings us back to Paul Krugman and his blog. Just before launching into his anti-Ryan tirade, he posted the real deal: flimflam of the highest order.
On the day the Medicare trustees issued their annual report, Krugman rushed out a post highlighting the apparent good news. The new health law had bent the curve after all. Medicare spending in the 2010 report would grow at a much slower pace than was projected a little more than a year ago, thanks to the effective cost-cutting measures in the new law. This, Krugman said, was the finding of the "Medicare actuaries."
But, as it turns out, the chief actuary for Medicare, in the back of the annual report, advised the public to essentially ignore the findings of the trustees because they were based on utterly unreliable data. He pointed readers instead to an alternative projection that shows Medicare spending rising to 10.7 percent of GDP in 2080, just a hair below the 11.2 percent of GDP projected for 2080 in last year's report. In other words, no, the curve hasn't been bent.
Moreover, the supposed savings in Medicare that will never materialize facilitated the creation of another runaway entitlement program. It isn't counted in the Medicare trust fund projections, but spending from it will be very real indeed, in 2080 and every other year. Altogether, it's absolutely clear that Obamacare raised federal entitlement spending on health care well above what it would have been under prior law.
Krugman and others argue that Paul Ryan's Medicare plan is flawed because it is a formulaic cut that would shift costs onto the nation's seniors. But, as it turns out, that's exactly what the actuaries say is wrong with the Obama-Krugman plan. The enlightened cost-cutting that Krugman finds so attractive in the new law turns out to be nothing more than simplistic and formulaic across-the-board payment-rate reductions for institutional providers of care. Under the new health law, these payments rates would get cut every year below the rise in the cost of doing business by a formula that the actuaries say is completely disconnected from reality. By the end of this decade, Medicare's payment rates would fall below those of the Medicaid program, which has rates that are so low today that the network of providers willing to see Medicaid patients is very, very constrained. In time, Medicare payments would cover just one-third of the cost of care that private insurers would be paying.
But let's give Paul Krugman credit. He was right to suggest that there was flimflam in the air. He just misidentified its source.
posted by James C. Capretta | 5:01 pm
Tags: Paul Ryan, Paul Krugman, Megan McArdle, flimflam, chief actuary, Medicare
File As: Health Care
And so we have finally arrived at the heart of the matter.
In recent days, Peter Orszag, the now-former Director of the Office of Management and Budget (he left the position at the end of last week), and Ezra Klein, the like-minded liberal blogger for the Washington Post, have weighed in — again — on Rep. Paul Ryan's "Roadmap." Orszag did so in a farewell speech at the Brookings Institution, and Klein in a blog post that went up yesterday.
Their take on the "Roadmap," and specifically how it would reform Medicare and health care, is similar and unsurprising. They both give Ryan credit for laying out a coherent and robust alternative to Obamacare. But they, as well as many other liberal commentators, also completely mischaracterize what would occur if the Ryan plan were adopted, even as they gloss over the glaring deficiencies of the reform program they favor. Indeed, the irony is that the primary criticism they level against the Ryan plan is actually the reason to oppose Obamacare.
The great divide in American health care policy is over what to do about costs. On one side are those who believe the answer is to put the federal government in the cost-control driver's seat. That's the fundamental premise of Obamacare. On the other side are those who believe the answer is vigorous price and quality competition in a reformed health-care marketplace. That's the vision that animates the Ryan Roadmap.
Orszag and Klein argue that a key provision of the Ryan plan — the conversion of the Medicare defined benefit entitlement into a defined-contribution payment (for those under age 55) — would amount to nothing more than a cost shift from the government to beneficiaries because they expect the defined-contribution payment would grow at a rate below health-care inflation.
But why is that necessarily the case? Orszag himself has spent the better part of three years telling everybody he could that health care delivery today is highly inefficient. He's right. There's tremendous duplication and waste in American health care, much of it directly the result of the perverse incentives embedded in today's Medicare structure. The question is, what can be done about it?
As I argued in a Galen Institute white paper released last month, the Ryan Roadmap is the answer. What's desperately needed in health care today is a new dynamic in which efficiency and productivity are rewarded rather than punished. The Ryan program would do just that by converting millions of passive insurance enrollees (both in Medicare and in employer plans) into active, cost-conscious consumers. As more and more of these consumers received their federal support in the form of a defined-contribution payment, they would have strong incentives to get the best value possible from both the insurance they select as well as the "delivery system" they use to access services.
Orszag contends that the Ryan plan is based on a flawed premise — the notion that consumers facing more cost-sharing for services can do something about the high cost of care. He points out that most Medicare spending is concentrated in a relatively small number of high-cost cases with expenses that far exceed the up-front costs of even a high deductible plan. But the benefits of the Ryan plan would extend well beyond moving people into high-deductible insurance products. In a vibrant health care marketplace, consumers would be able to pick from among competing delivery systems too, and well in advance of needing expensive care. Hospitals and physicians would have strong incentives to reorganize and offer their services in ways that are less costly and more patient-focused in order to maximize enrollment in their networks. That's the way to bring about genuine "delivery-system reform."
The alternative to a reformed medical marketplace is government-driven cost control. Orszag is of course a true believer in the capacity of the federal government to engineer a more efficient health sector from Washington, D.C. — despite decades of actual experience indicating otherwise. The federal government has been running the Medicare program since 1965, and has been actively trying to use the purchasing power of that program since at least the mid-1980s to get better value for what is spent. There have been scores of demonstration projects and payment initiatives aimed at getting hospitals and doctors to change their business practices and increase their productivity. They haven't worked. And the reason is that politicians and regulators have always found it much easier to cut costs in Medicare with across-the-board payment-rate reductions rather than reforms that single out some hospitals and physicians as low-quality providers.
Klein admits in his post that the real alternative to the Ryan program is a different sort of "cap" on spending, one that is placed on aggregate outlays, instead of entitlement payments to individuals, and enforced by governmental cost-cutting efforts instead of the marketplace. What he fails to note is that this kind of "cap" poses very real — and costly — risks to the beneficiaries, as can be seen in the provisions that were passed as part of Obamacare. Despite all of the talk of "delivery-system reform," the real savings in Medicare from the new health law come from across-the-board payment-rate reductions which hit all providers of services the same, regardless of how well or badly they treat their patients. The predictable result of these kinds of price cuts — confirmed by the chief actuary of the program — is that many willing suppliers of services will drop out of the program, which in turn will mean restricted access to care for the beneficiaries. So much for painless cost-cutting.
The country is at a crossroads on health care. We can either stick with the Obamacare program and rely on the federal government to control costs, with all that would mean for reduced quality and waiting lists, or we can empower consumers in a reformed marketplace, as proposed in the Ryan Roadmap. This is a debate Republicans should welcome — because presented with the arguments from both sides, commonsense voters are sure to recognize that the Ryan plan is better both economically and for the future of American health care.
posted by James C. Capretta | 6:10 pm
Tags: Peter Orszag, Ezra Klein, Paul Ryan, Ryan Roadmap
File As: Health Care
It's been a bad stretch for the Democratic majority in Congress.
Their polling numbers have been going from bad to worse. The White House press secretary has openly speculated that House Democrats could lose their majority in November. Nasty disputes between Democratic congressional leaders and the White House staff have broken out in the press. One of the most senior House Democrats is now under an ethics-investigation cloud. And, worst of all, the public now sees the Obama agenda clearly and recognizes that it is far too liberal, government-heavy, and anti-business to be compatible with a vibrant American economy. That spells near-certain doom for many House and Senate Democrats seeking reelection and who are viewed by their constituents as accomplices in the administration's pursuit of massive new spending, onerous taxation, and clumsy regulation.
All is apparently not lost, however — or so the optimists among them now surmise. Yes, these are desperate times; then what's needed are desperate measures! What do Democrats do when they are cornered and desperate? Why, attack Republicans on Social Security, of course!
Never mind that Democrats have now controlled Congress for nearly four years and have controlled both the White House and Congress for half of that time. They don't want to talk about their record, probably wisely. Their signature initiative — a massively expensive government takeover of American health care — remains highly unpopular, so much so that most Democratic candidates are now tiptoeing around the subject and almost never bringing it up themselves. Their so-called "stimulus" plan has done little to nothing to generate job growth, even as unemployment has hovered around 10 percent for months on end. And the Obama budget would run up $10 trillion in deficits through 2020 at a time when the American public has come to realize that excessive government spending and debt pose very real threats to their long-term economic security.
No, in the heavy campaign season between now and November 2, congressional Democrats don't want to talk about what they have done with the voters' trust since 2006. They want to shift the focus off of themselves by resorting to a tried-and-true scare tactic. If they can't get voters to affirmatively support them for office, perhaps they can still get their votes by scaring the heck out of them about what the other guys might do.
Specifically, top Democrats, from House Speaker Nancy Pelosi on down, have apparently decided that their ace in the hole is a concerted attack on Rep. Paul Ryan's plan to save the country from economic collapse. We are told that House Democrats plan to hold a hearing on the Social Security component of the Ryan blueprint sometime this fall, and the expectation is that Democrats will also make it the focus of a coordinated campaign ad attack as the election approaches.
Though not surprising, the shameless irresponsibility of these planned attacks is still something to behold. Rome burns, and those who are the notional stewards of the nation's finances continue to play the same political games they have always played – indeed, the very games that have brought us to the precipice in the first place.
Every credible economist views runaway federal entitlement spending as the most serious threat to the nation's long-term prosperity. The Congressional Budget Office (CBO) recently reported that spending on Social Security, Medicare, Medicaid, and Obamacare's new entitlement commitments will rise from 10.3 percent of GDP in 2010 to 15.9 percent in 2035, a jump of 5.6 percent of GDP — and that assumes that the unrealistic Medicare cuts in Obamacare continue in perpetuity. A more realistic projection shows spending on these programs rising to 17.1 percent of GDP in 25 years. Beyond 2035, the situation will only get worse.
For the record, the Ryan Roadmap is a comprehensive plan to actually fix the problem — permanently. It would rework the federal government's main retirement and health programs and tax laws to ensure spending commitments can actually be met now and in the future without pushing tax rates or debt to catastrophic levels. Moreover, the reforms reward work, promote economic growth, and empower consumers and markets. Among its many provisions, in the Social Security section, the Ryan plan would very gradually phase in voluntary personal accounts for workers under the age of 55. No one currently in the program or about to retire would have their benefits changed based on the introduction of the accounts, which in any event would be very small for the foreseeable future. Once instituted, the personal accounts would be entirely voluntary. Enrollees would still get a defined benefit from Social Security, but they would also get an annuity from an investment that they own and that is no longer subject to the unpredictable whims of political control. The balances in the accounts would grow at least at the rate of inflation. Workers would be offered more control over their own money, making it easier to also implement the modifications needed to keep program spending in line with revenue.
Where is the Obama-Pelosi plan to head off fiscal disaster? It doesn't exist, of course. Obamacare did nothing to solve the problem of rising health-entitlement costs. In fact, it made the problem much worse by bringing tens of millions of people into new, open-ended entitlement programs. And there is no plan to keep Social Security solvent, even though the program is already running cash deficits.
The only Democratic "plan" — such as it is — is the appointment by the president of the so-called "debt commission." But this is a transparent political ploy in its own right. It is aimed first at providing cover for Democrats between now and November. To every question from a reporter on runaway spending and the hemorrhaging of debt that has occurred under President Obama, the Democrats can simply say they are waiting for the commission to make its recommendations — conveniently scheduled by the president for December 1. Moreover, the Democrats are hoping to use the commission to maneuver Republicans into giving them cover for massive tax hikes to temporarily paper over the explosive costs of the Obama welfare state.
Republicans would be fools to go along with this game. Sooner or later, the fight must be joined, and it almost certainly will in 2012, in any event. Voters need to see as clearly as possible the choice that is before them. We can either stay on the road we are on, with crushing taxes and wholesale middle-class dependency on government. Or we can return to a uniquely American formulation, one which protects the vulnerable but also relies on individual responsibility and initiative. Congressman Ryan has done everyone a favor by laying down a blueprint for responsible American self-government that can produce wealth and prosperity in this century just as it did in the last. With the choices clear, Republicans have nothing to fear from this fight.
posted by James C. Capretta | 10:38 am
Tags: Paul Ryan, CBO, Congress, federal spending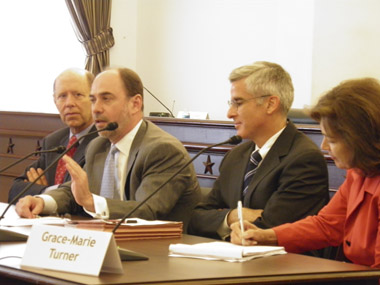 On July 15, the Galen Institute held an event on Capitol Hill at which I had the privilege to discuss a paper I have written on why the Obama health plan is not entitlement reform. The event was moderated by Grace-Marie Turner, the president of the Galen Institute, and opening remarks were graciously provided by House Budget Committee Ranking Member Paul Ryan. Gene Steuerle, of the Urban Institute, and Doug Holtz-Eakin, the former Director of the Congressional Budget Office and now president of the American Action Forum, provided additional comments on the paper as well as other important insights on where we should go from here. The entire event is available for viewing here.
Update: NRO has also published a short op-ed that I wrote summarizing the main points of the paper. It is available here.
posted by James C. Capretta | 1:48 pm
Tags: Grace-Marie Turner, entitlement reform, Urban Institute, Paul Ryan
Previous
Next