Biofuels
June 13, 2008
•
The Ecogeek blog takes a look this week at Louisiana Green Fuels, a group that plans to make sugar-based ethanol:
Over the next ten years, expect to see three new sugar mills and four new ethanol plants open shop in Louisiana, generating an estimated 100 million gallons of sugar-based ethanol annually. Louisiana Green Fuels, an investment group owned by Inverandino and the Lake Charles Cane Cooperative, has purchased three sugar mills ruined by hurricanes Katrina and Rita, one of which was state owned and purchased for $60 million. Funding for the projects is coming from the Santacoloma family of Columbia, which controls Inverandino.

Additional financial help is coming from the state of Louisiana itself, including issuing $133 million in industrial development revenue bonds through the Louisiana Public Facilities Authority, $100 million of which is tax exempt. With the likelihood of these mills and ethanol plants creating thousands of jobs and significant revenue for the state, it is no wonder Louisiana is doing what it can to help the project along. LGF has also said it plans to buy the bulk of its sugarcane and sweet sorghum locally, further helping the Louisiana economy. However, it will be importing high-test molasses, refined sugar and common molasses. It is thought that sugar, which produces an eightfold return on the fossil energy used in producing it will outstrip corn, which only yields a 1.3 ROI. With the politics of and misunderstanding around corn ethanol already making biofuels socially messy, it will be interesting to see how a solid run towards sugar ethanol might change the farming industry, as well as our ideas about crops-as-biofuel.
posted by Stephanie Cohen | 10:44 pm
File As: Biofuels
June 13, 2008
•

Billionaire oil investor T. Boone Pickens (reportedly worth around $3 billion, and the country's highest paid hedge fund manager in 2005) had a lot to say about U.S. energy policy at Oil and Gas Investor's Energy Capital Forum in Houston this week. He expects oil to hit $150 a barrel (it's now around $135). Pickens is the former owner of Mesa Petroleum, which was one of the largest independent oil companies in the world. (He sold it in the mid-1990s.) Pickens is the founder and a principal of BP Capital LLC.
From the Domestic Fuel Blog:
"Energy is not a debate; it's a crisis for this country," Pickens said. "We cannot continue down the path were on. It's that desperate."...

Pickens said he plans to elevate the issue into this year's presidential election campaign through a series of television ads talking about energy.
Hart Energy Publishing's take on the businessman's speech:
The energy crisis is a result of decades of lack of leadership that has led to a breakdown. Now, "somebody has to show up to fix it." He doubts the candidates understand the urgency of the circumstances.

Pickens chided Democratic candidate Sen. Barack Obama for "throwing around the windfall profits tax like a piece of balsa wood.

"I don't think the senator knows anything about energy. He sounds good for about two minutes."

Republican candidate Sen. John McCain received little more support. "I don't know how much he knows either. He wants to lower the gas tax during the summer. What the hell is he talking about? Will that fix anything?"....

He said there is "no question" that America must embrace alternate energy sources to alleviate the $700-billion transfer of wealth out of the country to oil imports....

Ethanol is "an ugly baby but it's ours and it will move cars," he said, emphasizing that he prefers the less-than-perfect fuel over imported oil. Biofuels, however, will never account for more than 10% of the U.S.'s energy needs, he predicts.
There are more excerpts from Pickens's remarks in this article from Oil and Gas Investor.
posted by Stephanie Cohen | 11:19 am
File As: Energy, Energy Policy, Biofuels, Gas and Oil Prices
June 2, 2008
•

The Organization for Economic Cooperation and Development (OECD) and the Food and Agriculture Organization (FAO) of the United Nations recently released a report on the world's agricultural outlook from now through 2012. The report, prepared jointly by the two groups, tries to sort out the factors driving up food prices. The release of the report was timed to coincide with the UN conference on food security and climate change in Rome on June 2-5.
The report (a summary of which can be found here in PDF format) begins with some background:
This year's Outlook is set against a backdrop of exceptional increases in prices for many agricultural commodities, and this has posed a considerable challenge in preparing the projections and assessing the "durability" of the various influences shaping these prices. That is, which of the factors that are driving up prices are temporary and which will prove to be more permanent influences? How will they individually and collectively affect price levels, price trends and price volatility in the future? How will markets react to currently high prices and a more uncertain price outlook? What are the appropriate policy responses? This report comes at a very timely moment and provides important information, with a view to enlightening the discussion on food-price increases, their causes and their likely consequences for agricultural markets as well as for the policy formulation process.
Biofuel production is mentioned as a "strong driver" on the demand side, though it is understood to be just one among many causes. The report lists the following factors as drivers of higher commodity prices: droughts in key grain-producing regions; sharply increased biofuel demand for food commodities; rising oil prices; and a continuing devaluation of the U.S. dollar, the currency in which indicator prices for the commodities of interest are typically quoted. The report also notes that "Critically, these supply and demand developments occurred after there had already been a run-down in stocks, which under more normal circumstances could have dampened price movements." And "finally, the turmoil in commodity markets has occurred against the backdrop of a severe world financial crisis that is widely believed to have sparked a substantial increase in speculative interest in agricultural futures markets."
Some of the key findings of the report (quoted from the document; emphases added):
World reference prices in nominal terms for almost all agricultural commodities covered in this report are at or above previous record levels (see Fig. 2.1). This will not last and prices will gradually come down because of the transitory nature of some of the factors that are behind the recent hikes.
But there is strong reason to believe that there are now also permanent factors underpinning prices that will work to keep them both at higher average levels than in the past and reduce the long-term decline in real terms.
The dramatic increase in [food] prices since 2005/06 is partly the result of adverse weather conditions in major grain-producing regions in the world, with spill-over effects on crops and livestock that compete for the same land. In a context of low global stocks, these developments alone would have triggered strong price reactions.
On the demand side, changing diets, urbanisation, economic growth and expanding populations are driving food and feed demand in developing countries.
When the average for 2008 to 2017 is compared with that over 1998 to 2007, beef and pork prices may be some 20% higher; raw and white sugar around 30%; wheat, maize and skim milk powder 40 to 60%; butter and oilseeds more than 60% and vegetable oils over 80%. Over the Outlook period, prices will resume their decline in real terms, albeit at a slower rate. However, the impact of various supply and ... demand factors on prices will differ across commodities.
Biofuel
But stacked on top of this is now the fast-growing demand for feedstock to fuel a growing bioenergy sector. While smaller than the increase in food and feed use, biofuel demand is the largest source of new demand in decades and a strong factor underpinning the upward shift in agricultural commodity prices.
Policy support, as well as oil-price developments, will strongly influence the evolution of future demand from biofuel for agricultural commodity feedstocks.
Once they have fallen from their current peaks, however, prices will remain at higher average levels over the medium term than in the past decade. But the underlying forces that drive agricultural product supply (by and large productivity gains) will eventually outweigh the forces that determine stronger demand, both for food and feed as well as for industrial demand, most notably for biofuel production. Consequently, prices will resume their decline in real terms, though possibly not by quite as much as in the past.
On the demand side, use of food grains to be processed into biofuels stands out as an important component of demand growth between marketing years 2005 and 2007. Wheat and coarse grain use overall increased by about 80 Mt, or 5%. Within this aggregate, biofuel use doubled, rising by 47 Mt, thus accounting for over half the increase in world grain use. The U.S. biofuel use of grains alone explains the vast majority of this change, up by 41 Mt even after adjusting for distillers grains co-produced with ethanol and added to feed use. But these data also show that an attribution of all the grain price increases to ethanol would be incorrect. Despite a doubling of some grain prices and broad increases overall, global food and feed use per capita were sustained, implying that the generally strong economic performance of the last two years has been manifested in outward shifts of demand that – in combination with relatively inelastic demand in the short term – has offset the impact of higher prices on quantities demanded.
Available data suggest that somewhat more than half of the increase in the quantity of demand for grains and vegetable oils between 2005 and 2007 was due to biofuels. Based on Outlook assumptions of further modest increases in the price of oil, continuation of policies that support for biofuel production and use and no dramatic technology change, feedstock demand for biofuel production appears to represent a permanent factor.
While biofuel use of grains and vegetable oils is anticipated to represent a falling share of the overall increase in demand for these food commodities, it is nevertheless a new source of demand which is seen as one of the factors lifting prices to higher average levels in the future.
Demand for these grains to be used as feedstocks in biofuel production is not expected to continue to expand at the rate of the last two years.3 However, cereal use for biofuel production is projected nearly to double from 2007 to 2017, though its share of the overall increase in quantities of wheat and coarse grains used is expected to fall from about 60% to just over 40%. The U.S. is likely to continue to be the centre of grain-based ethanol production, assuming no new technologies displace current practices, but use in the EU is likely to expand, too.
Vegetable Oil
World vegetable oil use increased faster between marketing years 2005 and 2007 than production (Table 2.5). Of the demand increase, biofuel use of oils accounted for over half.
Biofuel use of vegetable oils accounts for more than a third of the growth in vegetable oil use from 2005 to 2017. This is very strong growth in percentage terms, as world biofuel use increases more than five-fold from the very small base in 2005. But the growth in other uses amounts to an increase of about 33% over this period as well.
Crude Oil
The oil price, and energy prices more generally, are important contributing factors to the recent increase in agricultural commodity prices.... The Outlook assumptions reflect the widely held belief that the oil price increases are permanent and that further gradual increases are likely. Higher oil prices result in a structural increase in agricultural production costs and contribute to lifting future prices to higher average levels.
When the report looks specifically at biofuels it finds that conditions (namely, high oil prices and public support for alternative energy sources) remain favorable enough to make further growth in biofuel production likely. Assessing the global biofuels picture, the report notes that while the U.S. and Brazil remain key players in the ethanol market, they are not the only actors on the world biofuel stage:
Production and use of both ethanol and biodiesel have increased significantly in recent years. Production of fuel ethanol tripled between 2000 and 2007, with the U.S. and Brazil accounting for the majority of this growth. However, a large number of other countries either commenced renewable energy programmes or increased fuel ethanol production in this period as well. Biodiesel output witnessed an even more pronounced expansion over the same period, having grown from less than one billion litres to almost 11 billion litres. Initially the EU accounted for more than 90% of global biodiesel production, but with increased biodiesel output in many other countries, in particular the U.S., its share has declined to less than 60% in 2007.
The report also notes that "near-record prices for maize, wheat and vegetable oils" have reduced the economic viability of biofuel production in many countries, despite strong public support and increasing fossil fuel prices." But in Brazil, where sugar cane is used for ethanol production, "lower world sugar prices associated with a large global surplus have improved the economic viability and profitability of ethanol production in Brazil, which remains competitive with gasoline at a crude oil price of around $35 per barrel." That's about $100 cheaper than crude oil at today's prices.
The report predicts global ethanol production will increase "rapidly and to reach some 125 billion litres in 2017, twice the quantity produced in 2007.... Following increased mandates, international trade in ethanol is expected to grow rapidly to reach 6 billion litres in 2010 and almost 10 billion litres by 2017, despite continuing trade protection. Most of this trade will originate in Brazil, and will be destined for markets in the EU and the US."
It is worth noting that U.S. and Canadian biofuel industry leaders sent a letter to FAO Director-General Dr. Jacques Diouf refuting the report, arguing that it includes "a number of questionable and/or confusing assumptions that call into question the validity of the findings."
posted by Stephanie Cohen | 5:14 pm
File As: Biofuels, Gas and Oil Prices
June 2, 2008
•
Senator John Cornyn, R.-Texas, has written a post for a Texas blog -- Panhandle Poet -- on why he wants to freeze the ethanol mandate:
Hello Panhandle Poet readers...it's a privilege to guest post here.

I wanted to touch base with you regarding an issue which is very pressing in the Panhandle, ethanol.

When first introduced to the marketplace, it was hoped that ethanol would help revitalize rural America, lower the price we pay at the pump and reduce our dependence on foreign oil.

That's a worthy goal, yet the government's focus on ethanol has produced a problem. There have been unintended adverse consequences to our economy from the focus on ethanol production. Chiefly, since February of 2006 the combined price of corn, wheat and soybeans has increased more than 416 percent.

For this reason and many more, I co-sponsored legislation which was introduced recently to freeze the renewable fuel standard corn-based ethanol mandate at current 2008 levels. In the panhandle, like other places, the effect of ethanol production has been mixed. While a few have benefited from it, a great many others have suffered.

As more and more farmers grow corn for ethanol production, cattle feeding ration prices have shot sky high. Mandates, along with the high cost of fuel, are squeezing every bit of profit out of cattle feedlots today.

As consumers continue to see rising food and fuel prices, freezing the corn-based ethanol mandate will allow us to re-evaluate the consequences of using food for fuel and determine the best way forward. Texas will remain a leader as we work to diversify our nation's energy supply to include alternative and renewable sources, but in the meantime Congress must exercise its oversight role to ensure there are no further unintended consequences. A freeze of the mandate will allow time for necessary assessments and reduce increasing grocery, grain and feed prices.
Go to the
blog post
to read more...
posted by Stephanie Cohen | 11:49 am
File As: Biofuels
June 1, 2008
•
On Thursday, May 29, Agriculture Department Secretary Ed Schafer said skyrocketing oil prices make biofuels all the more necessary and that U.S. ethanol production is "not distorting the global price of food. Schaeffer added that ethanol production specifically has come from increased yields in the corn crops and that corn exports from the U.S. are up. He made the comments during a press conference with reporters ahead of his trip to the United Nations food and agriculture conference on food and world security June 3. An excerpt from the press conference transcript:
SECRETARY SCHAFER: We think that policy-wise in the United States of America -- and certainly in the rest of the world -- that as we see the price of oil and petroleum escalate dramatically beyond anybody's imagination, that one of the ways to deal with that is to produce biofuels which are renewables, better for the environment, and help lower that cost.

I would point out that in the United States and in other countries as well, all ethanol production specifically has come from increased yields in the corn crops. So we're not pulling out any traditional markets. Our export markets are up in corn out of the United States. The yield increases are taking care of it, and certainly the benefits derived are much more than the 2 to 3 percent that is contributing to the rising inflation in food costs internationally.

We think it's an important initiative, and while people do have some concern I think we can point out the facts here, not the emotions but the facts, that this is not distorting the global price of food. And it's an important direction we need to go.... What I can say is, we have set guidelines in the United States. We've set targets out there and said, "This is how we're going to create energy independence in this country. And we urge others in the face of this rising price problem with energy to look at alternative means, one of which certainly is biofuels."
posted by Stephanie Cohen | 6:05 pm
File As: Biofuels
May 28, 2008
•

First it was tortillas. Now it's movie tickets.
The price of movie tickets is expected to go up this year due to the rising cost of corn used to make popcorn, according to Ricard Gil, a University of Santa Cruz economist who studies the movie industry. The price corn, in turn, is partly being bumped up by the increased production of ethanol.
Gil's comments first appeared in an article in Advertising Age (subscription required). They were quickly picked up by other press outlets, with reports appearing in the Kansas City Star, the Seattle Times, ABCNews.com, NPR, the New York Daily News, the Orlando Sentinel, and elsewhere.
The reasoning goes like this: Movie theaters subsidize the price of tickets with sales of high priced popcorn. While theaters have to share ticket revenues with movie distributors, they get to keep all the money they make on concessions. But if moviegoers start passing on the pricey popcorn -- which the theaters are making less of a profit on -- theaters will need to get more money at the window. According to the press reports, Gil expects ticket prices to jump by as much as 30 percent this year.
Earlier this year, Gil and Wesley Hartmann of Stanford's Graduate School of Business coauthored a report (available here) on the price of theater popcorn and its relation to movie economics.
[Photo by Flickr user PPDIGITAL (CC)]
posted by Stephanie Cohen | 11:36 am
File As: Biofuels
May 26, 2008
•
There are some interesting new statistics about how much of the corn grown in the United States is directly consumed for food. These numbers, which come from a transcript of a recent conference call about the food-versus-fuel debate hosted by the Renewable Fuels Association (a pro-ethanol group), are worth a look. (The transcript is available here in PDF format.)
In 2007, the U.S. had 85 million harvested acres of field corn that produced 366 million tons of product valued at $52 billion, according to Rick Tolman of the National Corn Growers Association. He broke down how the corn was used:
42% went for livestock feed
9% went for direct human consumption
22% percent went for ethanol production
17% was exported
10% was carry-over
When the ethanol mandate hits its 15 billion gallon cap in 2015, Tolman said, the corn industry "can see no more than 27 percent of our corn crop ever going for ethanol use."
Tolman's main point was that ethanol isn't taking food out of anyone's mouth. In fact, the U.S. will export record amounts of corn this year. This is because productivity has grown, Tolman argues, specifically the number of bushels yielded by a single acre. In 1967 the national average yield was 80 bushels to the acre; last year the figure rose to 151 bushels per acre. How did this happen? Biotechnology:
Our corn yields have doubled in the last 40 years using less inputs. We expect them to double again in the next 20 years. Why is that happening? Because of biotechnology, because of improvements in corn breeding, because of the sequencing of the corn genome. We have much more technology to put the traits in that give us yield enhancement.
Tolman did acknowledge that corn prices have played a role in driving up retail prices for food. He believes corn can account for 25-30 percent of the price hikes. The farm industry's math showing why it isn't responsible for the bulk of price increases looks like this:
There are 56 pounds of corn in a bushel.
Right now a bushel is going for $5-$6 a bushel (the Agriculture Department has estimated that the average price for the year will be $4 a bushel). In 2003, the price of corn was $2.50 a bushel, according to Tolman.
If we take $5 as the average price, that comes to 9 cents a pound.
It takes 2.8 pounds of corn to produce a pound of beef.
At $5 a bushel, that's 25.2 cents worth of corn in a pound of beef. At four dollars a bushel it is 19 cents. That's a difference of 6 cents per $1 per bushel increase. So, the reasoning goes, the changing price of corn can't be blamed for the rising price of food. Instead, it's the price of oil, Tolman argued, that should be blamed for food prices -- "that's where the impact is coming" from, he said.
Meanwhile, Texas Governor Rick Perry, a Republican, has some figures of his own. Last month, he asked the Environmental Protection Agency to reduce by half the amount of ethanol that must be blended into the nation's gasoline supplies. In making his case for a waiver -- which would apply only to Texas -- Perry said ethanol production is lifting costs for Texas livestock producers. A one-cent rise in the price of a bushel of corn costs the Texas livestock industry an additional $6 million, according to Perry's request, because the state industry uses about 900 million bushel of corn feed each year. The increase in the price of a bushel of corn between 2004 and 2007 will end up costing Texans more than $1 billion, the waiver request claims. Governor Perry's request is available here in PDF format.
posted by Stephanie Cohen | 10:38 am
File As: Biofuels
May 23, 2008 • Legislation introduced this week by Texas Senator Kay Bailey Hutchison, a Republican, would cap U.S. corn-based ethanol production at 9 billion gallons in 2009. The 2007 energy bill that was enacted raised the level to 15 billion gallons by 2015. Ten other Republican lawmakers have signed on as cosponsors, including Republican presidential nominee John McCain, long a foe of federal subsidies for ethanol. Other cosponsors include Senators Sununu, Collins, Dole, Barrasso, Allard, Cornyn, DeMint, Stevens, and Enzi. The legislation is S. 3031 (available here in PDF format).
posted by Stephanie Cohen | 5:48 pm
File As: Biofuels
May 7, 2008
•
A car company in search of a new fuel that doesn't rely on corn? That's the story according to a joint announcement by General Motors Corp. and Mascoma Corp. In a press release dated May 1, the companies said they have partnered to "develop cellulosic ethanol focused on Mascoma's single-step biochemical conversion of non-grain biomass into low-carbon alternative fuels to help address increasing energy demand." GM is providing an "undisclosed equity investment."
Mascoma's method for turning biomass into fuel is called "consolidated bioprocessing," or CBP, and it relies on microorganisms and enzymes to turn biomass into biofuels. Mascoma says it is using proprietary microorganisms developed at the company's laboratories in Lebanon, N.H.
The company says the CBP process lowers costs by limiting the additives and enzymes used in other biochemical processes. The company has an explanation and diagram of the process on its website.
Mascoma is testing the process now and expects to begin producing ethanol later this year at a demonstration plant under construction in Rome, N.Y.
GM says it cares about alternative fuels because it sells flex-fuel vehicles (FFVs) -- cars that can run on traditional gasoline or 85% ethanol. GM says that of the roughly 7 million flex-fuel vehicles on U.S. roads, 3 million are GM cars and trucks. But even though these millions of cars can use high ethanol mixes, almost all Americans with FFVs in their driveways or garages are actually just filling them with gasoline.
Mascoma, a privately-held company in Massachusetts, has raised equity from venture capital investments and "secured more than $60 million in state and federal grants." Investors in the company include a who's-who of venture capital firms: Flagship Ventures, Khosla Ventures, Atlas Venture, General Catalyst Partners, Kleiner Perkins Caufield & Byers, Pinnacle Ventures, VantagePoint Venture Partners.
Mascoma has also partnered with the University of Tennessee to develop a pilot facility in Tennessee to turn switch grass and wood chips into fuel. The plant is expected to be operational by 2009. It is one of three small-scale cellulosic ethanol biorefineries the Energy Department announced in April it was giving a total of $86 million over the next four years. The other two will be built by London-based Ecofin, LLC (in Kentucky) and RSE Pulp & Chemical, LLC (Maine), a subsidiary of Red Shield Environmental.
Interesting tidbits: The chairman and CEO of Mascoma is Bruce Jamerson. He was the president of VeraSun Energy Corporation -- a leading maker of ethanol from grain -- from 2003 to 2007; Mascoma was founded in 2005 based on technology developed by Drs. Lee Lynd and Charles Wyman in Dartmouth's Thayer School of Engineering.
GM
previously announced
a separate investment in a cellulosic ethanol startup that "uses a thermo-chemical process to make ethanol from non-grain sources."
posted by Stephanie Cohen | 9:12 pm
File As: Biofuels
April 18, 2008
•
On Wednesday of this past week, the Department of Energy (DOE) released a report — first prepared and published in the summer of 2007 by Lynn Wright — titled Historical Perspective on How and Why Switchgrass was Selected as a "Model" High-Potential Energy Crop. The report is a detailed, chronological look at how the United States came to focus on switchgrass as a potential fuel source. It reveals how an unheard-of crop came to be mentioned by President Bush in his 2006 State of the Union address and has since become a symbol of the biofuel revolution.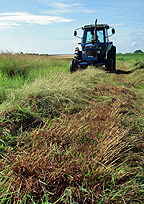 Switchgrass may have seemed to come out of nowhere in that speech, but Wright shows it has interested alternative-energy analysts for a surprisingly long time. DOE started developing biomass resources as early as 1976 when its Biomass Systems Branch funded several studies on sugar crops, agricultural residues, wood energy farms, grains and grasses, and aquatic plant production. In 1977, the department co-funded a field study with the Department of Agriculture on woody crops, sugar cane, and tropical grasses. This led the Energy Department to established its own energy crop research effort.
Wright points to the "screening trials" funded by DOE in the late 1980s and early 1990s as a key development in the department's efforts to assess the potential of so-called energy crops. The agency funded research projects looking at 34 species on 31 different sites spread over seven states in crop-producing regions of the U.S. The research was conducted by six universities and one private company.
In 1984, the Herbaceous Energy Crops Program was launched to focus on "grass and legume herbage" that could be grown in the Southeast and Midwest states. The focus was on these sources because a government report had identified them "as second in size only to wood."
Wright finds that while "several species were identified as having merit for further development," a majority of the groups conducting research identified switchgrass as "having high priority for further development."
The results of these trials, along with assessments by Oak Ridge National Laboratory's Biofuels Feedstock Development Program (and funding limitations — of course), led to a decision by DOE in 1991 to invest in switchgrass as a "model" or "prototype" bioenergy crop.
In a 1992 report, the Biofuels Feedstock Development Program justified the decision to focus on switchgrass, saying that the annual yields from these crops on test sites were "well above the production level considered prerequisite for a successful biofuels industry." The potential land base for switchgrass was also believed to be large, namely the 48 million acres of marginal land that has severe restrictions for conventional crop production:
As a widely adapted endemic species of the tall grass prairies, switchgrass has demonstrated a capacity for high yields on relative poor quality sites.... Research at Virginia Polytechnic Institute and State University has shown that ... switchgrass has a significant capacity to improve soil quality by sequestering carbon belowground. Improved erosion control, reduced fertilizer and pesticide requirements and a capacity for providing wildlife cover are additional positive environmental attributes. An important quality of switchgrass is its strong potential appeal to landowners, for whom cultivation of a perennial crop that can be grown, harvested, and stored with conventional equipment represents an easy interface with current agricultural practices.
In short, part of the potential promise of switchgrass was that it could be produced using land in danger of erosion — and could even help protect the soil.
Following the decision to focus on switchgrass in 1991, the Energy Department kicked off a decade-long study of switchgrass at ten institutions.
Fast forward to 2007: "It is very apparent that while switchgrass may not be a perfect energy crop (and there may not be a perfect crop)," Wright says, it is clear today that it is "one of the more sustainable feedstocks for the production of renewable alternative fuels in the U.S."
Wright points out that while the Energy Department decided to focus on switchgrass because it was an "environmentally and economically sound choice for many parts of the country, it was not a clear winner in all locations." Wright also points that research conducted specifically to improve switchgrass as a "model biomass energy crop during the 1990s has been very successful in improving its potential as a dedicated biomass energy crop."
In 2006, a paper published in Science brought attention to "mixed grassland biomass" as an environmentally preferable, low-cost alternative resource for bioenergy, Wright notes. The paper focused on the energy input/output comparisons between growing corn grain for ethanol, soybeans for biodiesel, and grassland crops for biomass electric, biomass ethanol, or biomass synfuels. The grassland-crop-based systems were shown to have significantly higher net energy balances than either the corn-grain-to-ethanol or soybeans-to-biodiesel systems.
posted by Stephanie Cohen | 10:54 pm
File As: Biofuels
Previous
Next