ART in popular culture
September 26, 2008 •
posted by Cheryl Miller | 8:12 am
File As: Assisted Reproductive Technologies, In Vitro Fertilization, Surrogacy, ART in popular culture, Egg Donation, Frozen Embryos, GLBT Parents, Reproductive Law, Third-Party Reproduction
June 9, 2008 •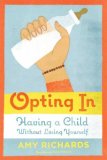 I have a review in yesterday's Washington Times about the latest report from the Mommy Wars, Amy Richards's Opting In: Having a Child Without Losing Yourself
. In the review, I ask whether the term "feminist mom" is an oxymoron and look at the complicated relationship between feminism and the biological clock:
Welcome to the Land of the Park Slope Stroller Mom, where every compliment is a veiled insult, and every choice no matter how mundane or personal - home birth vs. hospital, disposable vs. cloth diapers - is taken as a declaration of your progressive bona fides (or lack thereof). If you're not run down by a passing Bugaboo stroller, you'll likely soon be by the nonstop passive-aggressive sniping of the other mothers. "You let Baby Bjorn have non-organic carrot sticks? What kind of monster are you?"
posted by Cheryl Miller | 9:00 am
File As: Assisted Reproductive Technologies, In Vitro Fertilization, ART in popular culture
June 1, 2008 •
posted by Cheryl Miller | 2:22 pm
File As: In Vitro Fertilization, Surrogacy, ART in popular culture, GLBT Parents, Older Mothers/Fathers, Sex Selection
May 27, 2008 •
posted by Cheryl Miller | 9:46 am
File As: Bioethics and Medicine, Stem Cell Research, Assisted Reproductive Technologies, In Vitro Fertilization, Embryo, Moral Status of the, Cloning, ART in popular culture, GLBT Parents, Sperm Donation, Third-Party Reproduction
May 21, 2008
•
"Forget about the venerable beat-the-clock thriller," says Canadian columnist Michael D. Reid. "Today, the beat-the-biological-clock flick is the thing."
That trend continues next month with Miss Conception, a comedy about the escapades of a 33-year-old woman (Heather Graham) with a family history of early menopause and an unsupportive boyfriend. The reluctantly seductive woman's frantic quest to find a "Mr. Right Now" thrusts her into contact with Internet sperm donors, nightclubbers and a smitten co-worker.

Also coming soon: Jennifer Tilly and Andie McDowell in Inconceivable, Mary McGuckian's satire about "the immaculate deception" facing infertile couples, singles, lesbians and gay men who use "assisted reproductive technology."
The links above are for the movies' IMDB pages; click the posters below visit pages with trailers -- note that Miss Conception has a different name in the U.K.:
posted by Cheryl Miller | 4:05 pm
File As: Assisted Reproductive Technologies, ART in popular culture
May 20, 2008
•
Confirming that the recent "older mothers" craze is not going away, there's now a magazine devoted to the "advanced maternal age" mom, Plum:
The first-ever magazine dedicated to the 35+ childbearing woman, Plum is a unique blend of an informative health journal and an insightful lifestyle magazine.

With topics ranging from birthing plans, prenatal testing, pregnancy myths, and mothering to entertaining, travel, fashion, and culture, Plum gives the 35+ soon-to-be or new mom the know-how and support she needs before, during, and after pregnancy. She will be informed, entertained, and moved as she learns about the best health-care practices, the hottest trends, and the most poignant personal stories.
(via Laura at 11D)
posted by Cheryl Miller | 10:09 pm
File As: Assisted Reproductive Technologies, ART in popular culture, Older Mothers/Fathers
May 19, 2008
•
Yale blogger Helen Rittelmeyer says the rise of the "fertility film" is "a good thing":
I'm not sure why Quart is unhappy about the move towards seeing mother- and fatherhood as redemptive, given that it moves us away from trying to charge romantic relationships with the burden of making overgrown adolescents man up (which was always a bad bet on our part). Movies are full of men who start out juvenile, sullen, self-absorbed, or humorless, only to fall into relationships with women who offer a promise of salvation. I'm not sure why; confrontation with the responsibilities of fatherhood seems to have more raw valence than "love of a good woman."
Louise Sloan, single mother by choice and author of Knock Yourself Up, thinks there's plenty funny about being a single mom, but that Baby Mama doesn't get it:
The critiques of Baby Mama find it to be superficial and predictable, lacking fully drawn characters and the kind of emotional depth that takes a funny sketch and makes it a great movie. And that's where I start to lose my sense of humor. Because this material is both hilarious and highly emotional--there was no reason for Baby Mama to be shallow.

I found plenty to laugh about as I encountered exploding semen vials and was twice mistaken for an animal breeder ("I swear, it's always you semen people who get the late deliveries!" one FedEx clerk loudly exclaimed).
posted by Cheryl Miller | 8:27 am
File As: Assisted Reproductive Technologies, ART in popular culture, Single Mothers by Choice
May 15, 2008
•
In Mother Jones, feminist writer Alissa Quart looks at the new spate of pregnancy comedies (Juno, Knocked Up, Then She Found Me, Baby Mama), which she dubs the "Fertility Film." Like me, she finds these movies "conservative at heart":
[T]hese films recast the "pro-choice" narrative of feminists' personal and political past as a different, less politically dangerous sort of pro-choice story—a woman's right to choose from a smorgasbord of late fertility options. Once, in the recent age of "Murphy Brown" having a baby as a single woman was the most rebellious and politically radical thing our heroine could ever do. Now becoming a single mom onscreen makes a film heroine more conventional.
I also found interesting Quart's analysis of the men--"stunted inseminators" all--in these films. Her description fits well with the "sour feminism" James Bowman identifies in Juno, in which men are depicted as perpetual adolescents unable to come to grips with adult responsibilities. For the pregnancy comedy, the truly agonizing question is not whether to keep the baby, but whether to keep the man. As Quart writes:
All of these films end with a love object, a baby that is superior in the eyes of many women than a man would be. In these films, the baby represents eternity and the possibility of absolute devotion. It's a relationship that, unlike romantic love or marriage, female viewers are thought to believe in without sarcasm.
As they say, read the whole thing.
posted by Cheryl Miller | 4:54 pm
File As: Assisted Reproductive Technologies, ART in popular culture
May 6, 2008
•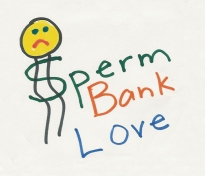 This is probably old news, but I can't resist: rock songs about ART (no, really). "Dark Days" is about sex selection; "Headless Hens," genetic engineering; and "Sperm Bank Love"...well, see for yourself. They are actually pretty catchy.

The songs are the work of Mark Oshinskie, an attorney, amateur bioethicist, and prolific letter writer. You can buy Mark's album, "Elephants in the Room," on iTunes.
Via QuestionTechnology.
posted by Cheryl Miller | 1:31 pm
File As: Bioethics and Medicine, Assisted Reproductive Technologies, ART in popular culture
April 27, 2008
•

I didn't write too much about the movie Baby Mama in my recent WSJ article as I didn't want to step on their film critic's toes. Now with no such worries, I thought I'd give my two cents on the film. If you haven't seen it yet, beware as there are spoilers galore below.
One thing I found interesting while researching the WSJ piece was that no one in the industry or the infertility and bioethics communities was excited about the movie. Surrogates worried it would perpetuate negative stereotypes of surrogates as "ignorant white trash" just in it for the money. Attorney Theresa Erickson, who handles surrogacy and egg donation cases, feared the movie with its surrogacy-scam subplot would make surrogacy seem unsafe even though the majority of cases pass without incident. Anne Adams of the American Fertility Association agreed: Most surrogate situations are "utterly uninteresting and banal.... Is this what happens most of the time? No. But you obviously wouldn't make a movie about what happens most of the time."
On the other side, Jennifer Lahl, director of the Center for Bioethics and Culture, was concerned that Baby Mama made surrogacy look too appealing, and left its dark underside unexplored: "In reality, it's not a light-hearted situation.... Americans will watch this movie, and go, 'How sweet!' But wait a minute, let's have a reality check here." Slate critic Dana Stevens had a similar take: The movie, she wrote,
could have been the springboard to investigating (or wickedly satirizing) some of the issues surrounding surrogacy, which, as this excellent Newsweek piece reported, can be a minefield for class, race, and gender tensions. But the conflict between Kate and Angie rarely rises above Odd Couple level: Organic pea soup or Tastykakes? Touchy-feely birthing videos or American Idol karaoke?
Like Stevens, I found the movie rather tame in its approach to the politics of modern parenthood. Naturally, the "mommy wars" make an appearance with laid-back mom Caroline (Maura Tierney) explaining to her sister Kate (Tina Fey), a driven career woman, that motherhood is "not like opening one of your stores. It's not an executive decision." Later, Kate recalls an old flame who wanted to marry her, but she was too focused on her career. "Other women got pregnant. I got promotions," she says ruefully.
Yet the entire career vs. family debate is rendered moot by Kate's diagnosis: a "sucky" T-shaped uterus. Kate's "advanced maternal age" notwithstanding, her eggs are fine, and it's her mother's exposure to DES — not Kate's decision to put family on the backburner — that causes her fertility woes.
To judge from the script, the writers didn't think too hard about this incongruity. Kate's diagnosis is mostly a means of explaining her need for a surrogate (and a source of mostly lame jokes about her mother's liver spot medication). The career vs. family debate is there because...well, that's what movies about career women and infertility are about.
This wouldn't have been hard to work around — Kate could have used an egg donor as well as a sperm donor, for instance — but it's clear the writers wanted Kate to have her own biological child. The press materials for the movie talk of "two kinds of family: the one you're born to and the one you make," yet Baby Mama is very timid when it comes to alternative families.
The movie's conservatism reminded me of two other infertility-related films I recently watched: the truly awful sperm-donor comedy And Then Came Love and Hannah and Her Sisters (which features a DI subplot). In all three movies, the importance of blood ties is reaffirmed. Love might be an important ingredient, but it's biology that really makes a family in these films. In And Then Came Love, Vanessa Williams leaves her successful, long-time boyfriend for her son's donor dad. In Hannah and Her Sisters, Woody Allen finds himself unable to bond with his wife Hannah or their children who are the product of donor insemination. They divorce, but he soon finds romantic bliss with his wife's sister, who despite his extremely low sperm count, becomes miraculously pregnant.
Baby Mama has a similar twist to Hannah and Her Sisters. After a series of plot turns in which Angie may be faking her pregnancy, Kate gets pregnant the old-fashioned way as does her surrogate Angie. Like Woody Allen's character, Kate's pregnancy only comes about after she finds her true love: Greg Kinnear, who plays a sweet single dad. There's an element of wish-fulfillment here, of course, as with all romantic comedies — which makes a strange ending for a movie that seemed to promise an edgy, provocative take on surrogacy and family.
posted by Cheryl Miller | 5:09 pm
File As: Assisted Reproductive Technologies, Surrogacy, ART in popular culture, Older Mothers/Fathers, Single Mothers by Choice, Third-Party Reproduction
Next