Egg Donation
July 2, 2008 •
posted by Cheryl Miller | 8:40 am
File As: Bioethics and Medicine, Stem Cell Research, Assisted Reproductive Technologies, In Vitro Fertilization, Embryo, Moral Status of the, Egg Donation
June 27, 2008
•
The number of treatments with donor sperm has dropped to record lows since Britain banned donor anonymity in 2005, reports the London Daily Mail:
The first official figures since the Government removed anonymity from donors in 2005 show that the number of women treated with donated sperm fell by about 20 per cent from 2,727 in 2005 to 2,107 in 2006.

The number of donor insemination treatment cycles fell by 30 per cent over the same period.

The amount of women offering to donate eggs has also shrunk dramatically.
The article also provides some helpful data on the surpising (albeit small) increase in the number of donors after the 2005 law took effect. The government and donor-conceived activists had pointed to the rise as evidence that anonymity would not hurt the industry. But, it turns out, most of those new donors are 'known donors,' who are looking only to help a friend or relative:
The figures show that the number of sperm donors rose slightly from 259 in 2005 to 307 in 2006.

But that rise is largely down to an increase in the numbers of 'known donors' - friends and relatives that donate for a couple's exclusive use.

Fewer donors are contributing to sperm banks, from which the donation can be used by up to ten women.

That means that although more donors have registered, the shortage of sperm is becoming more acute.

Ten years ago there were no waiting lists for sperm, but now most clinics have a wait of at least two years for sperm treatment, and a similar trend is affecting egg donation.

A year after the law changed on anonymity, two thirds of clinics said their waiting times for sperm treatment had lengthened.
As a result, many more couples are looking abroad for donor sperm. Naomi Anderson, a fertility patient in the U.K., turned to online purveyors in the U.S. after learning about the 1-2 year wait for a donor:
I found two reputable American sites, xytex.com, and fairfaxcryobank.com, and selected a couple of possible donors. But legislation that came into force at the end of January 2007 means that UK women – despite our national sperm drought – now find it almost impossible to import sperm. A licence must be sought from the HFEA, which among other conditions stipulates that the donor must "only [have] received reasonable expenses or reimbursement for loss of earnings'. This is often not the case with the most high profile foreign clinics. You must also argue convincingly why you believe your child should be fathered by someone from that country.

The first time round the application submitted by my clinic was turned down by the HFEA. But an appeal, in which I stressed my husband's North American background, was successful. Those, however, who have no connection with any other country, are caught in what seems to be a tussle between different people's rights.
posted by Cheryl Miller | 10:35 am
File As: Assisted Reproductive Technologies, In Vitro Fertilization, Egg Donation, Reproductive Law, Sperm Donation, Third-Party Reproduction
June 16, 2008 •
posted by Cheryl Miller | 9:09 am
File As: Assisted Reproductive Technologies, In Vitro Fertilization, Eugenics, Contemporary, Surrogacy, Egg Donation, Embryo Adoption, Frozen Embryos, Third-Party Reproduction
June 2, 2008 •
"I think too often we've seen our job as simply to help someone achieve a pregnancy rather than looking at what happens to the child, the welfare of the child, what are the needs of the child. Those are issues we haven't addressed properly."

— Dr. Charles Sims, the medical director of California Cryobank
A fascinating podcast by "choice mom" Mikki Morrissette about the gamete donor registry proposed last March by three leading sperm banks. I've been working on a piece for Reason about the registry and the possibility of self-regulation. Dr. Sims (whom I interviewed) touches on several of the themes I discuss in the article. Well worth a listen!
posted by Cheryl Miller | 3:53 pm
File As: Assisted Reproductive Technologies, In Vitro Fertilization, Egg Donation, Sperm Donation, Third-Party Reproduction
May 21, 2008 •
posted by Cheryl Miller | 3:30 pm
File As: Bioethics and Medicine, Stem Cell Research, Assisted Reproductive Technologies, In Vitro Fertilization, Embryo, Moral Status of the, Cloning, Egg Donation, GLBT Parents, Third-Party Reproduction
May 12, 2008
•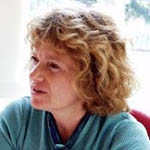 Donna Dickenson is one of Britain's leading experts on medical ethics. As professor of medical ethics and humanities at Birkbeck College in London, Dickenson has written on a variety of topics, including death and dying, assisted reproductive technology, the patenting of the human genome, and women's health. In 2006, she became the first woman to win the prestigious Spinoza Lens prize for her contribution to the public debate on ethics.

Professor Dickenson's latest book is Body Shopping: The Economy Fuelled By Flesh and Blood, a look at the rapidly growing trade in the human body. She kindly agreed to discuss her new work in an interview with Conceptions. Those in New York can see Prof. Dickenson in the flesh during her book tour on June 18-19. (For more details, see her website, www.donnadickenson.net.)

[Interview conducted, edited, and hyperlinked by Cheryl Miller.]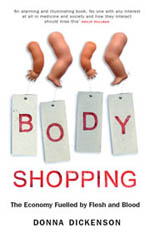 What is "body shopping"?

DD: I use the term "body shopping" to refer to the way in which human tissue, genes, gametes and organs are becoming consumer items like any other.

In your recent op-ed in the London Times, you write that the "'God vs. science' has become a dangerous distraction." How so? What kind of debate should we be having?

DD: In the Sunday Times article, I argued that the vituperative slanging match into which our debate on the Human Fertilisation and Embryology Bill has descended is diverting attention from serious ethical, economic and political issues about the widespread commercialisation of biotechnology. Debate has centred almost exclusively on "human admixed embryos," created from an enucleated cow or rabbit egg and a human somatic (body) cell, with religious figures lining up against this development and scientists insisting it's necessary for somatic cell nuclear transfer stem cell research. But there are many other important issues centring on the activities of biotechnology firms, such as the clinically dubious "product" offered by private umbilical cord blood banks, or the defensive patenting of human genes with an adverse effect on patient care. The 'God versus science' cliché, however, means that even a secular bioethicist like me risks being branded either a 'Luddite' or a 'God-botherer' for daring to pose ethical questions about scientific developments and their commercialisation.
The medical research community has long argued that ceding any ownership rights over tissue to donors will lead to patients buying and selling their own body parts. Should we own our own bodies? And if not, who should?
DD: It's quite odd for the medical research community to make this argument, when they see nothing wrong with commercial firms buying and selling intangible property rights in genetic sequences, or stem cell lines derived from donors of somatic cells and oocytes. The law has been equally contradictory: traditionally the common law viewed tissue taken from the body as res nullius, no one's thing, and therefore refused to allow patients like John Moore to exercise any rights over cell lines made from their tissue. If res nullius is taken to its logical conclusion, however, it should mean that no one, including researchers, universities and biotech firms, has any rights over cell lines of other forms of tissue either. But I don't actually advocate that we should own our bodies unreservedly: instead I favour more communal systems, such as the PXE model in which patient groups and biotech firms share rights over gene patents.
If we do "own" our own bodies, why aren't we entitled to sell off an egg or kidney if we so choose?
DD: As I say, I don't believe that we do own our bodies straightforwardly, although I do think that in cases where considerable labour has been expended--first and foremost, egg donation, which has been estimated to require up to 60 hours' labour--the donor should have some rights on a Lockean basis of having 'mixed one's labour'. Even if we did own our bodies, ownership rights in our common law are generally seen as a 'bundle of sticks', from which certain forms of control are chosen appropriate to the need in hand. You might have a right to donate your tissue but not to sell it, for example, as these are separate sticks in the bundle.
Many have argued that without payment, there would be a shortage of sperm and egg donors--as there is of kidney donors. If we use altruism as a principle for all tissue donation, how can we avoid a shortage of available gametes, or determine a fair way of rationing available resources?

DD: This seems to me to be a rather narrow outlook. Only the United States, so far as I know, operates a full-fledged system of egg and sperm sale, but other countries manage perfectly well with a more altruistic system. European countries generally pay expenses only, although the amount varies quite widely--but nothing like the exaggerated amounts paid for 'desirable' eggs in the US, up to $100,000 per cycle from blonde, tall, musical and athletic young women. Where there are shortages of eggs and sperm in European systems, they have more typically been caused by changes in regulations about donor anonymity than by any failure of altruism.
In your book, you note the different ways in which egg donation and sperm donation are treated under the law. You observe, "The assault on freedom is only noticed when it begins to apply to men." Are women more vulnerable to biotech predation? How so?
DD: That point doesn't arise from my discussion of egg or sperm donation; rather, in the last chapter, I argue that we all have 'feminised' bodies now insofar as all bodies are increasingly assumed to be open-access. The tremendous publicity given to the patenting of the human genome--one in five genes are now patented, affecting both sexes equally--contrasts with the very minimal publicity given to the demand for women's eggs in 'therapeutic cloning'--in some cases under conditions which may welll have been coercive, as in the Hwang Woo Suk scandal. Female tissue is still more valuable, but both sexes are vulnerable to 'body shopping'.

You have warned that women who donate their eggs for stem cell research could be at risk from life-threatening side effects. Do you think egg-harvesting and stem cell technologies will become more effective and safe in the future, and would that dispel some of your present concerns?
DD: We are seeing good scientific evidence that low-dosage ovarian stimulation regimes produce just as good overall results in IVF as high-dose ones, even though fewer eggs are 'harvested'. But research in somatic cell nuclear transfer research still requires very high numbers of eggs because the technology is very wasteful (Hwang used over 2,200 eggs to create precisely zero stem cell lines). I am more hopeful about the possibility that SCNT [somatic cell nuclear transfer] will be bypassed altogether, if induced pluripotent stem cell lines do indeed fulfil their promise, since that technique doesn't require human or animal eggs. Last week, by contrast, the upper house of the Western Australian parliament voted against a bill to allow SCNT research on scientific grounds, that the technology had failed to deliver on its earlier promise and the ethical issues around taking eggs from women were too overwhelming. This can be seen as a victory for the attempts made by activists and academics such as Marcy Darnovsky, Sarah Sexton, Diane Beeson, Cathy Waldby and myself to ensure that the risks to women became better known.
Critics argue against organ selling and surrogacy on the grounds that the poor are more likely to be sellers, and that the procedures in question are risky. Yet we allow people to take on dangerous jobs. Further, many argue that serving as a surrogate or selling an organ is their best available option. One Indian surrogate explained her decision thus: "This is not exploitation. Crushing glass for 15 hours a day is exploitation." Are organ selling and surrogacy somehow different from other "exploitative" work?
DD: Freedom of choice is not a knock-down argument. Even where we allow people to 'choose' dangerous jobs, we retain health and safety laws to limit the risk. But few such protections exist for commercial surrogates, particularly in the developing world. In addition, we need to look at the massive difference between what the surrogate is paid--even if it seems a lot to a poor Indian woman--and the profits of the commercial agency arranging the transaction. One US agency, for example, pays surrogates $25,000 but charges $100,000. Most of that $75,000 difference is pure profit. Unless you really think the agency has contributed three times as much of the 'value' of the baby as the birth mother, you would have to classify that as exploitation because the rightful contributor of the value has been shortchanged.
How can we work towards finding treatments for serious diseases without commodifying our bodies? What policies can lawmakers adopt to protect people from exploitation without impeding medical progress?
DD: We will be much more likely to find treatments for serious diseases if we can rectify the grossest abuses of body shopping. The biotechnology industry has been allowed to claim that it is the greatest promoter of medical progress, when in many cases it is arguably the greatest hindrance. That's particularly true where defensive gene patents or restrictive licensing agreements block researchers from developing alternative, better or cheaper cures. A single company, Myriad Genetics has patented the BRCA1 and BRCA2 genes involved in some breast cancers, meaning that in the United States (though not in Europe) a clinical diagnostic test for those genes can only be afforded by those who can pay the fee. Lawmakers and judges need to be much more sceptical about the abuses of genetic patenting in particular; this process has begun in Europe but is still largely ineffective in the United States.
One chapter in your new book is subtitled "Resistance is not futile." But the rise of medical tourism would seem to make legislating an impossible task. If all you need is a passport to buy an egg or find a surrogate mother, how can we effectively regulate biotechnology?
DD: The globalisation of the biotechnology industry does indeed made regulation more difficult, but it's not impossible. In Europe there is now a tissue directive binding on all EC countries, which makes egg sale for IVF illegal. Some European countries, particularly Germany, prohibit their citizens from buying surrogacy or eggs abroad, as well as on German soil. Similar laws exist in some countries in relation to sex tourism, especially with minors, so where the political will is there, a way can be found.
posted by Cheryl Miller | 7:18 am
File As: Bioethics and Medicine, Assisted Reproductive Technologies, Capitalism/Commerce, Interview, Surrogacy, Egg Donation, Conceptions Interviews
April 23, 2008
•
The Yale Daily News delves into the workings of the Yale Oocyte Donation and Surrogacy Program:
The women who donate their eggs are primarily motivated by a desire to help others to conceive a child, Dorothy Greenfeld, the Yale program's social worker, said, though the sum is often what first piques their interest when they see an ad in a newspaper or the Yale Calendar.

"They think it's better than giving blood but easier than giving a kidney," Greenfeld said.
The Heartland Institute looks at the egg-selling trade, now a $3 billion business:
This new issue involves two major questions. First, what are the long-term effects on a woman who sells her eggs? Let's face it--donating sperm is, as a matter of physiology, a transient thing. Harvesting eggs is not.

Second, should a woman be able to sell her eggs in the same way other people sell their organs, such as kidneys, as a part of her body with which she's free to do as she chooses? Eggs are not kidneys--but neither are they sperm.

"We're not going to know all the effects of women selling their eggs for at least 10 years or more," noted Jane Orient, M.D., executive director of the Association of American Physicians and Surgeons. "We don't know the long-term consequences of the powerful drugs and surgery [necessary] to obtain the eggs. How many women are selling their chances of motherhood for a few thousand dollars?"
posted by Cheryl Miller | 7:21 pm
File As: Assisted Reproductive Technologies, Egg Donation
Previous