Sperm Donation
October 10, 2008 •
posted by Cheryl Miller | 9:08 am
File As: Assisted Reproductive Technologies, In Vitro Fertilization, Eugenics, Contemporary, Surrogacy, Frozen Embryos, Reproductive Law, Sperm Donation, Third-Party Reproduction
October 3, 2008 •
posted by Cheryl Miller | 1:37 pm
File As: Assisted Reproductive Technologies, In Vitro Fertilization, Egg Donation, GLBT Parents, Single Mothers by Choice, Sperm Donation, Third-Party Reproduction
October 2, 2008 • Part Two of my interview with Damian Adams. See Part One here.

Have you been involved with any campaigns to fight for the rights of DC people?

DA: I have been constantly writing to state and federal politicians. I have been in contact with the state regulatory authority. I have met with the federal attorney general. I have had articles published in the media highlighting the cause and also appeared on a few television shows. I have presented a talk at the national DCSG conference and talked at a seminar attended by clinicians and persons involved in the fertility industry in South Australia.

What do you hope for from a meeting with your donor? What would be your best-case scenario? The worst?

DA: Anything, everything, and nothing. That probably doesn't make much sense, but I would be willing to accept anything, just so long as I know the truth about who I am and my heritage.

Best-case scenario would be a relationship of sorts—not necessarily a father-type relationship. (I am a realist.) A medical history should be mandatory.

Worst-case: What I am currently in. I am in limbo with no way forward.

What do you think of open-donor programs (i.e., where the donor is identified to the offspring when they come of age)? Do you think they are a workable compromise? Is it simply enough for a person to have the chance to meet and know their biological parent?

DA: This is where a lot of people have trouble understanding my argument. I am not saying that non-biological parents can't make good parents. There are good and bad biologicals and non-biologicals. The thing is people need to take off their "glasses" and look through a child's eyes and not through those of an adult.

Being raised by both biologicals is preferable, because it is who we are, our flesh and blood. We see ourselves in our parents and them in us. It is the continuance of kinship and heritage. This is the best-case scenario and to deliberately do otherwise is to deprive the child.

There is no way to ensure that those conceived in DC families will ever know of their origins. (A recent study in Australia showed only 33 percent intended to tell—even less do.) So immediately there is a problem with the majority of families deceiving their child. Deception is not a foundation to build a family on—truth is.

Then there is the issue of kinship separation, loss of identity, heritage—these cannot necessarily be fully retrieved in an open-donor situation as the constant contact and interaction is not there. It is well known in adoption circles that these things are harmful to a child yet we are unable to acknowledge them in the DC community. It is a double standard.

What misconceptions do people have about donor-conceived people?

DA: Some people have argued against views such as mine saying that [such views] are from children raised in a dysfunctional family. However, I was raised in a very loving home, and I love my social father and respect him very much.

They then also try and dismiss my views as being from a disgruntled and ungrateful minority, yet they fail to understand that at one point in my life, I was very grateful and even proud of being DC. But after the epiphany I experienced [when] my daughter was born and realizing that we cannot arbitrarily choose which genetic connection is to be important to children, I had to completely reverse my stance.
posted by Cheryl Miller | 8:49 am
File As: Sperm Donation, Third-Party Reproduction, Conceptions Interviews
October 2, 2008
•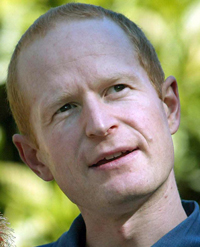 Damian Adams was conceived through donor insemination in 1973 at the Queen Elizabeth Hospital in Adelaide, South Australia. He has been searching for his biological father for over five years, and keeps a blog, Donated Generation, on donor conception ethics and practices.
An advocate for the rights of DC offspring, he has worked with the Donor Conception Support Group of Australia and TangledWebs. He has made numerous media appearances to discuss the unique challenges faced by other "half-adopted" people. You can learn more about his search here.
In this interview, we discuss his search for his biological father, children's rights, and the donor anonymity debate.
For more on donor-conceived offspring, see my latest article in The New Atlantis.
[Interview edited, condensed, and hyperlinked by Cheryl Miller. Part Two to follow.]
When did you start your blog? Do your friends and family know about the blog? How have people reacted?
DA: I started the blog in July 2006. My wife knows about it as do some of my DC community friends on the Web. No one else does. To be honest, I haven't had much reaction about it apart from my DC friends who appreciate and agree with what I have written.
When and how did you find out that you are donor-conceived?
DA: From the very beginning. I would have been about three or so.
I imagine if I had found out later in life that I would have taken it very badly and harbored bad feelings towards my parents for deceiving me. Many people use the argument of early disclosure to say that if it occurs then the person would be happy with being DC. I guess I am evidence to the contrary.
You say on your blog that it wasn't until you were 28 and had children of your own that you began to question your origins. What changed for you?
DA: While I started off searching for non-identifying information (as I at one time agreed with anonymity), I have now changed my perspective, and I wish to know who this person is. This view changed after the birth of my daughter. It was a moment not too dissimilar to the moment that parents often report experiencing when they hold their child for the first time and stare into their baby's eyes. It was an acceptance and knowledge of a biological connection. That no matter what might happen in the world, we would always be father and daughter. No one or no thing would ever be able to change this.
This biological connection made me think about how I would feel if my daughter grew up not knowing who I was. I need to complete the picture of who I am not only for myself but also for my children. My search is just as much for them as it is for me. The implications of being donor-conceived do not end with me but continue on into the following generations.
How long have you been searching for your donor?
DA: The initial search for non-identifying information started when I was 16. My family is aware of my search and is fully supportive. My mother even assisted in the early stages, and obtained her treatment records for me. Searches for identifying information started in earnest when my daughter was born.
What have you done in searching for your father/siblings? Are you on any donor/sibling registries?
DA: I have been in contact with the hospital and the clinic that obtained the records when the hospital stopped conducting fertility treatment. I have also spoken to the clinicians involved at the time. Through some strange coincidence, my wife's obstetrician, who delivered our children, was one of the registrars who conducted the procedure (although I was not aware of this when he first became her obs). These clinicians have tried to help in locating records. I have searched through university records of medical students. I have appeared in print, televised, and spoken (radio) media.
I have also joined/registered on a couple of online registries. While there has been a South Aussie donor who has since listed on one of those registries, he is not from my era. There are no other South Australian offspring on them as yet. I decided to finally put my name on them to cross all the boxes and leave no stoned unturned.
I believe that I know who my father is. However, he has denied it. This has been extremely traumatic, and I cannot obtain closure. I cannot get a definitive answer either way.
Have you met any potential half-siblings? If you haven't, would you want to meet any?
DA: I have not met any potential half siblings. But I would like to. To me the issue of half-siblings, whether through other donations or from a normalized relationship with my father, is of equal importance as finding my father.
posted by Cheryl Miller | 8:33 am
File As: Sperm Donation, Third-Party Reproduction, Conceptions Interviews
September 29, 2008
•
If you're in the Toronto area, I will be speaking about my latest New Atlantis article, "Donated Generation," at a symposium hosted by the Infertility Network. The event is this Saturday, October 4, 2008, at the Michener Institute. (Map and directions here.)
There will be some great speakers: Olivia Montuschi, co-founder of the Donor Conception Network; Kathleen LaBounty and Karen Clark, two donor-conceived adults; and Eric Schwartzman, a DI-dad.
A brief description of the seminar:
Symposium: Getting It Right – Putting Ethics At The Core Of Gamete Donation Practice
Saturday, October 4, 2008. 9:00am - 5:00pm. Open to all.
Michener Institute, 222 Saint Patrick St., Toronto (near University Ave. & Dundas St.)

Explore the complex ethical issues of egg and sperm donation from the perspectives of adult offspring, recipients and donors, as well as the LGBT and adoption communities, with input from support group leaders, researchers, ethicists, counsellors and medical professionals. The discussion will focus on the importance of education and support, along with the need for accurate, complete, accessible records, protected against loss or destruction. It will also highlight shortcomings in the current system and the need for more accountability.

Discover the similarities and differences among systems in countries that enable a donor-conceived person to learn their donor's identity and the challenges posed by the abolition of anonymity. Listen to personal stories from offspring who want to learn more about their genetic kin. Learn how similar past practices in adoption (e.g. secrecy and sealed records) are giving way to openness and information sharing.

Hear up-to-date research on the long term medical and emotional ramifications of egg donation; the expected changes in the United Kingdom following implementation of the new legislation (e.g. provisions for offspring to access information about their half-siblings and donors about their offspring).
To learn more about the conference and to register, see the Infertility Network's website.
posted by Cheryl Miller | 7:11 pm
File As: Assisted Reproductive Technologies, Surrogacy, Egg Donation, Reproductive Law, Sperm Donation, Third-Party Reproduction
September 25, 2008
•
Amy, a female blogger, is advertisting for a sperm donor via her blog. She claims to have 15 candidates. I'm guessing this must be a hoax since it is an incredibly bad idea otherwise (especially from someone who claims to be attending law school). Here's her pitch:
In less than two weeks, I will be ovulating, which as everyone should know is primetime for baby making. The problem is that I don't yet have a partner for this process. Now, I'm not looking for a source of child support or a baby-daddy in the sense that he should have any supportive role in the pregnancy or in raising the child, I just need some good, hearty seed....


Since I have successfully dated two people through this blog network I am turning to it again for assistance in this effort. The network has agreed to help financially with the baby but I am turning to the readers/commenters for my donator. The nail in the coffin was the latest example of using the Internet as an efficient means for a solution—whether it's paying college tuition or finding the right donor.
posted by Cheryl Miller | 2:58 pm
File As: Assisted Reproductive Technologies, Sperm Donation
September 23, 2008 •
posted by Cheryl Miller | 8:53 am
File As: Assisted Reproductive Technologies, In Vitro Fertilization, Older Mothers/Fathers, Single Mothers by Choice, Sperm Donation, Third-Party Reproduction
September 2, 2008
•
Still more on the plight of donor-conceived people. First, from the Walrus, a fascinating piece on "frontier families" by a "dumped" sperm donor. Matthew Hayes, a gay man living in Canada, gives an inside look at the life of known donors:
Suzy, one of my closest and oldest friends, was phoning from her Toronto home. "Matt, I don't really know how to say this to you. But we've decided to go in another direction. I don't feel like this is working out."

It was a few sentences that were both simple and entirely complex. But the essence of it was easy enough to summarize: I was being dumped as a sperm donor.

[...] I was hardly alone. In fact, I was caught in the gears of the various new machinations emerging from the burgeoning number of queer families, and one particular decision faced by many lesbians aspiring to parenthood. They have the means, but they still need sperm to get the job done. There are two options at this fork in the road: do they go the anonymous sperm donor route, or do they harvest the sperm of a close friend (usually gay)? We might call it the plan A (anonymous donor) or plan B (close gay friend) conundrum.
Second, from Choice Moms, Mikki Morrisette talks with a potential sperm donor and a reproductive law attorney about the pros and cons of using a known donor.
posted by Cheryl Miller | 3:30 pm
File As: Assisted Reproductive Technologies, GLBT Parents, Sperm Donation, Third-Party Reproduction
August 28, 2008
•
The summer issue of The New Atlantis is now online. As always, there are some terrific articles, including Rita Koganzon's foray into the world of Second Life and James Bowman look at the "dumbest generation."
Your humble blogger also has an article in the issue--it's on donor-conceived children and the rise of open-donor programs. Many, many thanks are in order to DI-Dad blogger Eric Schwartzman and Circle Surrogacy's John Weltman for sharing their stories. Joanna Scheib and Elizabeth Marquardt were both incredibly helpful and generous with their time and knowledge.
An excerpt:
When Eric Schwartzman went in for a medical exam six months before his wedding, he didn't expect to hear he was infertile. After the examination, the doctor suggested Schwartzman have a sperm-count test. Schwartzman thought nothing of it. Then the results came in. He was diagnosed with azoospermia, a condition in which the man produces virtually no sperm. "Don't plan on having kids naturally," his doctor told him. "You can just adopt."

Schwartzman and his wife were devastated. He offered to call off the wedding, but she refused. Instead, they went to a fertility clinic, where Schwartzman underwent two testicular biopsies to retrieve sperm for in vitro fertilization (IVF). As a backup, his doctor suggested the couple select a sperm donor, and they agreed without really taking the possibility seriously. But when two IVF cycles failed, he and his wife reconsidered.

Schwartzman is now the father of two "half-adopted" children, as he calls them, both conceived through donor insemination. Most of the time, he says, he focuses on day-to-day life--"getting them potty trained" and the like. But he sometimes wonders what effect their unusual beginnings will have on them.
posted by Cheryl Miller | 3:49 pm
File As: Assisted Reproductive Technologies, In Vitro Fertilization, Egg Donation, Sperm Donation, Third-Party Reproduction
July 22, 2008
•
The London Telegraph has a series of articles on ART today, including a number of first-hand accounts from patients and donors. There are some great stories, but since I'm working on a piece about donor registries, I was most interested in the ones about the effect of the anonymity ban on donor recruitment.
The answer is not good — as this U.K. government report recently attested.
Sophie Turner and her partner Karen Harvey have spent two years trying to conceive a child. After learning about the waiting list for sperm donors, the couple turned to a Danish cryobank. The trips did not result in a baby, so the couple returned to the U.K. where they are still waiting for a donor:
After two failed attempts, she's being treated at Barts, where there's a three-month waiting list for British sperm. Any child we have will be able to contact the sperm donor when he or she is 18; I think it's a good thing that children know where they come from, but I'm not sure of the effect it will have on us as a family.
Sue Adlam is a school teacher. She waited a year for an egg donor to conceive her first child, and is now searching for another donor to conceive a sibling:
I feel as if I've spent half my life waiting, but as anyone who's ever suffered from infertility knows, what keeps you going through all the sadness is the prospect of the amazing miracle of a baby at the end of it all. Many women are faced with the prospect of a wait of at least two years, but my hope is that things will begin to improve in the long term.
posted by Cheryl Miller | 2:41 pm
File As: Assisted Reproductive Technologies, In Vitro Fertilization, Egg Donation, GLBT Parents, Sperm Donation, Third-Party Reproduction
Next