Energy Technology
July 9, 2008
•
This week, billionaire oilman (and now wind energy investor) T. Boone Pickens has debuted his new energy policy to wean the U.S. off oil. Pickens says he is prepared to use his own money to advance this plan. At the center of his plan is another fossil fuel — natural gas — and renewable energy like wind power.
What's the renewable fossil fuel equation? According to CNBC's recounting of Pickens's appearance on that network on Tuesday morning:
Developing wind and solar power could lower the use of natural gas in some instances, he said. Some of that natural gas could be redirected to uses normally reserved for oil, like transportation. That, in turn, could lead to a 38 percent reduction in the use of foreign energy supplies, he concluded.
According to the Dallas Morning News, Mr. Pickens plans a long media campaign "to promote his energy policy ideas — which align perfectly with his business investments. He'll spend tens of millions of dollars on television and Web advertising and will make talk show appearances along the way":
Mr. Pickens agreed that the shift to natural gas and renewable power will take time. He isn't trying to address current prices at the pump; Americans will have to find ways to live with expensive gasoline, he said.

And he acknowledges that building natural gas pipelines to every service station, erecting more wind turbines, and stringing the transmission lines to service them, would cost billions of dollars.

But with the U.S. spending $700 billion a year on foreign oil, investing several billion in wind turbines and new transmission lines would be an attractive trade-off, he says.
The businessman also announced Tuesday that he was investing $10 billion on a 4,000 megawatt wind power deal in Pampa, Texas. He referenced an "unbelievable wind corridor from Sweetwater, Texas to the Canadian border" as a possible site for 150,000 megawatts. Pickens toured wind turbines in Sweetwater last week with national media outlets. An Abilene Reporter News story last week quoted Pickens as saying "we've already bought the turbines for the first 1,000 megawatts, and we'll start construction in the summer of 2010."
Pickens has also launched Clean Energy Fuels, a company that runs natural-gas filling stations for fleet vehicles, according to a MarketWatch story.
Pickens doesn't plan to discuss energy policy in a bubble; he plans to push the presidential candidates to address the issue. According to the Dallas News, "He aims to make energy a central issue in the presidential election. He'll challenge the candidates to go beyond pandering on gasoline prices to create real energy plans."
Actual text of the energy policy is not yet available but the "Pickens Plan" is outlined here. This morning in the Wall Street Journal, Pickens argues that "can be accomplished within 10 years if this country takes decisive and bold steps immediately. This plan dramatically reduces our dependence on foreign oil and lowers the cost of transportation. It invests in the heartland, creating thousands of new jobs. It substantially reduces America's carbon footprint and uses existing, proven technology. It will be accomplished solely through private investment with no new consumer or corporate taxes or government regulation. It will build a bridge to the future, giving us the time to develop new technologies."
posted by Stephanie Cohen | 7:06 pm
File As: Energy Technology, Energy Policy, Business of Energy, Alternative Energy
July 9, 2008
•
The Metaefficient blog has an interesting post about the dominance of solar water heaters in Israel and a great picture of Jerusalem "from above" that shows how the skyline there "often glitters with the shine of the thousands of solar heaters that adorn rooftops." Amazing pictures — check them out.
posted by Stephanie Cohen | 3:15 pm
File As: Energy Technology, Alternative Energy
June 13, 2008
•
This post from the Earth2Tech should be read by anyone who thinks Detroit has lost its mind -- not to mention its edge, its marketshare, and its future. Apparently car makers are registering plenty of patents (though the rate has slipped a bit from the same quarter last year). What could they be up to? Hybrids apparently.
[A]ccording to data on the number of granted patents in the first quarter of 2008, car companies are actually leading in terms of intellectual property [when it comes to "cleantech"]. New York-based intellectual property law firm Heslin Rothenberg Farley & Mesiti puts together the so-called Clean Energy Patent Growth Index (CEPGI) that follows granted patents for cleantech, and the firm says that in the first quarter of this year, automotive companies dominated the top 10.... Whether that means they're charging ahead on implementing this technology, and not just filing for the patents, remains to be seen.
As the post points out, Honda is in the lead (16 patents in the first quarter of 2008), followed by GM and GE (11 patents apiece), then Nissan, Toyota, and Hyundai. Ford ranked tenth.
According to a release from Heslin Rothenberg Farley & Mesiti (available in PDF here), over the long term, fuel cells "continue to dominate the other components" in the world of cleantech. This graph, which encompasses every sector (not just the auto industry), makes that very clear: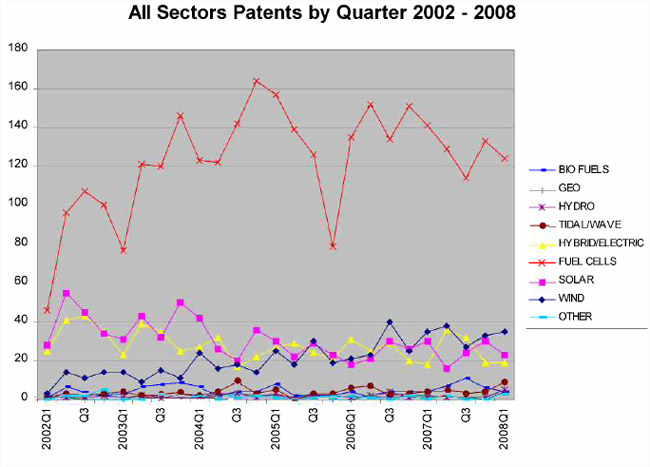 Certain places also tend to generate more patents (thanks to industry centers in those locations). According to HRF&M, the hotbeds of activity, both domestically and abroad, are Japan, Michigan, California, Connecticut and Germany."
posted by Stephanie Cohen | 4:40 pm
File As: Energy Technology
June 13, 2008
•

This week, the Brookings Institution and Google.org (the philanthropic effort that runs the Google Foundation) teamed up to run a two-day conference in Washington, D.C. exploring the future of plug-in vehicles (both hybrid and all-electric). Three issues were front and center:
Can U.S. automakers actually deliver on this technology?

Will American consumers buy these cars -- and keep buying them if oil drops back down to $60 or $70 a barrel?

Will Washington offer any incentives -- to manufacturers of batteries, to developers of new battery technology, or to consumers?
The answer to all three questions: Maybe.
What made this conference top-notch was the scores of business and technology people discussing their work in this area. They were able to convey just how difficult it is to get all the right trade-offs in a new concept car.
A transcript of the event -- sure to be worth a read -- will be posted at the
Brookings site
.
(Photo by Flickr user jurvetson [CC])
posted by Stephanie Cohen | 11:53 am
File As: Energy Technology
May 2, 2008
•
Duke Energy filed a report with the Indiana Utility Regulatory Commission updating the agency on the expected cost of completing a clean coal gasification power plant currently under construction in southwest Indiana. The company upped the cost estimate of the plant by $365 million to $2.35 billion. This translates into a 2% rate impact for customers between 2008 and 2013. Duke president James Turner said the increase was similar to increases for other types of buildings. The plant is located in Edwardsport, Ind. and is expected to be completed in 2012. The 630-megawatt plant will use integrated gasification combined cycle technology. That total cost will be offset by about $460 million in local, state, and federal tax incentives.
posted by Stephanie Cohen | 12:53 pm
File As: Energy Technology, Coal