About the Author
Former New Atlantis blogger Cheryl Miller is a writer living in Washington, D.C. A 2007 Phillips Foundation Journalism Fellow, she is also the editor of Doublethink magazine. She can be reached at cmiller [at] thenewatlantis [dot] com.

READ MORE
RSS Feed
Cheryl Millerís Latest New Atlantis Articles

"Donated Generation" (Summer 2008)

"Blogging Infertility" (Winter 2008)

"The Painless Peace of Twilight Sleep" (Fall 2007)
More on Cheryl Miller
Related Links

Organizations
Fertility Blogs
Magazines and Journals
Bioethics and News Resources
Family Law Blogs
Audio
Infertility Bloggers
From our Winter 2008 issue

Cheryl Miller discusses her new article about infertility patients who have turned to blogs for medical advice and emotional support.

Wednesday, June 25, 2008
Today in the Globe & Mail, three professors are protesting a decision by the Quebec Court of Appeal to nullify parts of the federal Assisted Human Reproduction Act:
The children of assisted reproduction must be the clear priority because they are the most affected for the longest time. The wishes of many are clear: to know their genetic and gestational parents, the truth about their conception and all their parents' current medical status so that they can take preventative measures to protect their own health. Some adults say that, as long as children are well loved, their deliberate separation from all their parents doesn't matter. One child answered, "All the good intentions and love in the world won't change the definition of right and wrong. It won't change how the kids feel."

Children need adult protection. This is why we urge all levels of government to work together to regulate this field. From the perspective of a child of assisted reproduction, inaction is not just unhelpful, it is a dereliction of duty. As you read this, children are being created in Canadian clinics that no longer have regulatory oversight, or even clear legal obligations to make and preserve records that could enlighten people about their genetic and gestational parents' identities and what disease they are likely to inherit.
posted by Cheryl Miller | 11:08 am
File As: Assisted Reproductive Technologies, Reproductive Law, Sperm Donation, Third-Party Reproduction
Monday, June 23, 2008
Canada is working to create a national sperm donor registry, according to the London Free Press. For now, donors will be allowed to remain anonymous:
Sweden was the first country in 1986 to pass a law requiring donor information be collected and the identity provided to children. The U.K. passed a similar law in 2005.

Canada is now developing a national registry to collect health information on sperm donors. When it's operating, offspring will be able to contact the registry for non-identifying information. But identifying information won't be released without the donor's consent, Newton said. "Anonymity is still an option."

Rob maintains children should be able to know who their father is. "It's a human right to know where the hell you came from."
posted by Cheryl Miller | 10:35 am
File As: Assisted Reproductive Technologies, Sperm Donation
Wednesday, June 18, 2008
A terrific article by Will Saletan on the coming "chemical wars" over sexual orientation:
Last year, Rev. Albert Mohler Jr., president of the Southern Baptist Theological Seminary, wrote: "If a biological basis is found, and if a prenatal test is then developed, and if a successful treatment to reverse the sexual orientation to heterosexual is ever developed, we would support its use." Mohler told the Associated Press that morally, this would be no different from curing fetal blindness or any other "medical problem." Rev. Joseph Fessio, editor of the press that publishes the Pope's work, agreed: "Same-sex activity is considered disordered. If there are ways of detecting diseases or disorders of children in the womb ... that respected the dignity of the child and mother, it would be a wonderful advancement of science."

If the idea of chemically suppressing homosexuality in the womb horrifies you, I have bad news: You won't be in the room when it happens. Parents control medical decisions, and surveys indicate that the vast majority of them would be upset to learn that their child was gay. Already, millions are screening embryos and fetuses to eliminate those of the "wrong" sex. Do you think they won't screen for the "wrong" sexual orientation, too?
I'd be curious to hear what the "eugenics? what eugenics?" brigade has to say about this. Razib at Gene Expression notes an important caveat.
Ross Douthat's prescient post on the future of homosexuality is well-worth reading too.
posted by Cheryl Miller | 9:58 am
File As: Eugenics, Contemporary, Human Sexuality
Monday, June 16, 2008
posted by Cheryl Miller | 9:09 am
File As: Assisted Reproductive Technologies, In Vitro Fertilization, Eugenics, Contemporary, Surrogacy, Egg Donation, Embryo Adoption, Frozen Embryos, Third-Party Reproduction
Thursday, June 12, 2008

Amazing. Scientists in Belgium have just captured images of human ovulation occuring on camera--the "best ever" taken according to New Scientist--and it was all completely by accident:
"The release of the oocyte from the ovary is a crucial event in human reproduction," says Jacques Donnez at the Catholic University of Louvain (UCL) in Brussels, Belgium. "These pictures are clearly important to better understand the mechanism."

Observing ovulation in humans is extremely rare, and previous images have been fuzzy. Donnez captured the event by accident while preparing to carry out a partial hysterectomy on a 45-year-old woman. The release of an egg was considered a sudden, explosive event, but his pictures, to be published in Fertility and Sterility, show it taking place over a period of at least 15 minutes.
(Photo by Flickr user Darren Hester [CC])
posted by Cheryl Miller | 3:08 pm
File As: Biology
Thursday, June 12, 2008

From the San Francisco Chronicle:
"I don't have a dad. I have a donor."--One boy to another - do donors get ties on Father's Day? - overheard in a kindergarten class by T.A. Francis
(H/T: Wesley Smith)
(Photo by Flickr user sciondriver [CC])
posted by Cheryl Miller | 8:43 am
File As: Assisted Reproductive Technologies, Sperm Donation, Third-Party Reproduction
Tuesday, June 10, 2008
The New York Times has a story today about how to cope in a "fertile" world. It focuses on Pamela Tsigdinos, one of the bloggers who I interviewed for this piece. There's also a great feature, "The Voices of Infertility," which includes video clips of women (where are the men?) talking about their experiences. Take a look!
After her years of focusing on becoming pregnant, Mrs. Tsigdinos's passion is now connecting with other women in her situation. She writes about the everyday things that remind her of her childlessness, but also of what she had to deal with along the way: how to know when to stop treatment, how to deal with prying friends and relatives, how to accept a life without the expected routine of children's books, recitals and graduation ceremonies. The women and the few men who comment on her blog may not always agree with her choices, but they all sympathize and help her feel less alone.
UPDATE: In other news, blogger Matthew Miller has a new book out, Maybe Baby: Parenthood Is Only a Conception Away. You can read about it here and preorder it from Amazon here.
posted by Cheryl Miller | 8:11 am
File As: Assisted Reproductive Technologies, In Vitro Fertilization
Monday, June 9, 2008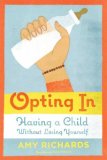 I have a review in yesterday's Washington Times about the latest report from the Mommy Wars, Amy Richards's Opting In: Having a Child Without Losing Yourself
. In the review, I ask whether the term "feminist mom" is an oxymoron and look at the complicated relationship between feminism and the biological clock:
Welcome to the Land of the Park Slope Stroller Mom, where every compliment is a veiled insult, and every choice no matter how mundane or personal - home birth vs. hospital, disposable vs. cloth diapers - is taken as a declaration of your progressive bona fides (or lack thereof). If you're not run down by a passing Bugaboo stroller, you'll likely soon be by the nonstop passive-aggressive sniping of the other mothers. "You let Baby Bjorn have non-organic carrot sticks? What kind of monster are you?"
posted by Cheryl Miller | 9:00 am
File As: Assisted Reproductive Technologies, In Vitro Fertilization, ART in popular culture