About the Author
James C. Capretta
New Atlantis Contributing Editor James C. Capretta is an expert on health care and entitlement policy, with years of experience in both the executive and legislative branches of government. E-mail: jcapretta@aei.org.
James C. Capretta's Latest New Atlantis Articles

"Health Care with a Conscience" (Fall 2008)

"Health Care 2008: A Political Primer" (Spring 2008)

"The Clipboard of the Future" (Winter 2008)
More on James C. Capretta
Tuesday, March 29, 2011
Over at The Weekly Standard, I have a new article up with National Affairs editor Yuval Levin on the importance of health care reform to the 2012 election:
The outlines of ... reform have been clear for some time. What's needed is a functioning marketplace in health care, with cost-conscious consumers seeking and finding more value for their money. To get there, the government must stop subsidizing excess in all of the major health care settings ​— ​Medicare, Medicaid, and employer-sponsored plans. Instead, the government should provide fixed levels of financial support toward insurance and care that patients can control. The government would oversee the marketplace, but resources would be allocated based on consumer choices and preferences.

This reform would bring costs under control and head off the impending fiscal crisis. But it's not simply a fiscal reform. It would also transform American health care for the better. Health care and insurance providers would have to become far more efficient and productive to avoid losing market share to competitors, and they would be forced to focus on the needs and desires of patients, not government payers.

For Republicans committed to maintaining a vibrant and free society, there is no choice but to make genuine health care reform the centerpiece of their domestic agenda. If the health care debate is lost, then the fight for limited government is lost as well.

That means that the effort to repeal and replace Obamacare and to fix our health care entitlements must be well underway by 2013. And that, in turn, means that a Republican president must be elected in 2012 having run on a platform of real health care reform. For those who aspire to be that Republican president, the time to develop that platform is now.
Read the full article here.
posted by James C. Capretta | 12:40 pm
Tags: health care reform, 2012 election
File As: Health Care
Thursday, March 24, 2011
On Obamacare's first anniversary, let's give the president his due: It wouldn't be in law today without his persistent push for its passage.
Not that his policy arguments carried the day or were persuasive. They weren't. No, in the end, Obamacare was passed because the president had so tied his political fate to it that it became quite literally impossible for most members of his party in Congress to oppose it. And so it passed.
Other presidents have staked their presidencies on early legislative initiatives too, and then used their success in securing their enactment to aid their reelection. President Reagan certainly comes to mind in that regard, with his 1981 tax cut featuring prominently in his 1984 campaign. And Bill Clinton made his tax-hike and deficit-reduction plan of 1993 the centerpiece of his economic message in 1996.
The problem for President Obama, however, is that, unlike the Reagan tax cut, Obamacare will do almost nothing worth running on before 2012. The main selling point for the law — the supposed "universal coverage" proponents erroneously say the law will deliver — doesn't kick in until at least 2014. That's when the "big bang" of Obamacare comes into play: the individual and employer mandates; the new entitlement expansions; and the one-size-fits-all insurance plans.
Between now and then, there's a lot of regulation to be issued, but there won't be any real action on the ground where Americans get their health care (other than some tax increases and Medicare cuts the administration will never mention anyway). And so the law's apologists are left with nothing to talk about except the supposed "early benefits" of Obamacare, like coverage of 26-year-olds on their parents' plans and the new high-risk pools for those with pre-existing conditions.
But these provisions are minor matters in the scheme of things. They certainly did not require a 2,700-page bill to address. And so few Americans have benefited from them that they hardly register at all in the public consciousness. Only about 12,000 people have signed up for the poorly constructed risk pools, and no one expects the other insurance regulations to help more than a tiny percentage of the population. For most Americans, these "early benefits" are simply non-events. If the president were to feature them as large achievements of his presidency in 2012, it would strike most voters as the trumpeting of the trivial.
With so little to work with, and intense opposition among those pushing for repeal, the president is unlikely to feature Obamacare at all in his 2012 campaign, and certainly not in the way Reagan touted his 1981 tax cut in 1984. President Obama will no doubt defend the new health law from every attack, even as he tries to deflate the repeal push with minor concessions. But, having exhausted his first term securing passage of Obamacare, the president will have to find some other rationale to justify requesting a second term.
posted by James C. Capretta | 2:21 pm
Tags: 2012 election, President Obama, Obamcare, risk pools, taxes
File As: Health Care
Wednesday, March 23, 2011
One year ago, on March 23, 2010, President Obama signed into law the Patient Protection and Affordable Care Act. To mark the occasion, I have an op-ed in Investor's Business Daily, cowritten with Newt Gingrich and John Goodman. Here's a snippet:
In the year that has passed since the law was forced through Congress, most Americans see even more clearly the dangerous flaws that demand its repeal, but also how it can be replaced with truly workable solutions.

ObamaCare did nothing to address the relentless march of ever-rising health care costs. Unless the courts decisively conclude that the individual mandate — and perhaps even the entire law — is unconstitutional, ObamaCare will force most Americans to purchase health insurance with premiums rising at twice the rate of growth of their incomes.

To make matters worse, the new law takes away many private-sector techniques for controlling costs, like flexible benefit design and cost sharing — and actually drives up costs through an array of new regulations and requirements. ObamaCare thus locks us into the unsustainable path we are already on.

Fortunately, there is a better way to expand coverage: (1) Offer a generous and flexible tax subsidy to people to obtain insurance, and (2) create a national market for health insurance by allowing cross-state purchasing.
You can read the whole thing here: "Repeal Is Perfect Present For ObamaCare Birthday."
posted by James C. Capretta | 12:30 pm
Tags: Obamacare, Newt Gingrich, John Goodman
Tuesday, March 22, 2011
Last week I testified before the House Budget Committee as part of a hearing on "Fulfilling the Mission of Health and Retirement Security." My written testimony was posted last week here. Now the audio and video of the entire hearing are available online, including questions posed by committee members to the panel on which I sat, along with Alice Rivlin, Chuck Blahous, Paul Van de Water. The audio for the hearing is available here, and I have embedded the video below (my testimony begins at 21:15).
posted by James C. Capretta | 3:48 pm
Tags: Paul Ryan, House Budget Committee, Alice Rivlin, Charles Blahous, Paul Van de Water
File As: Health Care
Thursday, March 17, 2011
[NOTE: Earlier today I testified before the House Budget Committee as part of a hearing on Fulfilling the Mission of Health and Retirement Security. The text of my written testimony appears below. When a link to video becomes available, I'll put that up, too.]
Mr. Chairman, Mr. Van Hollen, and members of the Committee, thank you for the opportunity to participate in this very important hearing on "Fulfilling the Mission of Health and Retirement Security."
In the time available, I would like to focus my comments on the health care component of today's hearing.
Rising Federal Health Entitlement Obligations
A primary objective of the Patient Protection and Affordable Care Act (PPACA) was to increase the health security of the American people. But health security, no matter how well intentioned, will be fleeting if the programs upon which that security depends are unaffordable for taxpayers.
Unfortunately, that is exactly the situation in which we find ourselves today. Federal health entitlement spending has been growing rapidly for many years, and is expected to continue doing so even after enactment of the PPACA. Indeed, it is sometimes said that at some distant point in the future, the long-term rise in federal health care costs will catch up with us. But the truth is that rising federal health entitlement spending has already caught up with us. The budget problems we are experiencing today are directly related to the fact that health costs have risen dramatically over the past four decades. In 1975, the federal government spent 1.3 percent of GDP on Medicare and Medicaid. In 2010, spending on just those two program had risen to 5.5 percent of GDP. That's more than 400 percent growth.
And the Congressional Budget Office's (CBO) most recent projections show health entitlement spending is poised to rise even more rapidly over the next decade than it has in the past. As shown in Chart 1, CBO expects total health entitlement spending to rise from $810 billion in 2010 to $1,763 billion in 2021. By 2021, health entitlement spending will make up an astonishing 36 percent of all non-interest federal outlays. So more than one in three dollars that the government spends on programs and agency budgets will go to meeting health entitlement obligations.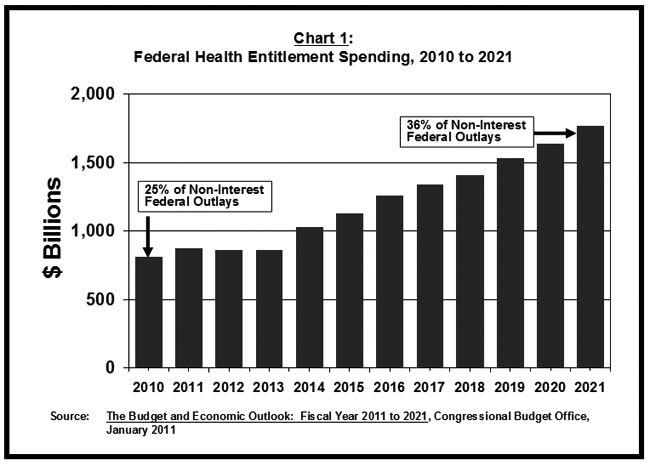 During the debate over the health care law, it was suggested that a goal of reform was to begin to slow the pace of rising federal health entitlement costs. But the PPACA has almost certainly compounded the problem, not solved it. As shown in Chart 2, in a long-term forecast issued last June, CBO estimated what health entitlement spending would be in the coming decades if the health law had not been enacted at all and if it were implemented in full (called the "extended baseline"). With those assumptions, the lines do in fact cross at some point around 2027 or so — meaning the PPACA will have brought health entitlement obligations below the level they otherwise would be. But the "extended baseline" scenario assumes the new law's deep payment reductions in the Medicare program can be sustained on a permanent basis. As this committee heard at a hearing in January, the chief actuary of the Medicare program believes that to be a very unlikely scenario. Accordingly, CBO has also done a projection of what federal health entitlement obligations will be in future years under the PPACA if the Medicare cuts are moderated even slightly. With that assumption, the PPACA does not reduce federal health entitlement obligations but increases them, by about 1 percent of GDP by 2035.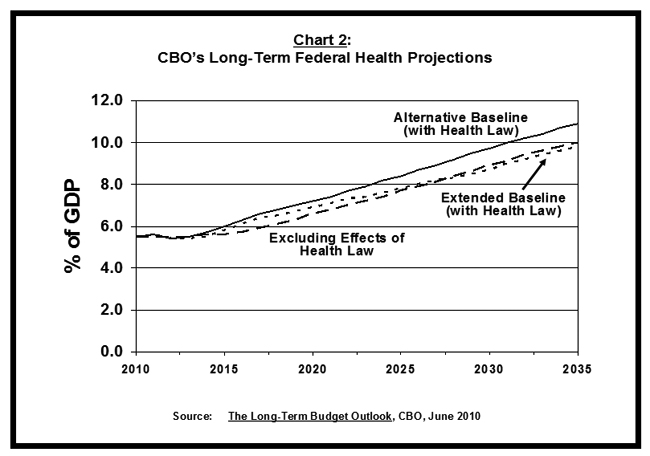 The Role of Existing Government Policy
Why are health care costs rising so rapidly? The prevailing view has been that the federal government's health programs experience rapidly rising costs because they are victims of the runaway cost train that is pulling the entire system down the tracks at too fast a rate. According to this way of thinking, the only way to slow the government's costs is to slow the whole train. That's the point of view that informed much of the writing of the new health care law.
But this thinking misses a crucial point. Yes, one aspect of cost escalation is an exogenous factor. Rising wealth and medical discovery are fueling the demand for more and better treatments. That should not be resisted in any event. But there is widespread agreement that costs are also high and rising because of waste and inefficiency — and here the problem is not some force outside of government's control but existing governmental policy.
At present, the vast majority of Americans get their health insurance through one of three sources: Medicare, for the elderly and disabled; Medicaid, for low-income households; and employers for the working-age population and their families. In each of these instances, the federal Treasury is underwriting rapid cost escalation because there is no limit to what Uncle Sam will pay.
In an important 2006 study, Amy Finkelstein, an economics professor at the Massachusetts Institute of Technology, estimated that about half of the real-cost increase in health care spending in the United States from 1950 to 1990 can be attributed to the spread of federally-subsidized and expansive third-party insurance through the government and employers.[1]
Medicare's important influence on how health care services are delivered is often overlooked or understated. Medicare is the largest purchaser of services in most markets today. Four out of five enrollees are in the traditional program, which is fee-for-service insurance. That means Medicare pays a pre-set rate to any provider for any service rendered on behalf of a program enrollee, with essentially no questions asked. Nearly all Medicare beneficiaries also have supplemental insurance, from their former employers or purchased in the Medigap market. With this additional coverage, they pay no charges at the point of service because the combined insurance pays 100 percent of the cost. This kind of first-dollar coverage provides a powerful incentive for additional use. Whole segments of the U.S. medical industry have been built around the incentives embedded in these arrangements.
Congress and the program's administrators have, without interruption, tried to hold down Medicare's costs by paying less for each service provided. Those providing services to Medicare patients have responded by providing more services, and more intensive treatment, over time for the same conditions that patients present to them. In most cases, there is no reason for them not to provide higher-volume care. The patients generally do not pay any more when more services are rendered. And the bill is just passed on to the Medicare program — and federal taxpayers.
The result of this dynamic is hardly surprising. The volume of services paid for by Medicare has been on a steady and steep upward trajectory for decades. As shown in Chart 3, according to CBO, the real price Medicare paid for physician fees dropped between 1997 and 2005 by nearly 5 percent, but total spending for physician services rose 35 percent because of rising use and more intensive treatment per condition.[2]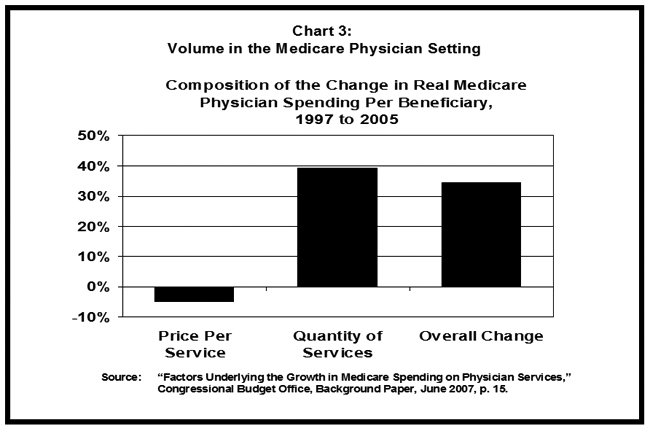 Medicaid fuels cost growth because it is financed with a flawed system of federal-state matching payments — with no limit on the amount that can be drawn from the U.S. Treasury each year. For every dollar of Medicaid costs, the federal government pays, on average, 57 percent and the states pick up the rest. In this arrangement, if a governor or state agency wants to cut their state's Medicaid costs, they have to cut the program by $2.30 to save $1.00 because the other $1.30 belongs to the federal government. Not surprisingly, most state politicians do not find this to be a particularly appealing option. So, instead, they spend most of their energy devising ways to "maximize" how much they get from the federal government for Medicaid services — while looking for creative ways to contribute the required state portion of the funding without really doing so.
The federal tax treatment of employer-sponsored coverage provides a similar incentive for higher costs rather than economizing. Today, employer-paid health insurance premiums do not count as taxable compensation for workers. No matter how expensive the health insurance premium, if the employer is paying, it is tax-free to the worker. Employees thus have a strong incentive to take more and more of their compensation in the form of health coverage instead of cash wages because the health coverage is not taxable. For every dollar spent on health coverage, a worker receives a full dollar of coverage; whereas with every dollar received in other forms of compensation, a portion has to go to the government.
When you put it all together — Medicare's incentives for rising volume, unlimited federal funding for state-run Medicaid plans, and a tax subsidy for employer plans that grows with the expense of the plan — it is not surprising that health care costs are rising rapidly in the United States. The vast majority of Americans are in insurance arrangements where a large portion of every extra dollar spent on premiums or services is paid for by taxpayers, not them.
The Key Question
So cost escalation is at the center of our fiscal problems, and it is making health care unaffordable for too many people. The key question for health reform is, what can be done about it. Put more precisely, the key question health reformers must answer is this: what process is most likely to succeed in bringing about continual and rapid improvement in the productivity and quality of patient care? Because the only way to slow the pace of rising costs without comprising the quality of American medicine is by making the health sector ever more productive. More health bang for the buck, if you will.
One view holds that the federal government can "engineer" more cost-effective health care delivery. That's the theory behind the new law's Accountable Care Organizations, other Medicare pilot projects, the comparative effectiveness research funding, and the new $10 billion Center for Medicare and Medicaid Innovation.
But Medicare's administrators have been trying for years to change the dynamic in the traditional fee-for-service program and have failed. The problem is that the only way to build a high-quality, low-cost network is to exclude those who are low-value and high-cost. And that's something Medicare has never been able to do. It's been much easier, and more tempting, to simply impose across-the-board payment reductions for all providers of services, without picking winners and losers among physicians and hospitals. And so such arbitrary cost-cutting has become the default mechanism for hitting budget targets of various kinds over the years.
And, despite all the talk of "delivery system reform," that is exactly what was done in the PPACA too. Among other things, Congress enacted a permanent "productivity improvement factor," which will reduce the inflation increases applied to multiple Medicare payment systems. These reductions will reduce the normal update for the costs of medical practice by about half a percentage point every year in perpetuity for every provider of these services, including hospitals, without regard to how well or badly they treat patients. The compounding effect of such reductions will produce, on paper, enormous savings. But these cuts almost certainly will not be sustained as they will push average Medicare payment rates for services below those of Medicaid by 2019, according to the chief actuary at the Centers for Medicare and Medicaid Services. If that were actually to occur, some 15 percent of Medicare's hospitals would stop seeing Medicare patients to avoid massive financial losses.[3]
Transforming Health Care Delivery with Cost-Conscious Consumer Choice
There is an alternative to centralized cost-control efforts. It's a functioning marketplace with cost-conscious consumers.
In 2003, Congress built such a marketplace, for the new prescription-drug benefit in Medicare.
Two features of the program's design were important to its success. First, there was no incumbent government-run option to distort the marketplace with price controls and cost shifting. All private plans were on a level playing field. They competed with each other based on their ability to get discounts from manufacturers for an array of prescription offerings that are in demand among beneficiaries and their physicians.
Second, the government's contribution to the cost of drug coverage is fixed and is the same regardless of the specific plan a beneficiary selects. The contribution is calculated based on the enrollment-weighted average of bids by participating plans in a market area. Beneficiaries selecting more expensive plans than the average bid must pay the additional premium out of their own pockets. Those selecting less expensive plans pay a lower premium. With the incentives aligned properly, participating plans know in advance that the only way to win market share is by offering an attractive product at a competitive price because it is the beneficiaries to whom they must ultimately appeal.
This competitive structure, with a defined contribution fixed independently of the plan chosen by the beneficiary, has worked to keep cost growth much below other parts of Medicare and below expectations. At the time of enactment, there were many pronouncements that using competition, private plans, and a defined government contribution would never work because insurers would not participate, beneficiaries would be incapable of making choices, and private insurers would not be able to negotiate deeper discounts than the government could impose by fiat. All of those assumptions were proven wrong. What actually happened is that robust competition took place, scores of insurers entered the program with aggressive cost cutting and low premiums, costs were driven down, and federal spending has come in 40 percent below expectations.
Similar changes — what might be called a defined contribution approach to reform — must be implemented in the non-drug portion of Medicare, as well as in Medicaid (excluding the disabled and elderly) and employer-provided health care.
In Medicare, that would mean using a competitive bidding system – including bids from the traditional fee-for-service (FFS) program — to determine the government's contribution in a region. Beneficiaries could choose to enroll in any qualified plan, including FFS. In some regions, FFS might be less expensive than the competing private plans. But in some places, it almost certainly would not be, and beneficiary premiums would reflect the cost difference. This kind of reform could be implemented on a prospective basis so that those already on the program or nearly so would remain in the program as currently structured.
In Medicaid, moving toward fixed federal contributions for the acute-care portion of the program would allow for much greater integration between Medicaid and the insurance market available to most workers. Today, when a Medicaid recipient goes back to work, he often loses public insurance but doesn't get employer coverage. Converting the entitlement into something that can be used in a variety of insurance settings should facilitate portability and more continuous coverage.
For employers, the key is to convert today's tax preference for employer-paid premiums into a fixed, refundable tax credit that is available to all households (headed by someone under the age of 65), regardless of whether they work or pay taxes. This would provide "universal coverage" of insurance to the entire U.S. population. Any household that didn't buy coverage would lose the entire value of the credit. The number choosing to do so would likely be very small.
Moving toward a defined-contribution approach to reform would allow for much greater federal budgetary control, which is of course a primary objective and tremendously important for the nation's economy and long-term prosperity. But this isn't just a fiscal reform. It's a crucial step toward better health care too because it would put consumers and patients in the driver's seat, not the government. With consumer making choices about the kind of coverage they want as well as the type of "delivery system" through which they get care, the health system would orient itself to delivering the kind of care patients want and expect.
Critics argue that this improved fiscal outlook that would flow from moving toward defined contribution health care would come at the expense of the beneficiaries, who would bear the entire risk of costs continuing to rise faster than the government's newly fixed contribution.
But that would only be the case if building a functioning marketplace had no discernible impact on the productivity of the health sector. It is far more likely that converting millions of passive insurance enrollees into cost conscious consumers will have a transformative effect on health care delivery, and for the better. There would be tremendous competitive pressure on those delivering services to do more with less, and find better ways of giving patients what they truly need. Any health sector player that did not step up and improve its productivity would risk losing substantial market share among seniors, working people, and those on Medicaid. In other areas of our economy that have gone through a consumer revolution, the transformation of the industry has been stunning.
Conclusion
There is obviously much more that needs to be done to ensure a stable and accessible health care system for future generations. Support will need to be limited for those with means so that more can be done for those who need extra help. Special assistance will be necessary to ensure those with pre-existing conditions can secure affordable coverage. And the government will need to do its part, to ensure transparency in prices and quality, and to ensure the rules of the marketplace prevent excessive risk segmentation and inferior care for those with less resources.
But with effective government oversight, cost-conscious consumers have the potential to transform American health care, making it much more productive and of high quality, which is what we desperately need. With such a reform, the system will become more patient-focused, more efficient, and more innovative. The result will be less fiscal stress, a healthier population, and a health care sector that delivers the kind of value the public deserves.
---
Notes
[1]
 "The Aggregate Effects of Health Insurance: Evidence from the Introduction of Medicare," Amy Finkelstein, Massachusetts Institute of Technology, April 2006 (
http://econ-www.mit.edu/files/788
).
posted by James C. Capretta | 7:15 pm
Tags: Paul Ryan, Budget Committee, Obamacare, entitlements
File As: Health Care
Monday, March 7, 2011
I have a new column up on National Review Online today describing Obamacare's hidden tax hikes and rationing. Here's how it starts:
President Obama's 2012 budget has rightly been lambasted as completely detached from fiscal and economic reality. Even under the budget's own rosy assumptions, the country would accumulate $7.2 trillion in deficits over the coming decade. Under more realistic assumptions, it's a plan for trillion-dollar deficits every year, with no end in sight. By 2021, government debt would likely approach $21 trillion under this budget, up from $5.8 trillion at the end of 2008.

This might lead one to think there is no Democratic plan for closing the fiscal gap. But actually, the president and his allies do have a plan of sorts. They just don't want voters to know what it is. Indeed, it is their hope that they can get their plan adopted by stealth — and that voters never fully realize that the government has adopted it.

To Democrats, the solution to our budget problem has two components. First, massive and steady tax hikes, not just over the next few years but every year for the next quarter century to match the explosion in entitlement costs. Second, they want stiff government cost controls on the entire health sector, not just on public insurance programs.

For years, the only thing that stood in the way of Democrats' securing these changes were unenlightened and intransigent Republicans. But when Democrats secured once-in-a-generation majorities in the 111th Congress, Republicans were no longer in a position to stand in their way. So Democrats took the opportunity not only to pass Obamacare — the largest entitlement expansion in two generations — but also to try to reshape the long-term budget picture according to their big-government vision.
Read the rest here.
posted by James C. Capretta | 3:43 pm
Tags: federal budget
File As: Health Care
Friday, February 25, 2011
Those who conducted the campaign to force Obamacare through Congress in 2009 and 2010 made a whole series of fraudulent arguments. "You can keep the plan you have today if you like it." "Premiums will go down, not up — by $2,500 per year for those with existing coverage." "We can cover 32 million people with heavily subsidized and expansive third-party insurance, and it won't cost the American people anything." "The only people who will pay the $800 billion of Obamacare's new taxes over the next decade are the rich."
All of that is plainly false, of course, and most Americans know it, which is one reason the November 2010 election turned out the way it did.
But of all the deceptive arguments and tactics Obamacare's apologists employed to jam their government takeover of health care through Congress, none was more egregious than the CLASS Act fraud.
CLASS — for Community Living Assistance Services and Supports Act — was one of the late Senator Ted Kennedy's pet projects. It was sold as a miraculous twofer: the new program would provide both a self-financing, voluntary long-term care insurance program for those needing continuous assistance with daily living, and it would reduce the deficit to boot! What's not to like?
Indeed, of the supposed $210 billion in deficit reduction over ten years that the Congressional Budget Office assigns to Obamacare, $86 billion is expected to come from CLASS Act operations.
But it's all a dangerous and cynical game. CLASS is expected by CBO to produce deficit reduction over the next ten years only because the program's rules require participants to pay premiums for five years before they become eligible for benefits. So, at start up, there is the illusion of a "surplus" as participants begin paying premiums but very few of them qualify for any benefits. But, very quickly, those "excess" premiums will be needed to liquidate the entitlement obligations that participants will be earning. It's another example of Obamacare's shameless double-counting.
What's worse, the CLASS Act is a ticking entitlement time-bomb. Every expert who has looked at it — see here — reaches the same conclusion: it's a poorly designed and ill-advised program that will suffer from severe adverse selection. Because it is voluntary, it will mainly attract enrollees who are at a higher risk of actually needing the benefit. Consequently, the premiums will need to be set very high, which will only make it even less attractive to healthy workers who generally aren't that interested in long-term care insurance anyway.
Very quickly after the first decade, CLASS's finances will become untenable. The premiums, though very high, will still be insufficient to cover all of the entitlement benefits earned and expected by participants. As the program rushes toward insolvency, the only options will be to cut promised benefits, raise premiums even more, or — surprise! — bail the program out with taxpayer subsidies. So, far from being a program that eases budgetary pressure, CLASS is actually a perfect example of all that is wrong in federal budgeting. It was sold under false pretenses as short-term deficit reduction when, in reality, it puts American taxpayers at great risk of another expensive bailout.
Stunningly, the Obama administration, after spending months defending CLASS's virtues, now says it agrees with the program's critics. How convenient. Now that it has served its main purpose, which was to create the false impression of deficit reduction from Obamacare, the administration is willing to "pivot" — in that all-too-familiar Washington way — and pretend that they have just now discovered the program's flaws.
This is absurd. The Obama administration and its congressional allies knew all along that CLASS was an ill-advised risk to taxpayers. But they defended it every step of the way during legislative consideration in Congress because of the convenient and deceptive "score" it produced from CBO.
Now, Health and Human Services Secretary Kathleen Sebelius says she has the administrative flexibility to essentially rewrite the program herself from scratch, with no input or changes necessary from lawmakers. This too is absurd. Her lawyers no doubt have an expansive view of her discretion. But they are between a rock and hard place here. The only way CLASS works is if millions of healthy workers sign up for a program (though it will almost surely be a bad deal for them) even as sick workers who are likely to benefit are screened and kept out.
In one more sign of their shamelessness, the administration wants funding to conduct an "education campaign" to browbeat reluctant workers into signing up for a voluntary program that should never get off the ground.
The most serious threat to the nation's long-term prosperity is runaway federal entitlement spending, and the CLASS Act is the perfect example of how not to go about starting and running a federal entitlement program. And yet the Obama administration is doing whatever it can to salvage it. It's yet another example of the president's complete detachment from budgetary reality.
posted by James C. Capretta | 4:30 pm
Tags: CLASS Act, Obamacare, CBO, Kathleen Sebelius
File As: Health Care
Wednesday, February 23, 2011
The folks at the New York Times invited me to contribute another short piece for one of their "Room for Debate" discussions, this time on the possibility of a government shutdown if the current continuing resolution is not renewed next week. The piece is short enough that I won't excerpt it here. I'll just say that it asks where the Democrats' actual proposals are, and makes a prediction about the price tag on what might pass the Senate.
You can find the piece here.
posted by James C. Capretta | 9:15 am
Tags: budget, continuing resolution, government shutdown
Thursday, February 17, 2011
It's not unusual for a budget submission from a president to be declared "dead on arrival," especially from members of the opposition party in Congress. But it is unusual for the president to join his opponents in proclaiming the early demise of his own, months-long handiwork to establish priorities.
But that's essentially what the president did at his press conference yesterday. Under repeated questioning about the lack of leadership his budget betrays, the president essentially said, "don't take it too seriously."
It's hard to blame him for walking away from what is plainly indefensible. It's not a serious plan, even as measured by his own numbers. But, as Brian Riedl of the Heritage Foundation has explained, it's far worse than even those numbers indicate because so much of what is in the budget is phony.
Starting with the bottom line, according to the administration's own numbers, the 2012 budget would push debt (held by the public, not government trust funds) up to nearly $12 trillion at the end of 2012. That's up from $5.8 trillion at the end of 2008. So the federal government will have borrowed as much during President Obama's four-year term in office as it had during the previous two-century-plus history since the Republic was founded in 1789.
And that's before the entitlement spending explosion associated with the baby boom retirement hits with full force. Over the coming decade, spending on Social Security, Medicare, Medicaid, and Obamacare's new entitlements will soar, from $1.6 trillion in 2011 to $3.0 trillion in 2021, according to the Congressional Budget Office.
With the costs of entitlements rising rapidly, what does the Obama budget plan to do to head off a crisis? Nothing. As a result, by their own numbers, the budget would run deficits of $7.2 trillion over the next ten years, pushing the nation's accumulated debt to an astounding $19 trillion in 2021, or nearly 80 percent of GDP.
And that's the rosy scenario based on the administration's numerous gimmicks. Among other things, those numbers assume — as noted by the Committee for a Responsible Federal Budget — $315 billion in unspecified "offsets" to pay for higher Medicare physician fees; $1 trillion in "spending cuts" from plugging $50 billion per year in 2013 and beyond for war funding (down from $165 billion in 2011); and $328 billion from unspecified "bipartisan financing" for highway spending the president says is so critical to "winning the future." Further, the administration's economic and technical assumptions make the deficit look about $1.5 trillion less than what CBO expects over the coming decade. Take these gimmicks out of the budget, and the cumulative ten-year deficit exceeds $10 trillion, or about $1 trillion each and every year for as far the eye can see.
The president says his budget doesn't really matter much because he is serious about working with Republicans on entitlement and tax reform. But why should they believe him? Despite what the president said, budgets do matter. They signal priorities and either lay the groundwork for compromise — or don't — by what they include. If the president really wanted to work toward a bipartisan deal on the budget, his submission to Congress would have looked very different, with the inclusion of pro-growth tax proposals and market-oriented efforts to slow the growth of rising health costs. Instead, what he submitted is a thinly disguised plan to force, by delay and neglect, a massive tax increase to avoid fiscal meltdown.
posted by James C. Capretta | 10:47 am
Tags: federal budget
File As: Health Care
Tuesday, February 15, 2011
I have a new column up at Kaiser Health News about the president's failure to seriously address the debt crisis in the newly-released 2012 budget proposal:
It's like the president and his team woke up after the November 2010 mid-term election with a bad case of political amnesia. What deficit? What debt commission?

This isn't what the president promised when he ran in 2008, nor is it what he told voters as recently as one year ago. Over and over, he has promised not to "kick the can" down the road, as he says his predecessors did before him. Instead, he would provide real leadership to tackle the looming threat posed by out-of-control borrowing and debt accumulation. That was supposedly the reason for appointing the Bowles-Simpson National Commission On Fiscal Responsibility and Reform in the first place, to lay the predicate for engaging in a bipartisan effort to narrow medium and long-term budget deficits and reduce the risk of a debt-induced crisis.

But now, all of that kind of thinking is out the window. If the president won't show leadership on the budget, there's zero chance congressional Democrats will. Some moderate Democrats in the Senate may make some noise about going farther than the president. But when push comes to shove, the rank and file Democrats in both chambers are far more likely to take a pass, too. Why would they take on large political risks when the president of their own party won't and is likely to pull the rug out from under them if they do?

So, realistically, the Obama "punt," as House Budget Committee Chairman Rep. Paul Ryan, R-Wis., has aptly described it, means the odds of a serious deficit reduction effort before the next presidential election are now low and falling.
Read the full column here.
posted by James C. Capretta | 1:12 pm
Tags: federal budget, fiscal commission, Congress
File As: Health Care