About the Author
James C. Capretta
New Atlantis Contributing Editor James C. Capretta is an expert on health care and entitlement policy, with years of experience in both the executive and legislative branches of government. E-mail: jcapretta@aei.org.
James C. Capretta's Latest New Atlantis Articles

"Health Care with a Conscience" (Fall 2008)

"Health Care 2008: A Political Primer" (Spring 2008)

"The Clipboard of the Future" (Winter 2008)
More on James C. Capretta
Wednesday, March 31, 2010
Now that the health-care bill has been signed into law, President Obama wants to "pivot" to other pressing issues. But, truth be told, the biggest issue the country now faces is still, in large part, about health care.
The federal government is running massive budget deficits and is expected to continue to do so indefinitely. The Congressional Budget Office (CBO) projects the Obama budget plan would produce $10 trillion in deficits over the period 2011 to 2020. At the end of the decade, the government's debt would top $20 trillion, or 90 percent of the nation's GDP. By comparison, from 1789 to 2008, the country accumulated only $5.8 trillion of public debt.
The economic risks associated with such massive amounts of governmental borrowing are very real and very high. At some point, current lenders to the U.S. government will have their fill of Treasury securities, which will mean the cost of financing expansive government is sure to increase over time. CBO expects the annual cost of servicing the interest on the nation's debt will reach $0.9 trillion in 2020 under the Obama budget plan, up from about $0.2 trillion this year. But it could very well go much higher than that, as a recent white paper from analysts at the International Monetary Fund (IMF) demonstrates. According to that projection, U.S. debt could top 100 percent of the GDP by 2020 if, as the IMF analysts expect, the large run-up in governmental debt pushes interest rates up faster than either CBO or the administration now forecasts.
Further, this rise in federal borrowing will be occurring just as the baby boomers are entering their retirement years. Between 2010 and 2030, the population age 65 and older is expected to increase from 41 million to 71 million people. As these boomers sign up for Social Security and Medicare, costs for the programs will soar. Now is the time to get our fiscal house in order, before the entitlement tidal wave hits full force.
So what's the president's plan for heading off the wrenching debt crisis he has made more probable with his the expensive new spending programs he has forced through Congress? Instead of addressing it himself, the president has handed the problem off to a "bipartisan" commission.
Conveniently, the debt commission — headed by former Clinton White House chief of staff Erskine Bowles and former Republican Senator Alan Simpson — will make its recommendations after the November congressional elections.
The chutzpah here is something to behold. Having passed the largest entitlement expansion in half a century, in the most partisan manner imaginable, the president now wants Republicans to provide political cover to Democrats as they search for ways to finance the welfare state of their dreams.
Moreover, it is clear that Democrats have no intention of actually tackling the core problem in the federal budget, which is rapidly rising entitlement costs, especially for health care. They say their health-care bill has already addressed the problem. In the words of House Speaker Nancy Pelosi, "health reform is entitlement reform."
In theory, it's possible that Democrats could have passed a health bill that actually made durable reforms in the health entitlement programs that would have improved the medium and long-term budget outlook. But that's not what they passed. No, new law makes the health entitlement much worse by adding tens of millions of people to Medicaid and a new insurance-subsidy program offered to persons getting insurance in the so-called "exchanges." CBO expects the cost of these entitlement expansions to reach $216 billion in 2019. Further, the cost would escalate every year thereafter at a very rapid rate, just as Medicare and Medicaid have for more than four decades.
The Democrats respond by saying they also slowed the cost growth in Medicare. But, for starters, their cuts in Medicare do not cover the full cost of their entitlement expansions. That's why they also raised taxes — by more than a half trillion dollars over ten years. Under the legislation President Obama just signed, federal health entitlement spending goes up, not down. Moreover, the cuts they do impose in Medicare do not in any way constitute "reform" of the program. For the most part, the big savings comes from paying less to hospitals, clinics, nursing homes, and others for the services they provide. In other words, it's a price-control system.
These kinds of cuts have been passed by Congress many times before. They have never worked to permanently slow the pace of rising costs because they don't do anything to make the delivery of health services any more efficient than it is today. Over time, arbitrary price controls imposed by the government always drive out willing suppliers of services and lead to access problems. That's not entitlement reform. It's government-enforced rationing of care.
To slow the pace of rising costs without harming the quality of American medicine will require restructuring the tax code and entitlement programs to promote a vibrant marketplace in the health sector, with strong price competition and consumer choice. That's the vision Congressman Paul Ryan has laid out. And it's both genuine health reform and entitlement reform too.
If the president and his allies were truly open to revisiting their "historic" health bill and replacing what has passed with a market-based reform program, that would be one thing. But does anyone really believe that's a serious possibility at this point? The Democrats think they have scored a strategic victory by writing health-care legislation entirely according to their partisan vision. It is inconceivable they would backtrack willingly now.
But partisanship on health care has consequences too. It means bipartisanship on the budget will be all but impossible. The president has succeeded in enlarging the welfare state. Unless he is willing to roll it back now, it will be entirely his responsibility to collect the taxes to pay for it.
posted by James C. Capretta | 9:13 pm
Tags: CBO, entitlements, debt, deficit, debt commission
File As: Health Care
Saturday, March 20, 2010
One of the options the Democrats are looking at is an executive order to get their last votes.

But this seems highly unlikely to work in any real and enduring sense to change the underlying policy from what's in the Senate bill regarding funding of abortions.

For starters, the Democrats say the Senate bill already satisfies the test of staying true to Hyde. So what are the odds that they are going to be willing to accept real Stupak-like language overnight? The president's "base" would go crazy, one would think. So that seems like a real stretch.

Moreover, an executive order isn't even as tight as a regulation. It can be rescinded in a day, by a new president, for instance. There's no guarantee at all it would survive over time. Plus it would be up to the executive branch to enforce it, not the courts.

It seems clear that the White House is trying to divide the Stupak group, and provide another fig leaf for some of them. Let's hope it doesn't work. If the Stupak group really wants to prevent funding of elective abortions, the only way to do so is by passing a Hyde-like amendment into law. Anything short of that would almost surely lead, in time, to direct federal funding of abortion-on-demand.
posted by James C. Capretta | 6:01 pm
Tags: Obamacare, Stupak, executive order
File As: Health Care
Thursday, March 18, 2010
The White House and its congressional allies are trying to suggest that the latest Congressional Budget Office (CBO) cost estimate proves that their health-care plan is fiscally responsible.
But, in fact, the latest CBO projections confirm — again — that the president's health plan would pile another unfinanced entitlement program on top of the unaffordable ones already on the federal books.
According to CBO, the new entitlement spending in the plan would cost $216 billion by 2019, and then increase by 8 percent every year thereafter. In other words, the president's plan would stand up another health entitlement program that will grow much faster than the nation's economy or revenue base. The changes the Democrats would make to the Senate-passed bill would make the entitlement program even more expensive.
Over a full ten years of implementation, the cost of the new entitlement spending would reach $2.5 trillion, at least, not the $1 trillion advertised by the White House.
The president and his congressional allies have suggested that the offsets they are pushing will more than cover this massive spending increase. But even a modest amount of scrutiny reveals these supposed offsets are nothing more than gimmicks and implausible assumptions.
For starters, as I mentioned yesterday, the plan doesn't count $371 billion in spending for physician fees under the Medicare program. The president and congressional Democrats want to spend this money, for sure. They just don't want it counted against the health bill. That's because they want to reserve all of the Medicare cuts in the bill as offsets for another entitlement instead of using them to pay for the problem that everyone knows needs fixing. The president says he shouldn't have to pay for the "doc fix." But why not? Never before did Congress move to add the cost of a permanent fix to the national debt. But that is exactly what the president now wants to do. When the cost of the "doc fix" is properly included in the accounting, all of the claimed deficit reduction from the president's health plan vanishes.
Then there's the "Cadillac" tax on high-cost insurance plans. Because of union pressure, the president pushed the tax back to 2018, well past the point when he will have left office. But once in place, the threshold used to determine "high-cost" will rise only with the Consumer Price Index, beginning in 2020. That means a very large segment of the middle class would get hit with the tax as the years passed. The president has shown that he is unwilling to actually collect this tax on his own watch. But he wants us to believe that we can count on a huge revenue jump over the long run because his successors will have more stomach for it than he does.
Similarly, in jury-rigging "long-term deficit reduction," the latest plan would first increase the premium assistance subsidies paid to low- and moderate-wage families above the levels in the Senate-passed bill, but then index their value to something below the growth in premiums to give the appearance of deficit reduction in the decade after 2019. There's no "bending of the cost-curve" here. It's sleight of hand that, if actually implemented, would force millions of low-income families to pay ever-higher premiums every year. The Democrats don't want to talk about that. They just want to pretend they have been serious with fiscal discipline.
The other gimmicks remain in the plan as well: The double-counting of premiums for long-term care insurance programs as an offset for the health entitlement spending. The assumption that Congress will allow Medicare reimbursement rates to fall so low that one in five hospitals and nursing homes might be forced to stop taking Medicare patients. And the expectation that somehow Congress can hand out generous new subsidies to those getting insurance through the exchanges, even though many tens of millions of others with the same resources would get no additional help for their job-based coverage.
The bottom line here has been clear for months. The bill being pushed by the president would take what's already a very bleak budget outlook and make it much, much worse.
posted by James C. Capretta | 5:46 pm
Tags: CBO, Obamacare, deficit
File As: Health Care
Wednesday, March 17, 2010
For months, one of the primary talking points pushed by the president and his allies in Congress is that their health-care plan would reduce the federal budget deficit substantially, especially during the second decade of the program's implementation.
This claim has always rested on completely implausible assumptions, gimmicks, and sleight of hand, all of which has already been well exposed by Congressman Paul Ryan and others.
Still, some myths persist and require repeated debunking.
For instance, Ezra Klein and others say the health-care bill shouldn't be assessed the $371 billion in ten-year costs associated with the so-called "doc fix" because everyone knows the money is going to be spent anyway. Under current law, Medicare physician fees are being cut 21 percent from last year's level, which neither party supports. Of course, there are more and less expensive ways to reform the Medicare physician fee schedule; there is some discretion there. But the real point is that the Democrats want to spend the money on physician fees without an offset, on a permanent basis. That is new. That's not how the Bush administration and Congress approached the problem in the past. In previous years, Congress struggled to find the offsets to pay for year-by-year fixes, and not always successfully. But because they could never agree on acceptable offsets for a longer-term plan, they never attempted to pass one. They weren't going to simply add all of the costs of higher physician fees to the annual federal budget deficit in perpetuity.
But that's exactly what the Obama administration and its congressional allies want to do. They are increasing the cost of Medicare (through the doc fix) at the same time that they are cutting Medicare (reducing the payment-rate increases and cutting Medicare Advantage), but since they are just adding the cost of the doc fix to the budget deficit, they can claim all the Medicare cuts as savings scraped together to pay for the massive entitlement expansion included in the health bill. If they succeed with this approach, the effect will be to dramatically increase the nation's budget deficits and debt. Indeed, the increase in deficit spending from higher Medicare physician fees is more than three times the claimed deficit reduction from the entire health bill over the next decade.
Beyond ten years, Democratic claims of substantial deficit reduction from the health bill have rested entirely on two provisions.
First, there's the "Cadillac tax." In the Senate-passed bill, the tax takes effect in 2014, and the threshold used to determine what constitutes "high-cost" would rise annually at a rate well below expected medical inflation. Consequently, as the years passed, more and more Americans would find themselves in plans considered "high-cost." In time, virtually the entire middle class would get hit by the tax.
But, as we now know, the president and his Democratic allies never really had the stomach to impose this tax themselves. Under union pressure, they have promised to delay it until at least 2018, well beyond the point when the president will have left office. But the White House and congressional leaders still want to claim credit for all of the revenue that would occur beyond 2019 if by some chance a future president and a future Congress are more willing than they are to impose this tax.
The other key provision for claims of long-term deficit cutting is the permanent annual reduction in the payment-rate increase for hospitals and other facilities from the Medicare program. Under current law, hospitals get an increase each year in what they are paid for certain services based on rising input costs. The Democrats are planning to cut the inflation increase every year by half a percentage point. Over time, the compounding effect of an annual cut of this size would be very large. But the chief actuary of the program has warned repeatedly that it is unrealistic. Despite all of the claims of "delivery system reform" and painless weeding out of inefficient care, this arbitrary cut is business-as-usual. There's no effort to calibrate payments based on performance or how well patients are treated. Its across-the-board cuts for everybody. And the chief actuary says, if implemented, one in five facilities would be pushed into serious financial distress.
The hypocrisy is stunning. Even as the Democrats want to wave a magic wand and pass a $371 billion "doc fix" to undo a previously-enacted arbitrary cut in payment rates, they now want to impose another one and use the supposed savings to grease the way for the largest entitlement expansion in a generation.
All of this scheming and maneuvering is catching up with them. The Washington Post reports today that CBO now says the latest version of the Democratic plan will no longer cut the deficit as the Democrats have claimed. That's not surprising. To buy votes, they are upping the subsidies in the exchanges, expanding the Medicare prescription-drug benefit, delaying the Cadillac tax, and buying off countless members with other assorted and unseen deals (where are the C-SPAN cameras when you really need them?). Little wonder that even their phony deficit-reduction claims have now evaporated.
But the game is not over. Even now, they are going back to CBO with another bag full of tricks. They will never actually impose any sort of real budget discipline, of course. That would cost them votes. But no gimmick is too shameless for them; they will do anything if allows them to claim that enactment of another runaway entitlement program will actually improve our long-term budget outlook.
Fortunately, the public is not buying it. The American people see through the smokescreen. They know full well that Congress wants to put in place another unfinanced and expensive entitlement program, even as the federal government is piling up debt at a record pace. Which is why they are telling their elected representatives in every way they can to stop the madness already — and start over.
posted by James C. Capretta | 2:52 pm
Tags: Ezra Klein, Paul Ryan, doc fix, Medicare, Medicare Advantage, payment-rate increases, Cadillac tax, CBO
File As: Health Care
Tuesday, March 16, 2010
The New York Times invited me to participate in an online symposium with Robert Reich, Gail Wilensky, and others to debate the odds on whether the Democrats' health care plan will pass into law. Here's an excerpt from my contribution:
Despite the enormous pressure from the White House, the odds remain against passage, Democratic catastrophe and all.

The votes Speaker Pelosi must get would mainly come from moderates and conservative members elected in highly competitive districts. Their constituents are trending solidly toward opposition to the bill, primarily for cost reasons....

The public is not naïve. They know government entitlement programs have a strong tendency to grow rapidly once put in place. What they see coming down the pike is another under-financed program, at a time when the federal government is already running up the nation's debt at an unprecedented pace because previous commitments are now unaffordable.

Their concern is well placed, and should be enough to force Congress to come back later with a plan that is less risky for the country's economic future.
You can find my contribution to the NYT symposium online here.
posted by James C. Capretta | 3:53 pm
Tags: Nancy Pelosi, Obamacare, voters
File As: Health Care
Monday, March 15, 2010
My colleague Yuval Levin and I have coauthored a piece in the latest Weekly Standard that examines the consequences of the Democrats' health care plan for the broader economy, and especially for the jobs outlook:
Beyond taxes and spending, Obamacare would also wreak havoc on the labor market. Because employers would get penalized if any of their low- and moderate-wage workers ended up in the new subsidized insurance pool, they would avoid hiring such workers. Democrats claim they want to jam through health care reform so they can turn their attention to jobs, but the bill provides a strong disincentive for businesses to hire those who need jobs the most.

The plan would, moreover, trigger an inefficient and costly re-sorting of American labor. Under the bill, despite the enormous cost of subsidizing coverage in the new government-run "exchanges," only 18 million people would be getting such subsidized coverage in 2016—even though there are 127 million Americans today with incomes in the targeted range of between one and four times the poverty rate. The vast majority of workers would still be in job-based plans and get no additional help. Gene Steuerle of the Urban Institute estimates that a worker making about $60,000 per year in 2016 would get $4,500 more in federal aid if he were able to get his insurance through an exchange rather than through his employer. That's a powerful incentive for workers and firms to rearrange their operations to take advantage of the federal money. In time, the American economy would be divided into companies with low-wage workers getting government-subsidized health care and others with higher-wage workers who continue to get employer-based plans. This would make the labor market far less efficient (harming productivity), and it would mean that the subsidies themselves would cost far more than the CBO now estimates.

And for those workers who do end up getting federal subsidies for their insurance, the program is a trap. If they get a pay raise, they will lose some of their insurance subsidy. Indeed, the schedule of subsidy withdrawal is so severe that it will push many low-wage families into effective tax brackets of 60 percent to 80 percent, according to a CATO Institute analysis. Obamacare would thus provide a strong disincentive to work and so undermine the most successful policy initiative in generations: welfare reform.
You can read the entire article online here.
posted by James C. Capretta | 11:52 am
Tags: Obamacare, Yuval Levin, Eugene Steuerle, CBO
File As: Health Care
Thursday, March 11, 2010
In 2009, Democrats chose to proceed with a health-care bill under the regular order — that is, they sought to pass the legislation under normal House and Senate rules. They did not put together a budget reconciliation bill with health care in it, something that could have passed the Senate with a simple majority vote. They conceded that such an approach would likely produce a flawed product, as many non-budgetary provisions in a health-care plan would not survive the reconciliation process. And so they decided to try and pass a bill without resorting to reconciliation, even though they knew they would need sixty votes in the Senate to succeed. It worked. They passed a bill in the House in November, and a somewhat different version in the Senate in December.
Then came Scott Brown. His stunning election to the Senate on January 19 upended the Democrats' end-game. They were going to work out the differences between the House and Senate-passed bills in January and proceed to pass an agreed-upon version in both chambers as expeditiously as possible. But that plan was contingent on getting sixty votes again in the Senate. With Brown's election, Senate Republicans increased their numbers from forty to forty-one, thus forcing Democrats to find at least one Republican Senator to support their final bill.
For the past two months, the White House and Democrats in Congress have been weaving ever-more complicated legislative webs all with the express intent of avoiding at all costs any need to negotiate with the now slightly enlarged Senate minority. In effect, what Democratic leaders want to do is — at the very end of the legislative process — switch from regular order to a reconciliation process in order to avoid having to deal seriously with any elected Republicans.
But it's become increasingly clear that the Democratic scheming and maneuvering necessary to pull off such a high-wire act has created a web of entanglements that could very well doom passage of the entire effort.
In particular, there now appear to be two huge hurdles standing directly in the way of a plan to jam a bill through in the coming days.
First, there is the matter of the liberal abortion provisions in the Senate bill. As the Catholic Bishops conference has noted, the Senate-passed bill includes several provisions that would allow taxpayer funding of elective abortions. Consequently, the Bishops opposed passage of that bill when it was considered in the Senate, and now oppose its passage by the House. The problem for House Democrats is that every version of the end-game they are now considering is predicated on having the House take up the Senate bill and pass it unchanged for presidential signature.
That is entirely unacceptable to the Catholic Bishops. They oppose House passage of the Senate's pro-abortion health bill. Period. And their opposition hasn't come with procedural loopholes that would let members off the hook if they promised to pass a fix separately. That would be fool's bargain, and the Bishops know it. So pro-life House Democrats, led by Congressman Bart Stupak, really have no choice here. They can't support the Senate bill unless they want to be known for supporting the most pro-abortion bill ever considered in Congress. Their only real option is to force House leaders to amend the Senate bill before passing it to include strong restrictions on funding of abortion. Yes, that would mean the bill would have to go back through the Senate again before going to the president, but so be it. That's not the Bishops' problem. It would mean the president and the Democrats would have to really negotiate to get some Republican support, which is of course the norm for sweeping and important legislation.
The Democrats' problems don't end with abortion, though. Today, the Senate parliamentarian confirmed to Republican members that the Senate health-care plan must first be signed into law by the president before the Senate can take up a reconciliation bill making changes to it. This is the House Democrats' worst nightmare. That means they can't pass and hold the Senate health bill pending clearance by the Senate of a reconciliation bill making fixes. If the House votes to approve the Senate bill, that's it. The Senate bill will become law, signing ceremony and all. Congress may or may not follow through by amending it later. In the meantime, House members will have voted to approve the Cornhusker Kickback, the Louisiana Purchase, the special treatment for Florida seniors, countless special deals for hospitals, a new tax on many collectively bargained health plans, not to mention a massive tax increase, Medicare cut, and job-killing mandates.
In short, if congressional Democrats are bound and determined to pass a sweeping government takeover of American health care on an entirely partisan basis, their only way forward is for the House to accept without change the highly unpopular Senate bill, and suffer the consequences. That will be a very bitter pill for many rank-and-file members to swallow.
There is an alternative, however. The White House and House and Senate Democrats could abandon reconciliation, fix the problems in the Senate bill, and then work with some Senate Republicans to produce a plan that can get a supermajority in the Senate. No doubt it would require more than cosmetic changes to the government-heavy plan Democrats have drafted. But it is not impossible. It has been done countless times before on major legislation. And it is certainly what the public is telling their elected leaders they want to see happen.
If, however, the Democrats continue to insist it's their bill or no bill, the odds are increasing by the day that it will be no bill.
posted by James C. Capretta | 5:53 pm
Tags: reconciliation, Senate bill, House bill, U.S. Conference of Catholic Bishops
File As: Health Care
Wednesday, March 10, 2010
I have a post over on NRO's Corner about President Obama's proposed budget, going through some of the numbers. Here's a snippet:
According to CBO, the Obama budget plan would run up much larger budget deficits and pile up even more debt than the administration reported in February.

Over the period 2010 to 2020, CBO expects the Obama budget would run a cumulative deficit of $11.3 trillion — $1.2 trillion more than the administration predicted. By 2020, total federal debt would reach an astonishing $20.3 trillion — up from $5.8 trillion at the end of 2008.

The president likes to say he inherited a mess. He did in fact enter office during a deep recession that sent deficits soaring on a temporary basis. But his policies have unquestionably made an already difficult medium- and long-term budget outlook much, much worse. The problem is that President Obama is a world-class spender. He wants to pile massive new commitments on top of a bloated and unreformed government. He is willing to raise taxes to pay for some of his wish list, but far from all of it. For the rest, he plans to run up the nation's debt with reckless abandon.

CBO's numbers tell the story....
You can read the entire post here.
posted by James C. Capretta | 2:51 pm
Tags: budget, deficit, debt, CBO
File As: Health Care
Friday, March 5, 2010
Congressman Paul Ryan's systematic dismantling of the argument that Obamacare would cut the budget deficit, delivered at the Blair House "summit" meeting, has gotten a lot of attention in recent days, and deservedly so. The Wall Street Journal ran the full text of his presentation on its opinion page yesterday and amplified his arguments in an editorial of its own. At Blair House, neither the president nor any other Democrat present offered a direct rebuttal to Ryan's critique. The president chose to change the subject instead.
This week, however, top administration officials have come forward with a belated defense — of sorts.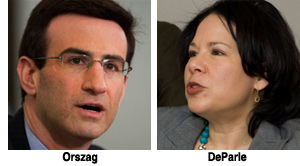 First, OMB Director Peter Orszag penned a blog post taking issue with one of Ryan's points, namely that the plan relies on ten years of offsets to pay for only six years of spending. And today, Orszag and White House Health Reform Czar Nancy-Ann DeParle have an op-ed in the Washington Post that expands upon Orszag's post.
Orszag and DeParle start by agreeing with Ryan that delaying the start date of an entitlement expansion is a tried-and-true budget gimmick, designed to push the full cost of the additional spending outside of the "budget window" covered by a cost estimate.
But, not to worry, they say. In this instance, it's not a gimmick because the deficit reduction from their plan just keeps growing over time. They claim the president's health plan would produce deficit reduction of $100 billion over ten years and $1 trillion in the second decade.
Of course, there's another reason besides balancing revenue and spending to push the start of an entitlement back, and that's to make the ten-year cost look much smaller than it really is. Recall that the president promised in his address to Congress last September to deliver a bill that costs only "$900 billion" over a decade. The new entitlements the Democrats want to create would cost much, much more than $90 billion per year. In fact, the Congressional Budget Office (CBO) says they will cost about $200 billion per year by 2019. And so, to get the media to now say his plan costs only "$1 trillion" (what's $100 billion among friends!), the administration delays the coverage expansion provisions until 2014. Never mind that the president also says the uninsured can't wait a day longer for the legislation. Once enacted, he would make them wait — for four years.
As Ryan noted, however, once the program did get up and running, costs would soar. The Senate Budget Committee Republican staff estimates the Senate bill's cost at $2.3 trillion over ten years when fully implemented.
In their Post op-ed, Orszag and DeParle do not even attempt to address the many other points Ryan made which expose the dubious assumptions and sleight of hand behind their deficit-cutting claims.
For instance, the health reform bill is filled to the brim with Medicare changes, but the one Medicare provision the president and the Democrats want to pass separately from the health bill is the so-called "doc fix," which would repeal a cut in Medicare physician fees at a cost of $371 billion over ten years. Of course, splitting their agenda into two or three bills doesn't change the total cost. When the "doc fix" is properly included in a tally of what the president is pushing, all of the supposed deficit reduction vanishes.
Then there's the double-counting that Ryan exposed. The president's plan starts up yet another entitlement program, providing long-term care insurance. Enrollees have to pay premiums for a number of years before they qualify for any benefits. Consequently, at startup, there's a surplus of premium collections — $73 billion over ten years, according to CBO — because no one qualifies for the benefits yet. The president and his team count these savings against the cost of health reform — even though the money will be needed later to pay out long-term care insurance claims. When this gimmick is taken out of the accounting, the president's health proposal goes even deeper into the red.
Over the long-run, the administration's claim of large-scale deficit reduction hinges on the dubious assumption that future elected officials will demonstrate more political courage than those in office today.
For most of last year, the president said that he would "bend the cost-curve" in large part by imposing a new tax on "high-cost" insurance plans. The tax would hit more and more middle class beneficiaries each year because the threshold for determining what constitutes a "high cost" plan would grow much more slowly than medical costs. In fact, after a number of years, virtually all Americans would be in plans at or above the "high-cost" threshold.
House Democrats and their union allies despise this tax. Last week, the president caved in to their pressure and pushed the start date of the tax back to 2018, well past the point when he will have left office. Even so, Orszag and DeParle still claim credit for the massive revenue hike that would occur in a second decade of implementation. They want us to believe we can finance a permanent, expensive, and rapidly growing new entitlement program with a tax the president himself was never willing to collect.
In Medicare, Orszag and DeParle like to highlight so-called "delivery system reforms" the administration has touted. In the main, these are extremely small-scale initiatives and pilot programs. CBO says they will amount to virtually no savings. The big Medicare cuts in the president's plan come from across-the-board payment-rate reductions. In particular, the president wants to cut the inflation update for hospitals, nursing homes, and others by half a percentage point every year, in perpetuity. On paper, this change produces huge long-run savings. But it does nothing to control the underlying cost of treating patients. It just pays everyone less, without regard to patient need or quality of care. The chief actuary of the program has said repeatedly that these cuts are completely unrealistic for these very reasons. If implemented, he expects they would drive one in five facilities into serious financial distress. And yet Orszag and DeParle want us to believe these savings can be counted to finance the president's massive entitlement promises.
And massive they are. CBO says the coverage expansion provisions in the Senate-passed bill would cost about $200 billion by 2019, and that cost would rise 8 percent every year thereafter.
But even these estimates understate the true cost of Obamacare. The president's plan, like the House and Senate bills, would extend generous new insurance subsidies to low- and moderate-wage workers getting insurance through the new "exchanges." Workers in job-based plans would get no additional help. That means two workers with identical incomes would be treated very differently. Gene Steuerle of the Urban Institute has estimated that, in 2016, a worker with job-based coverage and a $60,000 income would get $4,500 less than someone with the same income but health insurance through the exchange. This kind of inequitable treatment would never last: one way or another, the entitlement would get extended to everyone in the targeted income range, sending the overall costs of the program soaring.
The president started off last year by saying he wanted to "bend the cost-curve" even as he broadened coverage. But after a year of partisan political and legislative maneuvering, all that's left is a massive entitlement expansion. The new costs would get piled on top of the unreformed and unaffordable entitlements already on the books. It's a budgetary disaster in the making.
posted by James C. Capretta | 4:03 pm
Tags: Peter Orszag, Nancy-Ann Deparle, CBO, OMB, Obamacare, White House plan, White House summit, budget, chief actuary
File As: Health Care