About the Author
New Atlantis blogger Stephanie Cohen is a journalist who covers energy and environmental issues for a wide range of print and online publications. She can be reached at scohen@thenewatlantis.com.

READ MORE
RSS Feed
Stephanie Cohen's Latest New Atlantis Articles

"Energy Incrementalism" (Spring 2006)

"Energy Dreams and Energy Realities" (Spring 2004)
More on Stephanie Cohen

Friday, June 13, 2008
This post from the Earth2Tech should be read by anyone who thinks Detroit has lost its mind -- not to mention its edge, its marketshare, and its future. Apparently car makers are registering plenty of patents (though the rate has slipped a bit from the same quarter last year). What could they be up to? Hybrids apparently.
[A]ccording to data on the number of granted patents in the first quarter of 2008, car companies are actually leading in terms of intellectual property [when it comes to "cleantech"]. New York-based intellectual property law firm Heslin Rothenberg Farley & Mesiti puts together the so-called Clean Energy Patent Growth Index (CEPGI) that follows granted patents for cleantech, and the firm says that in the first quarter of this year, automotive companies dominated the top 10.... Whether that means they're charging ahead on implementing this technology, and not just filing for the patents, remains to be seen.
As the post points out, Honda is in the lead (16 patents in the first quarter of 2008), followed by GM and GE (11 patents apiece), then Nissan, Toyota, and Hyundai. Ford ranked tenth.
According to a release from Heslin Rothenberg Farley & Mesiti (available in PDF here), over the long term, fuel cells "continue to dominate the other components" in the world of cleantech. This graph, which encompasses every sector (not just the auto industry), makes that very clear: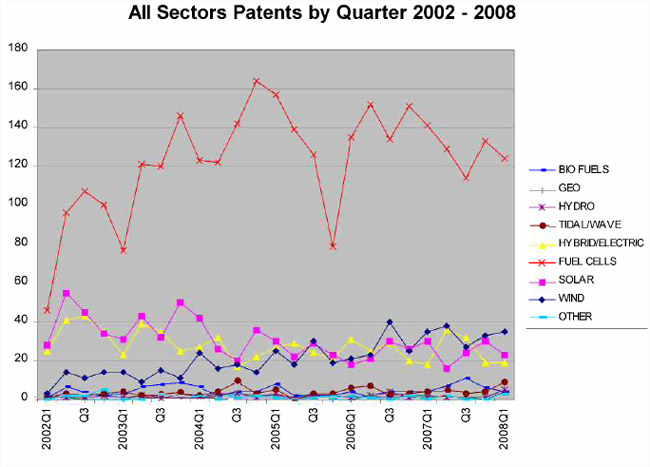 Certain places also tend to generate more patents (thanks to industry centers in those locations). According to HRF&M, the hotbeds of activity, both domestically and abroad, are Japan, Michigan, California, Connecticut and Germany."
posted by Stephanie Cohen | 4:40 pm
File As: Energy Technology
Friday, June 13, 2008

This week, the Brookings Institution and Google.org (the philanthropic effort that runs the Google Foundation) teamed up to run a two-day conference in Washington, D.C. exploring the future of plug-in vehicles (both hybrid and all-electric). Three issues were front and center:
Can U.S. automakers actually deliver on this technology?

Will American consumers buy these cars -- and keep buying them if oil drops back down to $60 or $70 a barrel?

Will Washington offer any incentives -- to manufacturers of batteries, to developers of new battery technology, or to consumers?
The answer to all three questions: Maybe.
What made this conference top-notch was the scores of business and technology people discussing their work in this area. They were able to convey just how difficult it is to get all the right trade-offs in a new concept car.
A transcript of the event -- sure to be worth a read -- will be posted at the
Brookings site
.
(Photo by Flickr user jurvetson [CC])
posted by Stephanie Cohen | 11:53 am
File As: Energy Technology
Friday, June 13, 2008

Billionaire oil investor T. Boone Pickens (reportedly worth around $3 billion, and the country's highest paid hedge fund manager in 2005) had a lot to say about U.S. energy policy at Oil and Gas Investor's Energy Capital Forum in Houston this week. He expects oil to hit $150 a barrel (it's now around $135). Pickens is the former owner of Mesa Petroleum, which was one of the largest independent oil companies in the world. (He sold it in the mid-1990s.) Pickens is the founder and a principal of BP Capital LLC.
From the Domestic Fuel Blog:
"Energy is not a debate; it's a crisis for this country," Pickens said. "We cannot continue down the path were on. It's that desperate."...

Pickens said he plans to elevate the issue into this year's presidential election campaign through a series of television ads talking about energy.
Hart Energy Publishing's take on the businessman's speech:
The energy crisis is a result of decades of lack of leadership that has led to a breakdown. Now, "somebody has to show up to fix it." He doubts the candidates understand the urgency of the circumstances.

Pickens chided Democratic candidate Sen. Barack Obama for "throwing around the windfall profits tax like a piece of balsa wood.

"I don't think the senator knows anything about energy. He sounds good for about two minutes."

Republican candidate Sen. John McCain received little more support. "I don't know how much he knows either. He wants to lower the gas tax during the summer. What the hell is he talking about? Will that fix anything?"....

He said there is "no question" that America must embrace alternate energy sources to alleviate the $700-billion transfer of wealth out of the country to oil imports....

Ethanol is "an ugly baby but it's ours and it will move cars," he said, emphasizing that he prefers the less-than-perfect fuel over imported oil. Biofuels, however, will never account for more than 10% of the U.S.'s energy needs, he predicts.
There are more excerpts from Pickens's remarks in this article from Oil and Gas Investor.
posted by Stephanie Cohen | 11:19 am
File As: Energy, Energy Policy, Biofuels, Gas and Oil Prices
Tuesday, June 3, 2008
Hyundai Motor America announced that Americans have continued to buy its more fuel-efficient vehicles in record numbers. The Korean car maker said it had its "best May ever," with sales up 6 percent over the May 2007.
"We are very pleased with our results for May and the fact we were able to break the record set in 2007 for the month during a period of record-setting oil prices and a sluggish economy," said Dave Zuchowski, Hyundai Motor America's vice president of national sales.
The company's more fuel-efficient vehicles -- the Accent, Elantra, and Sonata models -- saw increases of 89 percent, 46 percent, and 12 percent, respectively, over last year, according to the company.
According to the Department of Energy, which tracks these things at http://www.fueleconomy.gov/feg/findacar.htm, the top fuel-economy stats for those three Hyundai models are:
The 2009 model year 4 cylinder, 2.4 Liter, Automatic 5-speed Sonata gets 22 miles per gallon in the city and 32 on the highway.

The 2008 model year 4 cylinder, 1.6 Liter, Manual 5-speed Accent gets 27 miles per gallon in the city and 32 on the highway. (The automatic model gets 24 miles per gallon in the city and 33 on the highway.)

The 2008 model year 4 cylinder, 2 Liter, Automatic 4-speed Elantra gets 25 miles per gallon in the city and 33 on the highway.
Compare these figures to the Toyota Prius, which gets a combined 46 miles to the gallon in city and highway driving.
All of this has General Motors thinking. The company lost $3.25 billion in the first quarter of 2008 (including special charges) and is expected to lose more than $2 billion this year just from operations. Now CEO G. Richard Wagoner has announced that the auto maker will launch a new line of compact cars for North America and begin building the Chevrolet Volt plug-in electric car in 2010. GM will also consider selling its image-tarnished Hummer brand of gas-guzzlers (14 miles per gallon in the city and 18 on the highway) and shuttering four plants that produce midsize SUVs, large SUVs, pickup trucks, and medium-duty trucks.
According to Business Week: "GM plans to introduce a new compact car that will be better equipped than today's compacts, with more amenities and also a 9-mpg boost over today's 27-mpg Chevrolet Cobalt. An all-new version of GM's Korean-made Chevy Aveo subcompact is coming, Wagoner said. GM will also build an all-new 1.4-liter turbo engine for its new compact cars."
Overall, "18 of GM's next 19 new products for the U.S. will be cars or crossovers, which are smaller SUVs," according to the Wall Street Journal.
From AFP: "The company is adding third shifts for production of its Chevy Malibu, Chevy Cobalt and Pontiac G6 models at two plants in Michigan and Ohio to respond to growing demand for smaller vehicles."
From the Detroit Free Press: GM will add third shifts at its assembly plants in Orion Township and Lordstown, Ohio. Orion manufactures the Chevrolet Malibu and the Pontiac G6, and Lordstown, Ohio, builds the Chevrolet Cobalt and the Pontiac G5.
The response from Washington. "It's a sign that Detroit continues to adapt and evolve and address the change in consumer tastes and attitudes," said White House spokeswoman Dana Perino, according to the Detroit News. "They're adapting well and they'll make these changes and hopefully be able to pull themselves up out of what has been a rough several years."
posted by Stephanie Cohen | 3:05 pm
File As: Gas and Oil Prices, American Energy Consumption
Monday, June 2, 2008

The Organization for Economic Cooperation and Development (OECD) and the Food and Agriculture Organization (FAO) of the United Nations recently released a report on the world's agricultural outlook from now through 2012. The report, prepared jointly by the two groups, tries to sort out the factors driving up food prices. The release of the report was timed to coincide with the UN conference on food security and climate change in Rome on June 2-5.
The report (a summary of which can be found here in PDF format) begins with some background:
This year's Outlook is set against a backdrop of exceptional increases in prices for many agricultural commodities, and this has posed a considerable challenge in preparing the projections and assessing the "durability" of the various influences shaping these prices. That is, which of the factors that are driving up prices are temporary and which will prove to be more permanent influences? How will they individually and collectively affect price levels, price trends and price volatility in the future? How will markets react to currently high prices and a more uncertain price outlook? What are the appropriate policy responses? This report comes at a very timely moment and provides important information, with a view to enlightening the discussion on food-price increases, their causes and their likely consequences for agricultural markets as well as for the policy formulation process.
Biofuel production is mentioned as a "strong driver" on the demand side, though it is understood to be just one among many causes. The report lists the following factors as drivers of higher commodity prices: droughts in key grain-producing regions; sharply increased biofuel demand for food commodities; rising oil prices; and a continuing devaluation of the U.S. dollar, the currency in which indicator prices for the commodities of interest are typically quoted. The report also notes that "Critically, these supply and demand developments occurred after there had already been a run-down in stocks, which under more normal circumstances could have dampened price movements." And "finally, the turmoil in commodity markets has occurred against the backdrop of a severe world financial crisis that is widely believed to have sparked a substantial increase in speculative interest in agricultural futures markets."
Some of the key findings of the report (quoted from the document; emphases added):
World reference prices in nominal terms for almost all agricultural commodities covered in this report are at or above previous record levels (see Fig. 2.1). This will not last and prices will gradually come down because of the transitory nature of some of the factors that are behind the recent hikes.
But there is strong reason to believe that there are now also permanent factors underpinning prices that will work to keep them both at higher average levels than in the past and reduce the long-term decline in real terms.
The dramatic increase in [food] prices since 2005/06 is partly the result of adverse weather conditions in major grain-producing regions in the world, with spill-over effects on crops and livestock that compete for the same land. In a context of low global stocks, these developments alone would have triggered strong price reactions.
On the demand side, changing diets, urbanisation, economic growth and expanding populations are driving food and feed demand in developing countries.
When the average for 2008 to 2017 is compared with that over 1998 to 2007, beef and pork prices may be some 20% higher; raw and white sugar around 30%; wheat, maize and skim milk powder 40 to 60%; butter and oilseeds more than 60% and vegetable oils over 80%. Over the Outlook period, prices will resume their decline in real terms, albeit at a slower rate. However, the impact of various supply and ... demand factors on prices will differ across commodities.
Biofuel
But stacked on top of this is now the fast-growing demand for feedstock to fuel a growing bioenergy sector. While smaller than the increase in food and feed use, biofuel demand is the largest source of new demand in decades and a strong factor underpinning the upward shift in agricultural commodity prices.
Policy support, as well as oil-price developments, will strongly influence the evolution of future demand from biofuel for agricultural commodity feedstocks.
Once they have fallen from their current peaks, however, prices will remain at higher average levels over the medium term than in the past decade. But the underlying forces that drive agricultural product supply (by and large productivity gains) will eventually outweigh the forces that determine stronger demand, both for food and feed as well as for industrial demand, most notably for biofuel production. Consequently, prices will resume their decline in real terms, though possibly not by quite as much as in the past.
On the demand side, use of food grains to be processed into biofuels stands out as an important component of demand growth between marketing years 2005 and 2007. Wheat and coarse grain use overall increased by about 80 Mt, or 5%. Within this aggregate, biofuel use doubled, rising by 47 Mt, thus accounting for over half the increase in world grain use. The U.S. biofuel use of grains alone explains the vast majority of this change, up by 41 Mt even after adjusting for distillers grains co-produced with ethanol and added to feed use. But these data also show that an attribution of all the grain price increases to ethanol would be incorrect. Despite a doubling of some grain prices and broad increases overall, global food and feed use per capita were sustained, implying that the generally strong economic performance of the last two years has been manifested in outward shifts of demand that – in combination with relatively inelastic demand in the short term – has offset the impact of higher prices on quantities demanded.
Available data suggest that somewhat more than half of the increase in the quantity of demand for grains and vegetable oils between 2005 and 2007 was due to biofuels. Based on Outlook assumptions of further modest increases in the price of oil, continuation of policies that support for biofuel production and use and no dramatic technology change, feedstock demand for biofuel production appears to represent a permanent factor.
While biofuel use of grains and vegetable oils is anticipated to represent a falling share of the overall increase in demand for these food commodities, it is nevertheless a new source of demand which is seen as one of the factors lifting prices to higher average levels in the future.
Demand for these grains to be used as feedstocks in biofuel production is not expected to continue to expand at the rate of the last two years.3 However, cereal use for biofuel production is projected nearly to double from 2007 to 2017, though its share of the overall increase in quantities of wheat and coarse grains used is expected to fall from about 60% to just over 40%. The U.S. is likely to continue to be the centre of grain-based ethanol production, assuming no new technologies displace current practices, but use in the EU is likely to expand, too.
Vegetable Oil
World vegetable oil use increased faster between marketing years 2005 and 2007 than production (Table 2.5). Of the demand increase, biofuel use of oils accounted for over half.
Biofuel use of vegetable oils accounts for more than a third of the growth in vegetable oil use from 2005 to 2017. This is very strong growth in percentage terms, as world biofuel use increases more than five-fold from the very small base in 2005. But the growth in other uses amounts to an increase of about 33% over this period as well.
Crude Oil
The oil price, and energy prices more generally, are important contributing factors to the recent increase in agricultural commodity prices.... The Outlook assumptions reflect the widely held belief that the oil price increases are permanent and that further gradual increases are likely. Higher oil prices result in a structural increase in agricultural production costs and contribute to lifting future prices to higher average levels.
When the report looks specifically at biofuels it finds that conditions (namely, high oil prices and public support for alternative energy sources) remain favorable enough to make further growth in biofuel production likely. Assessing the global biofuels picture, the report notes that while the U.S. and Brazil remain key players in the ethanol market, they are not the only actors on the world biofuel stage:
Production and use of both ethanol and biodiesel have increased significantly in recent years. Production of fuel ethanol tripled between 2000 and 2007, with the U.S. and Brazil accounting for the majority of this growth. However, a large number of other countries either commenced renewable energy programmes or increased fuel ethanol production in this period as well. Biodiesel output witnessed an even more pronounced expansion over the same period, having grown from less than one billion litres to almost 11 billion litres. Initially the EU accounted for more than 90% of global biodiesel production, but with increased biodiesel output in many other countries, in particular the U.S., its share has declined to less than 60% in 2007.
The report also notes that "near-record prices for maize, wheat and vegetable oils" have reduced the economic viability of biofuel production in many countries, despite strong public support and increasing fossil fuel prices." But in Brazil, where sugar cane is used for ethanol production, "lower world sugar prices associated with a large global surplus have improved the economic viability and profitability of ethanol production in Brazil, which remains competitive with gasoline at a crude oil price of around $35 per barrel." That's about $100 cheaper than crude oil at today's prices.
The report predicts global ethanol production will increase "rapidly and to reach some 125 billion litres in 2017, twice the quantity produced in 2007.... Following increased mandates, international trade in ethanol is expected to grow rapidly to reach 6 billion litres in 2010 and almost 10 billion litres by 2017, despite continuing trade protection. Most of this trade will originate in Brazil, and will be destined for markets in the EU and the US."
It is worth noting that U.S. and Canadian biofuel industry leaders sent a letter to FAO Director-General Dr. Jacques Diouf refuting the report, arguing that it includes "a number of questionable and/or confusing assumptions that call into question the validity of the findings."
posted by Stephanie Cohen | 5:14 pm
File As: Biofuels, Gas and Oil Prices
Monday, June 2, 2008
A wonderful article in the Independent of London looking at the Pennsylvania oilfields where John Rockefeller began his oil fortune and where business is -- once again -- booming for mom-and-pop independent drillers cashing in on $130 a barrel oil. Rupert Cornwell reports on the new "black gold rush" in Pennsylvania:
"I feel like I'm taking care of a herd of cows," says Bill Huber as he gently nudges his pick-up truck along muddy, gouged-out tracks to check on his precious charges, scattered through the woods. "Every day there's something to be done. A problem with a drill pipe, a bearing to replace, or something wrong with a pumping jack."

Which is not surprising, given that some of the venerable contraptions in question first started to extract oil a century or more ago, and have now been pressed back into service, even though they yield just a few gallons a day. "You get one well going again, it may give you 10 to 15 barrels a day straight off. Then it tapers off. But even if it keeps going at just a third of a barrel a day, it's still pretty good."

Americans may wince at the ever-rising cost of petrol, a daily reminder of the grinding economic crisis that grips the country. But Bill Huber and the other "mom-and pop" producers in this part of the world aren't complaining, not when a 42-gallon barrel now sells for $135 (£68) or so, double what it fetched only a year ago, when every day seems to bring a new record price – and when the first commercially exploited oil field on the planet is enjoying a late-life renaissance.

These steep, wooded hills of north-western Pennsylvania are the cradle of the modern, trillion-dollar, global oil industry. Here, on the edge of the stream called Oil Creek, a well drilled by Edwin Drake first coughed up the black stuff on 27 August 1859. A couple of years later, the world's oldest continuously producing well – the McClintock No 1, housed a couple of miles north of Oil City in what looks like an ancient garden shed – went on stream, and a few years after that, the world's first commercial oil pipeline was laid. Here too the first oil boom-and-bust cycle happened. From the fledgling industry, fragmented and unorganised, John D Rockefeller ruthlessly forged the monopoly of Standard Oil and became the richest man of his era.

Then came a long, genteel decline of an ancient family fallen on hard times, long surpassed by brash upstarts in Texas, the Middle East and beyond. The last refinery in the area was pulled down a few years ago. But the past lives on, not only in the rickety wells hooked up by rusty brown pipes, snaking through the mud and dead leaves to storage tanks from which trucks pick up the crude for refining. There are the town names like Oil City and Oleopolis, thoroughfares called Petroleum Street, opulent late 19th century houses built by the world's first oil moguls, even in the title of Oil City's daily paper – you've guessed – The Derrick.

With his slow way of talking, and oil-splatched overalls – not to mention the kennels behind his modest house – Mr Huber, 67, is no Rockefeller. But he has his own small place in the venerable history of Pennsylvania's oil patch.
To read the rest of the story, click here.
posted by Stephanie Cohen | 1:55 pm
File As: Gas and Oil Prices
Monday, June 2, 2008
Senator John Cornyn, R.-Texas, has written a post for a Texas blog -- Panhandle Poet -- on why he wants to freeze the ethanol mandate:
Hello Panhandle Poet readers...it's a privilege to guest post here.

I wanted to touch base with you regarding an issue which is very pressing in the Panhandle, ethanol.

When first introduced to the marketplace, it was hoped that ethanol would help revitalize rural America, lower the price we pay at the pump and reduce our dependence on foreign oil.

That's a worthy goal, yet the government's focus on ethanol has produced a problem. There have been unintended adverse consequences to our economy from the focus on ethanol production. Chiefly, since February of 2006 the combined price of corn, wheat and soybeans has increased more than 416 percent.

For this reason and many more, I co-sponsored legislation which was introduced recently to freeze the renewable fuel standard corn-based ethanol mandate at current 2008 levels. In the panhandle, like other places, the effect of ethanol production has been mixed. While a few have benefited from it, a great many others have suffered.

As more and more farmers grow corn for ethanol production, cattle feeding ration prices have shot sky high. Mandates, along with the high cost of fuel, are squeezing every bit of profit out of cattle feedlots today.

As consumers continue to see rising food and fuel prices, freezing the corn-based ethanol mandate will allow us to re-evaluate the consequences of using food for fuel and determine the best way forward. Texas will remain a leader as we work to diversify our nation's energy supply to include alternative and renewable sources, but in the meantime Congress must exercise its oversight role to ensure there are no further unintended consequences. A freeze of the mandate will allow time for necessary assessments and reduce increasing grocery, grain and feed prices.
Go to the
blog post
to read more...
posted by Stephanie Cohen | 11:49 am
File As: Biofuels
Sunday, June 1, 2008
On Thursday, May 29, Agriculture Department Secretary Ed Schafer said skyrocketing oil prices make biofuels all the more necessary and that U.S. ethanol production is "not distorting the global price of food. Schaeffer added that ethanol production specifically has come from increased yields in the corn crops and that corn exports from the U.S. are up. He made the comments during a press conference with reporters ahead of his trip to the United Nations food and agriculture conference on food and world security June 3. An excerpt from the press conference transcript:
SECRETARY SCHAFER: We think that policy-wise in the United States of America -- and certainly in the rest of the world -- that as we see the price of oil and petroleum escalate dramatically beyond anybody's imagination, that one of the ways to deal with that is to produce biofuels which are renewables, better for the environment, and help lower that cost.

I would point out that in the United States and in other countries as well, all ethanol production specifically has come from increased yields in the corn crops. So we're not pulling out any traditional markets. Our export markets are up in corn out of the United States. The yield increases are taking care of it, and certainly the benefits derived are much more than the 2 to 3 percent that is contributing to the rising inflation in food costs internationally.

We think it's an important initiative, and while people do have some concern I think we can point out the facts here, not the emotions but the facts, that this is not distorting the global price of food. And it's an important direction we need to go.... What I can say is, we have set guidelines in the United States. We've set targets out there and said, "This is how we're going to create energy independence in this country. And we urge others in the face of this rising price problem with energy to look at alternative means, one of which certainly is biofuels."
posted by Stephanie Cohen | 6:05 pm
File As: Biofuels
Wednesday, May 28, 2008
The news media are constantly claiming that Americans are reducing their energy consumption -- and changing their behavior -- in light of rising gasoline prices. With plans to revisit as new articles come out, I thought it would be interesting to keep an eye on the types of evidence being reported and the apparent resulting shifts in behavior.
So to kick things off, a Reuters story on Tuesday ("Americans save energy, but no relief at pump seen") offers some anecdotal examples from a consumer saying he and his wife now walk and use public transportation to go out to dinner, and a mom who "thinks" more before she hops in the car (a minivan) for drives.
The article also quotes Ford Motor Co. CEO Alan Mulally saying:
We saw a real change in the industry demand for pickup trucks and SUVs in the first two weeks of May.
The story cites predictions from the U.S. Energy Information Agency that U.S. gasoline demand this year will fall 0.6 percent, the first decline since 1991. "The decline is significant after years of increases. But the impact will be modest," the story notes.
Of course the biggest recent sign of consumer impact was the government report that estimated vehicle miles traveled on all U.S. public roads for March 2008 fell 4.3 percent, compared with travel for the same period a year ago.
posted by Stephanie Cohen | 6:44 pm
File As: American Energy Consumption
Wednesday, May 28, 2008
Senate Energy and Natural Resources Committee chairman Jeff Bingaman (D.-N.M.) sent a letter to the Commodity Futures Trading Commission (CFTC) this week asking the agency to "dig more deeply" as it investigates the role of speculation and non-commercial, institutional investors in raising the price of oil to today's levels. Senator Bingaman also questioned the "adequacy" of CFTC's regulatory oversight. The letter comes as lawmakers face continued pressure to soften the impact of fuel prices for American families and businesses.
Bingaman's biggest concerns, according to the press release explaining the letter:
the CFTC does not collect data on or analyze the fastest growing segment of energy commodity trading, lumps speculators together with more traditional energy market participants in its analyses, and has much lower transparency requirements for energy compared to agricultural commodities.
Bingaman says he understands that "tight oil market fundamentals and geopolitics" are playing a key role in determining oil prices — but recent analysts' testimony suggesting supply and demand for physical barrels of oil simply cannot fully explain prevailing oil prices has Bingaman looking for other answers, specifically "the impacts of speculative investment" on prices.
A main concern for Bingaman and others critical of the energy trading platform is that more and more trading activity for crude oil is taking place on foreign boards of trade and in over-the-counter markets. Here the CFTC has limited oversight.
posted by Stephanie Cohen | 3:29 pm
File As: Energy, Energy Policy