chief actuary
Slowing the pace of rising health care costs is the holy grail of domestic and economic policy. It's pretty much the key to everything that's desirable. For starters, it's central to heading off the debt-induced economic calamity that is fast approaching. If health care costs in the future were to rise at something close to the rate of growth of wages (instead of a couple of percentage points more, as they have for most of the past half century), trillions in unfunded government liabilities now on the federal books would vanish altogether. The massive deficits now projected for coming decades wouldn't necessarily go to zero overnight, but they would be in a range that is politically solvable, not hopeless. And if premiums for private health insurance rose moderately, it would be much easier to expand coverage to more people, even as employers could pay workers more with cash instead of health benefits. Our collective future would look far, far brighter under such a scenario.
So, yes, "bending the cost-curve," as the president famously put it, is the right objective. But what will actually do it?
To answer the question, it's useful to start with a recent post from the Washington Post's Ezra Klein, who himself approached the issue in the form of a question. He asks what makes Congressman Paul Ryan so confident that the Ryan plan for Medicare reform (offered with former Clinton administration budget director Alice Rivlin, and so now called the Ryan-Rivlin plan) will work to control cost growth while Obamacare won't.
From Klein's perspective, it seems like Ryan is applying a double standard. In Obamacare, Congress cut Medicare payment rates for hospitals and other providers of services quite dramatically — to the tune of about $0.5 trillion over a decade. Ryan and others — yours truly most definitely included — have argued that these cuts are illusory because they are politically unsustainable. Klein wonders why that same argument doesn't also apply to cuts under Ryan-Rivlin. After all, Ryan-Rivlin would bring Medicare spending well below baseline projections in the future by converting the Medicare entitlement into a defined contribution payment from the government. Isn't Congress just as likely to get cold feet about those cuts as it would about Obamacare's payment-rate reductions? In fact, aren't the Ryan-Rivlin cuts even more vulnerable, as they would seem to more transparently fall on the shoulders of the beneficiaries?
But that's not how to look at this problem at all. Bending the cost curve is not a matter of simply paying less for a service. What's needed is real and continuous productivity improvement in the health sector. Doctors, hospitals, nursing homes, labs, clinics and others finding better ways to deliver higher quality care at less cost. Because if productivity in the health sector does not rise, then payment-rate reductions will simply drive willing suppliers of services out of the marketplace.
And that's exactly what would happen under Obamacare. Providers of medical services aren't going to take payments for services that don't cover what it costs to care for patients. As Richard Foster, the chief actuary of the Medicare program has repeatedly warned, Obamacare's cuts would drive Medicare's average payment rates so low that they would fall below those of Medicaid by the end of the decade. And Medicaid's rates are already so low that the network of physicians and hospitals willing to take care of large numbers of Medicaid patients is notoriously constrained.
The Ryan-Rivlin plan is entirely different because it is based on empowering consumers to find the best value possible for their defined contribution payment. This is the way to unleash a productivity revolution in health care. The administration says it wants everyone to have access to low-cost, high-quality models, such as the Geisinger Health Plan. The way to bring that about is with a dynamic consumer marketplace in which those kinds of plans are rewarded financially for being more efficient and higher quality. And the way to bring that about is by giving people the control and financial incentive to become active, cost-conscious consumers both of the insurance they select and the delivery system by which they get their care. And that's exactly what would happen under Ryan-Rivlin, which is why it would work and Obamacare wouldn't.
Klein and others continue to tout the supposed cost-cutting potential of the various Medicare demonstrations and pilots created in Obamacare. To assume that these are the answer to the cost problem is really wishful thinking in the extreme. Medicare's administrators have been trying for years to use the levers of payment to bring about more efficient health care delivery. The problem is that building a high-quality, low-cost network requires making distinctions among physicians and hospitals that Medicare has never been able to do. To cut costs, the government always resorts to blunt, across-the-board payment cuts that actually induce more inefficient behavior, not less.
That's almost certainly why Foster, recently testifying before the House Budget Committee, quite plainly disagreed with Klein's premise. Under questioning about what would work to bend the cost curve, he was, as usual, quite cautious. Nonetheless, he made it clear that he had more confidence in Ryan-Rivlin than Obamacare to bend the cost curve, because Ryan-Rivlin has the potential to unlock productivity improvements in a way Obamacare does not. I'm with Foster.
posted by James C. Capretta | 10:30 am
Tags: Ezra Klein, Ryan-Rivlin, Richard Foster, Medicare, chief actuary
File As: Health Care
As Charles Krauthammer and David Brooks have already noted, this campaign season has been marked by an unusual degree of Democratic self-delusion. Everything is to be blamed for the current plight of the party except its elected leaders and the policies they have pursued while in office. Thus, the reason Democrats are headed for an electoral drubbing is that secret corporate money has distorted our democratic processes. Or if not that then because voters can no longer hear the truth through all the misleading clutter spouted by right-leaning media. Or perhaps because the electorate is just too dim to realize how important and positive the Democratic agenda has been for them and the country.
The self-delusion seems particularly acute when the conversation turns to health care. Democrats and their media apologists just can't bring themselves to believe that there is anything substantive behind opposition to Obamacare. And so, instead of engaging in serious argument, they offer up condescending nonsense — such as this New York Times editorial which supposedly debunks the myths being peddled on the campaign trail by candidates trying to stir up opposition to Obamacare.
But the Times editorial doesn't come close to debunking anything — because all it does is address distorted caricatures of arguments made by Obamacare's opponents rather than the real ones that have convinced most Americans that Obamacare is a colossal mistake.
The Times piece begins by calling "pure nonsense" the suggestion by Senate candidate John Raese that Obamacare will force some patients to go through a bureaucrat or a panel to reach a doctor. And, of course, it's true that the new law does not have an explicit provision which puts a bureaucrat in charge of physician access for all Americans.
But Obamacare does create the Independent Payment Advisory Board, or IPAB, which has the potential to become a very powerful hurdle to certain types of care. Under the new law, the fifteen-member IPAB has the authority to implement cost-cutting mechanisms in Medicare without further congressional approval. Indeed, IPAB's proponents have been quite explicit in their hope that the panel will use government-funded "comparative effectiveness research" as the basis to terminate Medicare reimbursement for items and services deemed not "cost effective" by budget cutters. So, here we have an unelected board of so-called experts with the authority to unilaterally decide that certain treatments should not be funded by Medicare. Only the most blinded enthusiasts of governmental activism don't see the potential problems with this approach, or understand the legitimate fears that it creates in the electorate.
The Times then suggests that Republican attacks on Obamacare's $500 billion in Medicare cuts are cynical and misleading because the cuts will only come out of providers' income or from Medicare Advantage enrollees who are unfairly profiting from excessive reimbursement rates. But Medicare's chief actuary — who works for the president of the United States — has stated repeatedly that these cuts are so deep and arbitrary that they will force many hospitals and other institutions to stop seeing Medicare patients. In fact, the cuts in Obamacare would drive Medicare's payment rates for services below those of Medicaid by 2019, and Medicaid's network of willing suppliers of care and services is already very constrained. It's quite clear that pushing Medicare's rates to such low levels would drastically reduce access to care for many beneficiaries.
Moreover, the Medicare Advantage cuts will fall disproportionately on low-income and minority seniors who don't have access to a retiree wraparound plan and can't afford Medigap coverage. For them, the lower cost-sharing offered by Medicare Advantage plans is instrumental in helping them afford the care they need.
Of course, the Times editorial doesn't even address the main reason voters are so upset that Obamacare was jammed through Congress. The public knows and understands that federal finances are on the brink of meltdown. The federal government is running trillion-dollar deficits as far as the eye can see, and there is no serious plan to get things under control. And, in fact, the signature initiative of the Obama administration was to pile another massive entitlement on top of the unaffordable ones already on the books, and partially pay for it with a $700 billion tax increase when unemployment is already running near 10 percent. The voters see all of this, and understand it perfectly well. What we have here is a Democratic president and a Democratic Congress that could not help themselves. They saw an opportunity to enact what liberals have been dreaming of for decades, and they decided it was more important to lock that in than to work with Republicans on reviving the economy.
And for that misplacement of priorities the voters will be holding them accountable next week.
posted by James C. Capretta | 6:13 pm
Tags: Medicare Advantage, chief actuary, Independent Payment Advisory Board, John Raese
File As: Health Care
Megan McArdle did everyone a favor this past week by very carefully pointing out that Paul Krugman's over-the-top attack on Congressman Paul Ryan and his "Roadmap" was based primarily on bad information that could have been easily checked and corrected with some minimal effort.
You'd think Krugman might take a look at her critique; listen to his likeminded friends (see here), who clearly think his piece went over the line; and change the subject. But no, you would be wrong. As McArdle notes, instead of admitting his error and moving on, Krugman plows ahead and concocts, in a follow-on to his original column, a second, alternative theory of supposed tax-estimating deception on the part of Ryan — which McArdle also points out is not true. Strike two. Of course, perhaps anticipating that his latest seat-of-the-pants explanation of why Ryan should be criticized for evading accountability won't hold up either, Krugman also throws into his broadside that, whatever else might be said, Ryan is a good-for-nothing just for failing to admit that his proposal will "dismantle Medicare as we know it."
Never mind that Ryan's Medicare proposal most closely resembles the recommendations of the last Medicare Commission from the late 1990s, chaired by Democratic Senator John Breaux. And never mind that a variant of it was proposed by Henry Aaron and Robert Reischauer in 1995. Neither has ever been accused of conspiring with the right. And they weren't accused of wanting to "dismantle" Medicare.
Let's face it. Krugman wrote his original column in a botched attempt to take Ryan down a peg or two. He saw the New York Times and the Washington Post publish relatively balanced pieces on Ryan in recent days, as well as friendly commentary from others on the left, and he felt it was his duty as the conscience of the liberal elite to make it clear that what the moment requires is a concerted Ryan-vilification campaign, not pieces in the mainstream press that, in so many words, say Ryan is good guy with typically awful Republican ideas.
But perhaps some good can come from Krugman's rant despite the little problem of being inaccurate. Indeed, if a byproduct of the Krugman barrage is a broad public awakening to the very real dangers of unguarded consumption of public policy flimflammery, then it will have served a useful purpose. Because, in truth, allowing large amounts of flimflammery to go unchallenged can cause real damage to informed discussion of the important matters of the day.
Which brings us back to Paul Krugman and his blog. Just before launching into his anti-Ryan tirade, he posted the real deal: flimflam of the highest order.
On the day the Medicare trustees issued their annual report, Krugman rushed out a post highlighting the apparent good news. The new health law had bent the curve after all. Medicare spending in the 2010 report would grow at a much slower pace than was projected a little more than a year ago, thanks to the effective cost-cutting measures in the new law. This, Krugman said, was the finding of the "Medicare actuaries."
But, as it turns out, the chief actuary for Medicare, in the back of the annual report, advised the public to essentially ignore the findings of the trustees because they were based on utterly unreliable data. He pointed readers instead to an alternative projection that shows Medicare spending rising to 10.7 percent of GDP in 2080, just a hair below the 11.2 percent of GDP projected for 2080 in last year's report. In other words, no, the curve hasn't been bent.
Moreover, the supposed savings in Medicare that will never materialize facilitated the creation of another runaway entitlement program. It isn't counted in the Medicare trust fund projections, but spending from it will be very real indeed, in 2080 and every other year. Altogether, it's absolutely clear that Obamacare raised federal entitlement spending on health care well above what it would have been under prior law.
Krugman and others argue that Paul Ryan's Medicare plan is flawed because it is a formulaic cut that would shift costs onto the nation's seniors. But, as it turns out, that's exactly what the actuaries say is wrong with the Obama-Krugman plan. The enlightened cost-cutting that Krugman finds so attractive in the new law turns out to be nothing more than simplistic and formulaic across-the-board payment-rate reductions for institutional providers of care. Under the new health law, these payments rates would get cut every year below the rise in the cost of doing business by a formula that the actuaries say is completely disconnected from reality. By the end of this decade, Medicare's payment rates would fall below those of the Medicaid program, which has rates that are so low today that the network of providers willing to see Medicaid patients is very, very constrained. In time, Medicare payments would cover just one-third of the cost of care that private insurers would be paying.
But let's give Paul Krugman credit. He was right to suggest that there was flimflam in the air. He just misidentified its source.
posted by James C. Capretta | 5:01 pm
Tags: Paul Ryan, Paul Krugman, Megan McArdle, flimflam, chief actuary, Medicare
File As: Health Care
Today, the Department of Health and Human Services (HHS) issued what it is calling a "report" on the supposed improvements to Medicare passed as part of Obamacare.
The first thing to note here is that this so-called "report" isn't really a report at all. It provides no new information. By all rights, it shouldn't generate any news, as it contains no news. It's just a rehash of administration talking points, half-truths, and deceptive arguments, repeated many times previously, based on cost estimates produced by the chief actuary of the Medicare program in April and by the Congressional Budget Office (CBO) in March.
So why is HHS Secretary Kathleen Sebelius touting this so-called "report" today, four months after the law's passage, including scheduling a conference call about it with reporters?
Perhaps it has something to do with the fact that another Medicare report — the Medicare trustees' report — is also scheduled to come out later this week. The trustees' report always generates news because it is the once-a-year update to the long-term cost projections for the Medicare program. The report must be approved by the Medicare Board of Trustees, which is made up almost entirely of political appointees from the Obama administration. But the report itself is largely written by the chief actuary, Richard Foster, and his staff, who are civil servants in the executive branch but, by longstanding tradition, are given much more independence than other federal workers because of the importance and sensitivity of their estimates and judgments.
That independence was on full display when the chief actuary released his cost projections for Obamacare on April 22, including a separate memorandum directly addressing the issue of Medicare trust fund solvency.
On the surface, the chief actuary's findings would seem to confirm one of the administration's main talking points — which is that the new health law will postpone depletion of the Medicare hospital insurance (HI) trust fund by a dozen years, to 2029. But a full reading of both memoranda makes it clear that the apparent good news on trust fund solvency is nothing but a mirage.
The problem is that the administration is trying to count the same Medicare cuts and tax increases twice, once to pay for a massive entitlement program to expand insurance coverage to low and moderate income households, and then again to fill the coffers of Medicare so future benefits can be paid.
That of course seems fishy to commonsense Americans, and for good reason. Even the federal government hasn't found a way to spend the same money twice — a point both the chief actuary and CBO confirmed in their separate analyses of Obamacare. As stated by the chief actuary's office, "In practice, the improved [Medicare hospital insurance] financing cannot be simultaneously used to finance other Federal outlays (such as the coverage expansions under the [the new health law]) and to extend the trust fund, despite the appearance of this result from the respective accounting conventions."
In other words, because Congress spent the Medicare savings on a new entitlement program, when Medicare's bills mount in 2017 and beyond, the federal government is in no better position today than it was before enactment of Obamacare to pay them. On paper, Medicare's HI trust fund has new reserves, but those reserves are not backed by real assets. When Medicare's costs rise, the federal government is still going to have to borrow more money, raise new taxes, or cut spending elsewhere to meet its obligations. The administration and its allies in Congress could have improved the government's ability to pay Medicare's bills in the future by devoting all of the Medicare cuts and taxes to deficit reduction. But that's not what they did; consequently, we now have more government obligations and much less flexibility to find ways to pay for it all.
The HHS "report" released today also continues to ignore another important finding by the chief actuary about Obamacare, which is that the deep, arbitrary, and across-the-board payment-rate reductions for hospitals, nursing homes, and other providers of medical services are highly unlikely to be sustained because they will harm access to care for Medicare's enrollees. The largest cut enacted by Congress would impose an annual reduction in the inflation update for many institutional providers of care. This cut would occur every year, in perpetuity, thus driving payment rates down well below what private payers will be forced to pay. These kinds of arbitrary price controls always drive out willing suppliers of services. The chief actuary expects about 15 percent of the nation's hospitals would lose so much money from Medicare patients that they would have to drop out of the program. And yet the HHS "report" continues to argue that Obamacare will "strengthen" the program on behalf of beneficiaries.
Similarly, the HHS paper glosses over the deep reductions in the Medicare Advantage program (some $150 billion over ten years), arguing in Orwellian fashion that the Medicare Advantage cuts will somehow be good for seniors. As the chief actuary has noted, Obamacare will push millions of seniors out of the health insurance plans they voluntarily selected, and millions more will now pay hundreds if not thousands of dollars more for their health care every year as a result the new law's cuts.
The administration is clearly in full campaign mode now. Seniors are a critical voting bloc in an off-year election. Democrats have now targeted them with taxpayer-funded mailings that are blatantly deceptive, a taxpayer-funded television campaign featuring Andy Griffith that FactCheck.org has said uses "weasel words" to avoid telling the truth, and now a Medicare "report" that is a rehash of Team Obama's stale and discredited talking points. Unfortunately for the administration, no matter how much money they throw at the problem, it's unlikely to work. America's seniors have enough common sense to know that down is not up, and up is not down, no matter how many times the president says otherwise.
posted by James C. Capretta | 5:10 pm
Tags: Kathleen Sebelius, Medicare Board of Trustees, CBO, chief actuary, Medicare Advantage
File As: Health Care
The Obama administration continues to insist (see this post from White House Budget Director Peter Orszag) that the recently enacted health care law will reduce the federal budget deficit by $100 billion over ten years and by ten times that amount in the second decade of implementation. They cite the Congressional Budget Office's cost estimate for the final legislation to back their claims.
And it is undeniably true that CBO says the legislation, as written, would reduce the federal budget deficit by $124 billion over ten years from the health-related provisions of the new law.
But that's not whole story about Obamacare's budgetary implications — not by a long shot.
For starters, CBO is not the only game in town. In the executive branch, the chief actuary of the Medicare program is supposed to provide the official health care cost projections for the administration — at least he always has in the past. His cost estimate for the new health law differs in important ways from the one provided by CBO and calls into question every major contention the administration has advanced about the bill. The president says the legislation will slow the pace of rising costs; the actuary says it won't. The president says people will get to keep their job-based plans if they want to; the actuary says 14 million people will lose their employer coverage, many of whom would certainly rather keep it than switch into an untested program. The president says the new law will improve the budget outlook; in so many words, the chief actuary says, don't bet on it.
All of this helps explain why the president of the United States would be so sensitive about the release of the actuary's official report that he would dispatch political subordinates to undermine it with the media.
It's not the chief actuary's assignment to provide estimates of non-Medicare-related tax provisions, so his cost projections for Obamacare do not capture all of the needed budget data to estimate the full impact on the budget deficit. But it's possible to back into such a figure by using the Joint Tax Committee's estimates for the tax provisions missing from the chief actuary's report. When that is done, $50 billion of deficit reduction found in the CBO report is wiped out.
And that's before the other gimmicks, double counting, and hidden costs are exposed and removed from the accounting, too.
For instance, this week House and Senate Democratic leaders are rushing to approve a massive budget-busting tax-and-spending bill. Among its many provisions is a three-year Medicare "doc fix," which will effectively undo the scheduled 21 percent cut in Medicare physician fees set to go into effect in June. CBO says this version of the "doc fix" would add $65 billion to the budget deficit over ten years. The entire bill would pile another $134 billion onto the national debt over the next decade.
If the Obama administration gets its way, this three-year physician-fee fix will eventually get extended again, and also without offsets. Over a full ten-year period, an unfinanced "doc fix" would add $250 to $400 billion to the budget deficit, depending on design and who is doing the cost projection (CBO or the actuary).
Administration officials and their outside enthusiasts (see here) say the Democratic Congress shouldn't have to find offsets for the "doc fix" because everybody knows a fix needs to be enacted and therefore should go into the baseline. (By the way, the history of the sustainable growth rate [SGR] that Ezra Klein provides at the link above is a misleading one. The SGR was a replacement for a predecessor program that too had run off the rails — the so-called "Volume Performance Standard" enacted by a Democratic Congress in 1989.)
But supporting a "doc fix" is not the same as supporting an unfinanced one on a long-term or permanent basis. Not everybody in Congress is for running up more debt to pay for a permanent repeal of the scheduled fee cuts, which is why such a repeal has never been passed before. In the main, the previous administration and Congresses worked to find ways to prevent Medicare fee cuts while finding offsets to pay for it.
But that's not the policy of the Obama administration. The truth is the president and his allies in Congress worked overtime to pull together every Medicare cut they could find — nearly $500 billion in all over ten years — and put them into the health law to pay for the massive entitlement expansion they so coveted. They could have used those cuts to pay for the "doc fix" if they had wanted to, as well as for a slightly less expansive health program. But that's not what they did. That wasn't their priority. They chose instead to break their agenda into multiple bills, and "pay for" the massive health entitlement (on paper) while claiming they shouldn't have to find offsets for the "doc fix." But it doesn't matter to taxpayers if they enact their agenda in one, two, or ten pieces of legislation. The total cost is still the same. All of the supposed deficit reduction now claimed from the health law is more than wiped out by the Democrats' insistent march to borrow and spend for Medicare physician fees.
And the games don't end there. CBO's cost estimate assumes $70 billion in deficit reduction from the so-called "CLASS Act." This is the new voluntary long-term care insurance program which hitched a ride on Obamacare because it too created the illusion of deficit reduction. People who sign up for the insurance must pay premiums for at least five years before they are eligible to draw benefits. By definition, then, at start-up and for several years thereafter, there will be a surplus in the program as new entrants pay premiums and very few people draw benefits. That's the source of the $70 billion "savings." But the premiums collected in the program's early years will be needed very soon to pay actual claims. Not only that, but the new insurance program is so poorly designed it too will need a federal bailout. So this is far worse than a benign sleight of hand. The Democrats have created a budgetary monster even as they used misleading estimates to tout their budgetary virtue.
There is much more, of course. CBO's cost projections don't reflect the administrative costs required to micromanage the health system from the Department of Health and Human Services. The number of employers looking to dump their workers into subsidized insurance is almost certainly going to be much higher than either CBO or the chief actuary now projects. And the price inflation from the added demand of the newly entitled isn't factored into any of the official cost projections.
We've seen this movie before. When the government creates a new entitlement, politicians lowball the costs to get the law passed, and then blame someone else when program costs soar. Witness Massachusetts. Most Americans are sensible enough to know already that's what can be expected next with Obamacare.
posted by James C. Capretta | 6:45 pm
Tags: doc fix, CLASS Act, CBO, chief actuary
File As: Health Care
Yesterday, the chief actuary for Medicare released a memorandum providing cost estimates for the final health legislation passed by Congress and signed by the president.
Amazingly, the HHS Secretary tried to suggest that the memo confirms that the legislation will produce the favorable results that the legislation's backers have touted for months.
That's nothing but spin. In truth, the memo is another devastating indictment of the bill. It contradicts several key assertions by made by the bill's proponents, including the president.
For starters, the actuary says that the legislation will increase health care costs, not reduce them — by about $300 billion over a decade. Yes, that's over a very large base of spending (more than $35 trillion). But the president and his team have talked incessantly of painlessly cutting $700 billion or more of wasteful spending. Nothing in the bill comes close to making that happen. Overall health spending will continue to rise very rapidly after the bill is implemented.
The actuary also says that the financial incentives in the bill will lead many employers to stop offering coverage altogether. That means about 14 million people with job-based insurance today will lose it. Moreover, he estimates that the cuts in Medicare Advantage will reduce enrollment by 7 million people. So much for keeping the Democrats' other mantra of "keeping the coverage you have today."
The memo says the Medicare cuts will total nearly $600 billion through 2019, and that they will almost certainly jeopardize access to care for seniors by driving scores of institutions into financial distress.
Employers will pay taxes totaling $87 billion over a decade for not offering qualified coverage, and individuals who don't sign up with approved insurance will pay another $33 billion in fines over the same period.
The various taxes and fees on insurers and producers of drugs and devices will largely get passed on to consumers, says the memo. In other words, these taxes will hit the middle class hard and drive their premiums up, not down.
The actuary says the new long-term care insurance program created in the bill faces "a significant risk of failure" due to adverse selection — meaning that the program will attract the kind of enrollment that will require higher costs than can be covered by the premiums collected. That, however, did not stop the Democrats from double-counting the program's $70 billion in premiums as an offset for the massive health entitlement program. So not only did the bill use a budget gimmick to hide the costs of the health expansion, it also set taxpayers up for another bailout when the long-term care program runs aground.
By longstanding practice, the administration uses the health care cost estimates produced by the chief actuary when putting together the president's annual budget submission in February and an update in mid-summer.
But the estimates that the actuary has produced for the health bill so clearly contradict what the president has said the bill will do that the administration is in an awkward position, to say the least. So awkward in fact that the administration has stamped every memo put out by the actuary during the entire health debate with this disclaimer: "The statements, estimates, and other information provided in this memorandum are those of the Office of the Actuary and do not represent an official position of the Department of Health and Human Services or the Administration."
Which raises the question: If the actuary isn't producing the administration's health care cost projections, who is?
posted by James C. Capretta | 8:00 pm
Tags: chief actuary, costs, adverse selection, spin
File As: Health Care
Congressman Paul Ryan's systematic dismantling of the argument that Obamacare would cut the budget deficit, delivered at the Blair House "summit" meeting, has gotten a lot of attention in recent days, and deservedly so. The Wall Street Journal ran the full text of his presentation on its opinion page yesterday and amplified his arguments in an editorial of its own. At Blair House, neither the president nor any other Democrat present offered a direct rebuttal to Ryan's critique. The president chose to change the subject instead.
This week, however, top administration officials have come forward with a belated defense — of sorts.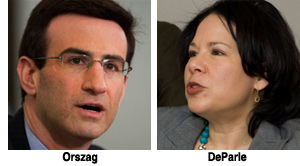 First, OMB Director Peter Orszag penned a blog post taking issue with one of Ryan's points, namely that the plan relies on ten years of offsets to pay for only six years of spending. And today, Orszag and White House Health Reform Czar Nancy-Ann DeParle have an op-ed in the Washington Post that expands upon Orszag's post.
Orszag and DeParle start by agreeing with Ryan that delaying the start date of an entitlement expansion is a tried-and-true budget gimmick, designed to push the full cost of the additional spending outside of the "budget window" covered by a cost estimate.
But, not to worry, they say. In this instance, it's not a gimmick because the deficit reduction from their plan just keeps growing over time. They claim the president's health plan would produce deficit reduction of $100 billion over ten years and $1 trillion in the second decade.
Of course, there's another reason besides balancing revenue and spending to push the start of an entitlement back, and that's to make the ten-year cost look much smaller than it really is. Recall that the president promised in his address to Congress last September to deliver a bill that costs only "$900 billion" over a decade. The new entitlements the Democrats want to create would cost much, much more than $90 billion per year. In fact, the Congressional Budget Office (CBO) says they will cost about $200 billion per year by 2019. And so, to get the media to now say his plan costs only "$1 trillion" (what's $100 billion among friends!), the administration delays the coverage expansion provisions until 2014. Never mind that the president also says the uninsured can't wait a day longer for the legislation. Once enacted, he would make them wait — for four years.
As Ryan noted, however, once the program did get up and running, costs would soar. The Senate Budget Committee Republican staff estimates the Senate bill's cost at $2.3 trillion over ten years when fully implemented.
In their Post op-ed, Orszag and DeParle do not even attempt to address the many other points Ryan made which expose the dubious assumptions and sleight of hand behind their deficit-cutting claims.
For instance, the health reform bill is filled to the brim with Medicare changes, but the one Medicare provision the president and the Democrats want to pass separately from the health bill is the so-called "doc fix," which would repeal a cut in Medicare physician fees at a cost of $371 billion over ten years. Of course, splitting their agenda into two or three bills doesn't change the total cost. When the "doc fix" is properly included in a tally of what the president is pushing, all of the supposed deficit reduction vanishes.
Then there's the double-counting that Ryan exposed. The president's plan starts up yet another entitlement program, providing long-term care insurance. Enrollees have to pay premiums for a number of years before they qualify for any benefits. Consequently, at startup, there's a surplus of premium collections — $73 billion over ten years, according to CBO — because no one qualifies for the benefits yet. The president and his team count these savings against the cost of health reform — even though the money will be needed later to pay out long-term care insurance claims. When this gimmick is taken out of the accounting, the president's health proposal goes even deeper into the red.
Over the long-run, the administration's claim of large-scale deficit reduction hinges on the dubious assumption that future elected officials will demonstrate more political courage than those in office today.
For most of last year, the president said that he would "bend the cost-curve" in large part by imposing a new tax on "high-cost" insurance plans. The tax would hit more and more middle class beneficiaries each year because the threshold for determining what constitutes a "high cost" plan would grow much more slowly than medical costs. In fact, after a number of years, virtually all Americans would be in plans at or above the "high-cost" threshold.
House Democrats and their union allies despise this tax. Last week, the president caved in to their pressure and pushed the start date of the tax back to 2018, well past the point when he will have left office. Even so, Orszag and DeParle still claim credit for the massive revenue hike that would occur in a second decade of implementation. They want us to believe we can finance a permanent, expensive, and rapidly growing new entitlement program with a tax the president himself was never willing to collect.
In Medicare, Orszag and DeParle like to highlight so-called "delivery system reforms" the administration has touted. In the main, these are extremely small-scale initiatives and pilot programs. CBO says they will amount to virtually no savings. The big Medicare cuts in the president's plan come from across-the-board payment-rate reductions. In particular, the president wants to cut the inflation update for hospitals, nursing homes, and others by half a percentage point every year, in perpetuity. On paper, this change produces huge long-run savings. But it does nothing to control the underlying cost of treating patients. It just pays everyone less, without regard to patient need or quality of care. The chief actuary of the program has said repeatedly that these cuts are completely unrealistic for these very reasons. If implemented, he expects they would drive one in five facilities into serious financial distress. And yet Orszag and DeParle want us to believe these savings can be counted to finance the president's massive entitlement promises.
And massive they are. CBO says the coverage expansion provisions in the Senate-passed bill would cost about $200 billion by 2019, and that cost would rise 8 percent every year thereafter.
But even these estimates understate the true cost of Obamacare. The president's plan, like the House and Senate bills, would extend generous new insurance subsidies to low- and moderate-wage workers getting insurance through the new "exchanges." Workers in job-based plans would get no additional help. That means two workers with identical incomes would be treated very differently. Gene Steuerle of the Urban Institute has estimated that, in 2016, a worker with job-based coverage and a $60,000 income would get $4,500 less than someone with the same income but health insurance through the exchange. This kind of inequitable treatment would never last: one way or another, the entitlement would get extended to everyone in the targeted income range, sending the overall costs of the program soaring.
The president started off last year by saying he wanted to "bend the cost-curve" even as he broadened coverage. But after a year of partisan political and legislative maneuvering, all that's left is a massive entitlement expansion. The new costs would get piled on top of the unreformed and unaffordable entitlements already on the books. It's a budgetary disaster in the making.
posted by James C. Capretta | 4:03 pm
Tags: Peter Orszag, Nancy-Ann Deparle, CBO, OMB, Obamacare, White House plan, White House summit, budget, chief actuary
File As: Health Care
The president is trying to make it seem like the only cuts in the Medicare program he is advocating are for Medicare Advantage (MA) plans. That's demonstrably not true. The chief actuary has raised concerns about the payment-rate reductions that the Democrats are pushing for hospitals in the traditional program. He believes those cuts will harm access to care. That's one of the points Congressman Paul Ryan made earlier.
Regarding Medicare Advantage, there were several assertions made by the president that also are not true. First, MA enrollees tend to have lower income than the average Medicare beneficiary. Second, the cuts will come right out of benefits. That's why seniors sign up with the MA plans — to get better benefits that the president would take away.
Here's what Republicans should say: The president says he want to save money in Medicare Advantage with competitive bidding. But he would leave the traditional program out of the bidding. That's a one-sided proposal. If he wants competitive bidding, Republicans should say, "Fine." But it has to include the entire program. And then watch how fast the Democrats run away from the idea.
posted by James C. Capretta | 3:39 pm
Tags: Medicare Advantage, chief actuary, Medicare, White House plan
File As: Health Care