CLASS Act
Ever since the Obama administration announced last Friday — in the late afternoon — that it was "suspending" implementation of the CLASS (Community Living Services and Supports) Act, Obamacare's apologists have been twisting themselves into knots to explain away this embarrassing episode as no big deal.
Leading the way has been Washington Post blogger Ezra Klein. In his account of CLASS's demise, Klein suggests that the voluntary long-term-care-insurance program ended up in Obamacare pretty much by happenstance, and certainly through no fault of any living Democrat (he points the finger mainly at the late Sen. Ted Kennedy). Klein says the Obama White House was actually publicly cool to the program — and privately hostile. Indeed, according to Klein, the most important reason the program stayed in the final bill was Republican senator Judd Gregg's amendment, offered in committee, which required the Secretary of HHS to certify that the program could be financed on a self-sustaining basis from participant premiums before it could be launched. Once that amendment was adopted, the budgetary arguments that had been raised against CLASS had been addressed, and then inertia and an unwillingness to undo Senator Kennedy's final legislative initiative led to its eventual enactment.
Klein also suggests that last week's White House decision to suspend CLASS implementation is not evidence of failure. Rather, it's a sign of fiscal sobriety and an unyielding commitment to implementing only what works, and not what doesn't.
Finally, with regard to the Congressional Budget Office, which estimated in March 2010 that CLASS would produce a $70 billion surplus over the first ten years of Obamacare, Klein again sees no reason for finding fault. Yes, CBO said there would be a short-term surplus from CLASS, but they said all along that there would be long-term deficits from the program too, which the administration has now confirmed. Therefore, Klein concludes, CBO was essentially right about CLASS all along, and the rest of its Obamacare estimate can be trusted to be accurate as well.
Based on Klein's account of what transpired, one might be tempted to hold up the whole CLASS episode not as a failure, but as a perfect example of good liberal governance. Certainly the New York Times sees it that way. This week, the editors praised the administration for its "wise" but difficult decision to kill the program.
And yet, it's hard to shake that nagging feeling that Klein and the New York Times haven't quite gotten this story right. And why is that?
Perhaps it's because there was never any shred of evidence that CLASS could ever be made sustainable. Not before enactment, and not since. Indeed, any fair reading of the analyses that were done on the concept prior to its passage would conclude that CLASS was hopeless. And it wasn't a close call. The program was so far from being actuarially sound that it could never be fixed without fundamentally changing how it worked. It is simply not possible to pay a pay-as-you-go long-term-care benefit to the disabled unless millions upon millions of healthy Americans are forced to pay premiums somewhere in the range of $100 to $200 monthly — for a benefit none of them really wants. There was no way the Obama administration was ever going to propose this, because to do so would have been political suicide.
And so, instead, it chose to pretend that a solution might be out there, somewhere, despite all evidence to the contrary.
This was rather convenient for the White House because, as it happened, the $70 billion in supposed CLASS Act "surplus" was just what the doctor ordered for making the deceptive argument that Obamacare was good, not bad, for the federal budget. More than half of the deficit reduction claimed for the final bill came from those bogus CLASS savings. That turned out to be key in convincing the final wavering Democrats to vote yes on the legislation.
CLASS's enactment was no accident of a chaotic and uncontrolled legislative process. It was a deliberate and cynical ploy to put a phony veneer of fiscal restraint on top of a massive tax-and-spend program. The administration and its allies certainly knew all along that a day of reckoning would come. But they didn't care; they staked so much on the passage of Obamacare that they had a win-at-any-cost mentality. And now that they have admitted that tens of billions of dollars in deficit reduction that they promised will never materialize, they aren't the least bit apologetic.
What remains most perplexing in this whole episode is why CBO played along with the CLASS charade. They had access to all of the same actuarial data as everyone else. Their own numbers showed the program was unstable beyond ten years. The Gregg amendment gave them the perfect excuse to conclude that CLASS would never be launched because it could never be viable without massive taxpayer subsidies. And yet they kept showing the $70 billion ten-year surplus in their estimate.
Among the many questions about this sorry episode that are worth pursuing, the role of CBO is surely one.
[Cross-posted at National Review Online.]
posted by James C. Capretta | 3:38 pm
Tags: CLASS Act
File As: Health Care
Those who conducted the campaign to force Obamacare through Congress in 2009 and 2010 made a whole series of fraudulent arguments. "You can keep the plan you have today if you like it." "Premiums will go down, not up — by $2,500 per year for those with existing coverage." "We can cover 32 million people with heavily subsidized and expansive third-party insurance, and it won't cost the American people anything." "The only people who will pay the $800 billion of Obamacare's new taxes over the next decade are the rich."
All of that is plainly false, of course, and most Americans know it, which is one reason the November 2010 election turned out the way it did.
But of all the deceptive arguments and tactics Obamacare's apologists employed to jam their government takeover of health care through Congress, none was more egregious than the CLASS Act fraud.
CLASS — for Community Living Assistance Services and Supports Act — was one of the late Senator Ted Kennedy's pet projects. It was sold as a miraculous twofer: the new program would provide both a self-financing, voluntary long-term care insurance program for those needing continuous assistance with daily living, and it would reduce the deficit to boot! What's not to like?
Indeed, of the supposed $210 billion in deficit reduction over ten years that the Congressional Budget Office assigns to Obamacare, $86 billion is expected to come from CLASS Act operations.
But it's all a dangerous and cynical game. CLASS is expected by CBO to produce deficit reduction over the next ten years only because the program's rules require participants to pay premiums for five years before they become eligible for benefits. So, at start up, there is the illusion of a "surplus" as participants begin paying premiums but very few of them qualify for any benefits. But, very quickly, those "excess" premiums will be needed to liquidate the entitlement obligations that participants will be earning. It's another example of Obamacare's shameless double-counting.
What's worse, the CLASS Act is a ticking entitlement time-bomb. Every expert who has looked at it — see here — reaches the same conclusion: it's a poorly designed and ill-advised program that will suffer from severe adverse selection. Because it is voluntary, it will mainly attract enrollees who are at a higher risk of actually needing the benefit. Consequently, the premiums will need to be set very high, which will only make it even less attractive to healthy workers who generally aren't that interested in long-term care insurance anyway.
Very quickly after the first decade, CLASS's finances will become untenable. The premiums, though very high, will still be insufficient to cover all of the entitlement benefits earned and expected by participants. As the program rushes toward insolvency, the only options will be to cut promised benefits, raise premiums even more, or — surprise! — bail the program out with taxpayer subsidies. So, far from being a program that eases budgetary pressure, CLASS is actually a perfect example of all that is wrong in federal budgeting. It was sold under false pretenses as short-term deficit reduction when, in reality, it puts American taxpayers at great risk of another expensive bailout.
Stunningly, the Obama administration, after spending months defending CLASS's virtues, now says it agrees with the program's critics. How convenient. Now that it has served its main purpose, which was to create the false impression of deficit reduction from Obamacare, the administration is willing to "pivot" — in that all-too-familiar Washington way — and pretend that they have just now discovered the program's flaws.
This is absurd. The Obama administration and its congressional allies knew all along that CLASS was an ill-advised risk to taxpayers. But they defended it every step of the way during legislative consideration in Congress because of the convenient and deceptive "score" it produced from CBO.
Now, Health and Human Services Secretary Kathleen Sebelius says she has the administrative flexibility to essentially rewrite the program herself from scratch, with no input or changes necessary from lawmakers. This too is absurd. Her lawyers no doubt have an expansive view of her discretion. But they are between a rock and hard place here. The only way CLASS works is if millions of healthy workers sign up for a program (though it will almost surely be a bad deal for them) even as sick workers who are likely to benefit are screened and kept out.
In one more sign of their shamelessness, the administration wants funding to conduct an "education campaign" to browbeat reluctant workers into signing up for a voluntary program that should never get off the ground.
The most serious threat to the nation's long-term prosperity is runaway federal entitlement spending, and the CLASS Act is the perfect example of how not to go about starting and running a federal entitlement program. And yet the Obama administration is doing whatever it can to salvage it. It's yet another example of the president's complete detachment from budgetary reality.
posted by James C. Capretta | 4:30 pm
Tags: CLASS Act, Obamacare, CBO, Kathleen Sebelius
File As: Health Care
[NOTE: Last week, on January 26, 2011, I testified before the U.S. House Committee on the Budget in a hearing on the new health care law. Anyone interested in watching the hearing can find video here courtesy of C-SPAN; my testimony starts around 56 minutes in. The complete text of my testimony as prepared appears below.]
Mr. Chairman, Mr. Van Hollen, and members of the Committee, thank you for the opportunity to participate in this very important hearing on the fiscal consequences of the health care law.
The most serious threat to the nation's long-term prosperity is projected large fiscal deficits over the years and decades ahead. And the main reason the nation's budget deficits are expected to remain at dangerously high levels for the foreseeable future is because of the rapid growth of entitlement spending.
Importantly, entitlement spending was a problem even before the enactment of the Patient Protection and Affordable Care Act (PPACA). In 1975, the combined cost of Social Security, Medicare, and Medicaid was 5.4 percent of GDP. In 2009, these entitlement programs cost 10.1 percent of GDP.
That jump in spending — 4.7 percent of GDP — is the main reason it is so difficult to bring the nation's budget closer to sustainable fiscal balance. Every year, we are spending more and more to fulfill entitlement promises made years and decades ago, leaving less and less to finance other priorities, even as the growing levels of entitlement spending puts enormous pressure on taxpayers.
And we haven't even hit the really rough patch yet. Over the coming two decades, the United States will undergo an unprecedented demographic transformation, as the baby boom generation moves from its working years into retirement. The number of Americans age 65 and older will rise from 41 million in 2010 to 71 million in 2030. As these baby boomers enroll in Social Security and Medicare, costs will soar.
We were therefore already racing toward a budget and entitlement crisis before the health care law was considered and passed. Indeed, for the proponents of the legislation, that became a primary argument for its enactment. The president argued that his health care plan would begin to address the entitlement problem, at least from the perspective of the health programs. "Health reform is entitlement reform" was the catch-phrase.
But is that really the case? Did the new health care law ease the entitlement and budget crisis, or did it make matters even worse? That is the crucial question, and this Committee should be commended for taking it up as one of the first items for discussion in this new Congress. I believe the evidence is overwhelming that the new law will make matters not better, but far worse.
The most noteworthy characteristic of the new law is that it is the largest entitlement expansion since the 1960s. So, at a time when the federal budget is already buckling under the weight of existing entitlement programs, the new law stands up three new ones which will enroll tens of millions of Americans into taxpayer-financed programs promising permanent access to uncapped benefits. Moreover, spending on these new entitlements is expected to grow at rates that are above the level of growth of the economy or general inflation.
How then does a new law which increases spending by nearly $1 trillion over the period 2010 to 2019 reduce the federal deficit (by about $130 billion over ten years according to the Congressional Budget Office and by a modest amount in the decade after that)? The only way is by raising taxes and cutting spending by amounts in excess of the new spending commitments. According CBO's estimate of the final legislation, spending reductions will bring the net increase in spending down to about $430 billion over the next decade. The tax hike to pay for this spending will total about $560 billion over the same period.
Thus, although the legislation has often been described by proponents as a deficit reduction measure, it might be more accurate to say that it is a very large spending bill, offset, at least on paper, by even larger tax increases.
But even these numbers do not tell the whole story. It is also important to look carefully at the assumptions underlying these estimates to determine if the promised deficit reduction will occur in reality, or just on paper. There are a number of reasons to be very skeptical in this regard.
The CLASS Act
The argument that the new law reduces the federal budget deficit over the coming decade rests in large part on the supposed deficit reduction from the creation of the Community Living Assistance Services and Supports Act, or CLASS Act, which is a new long-term care insurance entitlement program. CBO's estimate assumes that $70 billion in supposed deficit reduction through 2019 is to come from the CLASS Act.
But, in truth, the CLASS Act is another budgetary time-bomb waiting to explode, not a solution that produces deficit reduction. In the short term, because the program is brand new and no one is eligible for benefits until they have paid in for five years, premiums are collected and no benefits are paid — producing what appears to be a temporary surplus. But beyond the visible ten-year window, those premiums are needed to pay long-term care insurance claims.
Moreover, every actuarial analysis done on the program indicates it will suffer from severe adverse selection. That is, it will attract mainly enrollees who expect to need the benefit. The result is that individual premiums are likely to be quite high because too few healthy workers will enroll. Overall premiums will fall well short of what is needed to cover the implicit benefit promises. Pressure will then build for a future taxpayer bailout to avoid imposing cuts on the vulnerable citizens who elected to enroll and pay premiums. In short, this program is not going to solve our entitlement crisis. Indeed, it is a perfect illustration of why federal entitlement spending is our central budgetary problem.
Disequilibrium in Federal Insurance Subsidies
The new law promises members of households with incomes between 135 and 400 percent of the federal poverty line new premium subsidies if they get their coverage through the new state-run "exchanges." Census data show that today there are about 111 million Americans under the age of 65 who are living in households with incomes in that range. But CBO estimates that only 19 million people will be getting the new premium assistance in 2019. They assume the other 90 million Americans will stay in job-based plans.
If that were really to happen, it would be terribly unfair. As Stephanie Rennane and Eugene Steuerle of the Urban Institute have documented, the new premium subsidies in the exchanges are worth far more to low- and moderate-wage workers than today's federal tax preference for employer-paid premiums (see Chart 1). For instance, a household of four with compensation of $60,000 in 2016 would get $3,500 more in government assistance if they moved from employer coverage to an exchange. The extra subsidies would be even more for lower wage workers.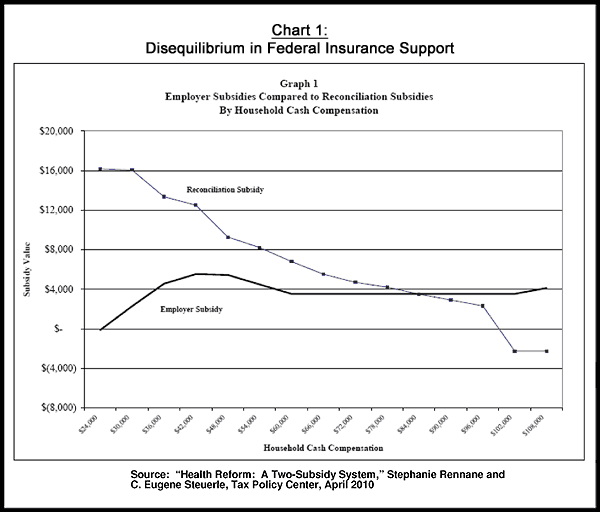 The new law thus sets up a situation where two families with identical compensation totals from their employers can get very different levels of federal support depending on where they get their insurance.
In my judgment, that's not likely to be a politically stable situation. Pressure will build on elected leaders to treat every American equally. That is likely to lead to regulatory and legislative decisions making it easier for workers now in job-based plans to migrate to the exchanges.
Over time, what is likely to happen is that those who would be better off in the exchanges will end up there, one way or another, even as higher wage workers retain the tax advantage for job-based coverage. As the labor market segregates, costs will soar well above the $1 trillion in new spending over ten years currently projected for the law.
AMT-Like Bracket Creep
The new law relies heavily on tax increases to cover the new entitlement spending. According to CBO's latest long-term budget projections, by 2035, the tax increases in the new law will collect revenue equal to 1.2 percent of GDP, which is very substantial. In today's terms, that's a $180 billion tax increase, every year.
How can that be, given that the tax hikes do not go nearly that high in the first decade? The answer is AMT-like bracket creep. The new tax on high-cost insurance plans, sometimes called the "Cadillac" tax, applies to policies with premiums for families above $27,500 in 2018. That threshold will only grow with general consumer inflation in 2020 and beyond, not growth of health costs. Thus, by 2030, the tax will be binding on many millions of Americans' insurance plans.
Similarly, the new Medicare taxes on wages and other sources of income apply only to individuals with incomes above $200,000 per year beginning in 2013 ($250,000 for couples). But those income thresholds are fixed; they won't rise with inflation at all. In very short order, that means these taxes will begin hitting middle-class Americans with massive tax hikes. By 2030, inflation will have eroded the $200,000 threshold so that it is the equivalent of $130,000 today (assuming 2.5 percent annual inflation).
The Medicare Payment Rate Reductions
The largest spending reduction in Medicare comes from automatic reductions in the inflation updates for hospitals and other institutional providers of care. The notional rationale is that these cuts represent productivity improvement in the various institutions getting Medicare payments. The reductions, amounting to a 0.4-0.5 percentage point reduction off the normal inflation update for Medicare payments, will occur every year, in perpetuity. The compounding effect of doing this on a permanent basis would be massive savings in Medicare — if they really were implemented. CBO says the cuts will generate $156 billion over the first decade alone.
But there are strong reasons to suspect these cuts will not be sustained. Medicare's actuarial team, led by Richard Foster, has warned repeatedly that these cuts are not viable over the medium and long-term because they would jeopardize access to care for seniors. The cuts would push average Medicare payments to levels that are below what Medicaid is expected to pay, and the network of providers willing to take care of Medicaid patients is notoriously constrained. It is hard to imagine political leaders allowing Medicare to become less attractive to those providing services than Medicaid is today.
It's worth noting here that these cuts in payment rates do not constitute "delivery system reform," which the administration has often stated is what it is trying to achieve with the Medicare changes in the new law. These cuts in inflation updates will hit every institution equally, without regard to whether or not the institution is treating its patients well or badly. The savings that are expected from other reforms, such as Accountable Care Organizations, are minor by comparison.
The Budgetary Effect of Tax Hikes and Medicare Cuts in a Second Decade
The administration and others have noted frequently that CBO's cost estimate indicates the possibility of modest deficit reduction in the second decade after 2019 (although CBO notes that such an estimate carries more uncertainty than its ten-year projections). But the expectation of long-term deficit reduction is entirely dependent on huge spending reductions from the Medicare inflation cuts and from more and more middle-class Americans paying higher taxes under the new law's tax provisions.
As shown in Chart 2, the tax hikes from the new law plus the savings from the "productivity adjustment" in Medicare would generate about $180 billion in "offsets" in 2020. By 2030, the spending cuts and tax hikes from these provisions will have more than tripled, to over $600 billion. If these taxes and spending cuts do not materialize, the new law will be a budget-buster of significant proportions.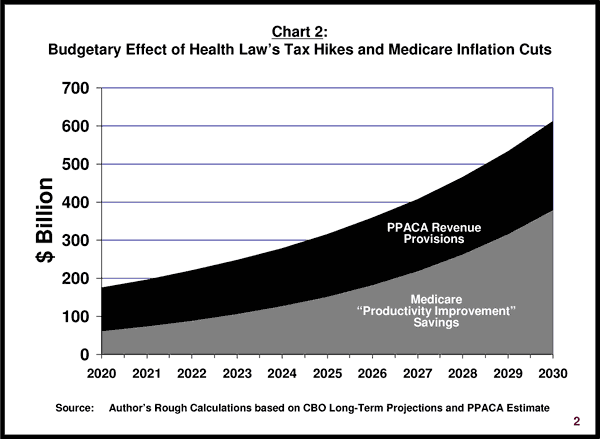 Debt Subject to Limit
Both CBO and the Medicare actuaries have both noted that the Medicare cuts and payroll tax hikes which are supposed to improve the solvency of the Medicare hospital trust fund in the new law can only be counted once, not twice. Here is how CBO put it in a Director's blog post from December 2009:
"To describe the full amount of HI trust fund savings as both improving the government's ability to pay future Medicare benefits and financing new spending outside of Medicare would essentially double-count a large share of those savings and thus overstate the improvement in the government's fiscal position."
In other words, these taxes and cuts in Medicare either improve the government's ability to pay future Medicare claims, or they pay for a new entitlement program — but not both.
One way to see that clearly is by looking at the impact of the health care law on debt subject to limit. According to CBO, the new law will increase that debt, by about $230 billion over the coming decade, because the Medicare tax hikes and spending cuts are double-counted instead of devoted to deficit reduction.
Conclusion
Mr. Chairman, you and your colleagues on this committee face a daunting challenge. The nation is rushing rapidly toward a fiscal crisis, driven by excessive borrowing and debt. Even before the health law was enacted, it was necessary to reform the nation's entitlement programs to bring spending commitments more in line with what the country can afford. Now, with enactment of the health law, the climb to a balanced budget got much steeper.
The solution is to start by unwinding what was just passed and replacing it with a program that constitutes genuine entitlement reform.
posted by James C. Capretta | 1:44 pm
Tags: Paul Ryan, House Budget Committee, Obamacare, CLASS Act, payment-rate reductions, CBO
File As: Health Care
During the yearlong debate over Obamacare, the law's apologists returned over and over again to the supposed fiscal benefits flowing from its provisions as a top selling point. Pass Obamacare, they said, and we'll have health insurance for everyone, painless cost-cutting to slow rising premiums, and deficit reduction to boot. Its win, win, win!
No one believed them, of course. The claim of deficit reduction may have provided a fig leaf to allow some wavering congressional Democrats to vote yes, but it didn't convince a skeptical electorate. Most Americans have too much common sense to buy the argument that what the nation needs to get its fiscal house in order is a new trillion-dollar-plus entitlement program, piled on top of the unaffordable ones already on the books.
Sure, on paper the Democrats might be able assemble "offsets" to make it look like the program was "paid for." But even a casual review of the legislation and associated analyses reveals what most people intuitively know to be the case: that Obamacare combines dead-certain entitlement expansion (for at least 30 million people, and probably many millions more) with budgetary sleight of hand and "pay fors" that are either phony or altogether implausible.
Nonetheless, as the House readies a repeal vote for this week, Obamacare enthusiasts are back at it again, claiming once again that Obamacare supporters are practitioners of fiscal discipline, while those who want to undo the largest expansion of government in nearly half a century are the budget busters.
To be sure, it's a tough sell, but Paul Krugman of the New York Times is eager to give it a try nonetheless. He claimed in his Sunday column that the Republican contention that Obamacare is a budgetary disaster amounts to a "war on logic."
But Krugman's attack is itself illogical, and inaccurate too. He focuses most of his attention on the so-called "doc fix," which is the periodic legislation passed by Congress to prevent deep and unrealistic cuts in what Medicare pays for physician services. Republicans have argued, accurately, that the accounting for Obamacare omits the "doc fix" spending, and that if it were included, the supposed deficit reduction from Obamacare would vanish altogether, even before the other gimmicks and implausible assumptions were exposed and removed.
Krugman contends that this Republican argument is illogical because, in effect, the real "baseline" of federal spending already includes higher physician fees. With or without Obamacare, Congress is going to spend more on physicians, Krugman suggests, therefore Obamacare shouldn't get charged for it.
But that's not what's really going on here. If Krugman's analysis were accurate, why does Congress go through the annual agony of a "doc fix" at all? Why haven't they just passed a permanent solution already and gotten it over with?
The answer is that, while Congress doesn't want to cut physician fees, it hasn't wanted to pile the costs onto the national debt either. What has held back a permanent solution is the inability to find $200–$300 billion in acceptable "offsets" to make sure a permanent fix doesn't add to the deficit.
When President Obama assumed office, he wanted his health bill and a permanent "doc fix" too, but he didn't have enough flimsy offsets to grease the way for them both. So he came up with a new "solution": use the offsets to pave the way for Obamacare's spending, and exempt the "doc fix" from the need for offsets at all. This would create the perception of "deficit reduction" from Obamacare even as an unfinanced "doc fix" ran up the deficit by an even larger amount.
At the end of the day, even some Senate Democrats balked at this shameless sleight of hand and blocked the effort to pass an unfinanced and permanent "doc fix." But the issue remains very much unresolved, and the administration has yet to disavow their push from last year to pay higher physician fees with borrowed money.
Krugman also seems completely unaware that the Medicare cuts that are supposed to pay for Obamacare's entitlement spending are of the same type as the physician-fee cuts he now wants to assume away. They are arbitrary and unrealistic too, so much so that the chief actuary for Medicare considers them entirely implausible. He projects that if Obamacare's Medicare cuts were allowed to remain in effect for long, Medicare's payment rates would fall below those of Medicaid, which are so low that Medicaid patients often have trouble accessing care. And yet Obamacare's apologists want us to believe we can safely erect a massive new entitlement based on the assumption of future savings from these cuts.
In truth, the Krugman critique doesn't lay a glove on the Republican argument. He doesn't even try to defend the CLASS Act, another new entitlement for long-term care. As a start-up program, CLASS collects $70 billion in front-loaded premiums during its first decade. Krugman and others want to count this money toward Obamacare, even though every analysis available shows CLASS will itself need a bailout when its costs balloon beyond ten years. And then there's the so-called "Cadillac" tax that starts in 2018. The tax is so unpopular with Democratic constituencies that President Obama was never willing to collect it himself (if reelected, he will leave office no later than January 2017). But Obamacare's defenders argue this tax can be counted on to produce trillions in new revenue beyond 2020.
If liberals and Democrats want to make the fight over Obamacare about taxes, spending, and the budget deficit, Republicans should allow them to do so. The public has already taken sides in this fight. Taxpaying Americans are never going to be convinced that the government has found a way to give away new benefits to millions of people, with no cost to them or anyone else.
[Cross-posted at Critical Condition]
posted by James C. Capretta | 1:56 pm
Tags: Medicare, doc fix, Paul Krugman, CLASS Act
File As: Health Care
Recently, I co-authored a paper for the Heritage Foundation with Brian Riedl on the Community Living Assistance Service and Supports Act, or CLASS Act. The CLASS Act is a voluntary long-term care insurance program that hitched a ride on Obamacare. Here's an excerpt from our Heritage paper:
...The Obama Administration and Congress chose to attach the CLASS Act to the broader health legislation for one reason only: It made the budget numbers look better on paper.

Budget gimmicks are sometimes relatively benign and inconsequential accounting tricks, but not so in this case. The CLASS Act hitched a ride on the health law to help hide the near-term budgetary costs of a major Medicaid expansion and a new subsidy program for health insurance. But in so doing, Congress created another ticking entitlement time bomb that is certain to explode on future taxpayers if not defused sooner rather than later.
The full paper is available online here, and a pdf version of it is available here.
posted by James C. Capretta | 12:25 pm
Tags: Brian Riedl, CLASS Act
I have a column up at Heritage.org today on the health care reform law's supposed budget pressure reduction:
The President and congressional leaders have argued that a primary benefit from the health law will be reduced long-term budget pressure and thus a brighter future for coming generations of taxpayers. But when the cost estimate is adjusted for omissions, gimmicks, double-counting, and unrealistic assumptions, it is clear that the new health law will increase the burden, not lessen it.

One recent estimate projects the bill will add more than $500 billion to the deficit over the next 10 years and $1.5 trillion in the decade following. And any cost-cutting that does occur under the new law will come in the form of arbitrary governmental controls that will put up barriers to care in future years.
Read the whole thing here.
posted by James C. Capretta | 3:02 pm
Tags: Medicare, doc fix, CLASS Act
File As: Health Care
The Obama administration continues to insist (see this post from White House Budget Director Peter Orszag) that the recently enacted health care law will reduce the federal budget deficit by $100 billion over ten years and by ten times that amount in the second decade of implementation. They cite the Congressional Budget Office's cost estimate for the final legislation to back their claims.
And it is undeniably true that CBO says the legislation, as written, would reduce the federal budget deficit by $124 billion over ten years from the health-related provisions of the new law.
But that's not whole story about Obamacare's budgetary implications — not by a long shot.
For starters, CBO is not the only game in town. In the executive branch, the chief actuary of the Medicare program is supposed to provide the official health care cost projections for the administration — at least he always has in the past. His cost estimate for the new health law differs in important ways from the one provided by CBO and calls into question every major contention the administration has advanced about the bill. The president says the legislation will slow the pace of rising costs; the actuary says it won't. The president says people will get to keep their job-based plans if they want to; the actuary says 14 million people will lose their employer coverage, many of whom would certainly rather keep it than switch into an untested program. The president says the new law will improve the budget outlook; in so many words, the chief actuary says, don't bet on it.
All of this helps explain why the president of the United States would be so sensitive about the release of the actuary's official report that he would dispatch political subordinates to undermine it with the media.
It's not the chief actuary's assignment to provide estimates of non-Medicare-related tax provisions, so his cost projections for Obamacare do not capture all of the needed budget data to estimate the full impact on the budget deficit. But it's possible to back into such a figure by using the Joint Tax Committee's estimates for the tax provisions missing from the chief actuary's report. When that is done, $50 billion of deficit reduction found in the CBO report is wiped out.
And that's before the other gimmicks, double counting, and hidden costs are exposed and removed from the accounting, too.
For instance, this week House and Senate Democratic leaders are rushing to approve a massive budget-busting tax-and-spending bill. Among its many provisions is a three-year Medicare "doc fix," which will effectively undo the scheduled 21 percent cut in Medicare physician fees set to go into effect in June. CBO says this version of the "doc fix" would add $65 billion to the budget deficit over ten years. The entire bill would pile another $134 billion onto the national debt over the next decade.
If the Obama administration gets its way, this three-year physician-fee fix will eventually get extended again, and also without offsets. Over a full ten-year period, an unfinanced "doc fix" would add $250 to $400 billion to the budget deficit, depending on design and who is doing the cost projection (CBO or the actuary).
Administration officials and their outside enthusiasts (see here) say the Democratic Congress shouldn't have to find offsets for the "doc fix" because everybody knows a fix needs to be enacted and therefore should go into the baseline. (By the way, the history of the sustainable growth rate [SGR] that Ezra Klein provides at the link above is a misleading one. The SGR was a replacement for a predecessor program that too had run off the rails — the so-called "Volume Performance Standard" enacted by a Democratic Congress in 1989.)
But supporting a "doc fix" is not the same as supporting an unfinanced one on a long-term or permanent basis. Not everybody in Congress is for running up more debt to pay for a permanent repeal of the scheduled fee cuts, which is why such a repeal has never been passed before. In the main, the previous administration and Congresses worked to find ways to prevent Medicare fee cuts while finding offsets to pay for it.
But that's not the policy of the Obama administration. The truth is the president and his allies in Congress worked overtime to pull together every Medicare cut they could find — nearly $500 billion in all over ten years — and put them into the health law to pay for the massive entitlement expansion they so coveted. They could have used those cuts to pay for the "doc fix" if they had wanted to, as well as for a slightly less expansive health program. But that's not what they did. That wasn't their priority. They chose instead to break their agenda into multiple bills, and "pay for" the massive health entitlement (on paper) while claiming they shouldn't have to find offsets for the "doc fix." But it doesn't matter to taxpayers if they enact their agenda in one, two, or ten pieces of legislation. The total cost is still the same. All of the supposed deficit reduction now claimed from the health law is more than wiped out by the Democrats' insistent march to borrow and spend for Medicare physician fees.
And the games don't end there. CBO's cost estimate assumes $70 billion in deficit reduction from the so-called "CLASS Act." This is the new voluntary long-term care insurance program which hitched a ride on Obamacare because it too created the illusion of deficit reduction. People who sign up for the insurance must pay premiums for at least five years before they are eligible to draw benefits. By definition, then, at start-up and for several years thereafter, there will be a surplus in the program as new entrants pay premiums and very few people draw benefits. That's the source of the $70 billion "savings." But the premiums collected in the program's early years will be needed very soon to pay actual claims. Not only that, but the new insurance program is so poorly designed it too will need a federal bailout. So this is far worse than a benign sleight of hand. The Democrats have created a budgetary monster even as they used misleading estimates to tout their budgetary virtue.
There is much more, of course. CBO's cost projections don't reflect the administrative costs required to micromanage the health system from the Department of Health and Human Services. The number of employers looking to dump their workers into subsidized insurance is almost certainly going to be much higher than either CBO or the chief actuary now projects. And the price inflation from the added demand of the newly entitled isn't factored into any of the official cost projections.
We've seen this movie before. When the government creates a new entitlement, politicians lowball the costs to get the law passed, and then blame someone else when program costs soar. Witness Massachusetts. Most Americans are sensible enough to know already that's what can be expected next with Obamacare.
posted by James C. Capretta | 6:45 pm
Tags: doc fix, CLASS Act, CBO, chief actuary
File As: Health Care
Senate Majority Leader Harry Reid is scrambling today to pick up the pieces from his collapsing "breakthrough deal" between moderates and liberals. It seems the Senate's top Democrat rushed out with a compromise plan that none of the critical players had actually agreed to support.
At the center of the storm is Connecticut Senator Joe Lieberman, who is an independent but caucuses with his Democratic colleagues. Because of how he was last reelected — in spite of, not thanks to, the national Democratic party — Senator Lieberman owes the Obama administration nothing.
For months, Senator Lieberman has warned his colleagues of the dangers of pursuing an excessively partisan health-care agenda. In August, he told CNN that it would "a real mistake" to jam through an unpopular health bill with no Republican support and passionate public opposition. And he has been sounding the alarm for months that the emerging Democratic plan is too heavy with entitlement expansions at a time when the nation's finances are already drowning in unaffordable commitments. In an interview in October, he said that Democrats were "trying to do too much" in the health-care bill and were unnecessarily creating additional risks for an already over-burdened federal budget.
But his warnings have fallen on deaf ears. Ever since the August town-hall meetings, the Obama administration and the Democratic leadership in Congress have been rushing full speed ahead to try to pass a highly partisan and bloated bill that they know is strongly opposed by a majority of voters. Their goal is to pass it as fast as possible so that they can lock in a massive entitlement expansion with time to recover politically before the 2010 midterm election.
Senator Lieberman has done the country a great service by, rather mildly, voicing his concern and disagreement with the prevailing Democratic approach. In recent days, he has said that, to get his support, the health-care bill must drop any and all variations of the public option (including the flawed Medicare "buy-in"), as well as the new long-term care entitlement — the so-called CLASS Act — which would almost certainly lead to unfunded obligations down the road. Senate liberals, not wanting to compromise with Lieberman, are howling at the prospect of having their long-cherished goal of "universal coverage" boil down to forcing tens of millions of Americans to pay premiums to profit-greedy, publicly-traded insurance companies.
But even if Senate Democrats made some concessions to Lieberman, the Reid version of Obamacare would still be a runaway entitlement expansion and budget buster. That's because the primary entitlement it promises is a ticking budgetary time-bomb certain to go off in a few years time.
The Reid bill promises households with incomes between 100 and 400 percent of the federal poverty level that the premiums they owe for health insurance will be limited to a fixed percentage of their incomes. In 2016, a family at the poverty line would pay no more than 2.1 percent of its income toward health insurance. The premium cap would increase on a sliding scale until it reaches 10.2 percent for families with incomes between 300 and 400 percent of the poverty line. The Congressional Budget Office (CBO) expects this entitlement, plus the Medicaid expansion and tax credits for small businesses, to cost about $200 billion by 2019, and to grow 8 percent annually every year thereafter.
But even that staggering cost doesn't reveal the true price tag of the Reid bill because, expansive as the entitlement is, Senate Democrats make most workers ineligible for it. Workers who are offered qualified coverage by their employers, with employee premiums below specified "affordability" thresholds, would have no choice but to take their job-based plan with no subsidization. True, the vast majority of the premiums would be paid by their employers — but, of course, when an employer pays for health insurance, it is really the worker who pays in the form of lower cash wages. That is the consensus of credible economists, including those working at CBO. There is a federal tax preference for employer-paid premiums, but it is worth much less for most low- and moderate-wage workers than the subsidies the Reid bill would hand out in the exchanges.
Let's imagine what this would mean in practice in the year 2016, by which time (according to CBO estimates) the average cost of family coverage will be $14,100. Consider a hypothetical family of four with an income at 200 percent of the federal poverty line (or about $48,000 for a family of four in 2016). Under the Reid plan, that family would pay 6.5 percent of its household income as a premium, or $3,120. Their employer would pay a fee of $750 to cover some of the cost. The rest of the premium — $10,230 in this example — would get paid by the federal government.
By contrast, a worker with the same total compensation from his employer but with job-based insurance would enjoy a tax advantage of about $4,300 from employer-paid premiums. That's nearly $6,000 less in governmental support than the worker who is eligible for direct subsidization in the exchange.
According to the Census Bureau, in 2008 there were 127 million Americans under the age of 65 living in households with incomes between 100 and 400 percent of the federal poverty line. But CBO assumes that in 2015, only 18 million people would get subsidized premiums in the Reid plan.
But of course it will never work. If enacted, employers would find ways to place more low-wage workers into the exchanges, thus driving up the cost of subsidized insurance. Congress would also respond to political pressure and liberalize the eligibility rules. Like almost every other entitlement ever enacted, this one will grow far beyond current projections.
Truth be told, though, that's what most Democrats want. They just don't want to face up to the costs at this time, in this bill. Better to get the entitlement in place first, and then let it grow naturally as entitlements always do.
Senator Lieberman has been pushing his colleagues all year to produce a bipartisan and more measured bill that enjoys broad public support. That's the only sure way to prevent enactment of a runaway entitlement sold on dubious assumptions and gimmickry. It's now within Senator Lieberman's power to bring about a major course correction. For the sake of the country, he shouldn't hesitate to force his Democratic colleagues to do what they would not do voluntarily.
posted by James C. Capretta | 6:04 pm
Tags: Harry Reid, Joe Lieberman, CLASS Act, Senate bill
File As: Health Care