Peter Orszag
In a new column for Kaiser Health News, I point out a strange turn that our debates over health care have taken:
Once upon a time, President Barack Obama and many others who championed his health care plan actually professed faith in the power of a functioning health care marketplace. That now seems like a distant memory, given the demonization campaign that the president and his allies have launched against House Budget Committee Chairman Paul Ryan's plan to inject consumer choice and competition into Medicare. But there's no doubt that while the health law was under consideration in Congress, the president and his team wanted to leave the impression with voters that the plan they were pushing would rely mainly on market signals, not heavy-handed government control....

Meanwhile, now that their plan is law, the tune has changed. The enthusiasm for premium credits, consumer choice of private health plans and decoupling of credits from health costs seems to have waned. Indeed, it's waned to such an extent that these are now not just bad ideas but ideas that would destroy America as we know it! ... Those who previously stressed that the new health law would have a strong component of consumer choice and competition are now saying that a functioning marketplace will never work.
You can read the whole thing
here
.
posted by James C. Capretta | 10:59 am
Tags: Obamacare, Ryan plan, Peter Orszag
File As: Health Care
And so we have finally arrived at the heart of the matter.
In recent days, Peter Orszag, the now-former Director of the Office of Management and Budget (he left the position at the end of last week), and Ezra Klein, the like-minded liberal blogger for the Washington Post, have weighed in — again — on Rep. Paul Ryan's "Roadmap." Orszag did so in a farewell speech at the Brookings Institution, and Klein in a blog post that went up yesterday.
Their take on the "Roadmap," and specifically how it would reform Medicare and health care, is similar and unsurprising. They both give Ryan credit for laying out a coherent and robust alternative to Obamacare. But they, as well as many other liberal commentators, also completely mischaracterize what would occur if the Ryan plan were adopted, even as they gloss over the glaring deficiencies of the reform program they favor. Indeed, the irony is that the primary criticism they level against the Ryan plan is actually the reason to oppose Obamacare.
The great divide in American health care policy is over what to do about costs. On one side are those who believe the answer is to put the federal government in the cost-control driver's seat. That's the fundamental premise of Obamacare. On the other side are those who believe the answer is vigorous price and quality competition in a reformed health-care marketplace. That's the vision that animates the Ryan Roadmap.
Orszag and Klein argue that a key provision of the Ryan plan — the conversion of the Medicare defined benefit entitlement into a defined-contribution payment (for those under age 55) — would amount to nothing more than a cost shift from the government to beneficiaries because they expect the defined-contribution payment would grow at a rate below health-care inflation.
But why is that necessarily the case? Orszag himself has spent the better part of three years telling everybody he could that health care delivery today is highly inefficient. He's right. There's tremendous duplication and waste in American health care, much of it directly the result of the perverse incentives embedded in today's Medicare structure. The question is, what can be done about it?
As I argued in a Galen Institute white paper released last month, the Ryan Roadmap is the answer. What's desperately needed in health care today is a new dynamic in which efficiency and productivity are rewarded rather than punished. The Ryan program would do just that by converting millions of passive insurance enrollees (both in Medicare and in employer plans) into active, cost-conscious consumers. As more and more of these consumers received their federal support in the form of a defined-contribution payment, they would have strong incentives to get the best value possible from both the insurance they select as well as the "delivery system" they use to access services.
Orszag contends that the Ryan plan is based on a flawed premise — the notion that consumers facing more cost-sharing for services can do something about the high cost of care. He points out that most Medicare spending is concentrated in a relatively small number of high-cost cases with expenses that far exceed the up-front costs of even a high deductible plan. But the benefits of the Ryan plan would extend well beyond moving people into high-deductible insurance products. In a vibrant health care marketplace, consumers would be able to pick from among competing delivery systems too, and well in advance of needing expensive care. Hospitals and physicians would have strong incentives to reorganize and offer their services in ways that are less costly and more patient-focused in order to maximize enrollment in their networks. That's the way to bring about genuine "delivery-system reform."
The alternative to a reformed medical marketplace is government-driven cost control. Orszag is of course a true believer in the capacity of the federal government to engineer a more efficient health sector from Washington, D.C. — despite decades of actual experience indicating otherwise. The federal government has been running the Medicare program since 1965, and has been actively trying to use the purchasing power of that program since at least the mid-1980s to get better value for what is spent. There have been scores of demonstration projects and payment initiatives aimed at getting hospitals and doctors to change their business practices and increase their productivity. They haven't worked. And the reason is that politicians and regulators have always found it much easier to cut costs in Medicare with across-the-board payment-rate reductions rather than reforms that single out some hospitals and physicians as low-quality providers.
Klein admits in his post that the real alternative to the Ryan program is a different sort of "cap" on spending, one that is placed on aggregate outlays, instead of entitlement payments to individuals, and enforced by governmental cost-cutting efforts instead of the marketplace. What he fails to note is that this kind of "cap" poses very real — and costly — risks to the beneficiaries, as can be seen in the provisions that were passed as part of Obamacare. Despite all of the talk of "delivery-system reform," the real savings in Medicare from the new health law come from across-the-board payment-rate reductions which hit all providers of services the same, regardless of how well or badly they treat their patients. The predictable result of these kinds of price cuts — confirmed by the chief actuary of the program — is that many willing suppliers of services will drop out of the program, which in turn will mean restricted access to care for the beneficiaries. So much for painless cost-cutting.
The country is at a crossroads on health care. We can either stick with the Obamacare program and rely on the federal government to control costs, with all that would mean for reduced quality and waiting lists, or we can empower consumers in a reformed marketplace, as proposed in the Ryan Roadmap. This is a debate Republicans should welcome — because presented with the arguments from both sides, commonsense voters are sure to recognize that the Ryan plan is better both economically and for the future of American health care.
posted by James C. Capretta | 6:10 pm
Tags: Peter Orszag, Ezra Klein, Paul Ryan, Ryan Roadmap
File As: Health Care
Peter Orszag, the president's outgoing Director of the Office of Management and Budget, released the annual mid-year update to the administration's budget projections at 3 p.m. last Friday afternoon in a conference call with reporters. That was a dead giveaway that the administration was hoping not to make much news with its latest budget projections, or at least not make news in a way that anyone would notice.
They weren't entirely successful in burying the report, but it's understandable why they tried. The numbers are eye-popping. The budget deficit in 2010 is expected to set a record at $1.471 trillion — or 10% of GDP. In 2011, the administration projects the deficit will again top $1.4 trillion. From 2010 to 2020, the Obama budget plan would run up a cumulative deficit of nearly $10 trillion, and the nation's debt would reach $18.5 trillion in 2020, up from $5.8 trillion at the end of 2008.
Even more ominous for the president is the economic forecast. It shows unemployment remaining at over 8% through the 2012 presidential re-election campaign, despite the assumption that relatively normal economic growth would have been underway for more than two years by then.
The primary problem is quite plainly out of control federal spending. In 2008, total federal outlays were about $2.9 trillion. President Obama wants to add $1 trillion to that total in 2011, or about a 33% expansion of governmental activity in just three years. And that's just the beginning of it. By the end of the decade, federal outlays would reach $5.6 trillion, nearly double what they were a little more than a decade earlier, and that's assuming a massive and speculative peace dividend after 2011 and cuts in domestic discretionary programs that the president has yet to identify. Of course, the baby boomers are also now entering their retirement years, and will begin flooding into the Social Security and Medicare program in the next few years, pushing spending on those programs up even more rapidly than they have grown in the past. By 2030, there will be 71 million Americans age 65 and older, up from 41 million this year.
All of this building budgetary pressure is now a clear drag on growth and a hindrance to hiring. Firms are worried that the "solution" politicians will ultimately pursue to close the widening gap between federal revenues and spending is more debilitating tax increases. The latest long-run budget forecast from the Congressional Budget Office won't allay those fears.
In that report, CBO found that a massive tax hike is already in the offing. Historically, federal taxes have hovered at around 18 to 19% of GDP. CBO expects that number to rise to 23% of GDP by 2035, even if nothing is done to change current law. Income taxes will begin to rise automatically next year if Congress lets tax rates revert to their pre-Bush levels. In addition, the cuts to rates on dividends and other investment earnings from 2003 — cuts that were which instrumental to igniting growth during the post-9/11 slump — would also vanish.
President Obama has already pushed through Congress one of the largest tax increases on record as part of his health care plan. The Medicare payroll tax is set to rise by 0.9% of payroll for individuals with incomes above $200,000 per year and couples with incomes exceeding $250,000. In addition, these same households will now pay an additional 3.8% tax on "unearned" income, such as dividends, rent, and other investment income. The income thresholds for assessing these taxes are not indexed at all. Further, the new 40% excise tax on the premiums of so-called "high cost" insurance plans kicks in 2018, and then begins to hit more and more people as the threshold for determining what constitutes a "high cost" plan grows with general consumer inflation and not health costs. Carter-era bracket creep has now been restored in a big way in the age of Obama.
All told, CBO expects these and other tax hikes in the health bill to raise ever-increasing amounts of revenue, reaching 0.5% of GDP in 2020 and 1.2% in 2035.
The president's governing and budget strategy should now be evident to one and all. He has spent his first two years in office working to secure expansions in the scope and power of the federal government. Working with very sizeable Democratic majorities in both the House and the Senate, he passed an $800 billion-plus "stimulus" program, a massive health care entitlement covering tens of millions of new beneficiaries, a full federal takeover of the student loan industry, and sweeping new regulations for the financial sector. All of these initiatives have increased federal power and spending and have been financed with new tax and regulatory burdens on the private sector of the American economy. And all were passed entirely on partisan lines, or with just token Republican support.
Now that a vastly expanded federal enterprise has been "locked in," or so the Democrats now hope, the president and his team are looking to "pivot" and spend the coming period in the run-up to 2012 as would-be defenders of the U.S. treasury. The president is now pledging to attack runaway budget deficits starting with consideration of the recommendations of a presidentially-appointed debt commission, set to report — conveniently — just after the mid-term election. And he wants Republicans on the commission and in Congress to give him cover for the tax increases he is sure to seek to pay for the bloated government he has erected.
Republicans would be fools to go along with this game plan. If the president wants bipartisan cooperation in governing, then that cooperation should extend to the scope and expanse of the federal government, not just how to pay for it. That means health care policy, and financial services, and student loans, and everything else in between. But that's not what the president has in mind. He has spent his first two years in office building a government of the Democrats' dreams. He and his fellow Democrats in Congress should now explain how they plan to pay for it.
posted by James C. Capretta | 3:04 pm
Tags: Peter Orszag, CBO, federal spending, economic forecasts, deficit commission
File As: Health Care
The president's debt commission had its first meeting this week, and all of the talk was of getting serious about putting our fiscal house in order, with everything "on the table" for consideration.
There's no arguing with the need to get serious. According to the Congressional Budget Office (CBO), if the Obama budget were adopted in full, just the interest on the national debt would exceed $900 billion in 2020 and consume one out of every five dollars in federal revenue. To put that in perspective, in 2007, before the financial crisis hit with full force, interest payments on debt stood at $237 billion, or just 9 percent of total tax collections. A sudden and steep rise in the percentage of governmental revenue dedicated to servicing past excess consumption is a clear warning sign to lenders and credit-rating agencies that a country's finances are approaching the point of no return.
Unfortunately, the timeline for taking corrective action may have shortened even in the past few weeks and days. What began as a slow-motion crumble of Greece's economic house of cards is now threatening to become a serious global crisis. The flight from sovereign debt risk is now spreading to other vulnerable, highly leveraged countries, including Portugal, Ireland, and Spain. The implications for European economic recovery are ominous. And, if Europe's economy slides backward again into a deep recession, no part of the global economy will be completely spared from the fallout, including the United States.
So we are long past the point when national leaders should have been sitting down together to hammer out a budget framework to avert the crisis everyone could long see coming. Indeed, one might have thought it would be the first order of business for a newly elected president of the United States.
But it wasn't. Instead, President Barack Obama decided to spend 2009 using unusually large Democratic majorities in the House and Senate to jam a partisan and highly polarizing health care bill through the Congress. No Republican supported the measure, in large part because it vastly expanded federal entitlement commitments at the very moment when it was abundantly clear that the existing entitlements are the problem.
With the health legislation signed into law over the objections of a united Republican party, the president now wants Republicans to help him finance the newly enlarged welfare state.
Of course, the commission itself is a transparent maneuver to pass the buck in an election year. Voters are beyond fed up with the massive spending spree taking place in Washington. To every hostile question Democratic candidates will get in coming months about the exploding national debt, they are therefore planning the following answer: we're waiting for the commission to make its recommendations in December. Never mind that Democrats control the White House and Congress. If they wanted to cut the budget, they could certainly do so, starting right now. Instead, they will try to use the appointment of a non-binding commission to create the appearance of a proactive agenda.
For the commission itself, the elephant in the room is Obamacare. Former Senator Alan Simpson, the co-chair of the commission, says the president has agreed that even the health law is "on the table" for discussion.
That's good, if he means it. Because it is not possible to write a durable, bipartisan budget framework with health spending written entirely according to one party's formulation.
Health care remains the largest problem in the nation's long-term budget outlook, even after enactment of the health bill. On paper, the bill makes massive cuts in Medicare. But all of the supposed savings would go toward standing up a new entitlement that costs even more than the savings. So, health entitlement spending expands under the legislation, not contracts.
Moreover, the Medicare savings are from arbitrary payment-rate reductions. OMB Director Peter Orszag continues to argue the health law lays the predicate for cost-control through painless efficiency improvement in the delivery of medical services. But that's either a smokescreen or the most alarming kind of wishful thinking. The "delivery system reforms" in the legislation are at best small pilot projects that will amount to very little. Certainly CBO assumed no savings from them. Neither did the chief actuary of the Medicare program.
The real cuts in Medicare come from reductions in payment rates. The cuts apply to all providers, across-the-board. There's no attempt to calibrate based on the quality of the patient care or performance. If the debt commission takes Obamacare as a given when looking for additional savings in health care, it will inevitably fall into the same trap. To find quick and "scoreable" savings (that is, savings that CBO will recognize), the easiest thing to do is to further ratchet down payment rates and pretend the cuts will solve the budget problem. Going down that road would be a disaster for the quality of American medicine and would not provide a lasting solution.
What's needed in American health care is a dynamic marketplace that drives up the productivity of those delivering medical services. That's the only way to cut costs without harming quality. That's genuine delivery system reform. Building such a marketplace requires, first and foremost, cost-conscious consumers, which in turn requires fundamental reform of the health entitlement programs and the tax treatment of health insurance. Fortunately, Congressman Paul Ryan's roadmap has already shown us the way.
Like it or not, the budget debate remains in large part a health-care debate. Obamacare settled nothing because it did not solve the health care cost problem. It papered it over with price controls.
posted by James C. Capretta | 5:20 pm
Tags: debt commission, debt, Alan Simpson, Greece, Peter Orszag, CBO, payment-rate reductions
File As: Health Care
Congressman Paul Ryan's systematic dismantling of the argument that Obamacare would cut the budget deficit, delivered at the Blair House "summit" meeting, has gotten a lot of attention in recent days, and deservedly so. The Wall Street Journal ran the full text of his presentation on its opinion page yesterday and amplified his arguments in an editorial of its own. At Blair House, neither the president nor any other Democrat present offered a direct rebuttal to Ryan's critique. The president chose to change the subject instead.
This week, however, top administration officials have come forward with a belated defense — of sorts.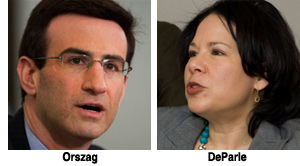 First, OMB Director Peter Orszag penned a blog post taking issue with one of Ryan's points, namely that the plan relies on ten years of offsets to pay for only six years of spending. And today, Orszag and White House Health Reform Czar Nancy-Ann DeParle have an op-ed in the Washington Post that expands upon Orszag's post.
Orszag and DeParle start by agreeing with Ryan that delaying the start date of an entitlement expansion is a tried-and-true budget gimmick, designed to push the full cost of the additional spending outside of the "budget window" covered by a cost estimate.
But, not to worry, they say. In this instance, it's not a gimmick because the deficit reduction from their plan just keeps growing over time. They claim the president's health plan would produce deficit reduction of $100 billion over ten years and $1 trillion in the second decade.
Of course, there's another reason besides balancing revenue and spending to push the start of an entitlement back, and that's to make the ten-year cost look much smaller than it really is. Recall that the president promised in his address to Congress last September to deliver a bill that costs only "$900 billion" over a decade. The new entitlements the Democrats want to create would cost much, much more than $90 billion per year. In fact, the Congressional Budget Office (CBO) says they will cost about $200 billion per year by 2019. And so, to get the media to now say his plan costs only "$1 trillion" (what's $100 billion among friends!), the administration delays the coverage expansion provisions until 2014. Never mind that the president also says the uninsured can't wait a day longer for the legislation. Once enacted, he would make them wait — for four years.
As Ryan noted, however, once the program did get up and running, costs would soar. The Senate Budget Committee Republican staff estimates the Senate bill's cost at $2.3 trillion over ten years when fully implemented.
In their Post op-ed, Orszag and DeParle do not even attempt to address the many other points Ryan made which expose the dubious assumptions and sleight of hand behind their deficit-cutting claims.
For instance, the health reform bill is filled to the brim with Medicare changes, but the one Medicare provision the president and the Democrats want to pass separately from the health bill is the so-called "doc fix," which would repeal a cut in Medicare physician fees at a cost of $371 billion over ten years. Of course, splitting their agenda into two or three bills doesn't change the total cost. When the "doc fix" is properly included in a tally of what the president is pushing, all of the supposed deficit reduction vanishes.
Then there's the double-counting that Ryan exposed. The president's plan starts up yet another entitlement program, providing long-term care insurance. Enrollees have to pay premiums for a number of years before they qualify for any benefits. Consequently, at startup, there's a surplus of premium collections — $73 billion over ten years, according to CBO — because no one qualifies for the benefits yet. The president and his team count these savings against the cost of health reform — even though the money will be needed later to pay out long-term care insurance claims. When this gimmick is taken out of the accounting, the president's health proposal goes even deeper into the red.
Over the long-run, the administration's claim of large-scale deficit reduction hinges on the dubious assumption that future elected officials will demonstrate more political courage than those in office today.
For most of last year, the president said that he would "bend the cost-curve" in large part by imposing a new tax on "high-cost" insurance plans. The tax would hit more and more middle class beneficiaries each year because the threshold for determining what constitutes a "high cost" plan would grow much more slowly than medical costs. In fact, after a number of years, virtually all Americans would be in plans at or above the "high-cost" threshold.
House Democrats and their union allies despise this tax. Last week, the president caved in to their pressure and pushed the start date of the tax back to 2018, well past the point when he will have left office. Even so, Orszag and DeParle still claim credit for the massive revenue hike that would occur in a second decade of implementation. They want us to believe we can finance a permanent, expensive, and rapidly growing new entitlement program with a tax the president himself was never willing to collect.
In Medicare, Orszag and DeParle like to highlight so-called "delivery system reforms" the administration has touted. In the main, these are extremely small-scale initiatives and pilot programs. CBO says they will amount to virtually no savings. The big Medicare cuts in the president's plan come from across-the-board payment-rate reductions. In particular, the president wants to cut the inflation update for hospitals, nursing homes, and others by half a percentage point every year, in perpetuity. On paper, this change produces huge long-run savings. But it does nothing to control the underlying cost of treating patients. It just pays everyone less, without regard to patient need or quality of care. The chief actuary of the program has said repeatedly that these cuts are completely unrealistic for these very reasons. If implemented, he expects they would drive one in five facilities into serious financial distress. And yet Orszag and DeParle want us to believe these savings can be counted to finance the president's massive entitlement promises.
And massive they are. CBO says the coverage expansion provisions in the Senate-passed bill would cost about $200 billion by 2019, and that cost would rise 8 percent every year thereafter.
But even these estimates understate the true cost of Obamacare. The president's plan, like the House and Senate bills, would extend generous new insurance subsidies to low- and moderate-wage workers getting insurance through the new "exchanges." Workers in job-based plans would get no additional help. That means two workers with identical incomes would be treated very differently. Gene Steuerle of the Urban Institute has estimated that, in 2016, a worker with job-based coverage and a $60,000 income would get $4,500 less than someone with the same income but health insurance through the exchange. This kind of inequitable treatment would never last: one way or another, the entitlement would get extended to everyone in the targeted income range, sending the overall costs of the program soaring.
The president started off last year by saying he wanted to "bend the cost-curve" even as he broadened coverage. But after a year of partisan political and legislative maneuvering, all that's left is a massive entitlement expansion. The new costs would get piled on top of the unreformed and unaffordable entitlements already on the books. It's a budgetary disaster in the making.
posted by James C. Capretta | 4:03 pm
Tags: Peter Orszag, Nancy-Ann Deparle, CBO, OMB, Obamacare, White House plan, White House summit, budget, chief actuary
File As: Health Care
In my latest column for Kaiser Health News, I examine competing claims about the health care legislation now in Congress:
In recent days, a growing chorus of voices has expressed alarm that the health care legislation emerging in Congress does not come close to "bending the cost-curve" as President Obama has promised it would. David Broder and Robert Samuelson in the Washington Post, David Leonhardt in the New York Times and Harvard Medical School Dean Jeffrey Flier on the editorial page of the Wall Street Journal have all, to varying degrees, said the health care plans being developed by Congressional Democrats would vastly expand governmental health care commitments without fundamentally altering the arrangements that today push costs rapidly upward every year.

Now, top officials in the Obama administration are pushing back hard with their own "narrative" on the cost-containment potential of the health care bills in Congress. Specifically, White House Budget Director Peter Orszag and Director of the Office for Health Reform Nancy-Ann DeParle contend in a series of recent interviews that the health care plan introduced by Senate Majority Leader Harry Reid is more than sufficient to meet the "bend the curve" test. Their views have been echoed by MIT Economist Jonathan Gruber, who has been arguing that the Reid bill contains every conceivable idea to slow the pace of rising costs. And Ronald Brownstein of The Atlantic has hailed Senator Reid's legislation as a "milestone" in the health reform journey because of its superior cost-control provisions.

To get a sense of who's right here, some perspective is necessary. Both the House-passed bill and Senator Reid's proposal would put in place the most costly entitlement expansion in more than four decades. They would add millions of households to the Medicaid program and promise all Americans between about 100 and 400 percent of the federal poverty line — some 127 million people under the age of 65 in 2008 — that their health insurance premiums will not exceed a certain percentage of their incomes. They would also extend subsidies to small businesses offering insurance coverage. The Congressional Budget Office expects the combined federal cost of these new commitments to reach about $200 billion by 2019 and to increase eight percent annually every year thereafter.
You can read the whole thing here.
posted by James C. Capretta | 12:07 pm
Tags: Jeffrey Flier, Robert Samuelson, David Leonardt, David Broder, Peter Orszag, Nancy-Ann DeParle, Harry Reid, Nancy Pelosi, Ronald Brownstein
File As: Health Care
Obamacare is predicated on the assumption that the federal government has the knowledge, capacity, and will to drive greater efficiency in American health care. Inadvertently, White House Chief of Staff Rahm Emanuel has become an articulate spokesman for why that assumption is dead wrong.
For months, the president and his team argued that stepped-up investments in health information technology, comparative effectiveness research, and prevention and wellness programs could "bend the cost-curve," thus making an expansion of coverage affordable for taxpayers. But the Congressional Budget Office, along with a chorus of independent skeptics, said those steps would never be up to the task of reliable cost control without more fundamental changes in the financial incentives facing consumers and providers of services.
Unfazed, the administration argued that it had other ways to control costs waiting in the wings. The conversation turned to "delivery system reform," with the administration and its allies in Congress suggesting that new ways of paying health-care providers in Medicare could spur a wholesale shift in how doctors and hospitals cared for patients. As White House Budget Director Peter Orszag put it, "Medicare and Medicaid are big enough to change the way medicine is practiced." The implication was that the new team was working on ways to painlessly root out wasteful spending by compensating providers for their services differently than they are paid today.
But no such proposals were ever forthcoming (except for relatively minor adjustments related to payments for hospitals with high readmission rates, and some baby steps toward more "bundling" of payments for a full episode of care). What the White House did eventually propose was a commission that would have the authority to change the way Medicare pays for services without further approval by Congress. So instead of offering a serious plan to "bend the cost-curve," the administration offered a commission that would come up with a serious plan to "bend the cost-curve." Quite predictably, many in Congress have not been so keen on this idea, as it would hand off to an unelected commission the power to rewrite Medicare's provider-payment regulations. The administration's commission idea is not in the House-passed bill.
Not to worry! The administration has another favorite cost-cutting tool. The idea is to tax so-called "Cadillac" health insurance plans, thus forcing both the insurers and the plan enrollees to find ways to economize to avoid the tax. But there's a little problem with this idea too. President Obama was against it before he was for it. Recall that Republican presidential candidate John McCain proposed to convert today's preferential tax treatment of employer-paid insurance premiums into a refundable credit. In October 2008, the Obama-Biden campaign excoriated this idea in scores of ads because it would tax health benefits "for the first time ever." Now, the president wants to do just that — but, again not surprisingly, the populist revolt he stoked against it in 2008 was still smoldering when he endorsed it in 2009. It turns out that taxing high-cost insurance plans will actually hit many middle-class households, especially those with union members enrolled in collectively-bargained plans. House Democrats wouldn't go near the idea, and reports indicate that the version of the high-cost insurance tax in the Senate Finance Committee bill is getting watered down by the day. If some version of it survives at all, it is highly unlikely to pinch enough to generate meaningful cost control.
Reviewing this legislative landscape, it's suddenly dawning on all concerned that the bills moving in Congress won't come close to "bending the curve" after all. That's the thrust of a piece today in the New York Times, as well as one from last week in the Washington Post. Of course, even as House members and Senators shy away from tough decisions, they are not nearly as reticent about extending new health entitlement commitments. Thus, it is now abundantly clear that if anything is produced by this legislative process, it will be a bill that piles more unaffordable entitlement commitments on top of the unreformed ones already on the books.
And so what's the White House response to this alarming state of fiscal affairs? As recounted in the Times piece, Emanuel blames the limits of politics. "Let's be honest," Emanuel apparently stated in a recent interview. "The goal isn't to see whether I can pass this through the executive board of the Brookings Institution. I'm passing it through the United State Congress with people who represent constituents."
That's exactly right of course. But it's also an indictment of the entire Obamacare enterprise. The health-care bills under consideration would hand over to the federal government nearly all power for organizing American health care. And yet there is not a shred of evidence that Congress or the administration can handle these tasks well. Indeed, there is abundant evidence that, in a crunch to control costs, politicians will do what they always do, which is impose across-the-board payment-rate cuts. That's certainly how the House-passed bill reduces Medicare spending. There's no delivery system reform. It's not "pay for performance." There's no calibrating of reimbursement levels based on the quality of care provided. It's cuts for all providers, no matter how well or badly they treat patients.
Ultimately, the question in health reform is this: what process has the best chance to bring about continual improvement in the efficiency and quality of patient care? The only way to provide better care at less cost is with higher productivity in the health sector. What can make that happen, year in and year out?
Rahm Emanuel has given us the answer. The federal government, subject as it is to the constraints of politics, can't do it. The only way to slow the pace of rising costs without sacrificing quality is by building a functioning marketplace, with cost-conscious consumers driving the allocation of resources. The government must play an important oversight role in such a marketplace. But if we rely on politicians, or even commissions that answer to them, for cost control, what we will get is lower quality, not more efficiency.
posted by James C. Capretta | 4:27 pm
Tags: Obamacare, Peter Orszag, Rahm Emanuel, control, competition, taxes
File As: Health Care
This weekend, House Democrats are planning to pass two health-care bills. One is a sweeping plan that would shift nearly all power over the organization of American health care to Washington, D.C. The other — a full repeal of the "sustainable growth rate" (SGR) formula governing Medicare physician fee payments — is proof positive that the first bill's strategy of centralized planning is ill-conceived and dangerous to the quality of U.S. medical care.

To understand why, it is worth reviewing how the SGR came to be. In the late 1980s and 1990s, the Medicare bureaucracy set out to reform the way physicians are reimbursed for providing services to the program's enrollees. The idea was to shift more resources toward generalists, who were then thought to be undercompensated for spending time with patients, and to control overall costs by limiting the growth of aggregate payments to growth in the size of the U.S. economy. After several years of study, lengthy payment regulations were issued, including a predecessor to the SGR formula, which had immediate and profound financial consequences for nearly every practicing physician in the United States.

And so what happened? The exact opposite of what was intended. Instead of encouraging more physicians to enter into primary care, the Medicare physician-fee schedule has rewarded more specialization. The fee schedule only controls prices, not volume. As Medicare's administrators have tried to hold down costs with fee cuts, specialists increased their share of the pie with more tests and procedures, at the expense of primary-care reimbursement rates. Not surprisingly, the trend of physicians entering specialist practices has accelerated dramatically in the last twenty years. Moreover, overall costs have never been brought under control. With volume soaring, the SGR formula governing annual fee updates has gone completely off the rails. In 2010, fees are supposed to get cut by 21 percent unless Congress overrides it yet again. To secure the AMA's endorsement of their health-care bill, House leaders are planning to scrap the SGR component of the physician fee system altogether, at a cost of more than $200 billion over a decade.

The irony of the situation seems to be lost on House Democrats: Congress is moving to repeal a prime example of health-care central planning run amok while simultaneously extending federal control to every corner of American health care.

For its part, the Obama administration has been promising for months that it would deliver new and improved central planning to "bend the cost-curve." The White House Budget Director, Peter Orszag, in a February interview with Politico, suggested that the incoming Obama team was working on groundbreaking ideas that would use the levers of government payment policy to painlessly eliminate inefficiency in American health care. As Orszag put it, "Medicare and Medicaid are big enough to change the way medicine is practiced."

Now, nine months later, it turns out the Obama administration doesn't actually have any new ideas of what to do. It is instead proposing to empower an unelected, unaccountable commission to come up with the whiz-bang ideas, which would go into effect automatically without further congressional action. But House Democrats found the commission approach unacceptable, as it would take too much of the central planning power away from them. And so they have instead filled their bill with assorted pilot projects and tests of new Medicare payment approaches. Orszag touts these as good ideas with potential, too. But these ideas would have virtually no impact on federal spending, according to the Congressional Budget Office, and they certainly are not up to the task of offsetting the costs of the massive increase in entitlement spending contemplated in the House leadership bill.

Instead of clever new ideas that painlessly root out waste and inefficiency, the House bill finds savings the same way all central planners ultimately do: with deep and arbitrary across-the-board payment rate cuts. Despite all of the talk of delivery system reform, there's no real effort to make distinctions based on the quality of patient care. Everyone gets cut the same.

And that's the real danger of the House bill. There's no prospect that the federal government will become more nimble overnight at managing the vast and complex health sector in the United States. To control costs in health care, the federal government will do what it always does — it will set prices. In time, that will have the predictable result of driving out willing suppliers of services, leading to queues and access problems. Call it centrally-planned rationing of care.
posted by James C. Capretta | 9:29 am
Tags: central planning, House vote, Medicare, Peter Orszag
File As: Health Care
It's now a clear pattern. When the president senses his position is vulnerable to a factual criticism, he asserts emphatically that the opposite is true — without ever providing evidence to back up his claim.
Here's the latest example. According to Politico, President Obama told skeptical Blue Dog Democrats last evening that they should support the health care bill emerging in the House because it would produce savings beyond the ten-year budget window.
Oh really. Says who?
The context here is crucial. It's already abundantly clear that the federal government cannot afford its existing health care commitments. The Congressional Budget Office (CBO) recently projected that Medicare and Medicaid costs will nearly double in twenty-five years, from 5.3 percent of GDP today to 10.0 percent in 2035 (this assumes continuation of current policy with regard to physician fee updates). The Medicare Trustees projected in May that the program's 75-year unfunded liability has reached $36 trillion.
Moreover, the federal government is projected to run massive budget deficits for the foreseeable future. In 2009, the government has already run up a deficit of $1 trillion through June, and it could reach $2 trillion before it's over at the end of September. CBO expects the Obama budget plan would increase the government's debt by $11 trillion from the end of 2008 to the end of 2019. Running up government debt at that kind of pace would put the nation's economy at considerable risk, to put it mildly. At some point, lenders would demand higher returns for their lending, pushing interest rates up and choking off growth, or the Fed would partially monetize the debt with even easier money and rapid inflation.
It is in this context that Democratic leaders in the House and Senate are trying to rush health care bills to their respective floors for consideration before the August congressional break.
The centerpieces of the bills are the creation of a new, massive entitlement to health insurance subsidization and a large expansion in Medicaid eligibility. The House bill, unveiled today and available here, would add $1.2 trillion in federal costs over a decade with just these two expansions, according to CBO. And the trend is even more alarming. Between 2018 and 2019, federal costs for the new entitlement and the enlargement of Medicaid would increase by a combined 8.9 percent.
That shouldn't be surprising though, because that's basically the rate at which Medicare and Medicaid have been growing for more than four decades. And there's nothing in the House or Senate health care bills which would lead one to assume a new health entitlement program will grow at a more moderate pace in the future than the ones already on the books have done in the past. CBO has said repeatedly that slowing the pace of rising costs will require a fundamental restructuring of financial incentives, for consumers and suppliers of medical services. Nothing currently on the table in Congress comes close to meeting that test.
That was essentially the message CBO delivered to members of the Senate Health, Education, Labor, and Pension committee last week. In response to a question from Sen. Judd Gregg, CBO Director Doug Elmendorf said a bill which simply expanded coverage without fundamental reform "puts an additional long-term burden on top of an already unsustainable path" (Elmendorf's testimony can be seen here, with his response to Senator Gregg at the 1 hour, 38 minute mark).
Moreover, it seems that President Obama's own budget director agrees with CBO. Last week, Peter Orszag delivered a letter to House leaders saying their bill doesn't go nearly far enough to slow the pace of rising costs. But even that didn't stop the president from saying otherwise in his desperate attempt to round up votes.
The federal government's budget is already knee-deep in debt, largely because politicians have promised that better days ahead will make all budgetary problems go away. They haven't, and the current president is making the situation much worse. The last thing any member of Congress should do is simply take the president's word for it that the health care bills under consideration will ultimately "bend the cost-curve." If he really believes that — because no one else really does — he should provide some hard evidence to back up his claim. And that's not a theoretical possibility. He could ask his independent projection experts — not his political appointees — to provide directly to Congress and the public, without review by anyone else, their best estimates of what these bills would do to the long-term (25- or 50-year) budget outlook. Those estimates would be taken much more seriously than unsubstantiated assertions which run against commonsense and all evidence.
posted by James C. Capretta | 9:11 am
Tags: ObamaCare, Blue Dogs, House bill, CBO, projected costs, deficit, HELP, Doug Elmendorf, Peter Orszag, cost-curve
File As: Health Care
The Obama administration began the year promising fundamental reforms in health care to "bend the cost-curve" with painless "delivery-system reform." Peter Orszag, the Obama administration's budget director, went so far as to claim the administration would institute reforms in Medicare and Medicaid that would literally alter the way medicine is practiced in America.
But it's not working out that way. Indeed, there's nothing more business-as-usual than the cuts in Medicare and Medicaid the administration and its congressional allies are planning to partially pay for their government takeover of American health care.
Take the much-touted "deal" with the nation's leading hospital trade associations — which, by the way, is apparently not a done deal. The specifics of what was agreed to remain somewhat vague, but it is clear enough that what is being planned is nothing more than across-the-board payment rate cuts. Hospitals would get a smaller inflation update, and, beginning in 2015, smaller "disproportionate share" payments for taking care of lower-income and sometimes uninsured patients. All that talk about "rewarding quality" and "purchasing value" and "changing the delivery system" was apparently just talk. These cuts will hit all hospitals — the best and the worst — with basically the same percentage cut in their Medicare and Medicaid revenue. Low-cost, high-quality facilities will get cut just as much as low-quality, high-cost institutions. There's no effort to steer patients based on hospital performance, or really even to tie payments to what happens in the facilities. It's budget cutting, and that's all that it is.
It's also not surprising, and not new. This is always the way government runs health-insurance plans. Health-care policy types often talk of making health-care more efficient with innovative reforms, written and implemented by government bureaucracies. But the only thing the government ever really does to slow cost growth is pay providers less for the services they render. And it's been done many times before (see, for instance, here and here).
Of course, nothing of lasting value ever comes from such arbitrary price-cutting. Hospitals shift costs to private premium payers, and perhaps tighten their belts for a while until the payments rise again. But they don't fundamentally change how they operate, or organize their relationships with physicians any differently. There's never been any bending of the cost-curve with these kinds of price controls, and there won't be this time either.
posted by James C. Capretta | 7:07 pm
Tags: cost-curve, Peter Orszag, ObamaCare, payment rate cuts
File As: Health Care