Email Updates
Enter your email address to receive updates and previews.
Browse By Topic
Energy Policy
Articles
April 26, 2016
Fall 2015 • Brendan P. Foht contrasts the encyclical with the recent Ecomodernist Manifesto
Fall 2015 • W. David Montgomery on why the encyclical's moral teaching requires better policy
Fall 2015 • Lee Lane on what the oil and gas boom means for America's geopolitical standing
Fall 2013 • Robert Zubrin explains what the U.S. energy boom means for the oil cartel, and argues that we should kick them while we're up
Fall 2012 • Adam J. White on how President Obama killed the planned nuclear-waste repository
Summer 2008 • Jim Manzi on the cost of thinking impractically about potential risk
Spring 2008 • Robert Zubrin on ethanol and its critics
Winter 2004 • S. Fred Singer on the politics of global climate change
Spring 2004 • Stephanie Cohen on liberals, conservatives, and the energy debate
Next
Blog Posts
July 9, 2008
•
This week, billionaire oilman (and now wind energy investor) T. Boone Pickens has debuted his new energy policy to wean the U.S. off oil. Pickens says he is prepared to use his own money to advance this plan. At the center of his plan is another fossil fuel — natural gas — and renewable energy like wind power.
What's the renewable fossil fuel equation? According to CNBC's recounting of Pickens's appearance on that network on Tuesday morning:
Developing wind and solar power could lower the use of natural gas in some instances, he said. Some of that natural gas could be redirected to uses normally reserved for oil, like transportation. That, in turn, could lead to a 38 percent reduction in the use of foreign energy supplies, he concluded.
According to the Dallas Morning News, Mr. Pickens plans a long media campaign "to promote his energy policy ideas — which align perfectly with his business investments. He'll spend tens of millions of dollars on television and Web advertising and will make talk show appearances along the way":
Mr. Pickens agreed that the shift to natural gas and renewable power will take time. He isn't trying to address current prices at the pump; Americans will have to find ways to live with expensive gasoline, he said.

And he acknowledges that building natural gas pipelines to every service station, erecting more wind turbines, and stringing the transmission lines to service them, would cost billions of dollars.

But with the U.S. spending $700 billion a year on foreign oil, investing several billion in wind turbines and new transmission lines would be an attractive trade-off, he says.
The businessman also announced Tuesday that he was investing $10 billion on a 4,000 megawatt wind power deal in Pampa, Texas. He referenced an "unbelievable wind corridor from Sweetwater, Texas to the Canadian border" as a possible site for 150,000 megawatts. Pickens toured wind turbines in Sweetwater last week with national media outlets. An Abilene Reporter News story last week quoted Pickens as saying "we've already bought the turbines for the first 1,000 megawatts, and we'll start construction in the summer of 2010."
Pickens has also launched Clean Energy Fuels, a company that runs natural-gas filling stations for fleet vehicles, according to a MarketWatch story.
Pickens doesn't plan to discuss energy policy in a bubble; he plans to push the presidential candidates to address the issue. According to the Dallas News, "He aims to make energy a central issue in the presidential election. He'll challenge the candidates to go beyond pandering on gasoline prices to create real energy plans."
Actual text of the energy policy is not yet available but the "Pickens Plan" is outlined here. This morning in the Wall Street Journal, Pickens argues that "can be accomplished within 10 years if this country takes decisive and bold steps immediately. This plan dramatically reduces our dependence on foreign oil and lowers the cost of transportation. It invests in the heartland, creating thousands of new jobs. It substantially reduces America's carbon footprint and uses existing, proven technology. It will be accomplished solely through private investment with no new consumer or corporate taxes or government regulation. It will build a bridge to the future, giving us the time to develop new technologies."
July 9, 2008
•
Florida Governor Charlie Crist — who recently announced his support for oil and natural gas drilling in the outer continental shelf off the Florida coast — has signed an energy bill aimed at boosting renewable energy sources and cutting greenhouse gas emissions. But the bill contains no timeline or mandatory milestones, so it's unclear what impact it will actually have.
According to the federal Energy Department's Energy Efficiency and Renewable Energy division:
House Bill 7135 requires the Florida Public Service Commission to establish a renewable portfolio standard (RPS) that will specify a minimum percentage of retail electricity sales that must be supplied by renewable energy, but the bill does not set the minimum standard or a timeline. Instead, the bill requires the commission to prepare a draft rule by February 2009 and present it to the legislature for approval. The bill also requires the Florida Department of Environmental Protection to create a cap-and-trade regulatory program to reduce greenhouse gas emissions from major emitters. Again, the bill sets no specific limits and requires any program to be ratified by the legislature.
The Energy Department outlines the other major provisions in the bill here.
July 9, 2008
•
CNN Money has an article up on congressional efforts to address rising gas prices and open up more areas to oil drilling:
Congress has been debating four main issues: limiting the role of speculators, increasing domestic oil drilling, taxing Big Oil to fund renewables, and capping greenhouse gas emissions.

The most likely scenario is one in which the Republicans back down, allowing increased regulation of energy speculators, and the Democrats give up some ground on domestic drilling, according to Congressional staffers and other analysts.
July 5, 2008
•
The federal Bureau of Land Management (BLM) announced this week that it will resume accepting applications for solar development on public lands. The decision comes after a month-long halt to the agency's solar program after critics raised concerns about the environmental and economic impacts on six western states (Arizona, California, Colorado, Nevada, New Mexico, and Utah).
The agency said its decision to start processing solar project applications again will allow it to continue to "accept and process new applications for solar energy projects," and "aggressively help meet growing interest in renewable energy sources."
BLM has received 125 applications for solar projects on federal lands and expects more now that it has reopened the program.
In total, BLM manages 258 million surface acres located across a dozen western states, including Alaska. Here is a great map of concentrating collector solar resources on BLM lands and another map of tilted photovoltaic panel solar resources on BLM lands.
The solar industry appreciated this week's news but said it doesn't go far enough. "While we applaud today's announcement, BLM has only resolved half the problem," the Solar Energy Industries Association (SEIA) said."They have yet to approve a single solar energy project.Expediting the permitting process is the next step in developing solar energy projects on federal lands."
According to the BLM's estimates, more than 20 million American homes could be powered by the more than 100 projects that have been stalled during the review, SEIA said.
June 24, 2008 •
June 23, 2008
•
Republican presidential nominee John McCain sees building a more energy-efficient car battery as central to reducing U.S. energy consumption. He announced Monday that, as president, he would establish a $300 million prize for anyone who creates a battery that can be used with plug-in hybrid car, the type of cars U.S. automakers are currently trying to develop:
[I]n the quest for alternatives to oil, our government has thrown around enough money subsidizing special interests and excusing failure. From now on, we will encourage heroic efforts in engineering, and we will reward the greatest success.

I further propose we inspire the ingenuity and resolve of the American people by offering a $300 million prize for the development of a battery package that has the size, capacity, cost and power to leapfrog the commercially available plug-in hybrids or electric cars. This is one dollar for every man, woman and child in the U.S. -- a small price to pay for helping to break the back of our oil dependency -- and should deliver a power source at 30 percent of the current costs.
(Related: This month, the heads of Ford and GM spoke in Washington at a conference and outlined what they need from Washington to make plug-in hybrids a reality for American consumers.)
McCain also wants to give "substantial" new incentives to carmakers to reduce CO2 emissions:
My administration will issue a Clean Car Challenge to the automakers of America, in the form of a single and substantial tax credit based on the reduction of carbon emissions. For every automaker who can sell a zero-emissions car, we will commit a 5,000 dollar tax credit for each and every customer who buys that car. For other vehicles, whatever type they may be, the lower the carbon emissions, the higher the tax credit. And these large tax credits will be available to everyone -- not just to those who have an accountant to explain it to them.
And he announced his support for the flex-fuel vehicle mandate that New Atlantis contributing editor Robert Zubrin has proposed:
Instead of playing favorites, our government should level the playing field for all alcohol fuels that break the monopoly of gasoline, lowering both gasoline prices and carbon emissions. And this can be done with a simple federal standard to hasten the conversion of all new vehicles in America to flex-fuel technology -- allowing drivers to use alcohol fuels instead of gas in their cars. Brazil went from about five to over 70 percent of all new vehicles with flex-fuel capacity. It did all that in just three years. Yet those same automakers that helped Brazil make the change say it will take them longer to reach the goal of 50 percent new flex-fuel vehicles for America. But I am confident they can do more, and do it faster, in the interest of our energy security. And if I am elected president, they will. Whether it takes a meeting with automakers during my first month in office, or my signature on an act of Congress, we will meet the goal of a swift conversion of American vehicles away from oil.
June 23, 2008
•
The New York Times today looks at Senator Barack Obama's support for the domestic production of ethanol, an alternative fuel that has come under fire recently amid global speculation that turning crops into fuel is connected to rising food prices. The article contrasts Obama's pro-ethanol position to Republican nominee John McCain's opposition to federal subsidies for ethanol.
The article finds a contradiction in Obama's efforts to classify himself as a reformer and his support for one of the most powerful and successful lobbies in Washington:
Mr. Obama is running as a reformer who is seeking to reduce the influence of special interests. But like any other politician, he has powerful constituencies that help shape his views. And when it comes to domestic ethanol, almost all of which is made from corn, he also has advisers and prominent supporters with close ties to the industry at a time when energy policy is a point of sharp contrast between the parties and their presidential candidates.
The article also examines Obama's ties to ethanol-industry companies and groups, and cites Tom Daschle as a central figure.
Nowadays, when Mr. Obama travels in farm country, he is sometimes accompanied by his friend Tom Daschle, the former Senate majority leader from South Dakota. Mr. Daschle now serves on the boards of three ethanol companies and works at a Washington law firm where, according to his online job description, "he spends a substantial amount of time providing strategic and policy advice to clients in renewable energy."

Mr. Obama's lead advisor on energy and environmental issues, Jason Grumet, came to the campaign from the National Commission on Energy Policy, a bipartisan initiative associated with Mr. Daschle and Bob Dole, the Kansas Republican who is also a former Senate majority leader and a big ethanol backer who had close ties to the agribusiness giant Archer Daniels Midland.

Not long after arriving in the Senate, Mr. Obama himself briefly provoked a controversy by flying at subsidized rates on corporate airplanes, including twice on jets owned by Archer Daniels Midland, which is the nation's largest ethanol producer and is based in his home state.
The article also looks at McCain's opposition to ethanol subsidies, a stance that may well end up hurting him in the general election in farm states:
[McCain and Obama] offer sharply different visions of the role that ethanol, which can be made from a variety of organic materials, should play in those efforts.

Mr. McCain advocates eliminating the multibillion-dollar annual government subsidies that domestic ethanol has long enjoyed. As a free trade advocate, he also opposes the 54-cent-a-gallon tariff that the United States slaps on imports of ethanol made from sugar cane, which packs more of an energy punch than corn-based ethanol and is cheaper to produce.

"We made a series of mistakes by not adopting a sustainable energy policy, one of which is the subsidies for corn ethanol, which I warned in Iowa were going to destroy the market" and contribute to inflation, Mr. McCain said this month in an interview with a Brazilian newspaper, O Estado de São Paulo. "Besides, it is wrong," he added, to tax Brazilian-made sugar cane ethanol, "which is much more efficient than corn ethanol."
To read the rest of the article, go here.
June 19, 2008
•
This week, Republican presidential nominee John McCain ventured to Houston, the Oil Capital of America, to lay out his proposed energy policy. When it comes to domestic oil production -- drilling -- McCain told the audience, "We do have resources, and we do have a choice." He called for lifting the federal moratorium on offshore drilling (which has been in place since 1981), saying that he believes states should get to decide whether or not they want to grant access to energy companies off their shores:
In oil, gas, and coal deposits, we have enormous energy reserves of our own. And we are gaining the means to use these resources in cleaner, more responsible ways. As for offshore drilling, it's safe enough these days that not even Hurricanes Katrina and Rita could cause significant spillage from the battered rigs off the coasts of New Orleans and Houston. Yet for reasons that become less convincing with every rise in the price of foreign oil, the federal government discourages offshore production...

But the stakes are high for our citizens and for our economy. And with gasoline running at more than four bucks a gallon, many do not have the luxury of waiting on the far-off plans of futurists and politicians. We have proven oil reserves of at least 21 billion barrels in the United States. But a broad federal moratorium stands in the way of energy exploration and production. And I believe it is time for the federal government to lift these restrictions and to put our own reserves to use.

We can do this in ways that are consistent with sensible standards of environmental protection. And in states that choose to permit exploration, there must be an appropriate sharing of benefits between federal and state governments. But as a matter of fairness to the American people, and a matter of duty for our government, we must deal with the here and now, and assure affordable fuel for America by increasing domestic production.
Although later in the week, Senator McCain suggested that he might possibly rethink his position on the Arctic National Wildlife Refuge (video available here), in his Houston speech on Tuesday he reaffirmed his anti-drilling stance:
Quite rightly, I believe, we confer a special status on some areas of our country that are best left undisturbed. When America set aside the Arctic National Wildlife Refuge, we called it a "refuge" for a reason.
Even before Senator McCain delivered the Houston speech, the Democratic National Committee released an advisory about McCain's "flip-flop" on offshore drilling, saying he used to oppose it but now says he is in favor of it.
Not so fast. Senator McCain's position on oil drilling doesn't actually seem to be a switch -- at least not based on his votes in the Senate and his past comments on the subject. It seems more accurate to say he has had a "mixed position" on this issue over time -- consistently opposing drilling in ANWR and allowing for state preferences when it comes to offshore drilling. Using records from Project Vote Smart and the Library of Congress's Thomas database, it is possible to track whether and how Senator McCain's position has evolved.
Senator McCain has repeatedly said that he is opposed to drilling in ANWR. A search of the congressional record shows McCain has made a distinction in the past between drilling in ANWR and drilling elsewhere.
A December 10, 2007 Associated Press report of a McCain speech in Aiken, South Carolina notes that, "in response to a question from an audience member, McCain said he believed offshore drilling should be left the coastal state closest to the proposed project. He also said he did not support opening the Arctic National Wildlife Refuge to drilling."
The DNC memo, however, pointed back to articles from 1999 describing Senator McCain's support for a moratorium on offshore oil drilling when he last ran for president. And going back further to 1992, Senator McCain voted to kill an amendment to energy legislation that year which would have strengthened the role of coastal states in federal offshore drilling decisions.
In 2000 (USA Today and AP reported), the candidates were asked "Should companies that together spent over $1 billion to secure oil leases off the California coast be allowed to drill on them or should an existing moratorium be expanded to ban drilling in those waters?" McCain's answer:
The leases for offshore oil drilling should never have been granted without allowing Californians a legitimate voice in the decision-making process. I believe it is up to the voters of California to determine the fate of these leases, and as president, I will respect the decision they make regarding the leases. The people of California deserve to be heard, without being forced to resort to legal action against their own government. As president, I will see to it that the interests of the people of California rise above the special interests of Washington, D.C.
So even as far back as 1992, Senator McCain's position was strikingly similar to his current position: that states closest to the project need to be given a voice.
Based on Senate votes, Senator McCain has supported expanded exploration in non-ANWR areas:
In 2005:
He voted yes on the Arctic National Wildlife Refuge Drilling Amendment; passage would have kept the Arctic National Wildlife Refuge closed to oil drilling.
In 2006:
He voted yes on the Gulf of Mexico Energy Security Act of 2006 (S. 3711), which would provide "for exploration, development, and production activities for mineral resources in the Gulf of Mexico."

He also voted yes on an amendment that would "provide funding for implementing the Energy Policy Act of 2005 from ANWR."
In 2007:
Senator McCain was not present for the vote on legislation aimed at allowing governor of Virginia to petition the U.S. Secretary of the Interior to allow for natural gas exploration and extraction at least fifty miles from the coastal zone.
In 2008:
Senator McCain was not present for a vote (S. Amdt. 4329 to S Con Res 70) that allowed for, among other things, "the development of oil and natural gas resources in coastal areas not covered by a Presidential or Congressional Moratorium." Senator Obama voted yes.

Senator McCain was also not present a vote (S. Amdt. 4207 to S. Con. Res. 70) that allowed for more funding for "the development of natural gas off the coast of Virginia and the development of oil shale resources on public lands." Senator Obama voted no.
June 13, 2008
•
The cover of Wired magazine's June 2008 issue says it all: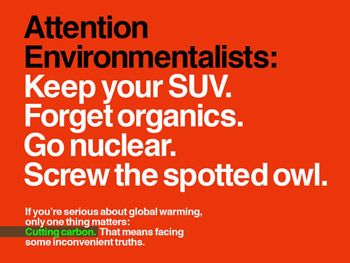 The article inside even more directly takes on the environmental movement, starting with its title: "Inconvenient Truths: Get Ready to Rethink What It Means to Be Green." The article outlines a list of ten "inconvenient truths" (a play on the title of Al Gore's documentary and book, which has also been recently parodied by Iain Murray). The article argues that "winning the war on global warming" -- the paramount goal of today's environmental movement -- "requires slaughtering some of environmentalism's sacred cows." That means greens cannot "afford to ignore...the carbon-free electricity supplied by nuclear energy."
Although this is Wired's most blunt statement in favor of the use of civilian nuclear energy, it's worth noting that a few years ago the magazine also dedicated considerable space to a friendly profile of Patrick Moore, the Greenpeace co-founder who now advocates for nuclear power.
The ten "inconvenient truths" are here:
June 13, 2008
•

Billionaire oil investor T. Boone Pickens (reportedly worth around $3 billion, and the country's highest paid hedge fund manager in 2005) had a lot to say about U.S. energy policy at Oil and Gas Investor's Energy Capital Forum in Houston this week. He expects oil to hit $150 a barrel (it's now around $135). Pickens is the former owner of Mesa Petroleum, which was one of the largest independent oil companies in the world. (He sold it in the mid-1990s.) Pickens is the founder and a principal of BP Capital LLC.
From the Domestic Fuel Blog:
"Energy is not a debate; it's a crisis for this country," Pickens said. "We cannot continue down the path were on. It's that desperate."...

Pickens said he plans to elevate the issue into this year's presidential election campaign through a series of television ads talking about energy.
Hart Energy Publishing's take on the businessman's speech:
The energy crisis is a result of decades of lack of leadership that has led to a breakdown. Now, "somebody has to show up to fix it." He doubts the candidates understand the urgency of the circumstances.

Pickens chided Democratic candidate Sen. Barack Obama for "throwing around the windfall profits tax like a piece of balsa wood.

"I don't think the senator knows anything about energy. He sounds good for about two minutes."

Republican candidate Sen. John McCain received little more support. "I don't know how much he knows either. He wants to lower the gas tax during the summer. What the hell is he talking about? Will that fix anything?"....

He said there is "no question" that America must embrace alternate energy sources to alleviate the $700-billion transfer of wealth out of the country to oil imports....

Ethanol is "an ugly baby but it's ours and it will move cars," he said, emphasizing that he prefers the less-than-perfect fuel over imported oil. Biofuels, however, will never account for more than 10% of the U.S.'s energy needs, he predicts.
There are more excerpts from Pickens's remarks in this article from Oil and Gas Investor.
Next