James C. Capretta
Contributing Editor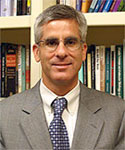 James C. Capretta is a New Atlantis contributing editor. He is also a resident fellow at the American Enterprise Institute, where he holds the Milton Friedman Chair.

From January 2001 to May 2004, Mr. Capretta served as the Bush administration's top budget official for health care, Social Security and pensions, education, and labor policy. He was the lead official in the Office of Management and Budget (OMB) for all aspects of Medicare and Medicaid reform policy development and implementation as well as for the development of the President's other important domestic policy initiatives in education and labor.
After leaving government, Mr. Capretta was from June 2004 to August 2006 a Managing Director of Wexler and Walker Public Policy Associates, where he performed a wide range of consulting and advocacy services for clients.

From 2006 until 2016, he was a fellow at the Ethics and Public Policy Center. During this period, from 2008 to 2014, he was the author of the health care policy blog Diagnosis.
Prior to joining the White House in 2001, Mr. Capretta served for nearly a decade as a Senior Policy Analyst on the Republican Staff for the U.S. Senate Budget Committee under Senator Pete Domenici (R-N.M.), handling health care and Social Security issues, and as a professional staff member of the House Ways and Means Subcommittee on Health.
Mr. Capretta is also a Principal at Civic Enterprises, LLC, a public policy consulting firm, an Adjunct Fellow with the Global Aging Initiative of the Center for Strategic and International Studies, and an Adjunct Fellow with the Hudson Institute. Mr. Capretta served as a Visiting Lecturer at the Sanford Institute of Public Policy at Duke University in 2006 and was a Visiting Fellow in Economic Studies at the Brookings Institution in 2005-2006.
Mr. Capretta began his career as a budget examiner at OMB from 1987 to 1990 after graduating with an M.A. in Public Policy Studies from Duke University. He graduated from the University of Notre Dame in 1985, receiving a B.A. in Government. [http://www.JimCapretta.com]