Imagining the Future
Science and American Democracy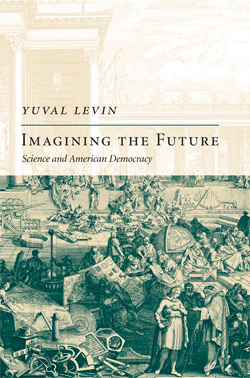 October 2008 ~ Cloth ~ $21.95
ISBN-10: 1-59403-209-2
ISBN-13: 978-1-59403-209-7

Purchase from Amazon.
Purchase from Barnes & Noble.



---

• "Between the Covers": Yuval Levin discusses his book with National Review Online's John J. Miller [October 28, 2008]

• "Dateline: Washington": Yuval Levin discusses his book and stem cells politics with Radio America's Greg Corombos [November 11, 2008]

• "The Albert Mohler Radio Program": Yuval Levin discusses his book and the latest bioethics news with Albert Mohler [November 18, 2008]
Buy online today! (Amazon, Barnes & Noble)
From stem cell research to global warming, human cloning, evolution, and beyond, political debates about science have raged in recent years — and, to the chagrin of most observers, have increasingly fallen into the familiar categories of America's culture wars. In Imagining the Future: Science and American Democracy, Yuval Levin explores the complicated meanings of science and technology in American politics and contends that the science debates have a lot to teach us about our political life. These debates, Levin argues, reveal some serious challenges to American self-government, and put on stark display the deepest strengths and greatest weaknesses of both the left and the right.
Levin takes up some key dilemmas of the science debates: Why is it that these arguments seem to divide along the same camps of left and right as so many other issues in our politics? Should science be above politics, or should it be answerable to our democratic institutions? Are the subjects it takes up too technically complicated and too urgent and important to be left to laymen politicians and citizens? Is science morally neutral, or is it a moral endeavor with moral promise and peril? Are American conservatives in fact engaged in a concerted assault on the influence of science? Is the American left justified in calling itself the party of science? What do arguments about embryos, climate, or the origins of man teach us about contemporary America?
Most of the science debates, he concludes, are not about particular innovations, technologies, theories, or facts. Rather, they come down to a profound dispute between liberals and conservatives about the right way to think about the future. Science is only one subject of this broader dispute, but it is one that makes the nature of the divide at the heart of our politics unusually clear. Properly understood — which they have not been lately — those debates may illuminate the contours of our politics and the deepest meaning of scientific progress.
Yuval Levin is a fellow at the Ethics and Public Policy Center, director of the Center's Bioethics and American Democracy Program. He is a senior editor of The New Atlantis and is the editor of National Affairs. He has served as Associate Director of the White House Domestic Policy Council and Executive Director of the President's Council on Bioethics. His essays and articles have appeared in numerous publications including the New York Times, the Wall Street Journal, Commentary, the Weekly Standard, and others.

Praise for Imagining the Future

Levin succeeds in showing how the innovational image of the future, left unmoderated, will dash the hopes of Americans left and right. But he is unafraid to conclude that taming our innovations to serve our future generations will require a more robust articulation of the human dignity that gives them pride of place in our vision of the future.
— James Poulos
First Principles Journal
September 9, 2009

Levin has a deep understanding of American political life, but he also has an expert knowledge of political philosophy, and puts both to good use in this important and enlightening book.... an insightful analysis.
— Steven Lenzner
The Weekly Standard
December 8, 2008

A badly needed tonic to our cultural dyspepsia.... Rare and eloquent non-combative public intellectualism.
— Wesley J. Smith
National Review
December 1, 2008

American life has been profoundly shaped by science and technology, and will be all the more so in the coming decades, making it crucial that we understand how to think and speak about science in politics. Yuval Levin's smart and eminently well-reasoned book makes the important point that the purpose of science is a moral one — to improve human life — and that judging what that involves is sometimes a job for more than science alone in a democratic society. Levin's insights speak directly to today's political debates and make his book a must-read for policymakers and all those who care about science and society.
— Newt Gingrich
Former Speaker of the House
Author of Real Change

Imagining the Future goes far beyond the contemporary polarized debates over science to unpack the moral premises of the modern scientific project and its consequences for American democracy. In the process, Yuval Levin provides us with a deep understanding of policy issues from genetic engineering to global warming.
— Francis Fukuyama
Johns Hopkins School of Advanced International Studies
Author of Our Posthuman Future

This book is important to the thinking of both progressives and conservatives. Clearly and incisively, it shows how science and technology are shaping humanity's future and world views. Levin alerts democratic societies that human dignity and equality are imperiled unless we provide political and moral guidance to prevent the submergence of humanity in its own ingenuity.
— Edmund D. Pellegrino, M.D.
Chairman, President's Council on Bioethics
John Carroll Professor Emeritus of Medicine and Medical Ethics
Georgetown University