In the Shadow of Progress
Being Human in the Age of Technology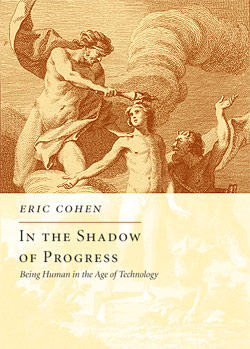 July 2008 ~ Cloth ~ $21.95
ISBN-10: 1-59403-208-4
ISBN-13: 978-1-59403-208-0

Purchase from Amazon.
Purchase from Barnes & Noble.
---

Eric Cohen discussed his new book in a July 16, 2008 lecture at the Ethics and Public Policy Center. He was joined by William Kristol, editor of the Weekly Standard; William Saletan, national correspondent for Slate; and Leon R. Kass of the University of Chicago and the American Enterprise Institute.
Buy online today! (Amazon, Barnes & Noble)
We live in an age of unprecedented human mastery — over birth and death, body and mind, nature and human nature. In every realm of life, science and technology have brought remarkable advances and improvements: we are healthier, wealthier, and more comfortable than ever before. But our gratitude for the benefits of progress increasingly mixes with concern about the meaning and consequences of our newfound powers. If we can dream about a new age of genetic medicine, we can also shudder at a new age of weapons of mass destruction. As we welcome longer lives, we wonder if we will still value human life as we should.
In the Shadow of Progress: Being Human in the Age of Technology is a deep and lively reflection on the moral challenges of the technological age. Eric Cohen, a leading voice in America's bioethics debates, offers a tour of the complex dilemmas at the intersection of science and morality, moving seamlessly from contemporary subjects like stem cells and evolution to classic texts like the Hebrew Bible and Francis Bacon's "New Atlantis."
Why are the wealthiest people in human history the least likely to want children? What kind of civilization will we become if we seek cures for the sick by destroying human embryos? What is lost when we relieve human sadness by altering the chemical balance of the brain, or enhance human performance by altering the biological workings of the body? In this age of scientific wonders, have we forgotten what sets human beings apart from everything else in the natural world? Can the fruits of modern science ever satisfy our deepest longings — for love, for virtue, and for transcendence?
In the end, Cohen argues, there are no easy answers. Our challenge is to live simultaneously with gratitude and fear, pride and shame, sobriety and hope, in this new age of technology.
Praise for In the Shadow of Progress

Eric Cohen's measured, well-reasoned book on the ethical implications of new medical advances, In the Shadow of Progress, arrives like a spring breeze, fresh and calm and cleansing, something to be welcomed by anyone who follows bioethics and its controversies.... You will find in Cohen a provocative guide, with a sharp eye for paradox and an appreciation of ambiguity.
— Andrew Ferguson
The Weekly Standard
September 8, 2008

A sober and deeply spiritual contemplation.... In the Shadow of Progress is a rare work [written with] meticulous thought and care.
— Wesley J. Smith
National Review
December 1, 2008

In this profound and beautifully written book, Eric Cohen, a precociously wise new commentator on the relation of science and ethics, illuminates the deepest meanings of the new age of biotechnology. A must-read for anyone who wants to understand where science may be taking us, and why it matters — in short, a book for everyone.
— Leon R. Kass, M.D.
Addie Clark Harding Professor
The Committee on Social Thought
The University of Chicago

Technological progress has brought us many blessings, and promises still more. Only a fool would oppose it. But, as Eric Cohen reminds us in his important new book, technology cannot answer life's most profound questions or requite our deepest longings. Even where technological progress is sought for good ends, it can be pursued by bad means. We can yield to the temptation to sacrifice the lives of some human beings — such as those at the earliest stages of development or those in debilitated conditions — in the hope of healing others. Cohen's In the Shadow of Progress is a book rich in moral insight and even prophetic wisdom.
— Robert P. George
McCormick Professor of Jurisprudence
Director, James Madison Program in American Ideals and Institutions
Princeton University

Eric Cohen is a relatively new voice in bioethics and technology studies — and a most welcome one. His book, In the Shadow of Progress, is a rich exploration of the idea of progress in medicine and biology, drawing on sources new and old, and putting them together in a most felicitous way. It is a rewarding book to read, and one cannot ask for more.
— Daniel Callahan
Director, International Program
The Hastings Center