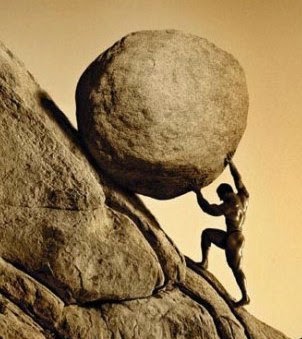 I'm not sayin', I'm just sayin'.
Another day, another cartoon supervillain proposal from the Oxford Uehiro "practical" "ethicists": use biotech to lengthen criminals' lifespans, or tinker with their minds, to make them experience greater amounts of punishment. (The proposal actually dates from August, but has been getting renewed attention owing to a recent Aeon interview with its author, Rebecca Roache.) Score one for our better angels. The original post, which opens with a real-world case of parents who horrifically abused and killed their child, uses language like this:
…[the parents] will each serve a minimum of thirty years in prison. This is the most severe punishment available in the current UK legal system. Even so, in a case like this, it seems almost laughably inadequate…. Compared to the brutality they inflicted on vulnerable and defenceless Daniel, [legally mandated humane treatment and eventual release from prison] seems like a walk in the park. What can be done about this? How can we ensure that those who commit crimes of this magnitude are sufficiently punished?…
[Using mind uploads,] the vilest criminals could serve a millennium of hard labour and return fully rehabilitated either to the real world … or, perhaps, to exile in a computer simulated world.
….research on subjective experience of duration could inform the design and management of prisons, with the worst criminals being sent to special institutions designed to ensure their sentences pass as slowly and monotonously as possible.
The post neither raises, suggests, nor gives passing nod to a single ethical objection to these proposals. When someone on Twitter asks Ms. Roache, in response to the Aeon interview, how she could endorse these ideas, she responds, "Read the next paragraph in the interview, where I reject the idea of extending lifespan in order to inflict punishment!" Here's that rejection:
But I soon realised it's not that simple. In the US, for instance, the vast majority of people on death row appeal to have their sentences reduced to life imprisonment. That suggests that a quick stint in prison followed by death is seen as a worse fate than a long prison sentence. And so, if you extend the life of a prisoner to give them a longer sentence, you might end up giving them a more lenient punishment.
Oh. So, set aside the convoluted logic here (a death sentence is worse than a long prison sentence … so therefore a longer prison sentence is more lenient than a shorter one? huh?): to the marginal extent Ms. Roache is rejecting her own idea here, it's because extending prisoners' lives to punish them longer might be letting them off easier than putting them to death.
———
Ms. Roache — who thought up this idea, announced it, goes into great detail about the reasons we should do it and offers only cursory, practical mentions of why we shouldn't — tries to frame this all as a mere disinterested discussion aimed at proactive hypothetical management:
"It's important to assess the ethics *before* the technology is available (which is what we're doing)."
"There's a difference between considering the ethics of an idea and endorsing it."
"… people sometimes have a hard time telling the difference between considering an idea and believing in it …"
"I don't endorse those punishments, but it's good to explore the ideas (before a politician does)."
"What constitutes humane treatment in the context of the suggestions I have made is, of course, debatable. But I believe it is an issue worth debating."
So: rhetoric strong enough to make a gulag warden froth at the mouth amounts to merely "considering" and "exploring" and "debating" and "assessing" new punitive proposals. In response to my tweet about this…
…a colleague who doesn't usually work in this quirky area of the futurist neighborhood asked me if I was suggesting that Ms. Roache should have just sat on this idea, hoping nobody else would ever think of it (of course, sci-fi has long since beaten her to the punch, or at least the punch's, um, ballpark). This is, of course, a vital question, and my response was something along these lines: In the abstract, yes, potential future tech applications should be discussed in advance, particularly the more dangerous and troubling ones.
But please. How often do transhumanists, particularly the Oxford Uehiro crowd, use this move? It's the same from doping the populace to be more moral, to shrinking people so they'll emit less carbon, to "after-birth abortion," and on and on: Imagine some of the most coercive and terrible things we could do with biotech, offer all the arguments for why we should and pretty much none for why we shouldn't, make it sound like this would be technically straightforward, predictable, and controllable once a few advances are in place, and finally claim that you're just being neutral and academically disinterested; that, like Glenn Beck on birth certificates, you're just asking questions, because after all, someone will, and better it be us Thoughtful folks who take the lead on Managing This Responsibly, or else someone might try something crazy.
Who knows how much transhumanists buy their own line — whether this is as cynical a media ploy as it seems, or if they're under their own rhetorical spell. But let's be frank about the work these discussions are really doing, how they're aiming to shape the parameters of discourse and so thought and so action. Like Herman Kahn and megadeath, when transhumanists claim to be responsibly shining a light on a hidden path down which we might otherwise blindly stumble, what they're really after is focusing us so intently on this path that we forget we could yet still take another.