[Continuing coverage of the 2010
H+ Summit
at Harvard.]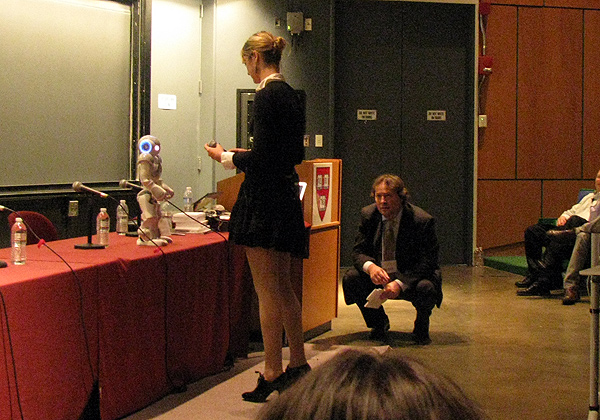 Heather Knight (bio) had the first presentation after lunch. She's a young computer scientist, fresh out of M.I.T. undergrad, and she is interested in (even an evangelist for) socialized robotics. She goes through some of the standard stuff about making robots that can sense and imitate human emotions, and then starts in with attempting to contrive reasons for doing this, such as amusing kids who are waiting for their parents to pick them up. (A teddy bear won't suffice?) This echoes a chain of dialogue about socialized robotics going back at least to the 1960s and Joseph Weizenbaum's ELIZA, a simple text-based program that tricked people into thinking it could converse with them, and that many people seriously suggested be used as a psychological therapist.
Knight's presentation is low on content; even for socialized robotics, a field aimed at tricking people into believing there is complex behavior where there is not, the robotics presentation she puts on is very elementary — a prefabricated robot with minimal voice-recognition capability, which summarizes
Star Wars
, complete with sound effects. The audience eats it up, though. This is clearly a presentation in many different ways aimed at style over substance. At least
one Twitterer
was a fan of the show, though, and
another
aptly noted, "I think Heather Knight thinks her performing robot is a real boy."
Knight has the same problem as every other social roboticist, which is the blithe belief that she can recreate through pure engineering a "system" (i.e., human interaction) that is as complex as anything we know — and, moreover, can recreate it from whole cloth, without any apparent engagement with or even awareness of the wealth of thought about social life. For more about this, see our
New Atlantis
colleague Caitrin Nicol's
wonderful essay
about the follies of social robotics.
I don't mean to pick on Heather Knight. Like most other presenters, Knight is just presenting her research here, not purporting to present some grand unified theory; but few of them seem to realize the intellectual burdens that making these sorts of claims must bear. She certainly has a stage presence, though, and it's striking that her talk just reflects the trend of almost every presentation here so far having either been on an obscure and relatively unimportant technical subject, or else a repetition of stock transhumanist ideas. There's been almost nothing new here. I'm not sure whether to blame the presenters or the organizers, but hopefully it'll pick up as the conference goes on.