[A few more posts about last weekend's H+ Summit at Harvard.]
The last and keynote speaker of the 2010 H+ Summit was, of course, the big daddy of transhumanism, Ray Kurzweil (bio, on-the-fly transcript).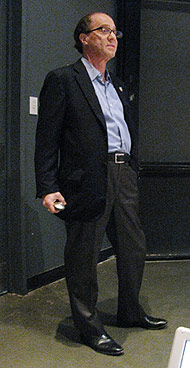 In introducing him, the organizers noted that he flew into town that morning from Colorado, where he was filming his movie, and that he would be zipping out from the conference right after his talk to catch a flight to Los Angeles. This little detail is pretty emblematic of the conference in general: whereas Kurzweil hovered around last year's Singularity Summit and descended intermittently to comment upon it like the head priest issuing edicts to his votaries, here he attended none of the conference and just stopped by to deliver his stump speech and head back out.
Given that this is the main event, I should probably try to outline it in detail, but just like his talk at SingSum, there was neither any core message to this talk nor anything remotely new about it. He hits all of his standard talking points. And I don't just mean the same themes, but the very same details he lays out in The Singularity Is Near: the same graphs about Moore's Law and about the exponential progress of technology in general and various technologies in specific. The main reason for his being here is his celebrity, it seems. Though he does have the shiniest slides of anyone here; his presentation is polished, if not new or focused.
In keeping with Kurzweil's own unfocused approach, here are a few random notes about the talk and follow-up Q&A:
— I wasn't the only one underwhelmed by Ray the K's presentation. George Dvorsky, a conference presenter, tweeted about how it was all boilerplate. Tweeter Samuel H. Kenyon complained about the warm reception: "Seriously people, why does Kurzweil deserve a standing ovation but the other presenters don't? Idol worshiping is not my bag." The best tweet was a tweak, joking about Kurzweil's obsession with exponential curves: "Why is this talk now not 5 minutes long and 1000 times as interesting as it was 5 years ago?"
— Here's Kurzweil on human DNA: "We're walking around with software — and this is not a metaphor, it's very literal — that we've had for thousands or millions of years." My jaw was on the floor. Literally, not metaphorically.
— Kurzweil is working on a book about reverse-engineering the brain, called How the Mind Works and How to Build One (see the Singularity Hub's recent article on this). Someone alert Steven Pinker that he's been one-upped. Also, this literal/metaphorical biological software business doesn't bode well for the metaphysical clarity of this book.
— He makes an important admission, which is that there is no scientific test we can conceive of to determine whether an entity is conscious — and this means in particular that the Turing Test does not definitively demonstrate consciousness. His conclusion is that consciousness may continue to elude our philosophical understanding, and we should just set those questions aside and focus on what we can practically do.
— He claims that we are "not going to be transcending our humanity, we're going to be transcending our biology." Uh oh, they're going to need to add a few items to the agenda for the next staff meeting:
(1) Time to change the name to "transbiologism"? And "H+" to "B+"? (2) Figure out how in the world humanity is separate from its biology. (3) Come up with a plan to deal with some very put-out materialists.
— As part of the great transhumanist benevolence outreach, Kurzweil makes the bold claim that "old people are people too." Of course, what this really means — aside from "if you at all question the wisdom of extreme longevity, then you hate old people" — is "we should turn our revulsion for getting old into pity for the elderly." Somehow I don't think respecting the dignity of the elderly as we do the young and able-bodied is really what he's getting at here.
And that's it for the last presentation of the 2010 H+ Summit. Stay tuned for a couple of wrap-up posts.