Transhumanists have a label — "the argument from incredulity" — for one kind of criticism of their visions and predictions: The instinctual but largely un-evidenced assertion that transhumanist claims are simply too fantastical and difficult to fathom and so must be false. While there's plenty of reason, empirical and otherwise, to doubt transhumanist predictions, they're certainly right to point out and criticize the prevalence of the argument from incredulity.
But there's a transhumanist counterpart to the argument from incredulity: the argument from inevitability. This argument is prone to be just as un-evidenced, and at least as morally suspect. So I'd like to begin a new (hopefully regular) series on Futurisms: the Transhumanist Inevitability Watch.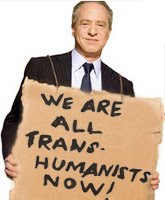 It's 2010, and transhumanism has already won. Billions of people around the world would love to upgrade their bodies, extend their youth, and amplify their powers of perception, thought, and action with the assistance of safe and tested technologies. The urge to be something more, to go beyond, is the norm rather than the exception…. Mainstream culture around the world has already embraced transhumanism and transhumanist ideals.
Well, then! Empirical evidence, maybe?
All we have to do is survive our embryonic stage, stay in control of our own destiny, and expand outwards in every direction at the speed of light. Ray Kurzweil makes this point in The Singularity is Near, a book that was #1 in the Science & Technology section on Amazon and [also appeared] on the NYT bestsellers list for a reason.
Ah. Well, if we're going to use the bestseller lists as tea leaves, right now Sean Hannity's
Conservative Victory
is on the top of the
Times

list
, and Chelsea Handler's
Are You There, Vodka? It's Me, Chelsea
is #2. Does this mean conservatism and alcoholism have also already won?
Similarly, his other major piece of evidence is that it would be "hard for the world to give transhumanism a firmer endorsement" than making
Avatar
, a "movie about using a brain-computer interface to become what is essentially a transhuman being," the highest-grossing film of all time. Okay, then surely the fact that the
Pirates of the Caribbean
and
Harry Potter
movies occupy
five
of the other
top 10 spots
means even firmer endorsements of pirates and wizards, no? And actually,
Avatar
only
ranks 14th in inflation-adjusted dollars
in the U.S. market, far behind the highest-grossing film, which, of course, is
Gone with the Wind
— unassailable evidence that sexy blue aliens aren't nearly as "in" as corsets and the Confederacy, right?
Mr. Anissimov's post at least contains his usual sobriety and caution about the potentially disastrous effects of transhumanism on safety and security. But he and other transhumanists would do well to heed the words of artificial intelligence pioneer Joseph Weizenbaum in his 1976
Computer Power and Human Reason
:
The myth of technological and political and social inevitability is a powerful tranquilizer of the conscience. Its service is to remove responsibility from the shoulders of everyone who truly believes in it.
Keep Weizenbaum's words in mind as we continue the Inevitability Watch. Humanity's future is always a matter of human choice and responsibility.
Transhumanist issues are obscenely mainstream nowadays, who even cares. We're not even edgy anymore. The excitement is over. It's time to start racing towards a safe intelligence explosion so we can end the Human-only Era once and for all. Let's just get it over with.