I've just been teaching Horace's Epistles, and it strikes me that Horace ought to be the man of our social-media moment — the man who shows us another and better way.
In the first of those Epistles, Horace writes to his patron Maecenas — the one who bought him his Sabine farm that allows him to escape the noise and frenetic activity of Rome — to describe what he's up to:
… my ambition to advance myself

In the sort of project that, if carried out

Successfully, is good for anyone,

Whether rich or poor, and its failure is bound to be

Harmful to anyone, whether he's young or old.
This "project" is, he says, to "devote myself entirely to the study / Of what is genuine and right for me, / Storing up what I learn for the sake of the future." (I am quoting from David Ferry's wonderful translation.) He needs to be on his farm to pursue this project, because life in the city, with its constant stimulation, creates too much agitation. And as he writes to another friend, Julius Florus (I.3), "if you're able to learn to do without / Anxiety's chilling effect, you'll be able to follow / The lead of wisdom up to the highest reaches."
Later (I.18) he exhorts Lollius Maximus to "interrogate the writings of the wise,"
Asking them to tell you how you can

Get through your life in a peaceable tranquil way.

Will it be greed, that always feels poverty-stricken,

That harasses and torments you all your days?

Will it be hope and fear about trivial things,

In anxious alternation in your mind?

Where is it virtue comes from, is it from books?

Or is it a gift from Nature that can't be learned?

What is the way to become a friend to yourself?

What brings tranquility? What makes you care less?

Honor? Or money? Or living your life unnoticed?

Whenever I drink from the cold refreshing waters

Of the little brook Digentia, down below

Our local hill town, what do you think I pray for?

"May I continue to have what I have right now,

Or even less, as long as I'm self-sufficient.

If the gods should grant me life, though just for a while,

May I live my life to myself, with books to read,

And food to sustain me for another year,

And not to waver with the wavering hours."
The "wavering hours" waver because they're charged with the nervous energy that comes from a too-busy life, a life of agitation and anxiety. As a youth Horace studied philosophy in Athens, and there he would have learned about the inestimable value of ataraxia — a peaceable and tranquil spirit. Because if you don't have that, then you become a victim of your circumstances — and, especially in our time, a victim of propaganda.
Reading old books is a very valuable thing, because it takes you out of the maelstrom of "current events"; and it's especially valuable to read old books like those by Horace because they will tell you quite directly how vital it is for you to learn this lesson.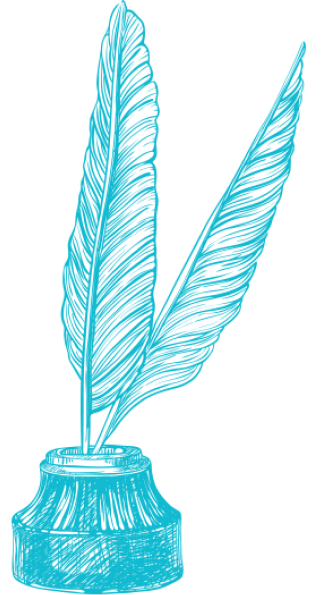 Text Patterns
April 17, 2018